Libra Horoscope August 2021: Monthly Predictions for Love, Financial, Career and Health
Libra Horoscope August 2021: August is the month where you will do your best out in public. With the Sun and Mercury conjunction that happened on the last day of July in your 11th house, you will be expanding your network at an unprecedented rate. This month is the time to make new connections.
Monthly Planetary Horoscope
You may be getting ready to get a team together to support you in your business or social endeavours. There is also a high chance of meeting prominent figures that are experienced in your field. This can be a humbling experience, but you will be surprised by how much you can also bring to the table. The theme of the month is a mutual exchange and learning. With Venus also transiting your 1st house in the second half of the month, you will have an extra allure to the way you present yourself. In this Leo season, you are well equipped to attract anything you want.
Mars will be making its way through Virgo all month in your 12th house. This can be a source of minor anxieties regarding the things that are a little out of your reach. You must be careful not to want to solve all your problems all at once by focusing on the things that are "wrong" in your life. Chances are, there is a lot to be thankful for, and if you make an effort to find these things and cherish them, you will be able to make use of the more positive aspects of this transit. The God of War and ruler of Aries has unstoppable energy that can make all wrongs right. Since this is happening in your house of secrecy and illusions, you might find the strength to deal with all the problems that you have been sweeping under the rug for a while. This can only happen if you decide to not complain about their existence, though. It is literally impossible for anyone's lives to be flawless. The second you can come to terms with this unavoidable reality is when you will embody the Virgoan qualities of analysis and adaptability. Mars is offering you the courage to go the extra mile and astound your peers with the propensity to overcome the challenges everyone else is avoiding.
Another minor - but not less significant - the influence of our neighbour planet, Mars, is the square it makes momentarily with the Lunar nodes from the 7th to the 14th. This transit happens in your 9th house, and it will be a pivotal moment in this nodal cycle. Since September of last year, when the North Node transited into Gemini, you might have felt that you were forced to look at your situation outside of yourself. This makes for a challenging cycle, but only if you decide to be stuck in your own way and distract yourself with the more menial bumps of the process. Chances are you had to learn new skills at a pace uncomfortable to you. Still, as we approach the turn into a new cycle in December, you notice that what you learned starts to pay off. All the investigation and research was likely in the realm of faith as you had to find new coping mechanisms to come on top of the nonsensical state of the world. Mars squaring the nodes this week will give you a boost in vitality that will accelerate this transformation. What was once dark and terrifying begins to feel almost comforting as you learn to work around the roadblocks. This marks the flourishing of a new you that has been suppressed due to the past's comfortability. Like a phoenix, you begin to rise from the ashes. You are indeed, a warrior.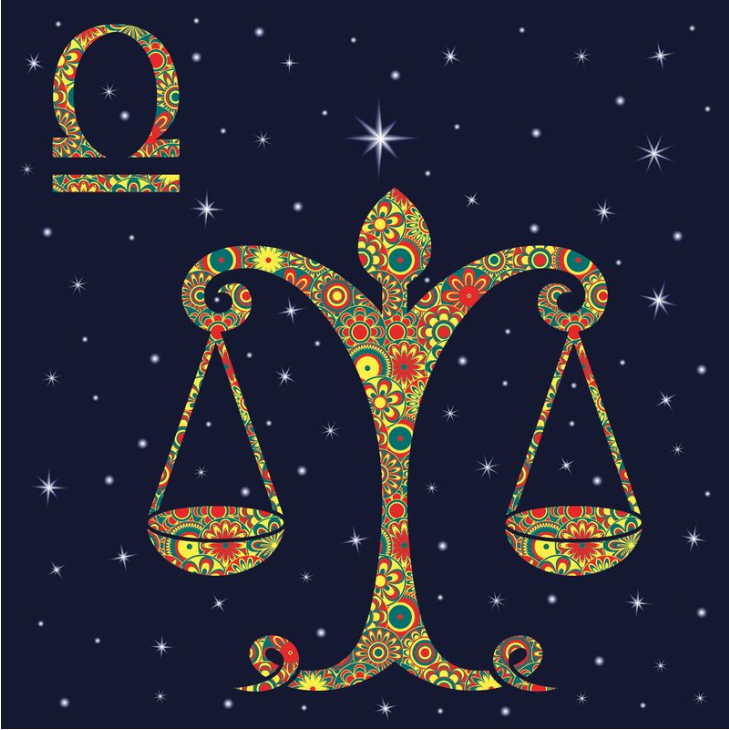 The New Moon in Leo happening in your 11th house will bring a spark of hope as you find comfort in your connections. Libra is classically the relationship sign, and this is where you shine the brightest. Though you may usually be the one who takes care and tries to please everybody, all these favors will be retributed during this lunar cycle. Allowing yourself to be on the receiving end is pivotal this month. This will happen naturally, but if you have a tendency to resist when people are offering advice or even material help, you could miss out on an ample opportunity for a leg up. This is especially important to consider since there is a Uranus square to this New Moon happening in your 8th house. This is the place of other people's resources, and it is possible that someone you know may be willing to help you out by sharing their prosperity with you. Keep your pride in check, and if you need assistance, take it. There will always be a chance to give back.
The Full Moon in your fellow air sign Aquarius might just be this opportunity for solidarity, though on a much bigger scale. It happens in your 5th house of inspiration and pleasure. The Saturnian influences of Aquarius might slow the pace of life momentarily. Still, it will do so in the pursuit of achieving harmony on a global level. The Moon will be blessing you with the intellect to design inventive solutions to your direct community's problems, especially those younger than you. This is a time to share your experience as you may underestimate the insight it can provide for others. As a Libra, you can often assume that if things come easy to you, they may also be the same to others, but that's not always the case. Share what you know; it is intrinsically valuable.
Libra Monthly Horoscope
For natives belonging to the zodiac sign Libra, the month of August will have overall favourable results. From the point of view of your career, you will come into terms with some great results. You will focus on your work which will make you eligible for professional success.
However, you are advised to remain careful of falling prey to overconfidence as it can be quite harmful for you. With regards to your education, this is quite a favourable time. Success will be obtained in the case of higher education. Those who wish to accomplish their studies in a foreign based college or university may have to wait for a while to see the face of success. The health of your parents may remain in low spirits.
Love and marriage related markets will also be favorable. Some domestic clashes main crop up. Natives who are in love may have to go through certain ups and downs, but relations will remain proficient. In the case of married natives, attraction between the two of you will increase. When it comes to economic matters, you are advised to take rational decisions.
There will be no dearth of resources, but expenditures will be on the rise. Health will remain ordinary. There are no chances of you suffering from any serious disease. Take good care of your lifestyle and eating habits.
Libra Monthly Love Horoscope
August 2021 monthly horoscope foretells that you will be able to form new love relationships with your magnetism and your previous experiences will come to your help. You may depend on others in forming relationships. There appears to be a change in the way you love.
Relationship between married couples will be completely harmonious during the month. You will be focusing on changing your surroundings and you have the support of your partner in whatever you do. This is a good month to plan for a baby.
Single persons will face difficulties in forming new relationships. You have to overcome your suspicions if you want love. Chances of renewing old relationships exist if you take the lead.
With regards to your married life, the month of August will have some positive results in store for you. The fifth house is under the occupancy of Jupiter and it is being aspected by Venus.
The mutual attraction between the two of you will increase and your relationship will gain depth. You may also go out on a candle light dinner with your partner. A romantic getaway is also on the cards. Single natives may come across their respective soulmates during this time. However the fifth house is being aspected by the planet Mars, because of which both of you can get into a fight. But, they will only be making positive contributions to your relationship.
Overall speaking, it can be said the month's time will be quite favourable for the lovers belonging to this sign. Married natives will also come across a favourable time. The balance and equation between spouses will strengthen. The compatibility between the two of you will also increase. You will acquire the full-fledged support of your life partner.
Dedication and devotion towards one another will be great and you may also take a trip to a favourable location during this month.
Libra Monthly Money Horoscope
This month the augury from the stars is quite favourable for your financial prospects. Some of you would have a way of handling your workers or subordinates which would enable you to derive maximum benefit from their services. This could well be the most important gain in a month that would even otherwise be beneficial.
There is also the possibility of good fortune coming to your door-step through the services of an elderly gentleman, which would prove to be extremely beneficial. Even otherwise, the climate would remain quite congenial for investment and the launching of new ventures, and those of you who have such plans in the offing should boldly put these into motion.
For the natives belonging to the zodiac sign Libra, the month of August will be a tad bit problematic. You are advised to make a detailed itinerary with regards to your finances.
The house of profits in your Kundli is being resided by Mars and Venus at the same time. Along with this, it is also being aspected by Jupiter. These planetary conjunctions are indicating a great inflow of monetary resources. Your income will also increase and money will keep flowing into your hands from your regular sources. Job holders will witness an increase in their position.
Those who are into business will also get an increment in their regular sources of income. But, we would also like to tell you that the grey planet Ketu is residing in your 2nd house, because of which some problems can surround your domestic environment and they may use some of your economic resources. Consequently, your expenditures can increase drastically. Hence keep a tab on the inflow and outflow of your income. Do not spend your money on unnecessary things.
Libra Monthly Career Horoscope
A negative month during which you might face a lot of problems since the stars are hardly in a favourable mood. Most of you would have to struggle quite a bit to get anywhere near your objectives. Higher education may pose the maximum amount of problems. Therefore, those going in for higher studies must remain patient and not give up in the face of difficulties.
Those studying accountancy, journalism and other forms of mass- communication would also face difficulties. Candidates for competitive examinations should go in for extra coaching, and work hard if they want to succeed. Quite a negative month, during which you should patiently persevere with your efforts.
An excellent month during which you would have a lot of opportunity to advance your career. The working climate would remain quite pleasant and congenial with no trace of tension or politicking. And in such an atmosphere you would go on to do very well realizing expected gains.
Association with several gifted people of learning would help in every way. In fact, some of you would go on to make noteworthy contribution in religious and social affairs, writers and social scientist, economists, administrators connected with such tasks, will also do particularly well. A good month for your career. There will be enough time for philanthropic activities which will enhance your mental happiness.
From the point of view of career, Libra natives will come across some extremely favourable results. The 10th house is determined as the house of profession and it is currently under the occupancy of the royal planet Sun. Along with the Sun, the dualistic Mercury is also present here, because of which there is a formation of a Budhaditya yoga.
It is considered to be quite beneficial. Also, because of this, you will be able to focus better at work. If you are a job holder, a business person or self employed, you will accomplish each and every task with equal dignity and dedication. Consequently, the results will be in your favour. Job holders will acquire special benefits as there are chances of them climbing the ladder of professional success. They may be given some additional responsibilities.
Relations between their officials will also improve. If you happen to be a government contractor, then it would be an easy option to acquire some profits. In your Kundli, the planet Saturn is being aspected by its father, the Sun. Consequently, you may lack the confidence to do the necessary tasks.
You may also have to face losses. The month's time is also quite right for your business prospects. Trade ventures may get expanded. It is also an auspicious time to initiate a new business venture, which can turn out to be quite favourable for you in the long turn.
Libra Monthly Health Horoscope
The month's time is favorable for your health. Extreme heat can cause minor seasonal problems. There may be problems like mild cold and cough, but there is no sign of any serious problem. But, it also does not mean that you become careless about your health.
It is important for you to keep your routine organized. Do yoga and exercise regularly. Do not eat stale food and avoid eating too much fried food, otherwise there may be problems like gas, indigestion or other stomach related problems, it is important to keep in mind these things.
Include nutritious elements in food and drink plenty of water. If you follow all these things, then you will not have any health related problems, because from the health point of view, the position of planetary transit is favorable in your horoscope.
A helpful month, during which the turn of events would favour your continued good health. Even those with a predisposition to chronic disorders of the digestive tract, like flatulence and excess of wind will experience considerable relief from their troubles. The normal precautions of a bare minimum sort would ensure continued respite from such troubles.
Pay attention to staying in congenial surroundings and company. In fact, make a determined effort to stay away from unpleasant surroundings. This would also ensure good health, since your environment will play a major role in determining the state of your health.
You should focus on maintaining your fitness levels by resorting to regular exercise and good diet regimes. Relaxation techniques will help in reducing stress-related health problems.
Libra Important numbers: 6, 7, 12
Libra August important dates: 2, 3, 6, 15, 22
Horoscope August special note for Libra
"In the middle of the month your romantic and social life will gain momentum. You will be flooded with numerous invitations to lavish parties, banquets, but you will be overwhelmed by doubts whether these are certainly places where you will feel good. I assure you that it is worth it."