Making of a monument: creator of Fansipan's stainless steel peak revisits mountain summit
The 20-kilogram stainless steel pyramid block still stands and shines on the peak of Fansipan, 13 years after being built
(Photo courtesy of Le Hong Quang)
On reuniting with his "child" on the top of Fansipan in May 2021, Le Hong Quang could not hide his emotions. Fixing his ao dai, standing in the mountain peak in a strong wind, he calmly spoke of his initial dea to make the stainless steel peak over 13 years ago.
In the early days of 2008, many people throughout the country used the popular Hearts of Vietnam website to shares image of damage on Fansipan peak, the highest mountain in Vietnam, in the northwest province of Lao Cai.
A photograph of a cracked marble block inspired Hong Quang to engage in the "rebirth" of the mountain known as "the roof of Indochina." His idea for a monument was approved by Hoang Lien Son National Park Director Nguyen Quoc Tri. Soon Hong Quang had formed a group of five people, including Le Thanh Van in charge of design; Nguyen Minh Tuan, taking charge of construction; as well as Thanh Tung and Mr. Tan who were responsible for funding.
Architect Thanh Van came up with a design, which resembled the original shape of the Fansipan peak in 1964. Initially, duralumin was chosen as the material for the icon, due to its strength and high solidity. However, it proved rare and expensive, so metallurgical engineer Nguyen Minh Tuan decided to use SUS201 stainless steel instead. He said that the block would "stay durable over time, and become shinier after experiencing wind and rain on the mount."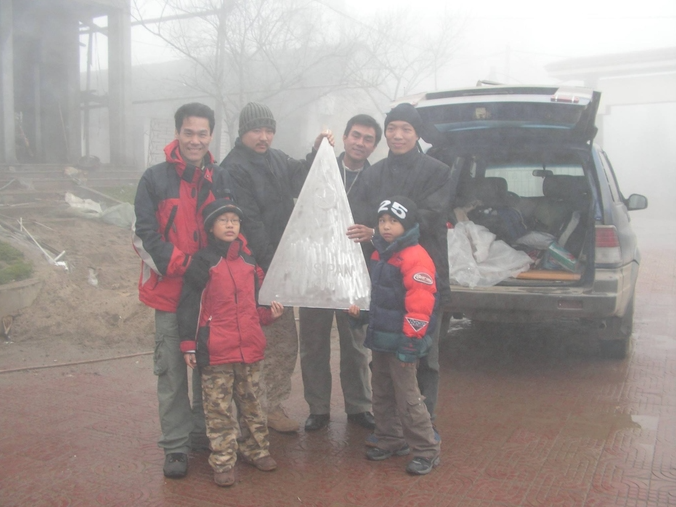 (Photo courtesy of Le Hong Quang)
On Jan. 26, 2008, the block was completed with a weight of more than 20 kg, and a height of 99 cm. All three sides of the tip were decorated with a 5-pointed star and the words "FANSIPAN 3,143m," were marked on it. On the same day, Quang took the block to Hoan Kiem Lake and stood in front of the King Le Thai To statue to pray for peace, before taking a bus towards Fansipan later that night.
At midnight, when reaching Yen Bai Province, the bus carrying Quang's group broke down. In order to hand over the block to Hoang Lien Son National Park Managing board on time, Quang carried the block, and boarded a train to Lao Cai alone. However as soon as the train left, the bus was finally repaired. The group still joke about the mishap, saying that back then anyone who wanted to reach Lao Cai had to travel by train, including the steel block!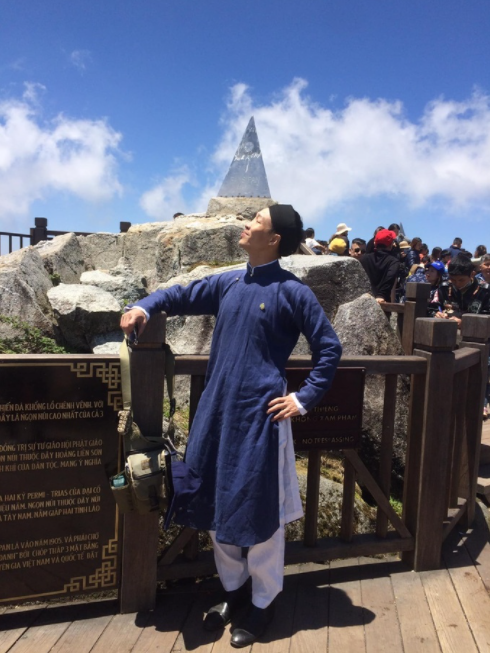 (Photo courtesy of Le Hong Quang)
The next morning, the group met in Lao Cai and continued to Sa Pa town, handing the monument to the National Park Managing board. To complete the construction before Tet, Nguyen Minh Tuan and some H'Mong porters piggybacked the block to the top of Fansipan.
It was a cold winter day, with temperatures in Hoang Lien Son sometime dropping below zero. Nevertheless, the group were determined to get to Fansipan peak, and did so carrying the heavy stainless steel pyramid on their backs.
After two days of trekking through forest, the group arrived at their destination at noon on Jan. 28. It took just half an hour to affix the metal pyramid to the mountain, with the block's sharp angle facing north, and flat surface south, so on clear days people could see sunlight sparkling on the top of the mountain.
More than 10 years have passed, but Quang and Tuan cannot forget the icy coldness that crept into their bones in Hoang Lien Son forest that day. But the journey became a symbol of their deep pride and love for their country, a pride that filled their hearts when standing next to their "spiritual child" on the roof of Indochina.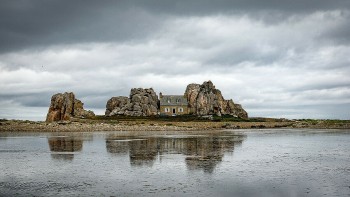 Travel
In a quiet little village of Plougrescant, France, tourists can visit this quirky and extraodrinary Castel Meur, also known as "The House Between The Rocks", which has become an attraction for many years.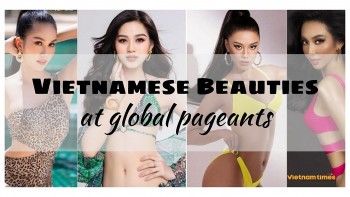 Handbook
Do Thi Ha, Pham Ngoc Phuong Anh, Nguyen Thuc Thuy Tien and Nguyen Huynh Kim Duyen set to vie for global beauty pageants.
World
In the outskirt of Poland, there is a pretty rural village that is called "The painted village" for its amazing and unique tradition of painting their homes inside and out with colorful floral patterns, making this place the most photogenic spot.