Nearly 540 Vietnamese citizens safely repatriated from hard-hit countries
Vietnamese authorities, representative agencies and national flag carrier Vietnam Airlines coordinated with local counterparts to bring home nearly 540 Vietnamese citizens from Africa and the Europe as well as Cuba and Germany on two latest special flights.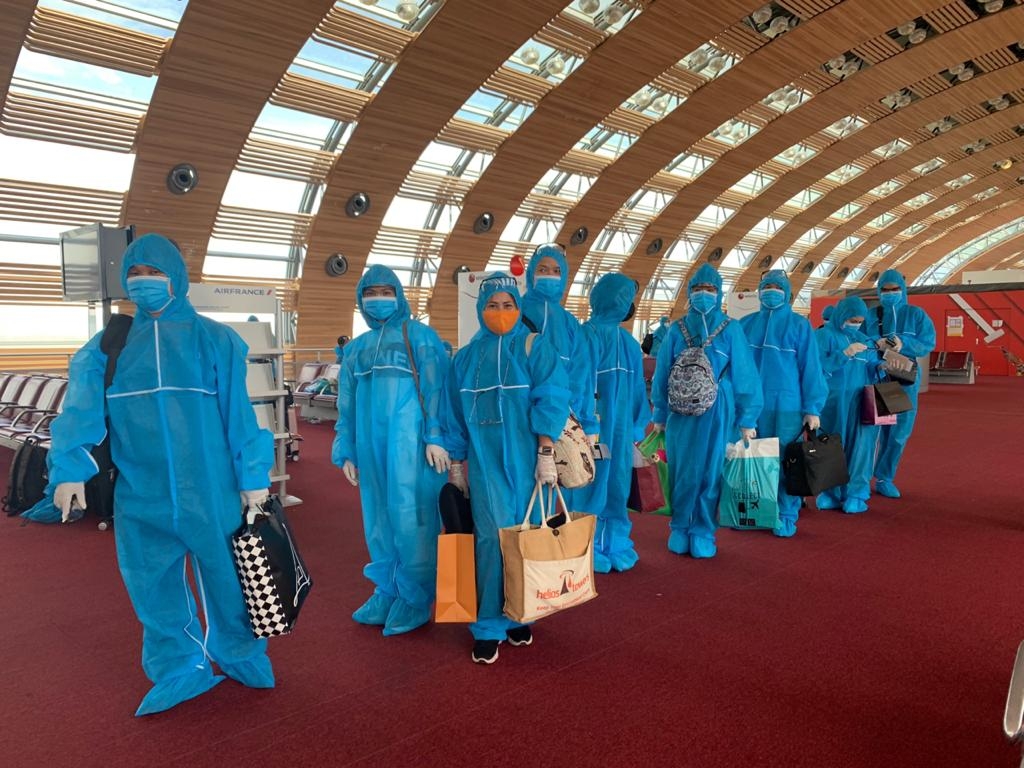 Vietnamese citizens at Paris's airport. Photo: Vietnamese Embassy
The first flight returning to Vietnam was arranged to land at Havana (Cuba) and Frankfurt (Germany) to receive the citizens, including children under the age of 18, students who had completed their study courses, the elderly and the sick, stranded tourists and guest workers whose visas or contracts expired.
Ahead of the flight, Vietnamese representative agencies in Cuba and Germany sent officials to the airports to help citizens to complete all necessary procedures before boarding.
Preventive measures against COVID-19 were implemented seriously during both flights.
Right after landing at Van Don International Airport in the northeastern province of Quang Ninh, all the passengers from Cuba and Germany and crew members had their body temperatures checked and were quarantined as regulated.
Second flight also carried minors, students who had completed their courses, the elderly, those with illness, stranded tourists and workers whose visas and contracts expired from African countries of Ivory Coast, Algeria, Morocco, Nigeria, Egypt, Senegal, Lebanon, Tanzania and Guine Conark, and the Europe.
Vietnamese missions in Africa countries have supported these passengers to travel to Paris and complete all necessary procedures before boarding the repatriation flight there on July 23.
Upon arrival at Da Nang International Airport, all passengers and crew members were given health check and quarantined at State-designated facilities as regulated.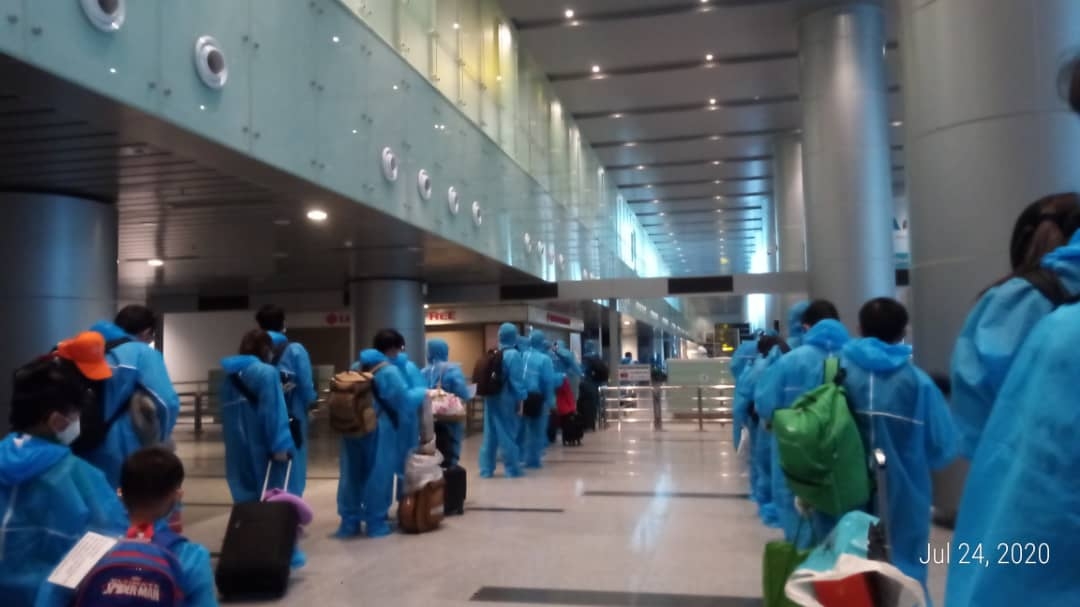 Passengers arrive at Da Nang International Airport. Photo: Vietnamese Embassy
In Da Nang city on July 24, a 57-year-old resident, has been diagnosed with the SARS-CoV-2 virus, according to the Ministry of Health's COVID-19 update.
The man, who lives in Lien Chieu district, has tested positive for the virus by the Da Nang Centre for Disease Control, Hospital C and the Nha Trang Pasteur's Institute.
Doctors are awaiting the results to be confirmed by the Central Institute of Hygiene and Epidemiology.
The patient said he has only stayed in Da Nang taking care of family affairs and meeting with his neighbours.
The Da Nang Municipal Department of Health tested those who had close contact with the patient, with 102 samples all coming back negative.
The department also directed relevant agencies to conduct epidemiological investigations, trace close contacts, and cordon off the patient's house, in an attempt to prevent the possible spread of the virus to the community.
The case comes after two batch of dozens of Chinese were found sneaking into the central city of Da Nang illegally.
The functional forces searched and arrested them, who were later put under quarantine. The leader of Da Nang and Quang Nam Centre for Disease Control and Prevention confirmed that the group tested negative with COVID-19. These people will be quarantined for 14 days before handing over to the police agency for legal handling.
From April 10 to July 16, Vietnam organised 55 flights bringing 13,323 citizens home from overseas in the face of the COVID-19 pandemic, according to spokeswoman for the Ministry of Foreign Affairs Le Thi Thu Hang.
Authorities and health facilities are on alert as the country's imported coronavirus cases continued to rise.
All the newly-detected cases on recent days are Vietnamese who are among Vietnamese citizens repatriated or foreign experts from hard-hit countries. If the test is confirmed, the man from Da Nang will the first coronavirus case detected in the community over 99 days in a row in Vietnam.
Making good on its pledge that "no one will be left behind", Vietnamese authorities and representative agencies abroad are building plans to repatriate more citizens based on their aspirations and the quarantine capacity at home./.