Scorpio Horoscope 2022: Yearly Predictions for Love, Financial, Career and Health
Scorpio Horoscope 2022: The year 2022 will help you complete all your pending work. On completion of all your pending work, you will have a sigh of relief.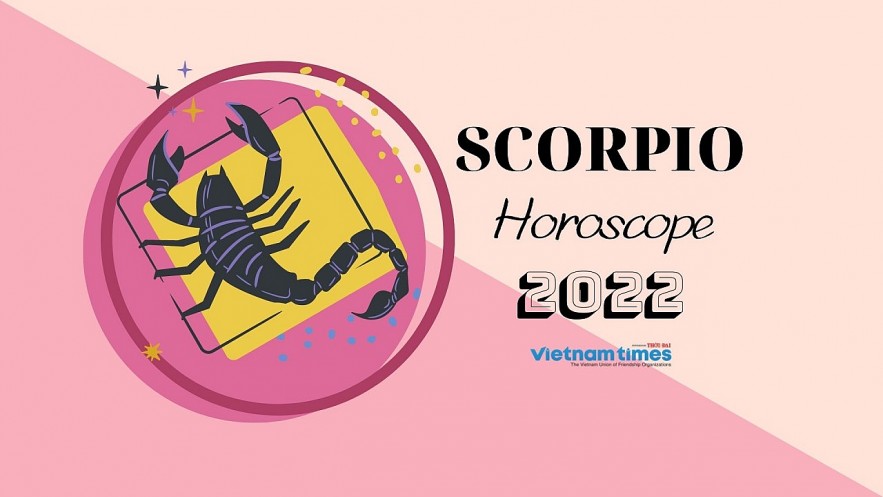 Scorpio Horoscope 2022: Yearly Predictions for Love, Financial, Career and Health. Photo: vietnamtimes.
Yearly Planetary Horoscope
According to gotohoroscope, 2021 was probably a year of getting a lot of things figured out within your family sphere. All the Saturn and Uranus squares of the year definitely weren't the easiest transits to go through, especially for a fixed sign like you, Scorpio. While we're still in a year focused on improved energy, 2022 will help soothe some of the year's growing pains preceding it. Especially for the first quarter of the year, you can expect many joyous moments, parties, and maybe even some creative projects. For those of you who've been trying to get pregnant or make a new addition to the family in general, that same half looks entirely promising.
January is perhaps the slowest part of the first quarter, with the Venus retrograde happening in your 3rd house. These retrogrades usually already pause on relational matters, but this could make it significantly challenging to relate to brotherly figures in your life. Especially for those of you who are teachers, January might be a time when mediating fights and discussions might come a little harder for you. Still, the retrograde won't even last the whole month, and it shouldn't pose a significant hamper in your plans. Yet, it would be wise to take things somewhat slowly, especially if they require you to work with other people.
On the other hand, while the retrograde is happening, Jupiter will be trying his best to bring a surmountable amount of gifts to make that retrograde almost unnoticeable. This transit that started at the very end of 2021 will last all the way until May, so you can expect some entertaining times. The 5th house is the place of joy and children, so there's a chance you could be spending a considerable time surrounded by youngins. This, of course, can be taken literally or figuratively, but for the most part, the theme stays the same. 2022 will be the year for a jovial Scorpio to come out of you. Make the best out of it. This will be a fundamental break from all the not so graceful moments of 2021.
In March, things start to get heated with the first Mars and Uranus square. Don't be surprised if some familiar challenges come around this time of the month. This is one of the more demanding transits of 2021, and having Mars, the ruler of your sign, come around the unpredictable Uranus can be a little rambunctious. This can cause some old arguments to come back up or even the loosening of some bonds. While this is not nearly a comfortable transit, it also comes into severe negative energy chords that may be present in your life. So, as tough as it may be to be grateful for it at the moment, know that as time goes on, you'll see the direction the Universe is trying to take you. Ultimately, the goal of this month is purging out any weight you've been carrying on your shoulders.
After this small hiccup, things get a lot smoother once Venus joins Jupiter in Pisces in April. This will be a sensuous month, in typical Scorpio fashion. It could be the time for some lustful excitement to come bless your life. Relationships of all kinds will be a lot easier to both manifests and strengthen this month. This atmosphere is obviously very on-brand for a Scorpio, so take advantage of it and use your seductive natural powers to get the upper hand and get the right people on your side.
It's also important to note that this will be the most fertile bit of Scorpios' year. If you're trying to bring anything to life, may that be children, a creative project, or even just a lovely garden, that would be the time to do it. The success will be even more reliable if you take the time to show your gratitude to Jupiter by having a little meditation dedicated to the Greater Benefic planet on a Thursday.
2022 is really the year of Jupiter. As we transition from Spring to Summer, Jupiter will be changing signs and going into your 6th house of health and routine. This will be a blessed time to get a new schedule going. Diets will be more likely to be successful at around that time, so take advantage of it and plan ahead. Though, you shouldn't be worried about missing this transit. It lasts pretty much the whole year and even some of 2023. With that in mind, this poses some good news for those trying to get their health back in check.
With this propitious ingress in mind, most of the Summer is looking quite exciting. However, as we get closer to August, there may be a sudden change in the atmosphere with the triple conjunction happening in your 7th house. Since Uranus is involved in this transit, the nature of what comes out of it can be quite unpredictable. However, since Mars will be in Taurus, be really careful with keeping anger and frustration inwards. This could lead to some heated arguments with people you love. August is a month when things that shouldn't be said and aren't truly felt could come out and end up hurting both you or someone else without necessity. It would be wise to take that energy out through physical exercise or any energy-demanding activities. In other words, even if you feel like you need to have an argument this month, try to wait just a little longer, so things don't get out of hand.
To add to this, October comes back up with the final Saturn and Uranus square. This will likely be a re-run of similar events in the preceding year since that was the signature transit of 2021. This will be the time to revisit some older issues with the home so you can start the next year fresh. After this, we won't have any more of these squares for years to come, so don't be too alarmed.
After the big blow of August and October, things calm down significantly. Jupiter will go retrograde back into your 5th house, which could bring back some of the joy of the early year, but this time it will be much more internal. You can expect a pretty pensive and nostalgic end of the year. Since the 5th house rules children, this could be a time to reminisce on childhood memories—especially since Christmas will be right around the corner.
Overall, 2022 ends on a good note as all the tougher transit come to a conclusion. The slower pace will allow you to recollect yourself to guarantee you start 2023 feeling more robust than ever.
Luckiest day: November 15, 2022
Your birthday season is set to be extra sultry this year, Scorpio — as beauty planet Venus will be gracing your sign with its glamorous presence for most of the month, while expansive Jupiter will be bringing luck to your passion-filled fifth house of romance. These two benefic planets will rain down extra blessings on you (and your love life) come Nov. 15, when they form a harmonious trine aspect to one another. You'll find that matters of love and dating flow with much more ease than usual, so use this favorable cosmic period to your advantage and have some flirty fun.
Scorpio Horoscope 2022 Overview
The year 2022 will help you complete all your pending work. On completion of all your pending work, you will have a sigh of relief. At the beginning of the year, you would like to live a comfortable luxurious lifestyle. During this time, you will be emotional. This month is also a good time to rediscover your partner and passion for your life ideas and dreams. It will be a period of success in February, and many important and influential people will be present in your environment.
In April and May, you can be a little pessimistic. But then life will return once again on the right track, and during this time, you should have all the courage needed to work hard to defeat your enemies. During this time, you will need to pay too much attention to your partnership work. You will grow up emotionally in May; hence don't be impulsive in the relationship with your partner this year.
In June and July, the middle of the month, it is recommended to exercise more, adopt a healthier lifestyle, and leave no outstanding bills and loans for July. For your career progress, you will get the support of your family members. Those trying to get transfers in jobs can benefit. This year we are waiting for a big success to come to an end, and those who are doing business related to Saturn like oil will get profit in the last part of the year. After May, the time is good for your career.
In September and October, you will find methods to improve your energy level, such as attending different recreational activities. It is a fantastic moment to establish more professional connections to make peace if there are any conflicts. This time you can also plan to go on a tour with your friends and family members to celebrate your success. From the financial point of view, this year will be ordinary.
By the end of the year, Scorpios will set off with a new energy level that they haven't had for a while and will see improvement in energy levels, and you will be more active and will be excited for the following year. There are no problems with your health. But abstain from outside food. This year you will get the full support of the relatives guarding any situation and take advice from them so you move ahead in the right direction. You may also take an interest in making significant investments and doing risky work.
Overall this would be a relaxing period for few people. Jupiter, the planet of expansion, would be posted in favor of the native. The planet's placement will give you comfortable living all this year. However, Saturn in Aquarius will continue to delay your forward motion.
For Scorpio year 2022 post to be a mixed bag of fortune. Rahu will be in your seventh house at the beginning of the year, which might interfere with your love life or marriage. Because of your professional moves as the times are predicted for you this year. This would be a great year on the financial side, and you hold great potential by your side.
Scorpio Horoscope 2022 for Love
According to astrologyk, the horoscope advises lonely representatives of the sign in the first half of 2022 not to rush into new relationships. There is a high probability of confusing passion and attraction with sincere feelings, subsequently receiving the strongest disappointment. However, Scorpios should not completely avoid attention from the opposite sex. Warm communication, dating in a romantic setting will dispel boredom and give you a pleasant experience. The main thing is not to take on many obligations at once. Relationships should develop gradually in stages. Otherwise, the connection will be short-lived and will end at the first tests.
The love horoscope for the second half of the year predicts a truly successful period for Scorpios. New acquaintances will be promising, in addition, they may remind of themselves feelings from the past. Harmony and mutual understanding will reign in married couples. From the third decade of November 2022 until mid-November, the Sun, Mercury and Venus will be in the constellation Scorpio. According to the horoscope, it is for these days that you should plan wedding celebrations or other important events for the couple. Getting rid of outdated relationships can also be planned for this period. Then the separation will be less painful and dramatic.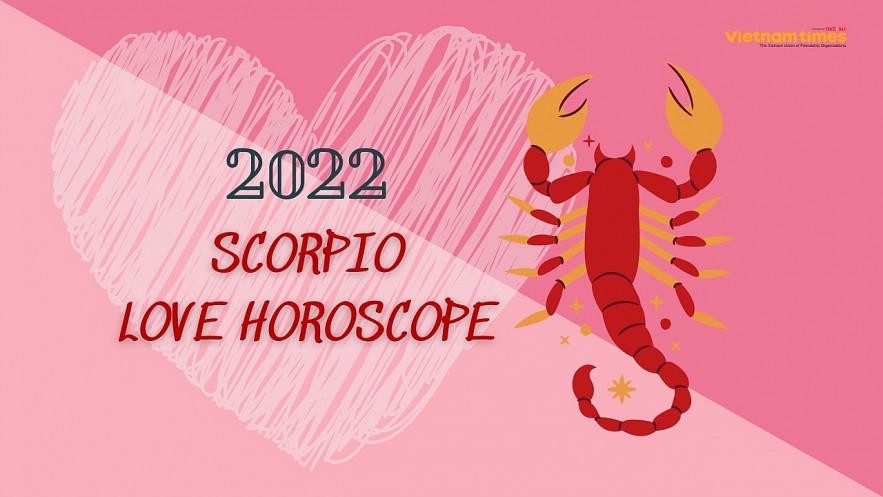 Scorpio Love Horoscope 2022. Photo: vietnamtimes.
As per Scorpio love horoscope 2022, Scorpio natives may enjoy a pleasant life during 2022. Issues in relation arise in the middle of the year, but they may get resolved by mutual understanding and bond. If you are not yet committed, you can find new love this year. The committed natives will enjoy their love life without any breakups, and the committed scorpions can tie a knot with their partner this year.
Excellent time is on the cards as per the Scorpio love horoscope 2022. However, the first few months may sway your life a bit and encourage you to refrain from putting your efforts into your relationship. But, worry not! The other half of the year will go just as per your direction. Singles may confront beautiful dating times. Some of you shall also get into a "Long-term Relationship". Arguments, pessimistic thoughts, and all sorts of doubts must stay at bay, as per the Scorpio annual horoscope 2022. Understand and lend ears to what your partner has to say. Work with mutuality, and the rest will go just Perfect! Your partner might surprise you in some manner, and love would bloom in all means and manners, especially in the last few months of the year.
Single Scorpios will come across a new love interest as per the Scorpio 2022 love horoscope. If you propose to your crush, you will get what you desire. But make sure the proposal is romantic and heartfelt. If someone broke your heart in 2021, they will come back this year and apologize to you. If they seem genuine and if your heart truly desires them, you should agree to reconcile with them. Though the beginning of the New Year 2022 may be a little too harsh, yet your love life will take a hit if you keep that patience.
You can resolve most of your issues if you keep a clear head. Try not to let anger get the best of you. If you feel like the spark has gone missing from your relationship, do your best to bring back the missing essence. Spend quality time with your beau. Be spontaneous. Take road trips, attend festivals, and throw parties. You must bring back the thrill and excitement that has been missing in your love life. You might also have to make some life-changing decisions if you want to continue with being with your long-standing partner. This year will bring both good and bad in your love life as per the yearly Scorpio love horoscope 2022. Do not be disheartened if the New Year 2022 begins with doubts and disappointments.
Things will change for the better if you give it some time. You will be easily able to get the best of all your love issues if you truly want to be with your partner. You might have to think of a few out-of-the-box solutions but it will definitely be worth it. At the end of it all, you will find that you and your partner will come out of the rough patch with your connection stronger than ever. The months of April and September will be filled with love and tenderness for committed Scorpios.
This year may bring an excellent time on the romantic front for you, says your yearly horoscope. 2022 may be suitable for singles who want to be in relationships. Romance to be kindled for the ones in a relationship for a long time.
In the second half, couples in a long-distance relationship may get some good news about the unexpected arrival of their partner. Further, in April and September, you two may enjoy the togetherness leaving the two of you happier and more settled. You are going to meet your love interest, and proposals are likely to get accepted.
Married couples may have t high chances of conceiving if they are planning for a child in 2022. You can make your days cheerful with your positive thoughts and actions this year. A good attitude may eliminate all ill feelings in a relationship and give you extra time to be with your partner, says yearly horoscope. Married couples may be more loving and compassionate towards their partner, enabling you to improve the bonding in the relationship.
The love life this year for your natives looks quite promising and exciting. The intimacy level in your relationship may increase. All these factors may carry you both considerably closer to each other, thereby showering drops of love and harmony in your life. Single natives may meet the love of their life during this year.
According to ganeshaspeaks, the intimacy level in your relationship may increase. All these factors may carry you both considerably closer to each other, thereby showering drops of love and harmony in your life.
Single natives may meet the love of their life during this year. However, if you want to plan a romantic attachment or marriage proposal, then you should do it after the first half of the year.
Married couples are likely to spend a romantic life together. You may enjoy great pleasures in bed with your spouse. This way, not only your intimacy but your love may also grow with each passing moment. You may start understanding each other better and may never impose your decisions on your partner. Instead, try to be there for each other and consult with each other on what they would be comfortable with.
Scorpio Horoscope 2022 for Money
In early 2022, many Scorpios face financial difficulties. You will have to seriously save or borrow. In the spring, you will be able to make good money and pamper yourself with large purchases. Some representatives of the sign will take care of the accumulation of funds or will be able to successfully invest money. In the summer, the horoscope predicts significant expenses, while the income will not exceed the upcoming expenses. With the arrival of autumn, financial receipts will not only be stable, for some Scorpios, money will flow like a river. Premiums, bonuses, winnings, dividends, return of old debts, profit from trade transactions – all funds will come in a single stream.
Usually, Scorpios cannot be called unnecessarily wasteful, nevertheless, success can turn the head of many representatives of the sign. The financial horoscope warns: income in 2022 and beyond will not be constant. It is important to avoid unnecessary spending and purchases of luxury goods, in addition, you should be careful when choosing a method of investing and accumulating funds. In December, common sense will fight against the urge to spend money on an old dream. The desire to pamper yourself is likely to win. At the same time, the horoscope advises Scorpios not to suffer from remorse and focus on the positive emotions received after the long-awaited acquisition.
As per the prediction of Scorpio finance horoscope 2022, there may be both income and expenditure in the year 2022, and you may not be able to save a lot of money this year. You may have to do expenses on health-related issues as well. Try clearing previous debt this year. New sources of income might just open for you, and there are also fewer chances of buying property this year. Avoid big investments during the first half of the period. This period will continue to help you acquire wealth because of the placement of Jupiter, and also there may be some expenditure in the family due to some auspicious event, and with the placement of Jupiter in the fourth house, there is a probability of acquiring movable and movable assets is also on the chart, as astrosage reported.
There would hardly be a crisis in terms of finances in the New Year 2022. There shall be a source of income and relieving time pertaining to money, especially in the starting few months of the year. Somewhere in the middle of the year, an auspicious phase for investments would occur. However, by the end of the year, you may go through a sort of financial crisis. But if you are pre-planned and organized, you will get through it all without haste and issues. The cards for yearly Scorpio finance horoscope 2022 also foretell that your efforts in accumulating wealth shall be successful. Those expecting gains from their business would possess profitable results too. Moreover, you can even expect money inflow from some sudden and totally out of the blue source, as per the year 2022 predictions for Scorpio sign.
Once this phase is over, the months of March and April will bring Jupiter into the house of property and health. The transition is very favorable as you would be able to invest in purchasing property and vehicles. As Jupiter transits in the fifth house of your Kundali, chances of earning money from extra sources may also rise. In this period, you could also invest in a hobby of yours and see monetary gains from it. Apart from gains, doing what you love shall further better your mental health. Also, it would inspire you to take it up as a profession in the coming future.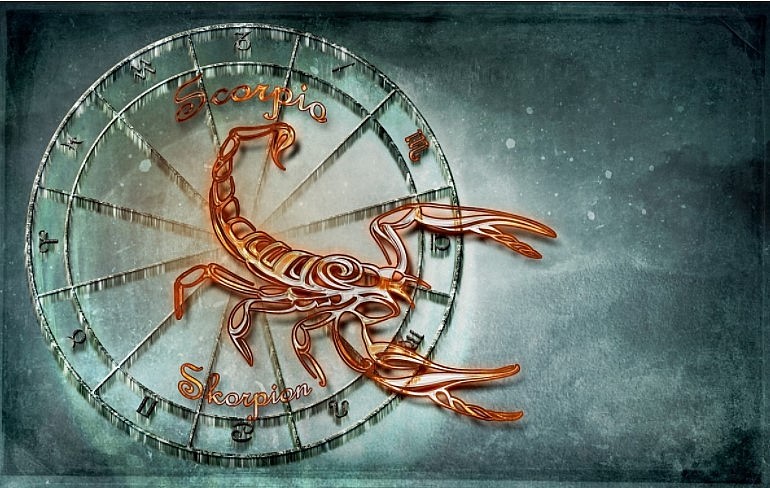 Scorpio zodiac sign. Photo: horoscope2021.
Now, as we move on to May 2022, as per your Scorpio finance horoscope 2022, the planet Mars will conjunct with planet Jupiter in the house of gains, thus further improving your monetary health. So by chance, if you have been wondering if you want to start a business or make a new investment, the month of May 2022 is what you need to keep your eyes on. The Scorpio 2022 horoscope suggests that any kind of investment or venture that spawns during this month will bring you positive results.
According to Astrotalk, in the month of August 2022, the planet Mercury will further improve the prospects for anyone owning a business. Any investment made in these months will add to your returns on investment. However, the expenditures of the family will also rise in this period. Thus, you need to figure out how you are going to balance all of it. The wealth horoscope 2022 for Scorpio advises you to bar away from making any new investments in the month of October as the income house lord will be transiting from the house of losses during this period. Furthermore, there will be a sparking rise in your expenditure during this period. Any form of family business will struggle, and if you are a student starting a career, you too may have to struggle to find the appropriate role for yourself. You should keep a hold on to your savings for any unfortunate condition that may arise during this period.
Scorpio Horoscope 2022 for Career
At the beginning of 2022, professional activity for Scorpios will be far from the fore. Fatigue accumulated in the previous months, health problems, depressive mood will affect. Many representatives of the sign will try to distance themselves from problems and responsibilities at work, which will seriously affect relationships in the team. Reprimands and dissatisfaction from leaders will make Scorpios pull themselves together and focus on work processes. In the spring, creative ideas, new plans, and opportunities for self-development will appear. In the summer months, the horoscope predicts another lull in business.
Autumn days will give Scorpios a significant change. Some representatives of the sign will successfully change their place of work, others will be able to climb the career ladder, and others will offer a more convenient schedule. The career horoscope 2022 states: special success awaits those who have long planned to organize their own business. The new moon of October and Mercury in Scorpio will have a beneficial effect on negotiations with partners and sponsors, which will allow concluding profitable long-term contracts. Some representatives of the sign, employed in leadership positions, will be able to find ways to better manage their resources, securing their status as a talented manager.
As per career horoscope 2022, you will be successful in your career because of your devotion, efforts, and hard work. Things will improve after April when Jupiter will transit in the 10th house, and there could be some problems at work because of your enemies; hence you should be cautious. Scorpio natives working in corporate sectors are expected to have a great work-life this year, and you may get success in your venture and can expect stability but only if they put in their full effort and hard work. The second half of the year will be more prosperous for you than the first one. People who are meant to change your workplace may get better companies.
You will have a pleasant time this year, Scorpio natives, especially pertaining to professional life. You will grab success in finger clicks, as per the yearly Scorpio horoscope 2022. However, if seen generally, it shall be a year of "okay-okay" results and situations. You would enjoy most of your time unbothered and unaffected by anything, either in your workplace or in business. Moreover, the annual Scorpio career horoscope 2022 says that the only thing you need to keep your hand off from is "Stress." Don't overanalyze anything or judge situations too early, and the rest would go just as planned and decided. While some will grab their dream job, some would just enjoy the fruits of promotion and profits.
For business buddies, your ideal and astonishing plans have waited for long. The annual Scorpio business horoscope 2022 shows that it's high time to present your ideas on the table. With the support and smart company, you would also find appropriate investors to help you with it. However, a piece of advice is to not run in haste as it shall lead you to losses and waste. Be calculative, think twice, and seek advice from a learned person before you put any money into your plans. Plus, the Scorpio annual horoscope 2022 also indicates that mid-period, i.e., May to August, will be best to show your entrepreneur skills.
Working natives can loosen themselves a little as the Scorpio job horoscope 2022 foretells that you would meet the growth target you have set for yourself by the end of the year. There might seem some hurdles and inconsistency in work, but as the year reaches its peak, you will be at your most active and enthusiastic pace. Furthermore, if you wish to change your job, wait till the mid months of the year as they shall bring you better opportunities than the rest of the year. While, if you are just stepping into the professional world, efforts in the right place will clear your way, as per the annual horoscope 2022 for Scorpio natives. You will get your dream job and the company you were longing to work with for a long time.
Education would be a thoughtful thing for you, foretells the Scorpio academic horoscope 2022. And, management, finance, and science students can try for projects and internships, as both will benefit them later. As for the people appearing for some government exams, you must focus a little more than usual, as the last few months of the year might test your skills and dedication, according to the Scorpio career horoscope 2022.
Scorpio Horoscope 2022 for Health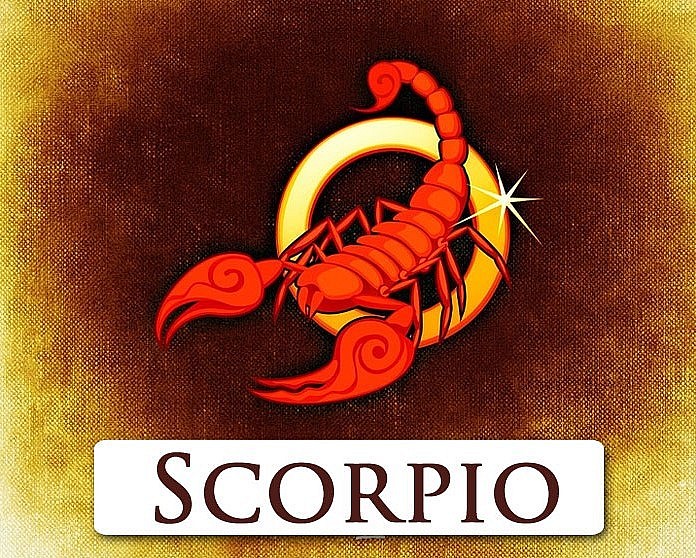 Scorpio zodiac sign. Photo: 321horoscope.
In early 2022, many representatives of the sign will face manifestations of allergic reactions. You should not ignore the problem, it is important to find out the cause of the ailment in order to avoid even more troubles in the future. The health horoscope recommends that Scorpios undergo diagnostic examinations, engage in the prevention of diseases and strengthen the immune system. It is in 2022 that it is important to closely monitor your well-being, since there is a risk of missing signs of breakdown in the body for everyday worries. In addition, it is necessary to avoid nervous overstrain, deal with stress and bad habits.
To maintain health, the horoscope advises Scorpios to move more, go out into the fresh air more often, and eat right in the winter of 2022. In the spring months, your well-being will improve. At the same time, an active lifestyle and communication with different people will increase the risk of infection. If you do not neglect simple safety rules, you can reduce the likelihood of illness to a minimum. In the summer, the horoscope recommends avoiding swimming in cold water. In the fall, the respiratory organs will be especially vulnerable. Some Scorpios will perceive periods of poor health throughout the year as an opportunity to rest, and will gladly follow medical recommendations.
As per the health horoscope 2022 prediction, the year ahead Saturn would bring about many changes in your physical and mental well-being, and there would be many ups and downs in your mood and general health. During this year, there would also be low energy levels and laying low relaxing in full swing. Some physical workouts would give you peace of mind. This would generally be a good year for your health. Personal and professional commitment might take a toll on your health at times, also because as Rahu is in the seventh house, it would interfere with the health of your spouse/partner, which might bring worries and anxiety to you.
Though most of the year would go smoothly and effortlessly for you Scorpio men and women, yet your health and wellbeing needs a check from time to time in the year 2022. There are high possibilities that the clouds of stress and illness may surround you if not taken proper care of them. It could be because of your work life or personal one. But, the cards suggest that feeling lousy and lazy shall come from within. Furthermore, the Scorpio health horoscope 2022 says that proper diet, regular exercise, and needful visits to a doctor shall skip the step of your down-health. Yes, there won't be anything "Super Serious," but being precautious will make your year better and healthy.
You need to take care to extremes to make the thing work for you in the New Year 2022. Especially in the first half of the year, when the cards foretell that bad health might chase you with intense concentration. Be regular on your meds, keep an optimistic mindset and make sure you stay away from anybody that offers a shortcut or some Totka to your illness. Also, the Scorpio health horoscope 2022 for ill natives says that the only way out of your disease would be following the experts and involving some healthy items in your diet.
It is no year to do some cheats and expect perfection in shape and body. According to the Scorpio horoscope 2022 for diet planners, neither gyming nor healthy food would help alone. Both things need to be in utmost synchronization for you to nail the health goals you have set for yourself. You can't just have what you want and still complain that you are not getting the kind of body you wish for. Thus, the big advice from the Scorpio yearly horoscope 2022 is to stick strictly to the diet plan experts have given you. Also, make sure you avoid the body-shaming part and focus more on the body-shaping one.
Yes, the year isn't a serious one for you. But, no, you can't take things lightly. The other aspects of your life may directly hit your well-being. So, the Scorpio horoscope 2022 for healthy folks insists you make a pact to yourself that, even in adversities, you will not forget you look after yourself. You will eat regularly and properly. Also, keep your eyes wide open in the middle months of the year, as you might catch some illness issues then.
Will 2022 be favorable for Scorpio natives?
The year 2022 will be quite promising for Scorpio people in almost all aspects of your life.
What kind of person should a Scorpion marry in 2022?
Cancer, a kindred water sign, is the perfect partner for a Scorpio. Scorpio and Pisces splendidly get along as well. They're both deep intellectuals with strong intuition—as if they could sense each other's thoughts.
In 2022, would a single Scorpio meet love?
2022 could be a good year for singles who wish to start dating. For those who have been in a long-term relationship, romance should be rekindled.
Will Scorpio individuals have money in 2022?
The year might be favorable for the Scorpio natives, and you shall go through mixed results in terms of money.
Is the year 2022 favorable for Scorpio students?
The students would enjoy a nice time in the New Year 2022.