THP's Leader Shares Key To Stay Strong Amid Covid-19
Covid-19 has brought very new experiences for both leaders and employees. It is most necessary to identify scenarios about the economy, business environment, and consumer taste to choose a solution.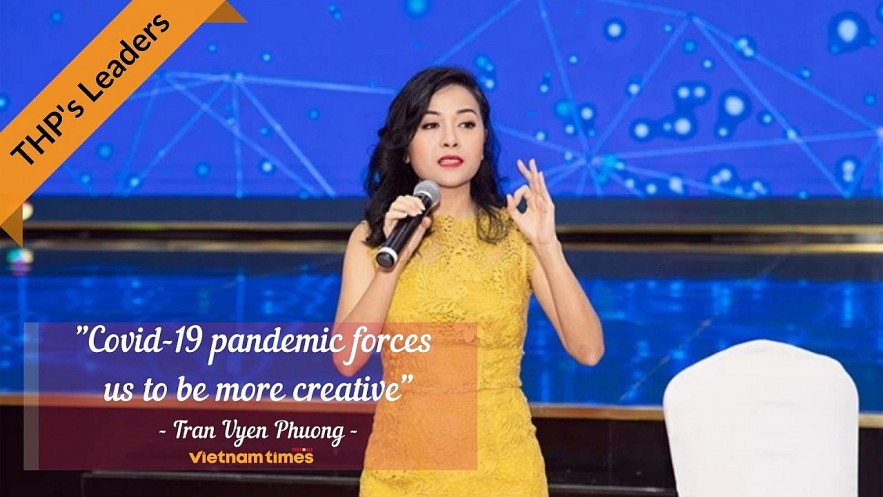 Ms. Tran Uyen Phuong, Deputy General Director of Tan Hiep Phat Group. Photo: VNT.
"Covid-19 pandemic forces us to be more creative"
Ms. Tran Uyen Phuong, Deputy CEO of Tan Hiep Phat Group (THP), is the author of the book named "Competing with Giants", who inspired the resilient spirit for tens of thousands of readers when the book shares the true story from the Group. THP's leaders declined the offer proposed $ 2.5 billion from Coca-Cola to choose the path of self-improvement and build a sustainable Vietnamese business.
"How is THP facing the Covid-19 pandemic, an unrecognized "giant entity" that has worsen the global economy over the past 20 months?" Editor-in-Chief of Business Forum Magazine, Mr. Pham Ngoc Tuan, asked Tran Uyen Phuong.
Accordingly, creativity is the best adaptive way to overcome the Covid-19 pandemic challenges. THP promotes creative spirit in every production and business cycle in order to stay strong and thrive. "Over the past 2 months, THP has operated under the 3T model for more than 1,000 employees. In order to embrace requirements, we have to be creative to adapt in every small unit, from keeping 5K safe, organizing meals and breaks for workers, taking care of workers' health and spiritual life to practice new skills in the environment of new normal. All of these are new situations that require creative solutions in everything", shared Tran Uyen Phuong.
When it comes to the customers' benefit, THP shared a very human way. Specifically, she affirmed that THP not only did not raise prices, but also supported prices through promotional activities so that the distribution system could support products to consumers and still ensure the highest standard of living. Moreover, the company made maximum efforts to improve the process to maintain the control mechanism and pay the suppliers on time.
A successful family business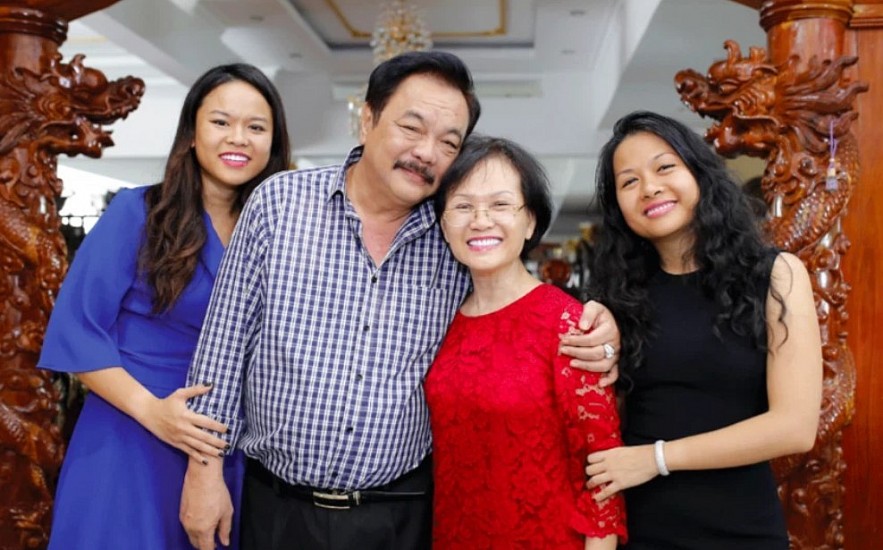 Tran Uyen Phuong with her parents and sister. Photo: Ms. Tran Uyen Phuong, Deputy General Director of Tan Hiep Phat Group.
It is undeniable that THP is one of the best examples of family business success in Vietnam. They are willing to absorb new things, listen to each other's views which are completely consistent with the development trend.
She also shared that all generations in her family are ready to change their minds, each family member is open to participating in running the organization and sharing common interests. "All generations should join a family business course together because it is impossible for one person to change and the other to keep the same mindset," said Mrs. Tran Uyen Phuong.
At THP, the invisible power of the founder is separated into three roles: Chairman of the Board of Directors, Board of Directors and the daily administrator. By separating these ones, the company has formed a simpler organization, which help more than 5,000 employees to easily interact with leaders.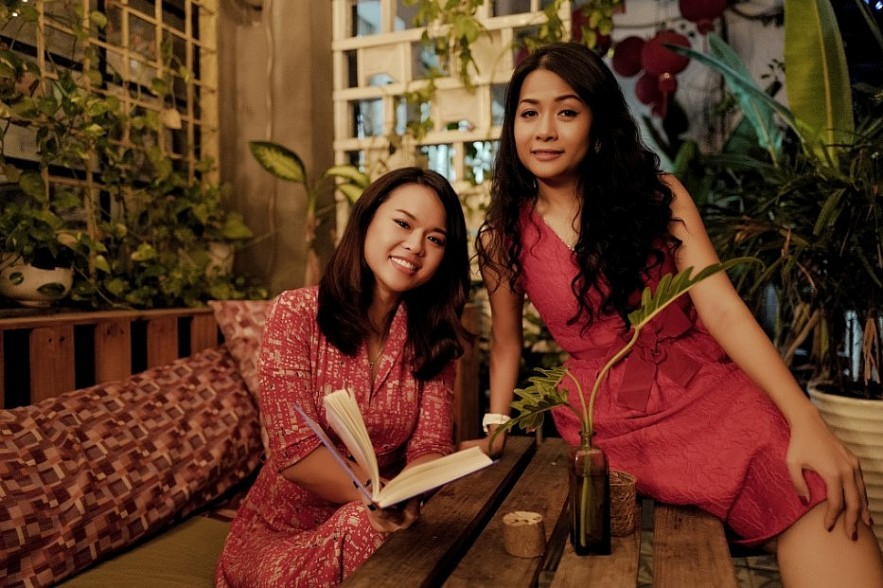 Tran Uyen Phuong (right) and her sister, Tran Ngoc Bich (left). Photo: cafebusiness.vn.
Cultural and emotional factors are also very important in THP, especially the culture of respecting people around. Love and family bonding factors bring creativity and strong development to businesses.
Family love is the impetus for the family business to grow. The family business is likened to a train, each carriage represents each generation. The family is considered the heart and the engine, then the track and the rudders are the management elements.
However, the process of recruiting family members for administrative positions must be as rigorous as hiring other people outside. This is also a successful lesson learned from corporations and family businesses around the world.
Health is the heart of post-pandemic consumption trends
A THP's leader is guiding how to arrange workers' sleeping tents at the factory. Photo: kinhtevadubao.vn.
Tran Uyen Phuong shared that there has been continuous discussions about the business environment and consumer tastes up to now to plan for 2022 and the long term. In fact, this work should have been done 2 months ago, but the Covid-19 pandemic created many challenges that made businesses, including THP to shape future development strategies.
According to Tran Uyen Phuong, consumers in the future will consider health as the focus of consumption trends. Luxury products and services will shift to on-site service. Cinemas, bars, restaurants... will continue to face difficulties in attracting customers, while the development of data or algorithms, the Internet and forms of online sales or software from big brands will thrive. Ethical brands, health care and good support for the community will be a plus point in the choice of consumers in the coming time.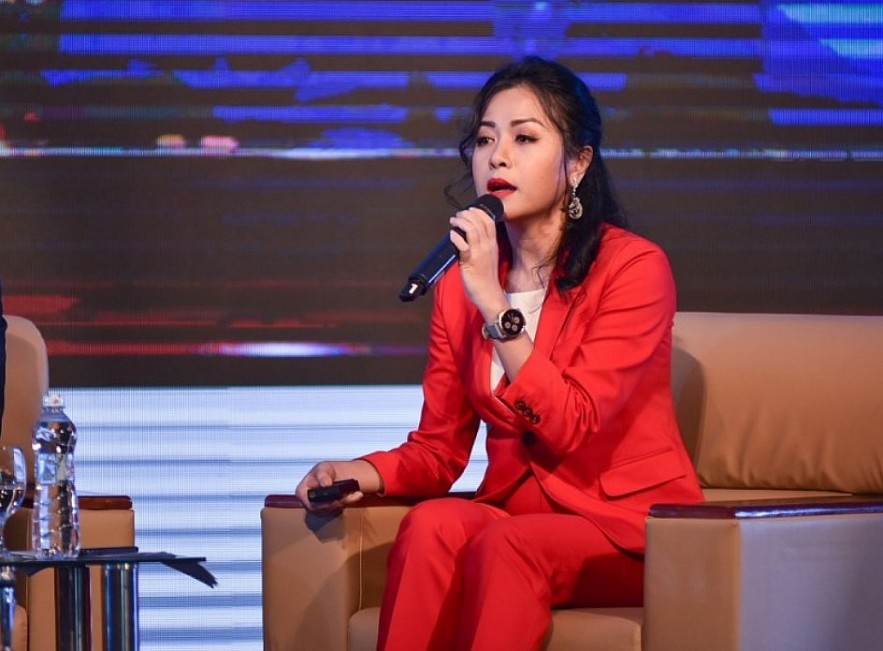 Tran Uyen Phuong. Photo: phano.org.vn.
Besides, businesses tend to recycle and upgrade products as well as provide low-cost digital services and experiences so that more consumers will be able to approach new products.
It is forecast that consumers tend to be loyal to current products and willing to try new ones. Moreover, they will seek and choose contactless retail, so e-commerce and cashless transactions will continue to thrive. Shopping via livestream has more opportunities for growth. "The value of the product will make consumers to be loyal to the product brand", shared Tran Uyen Phuong.
Uyen Phuong Tran, Deputy CEO of Tan Hiep Phat Beverage Group, is the author of the book "Competing with Giants" which has inspired thousands of readers with the spirit "Nothing is impossible". The book shares real-life stories of Tan Hiep Phat Group - the enterprise that had turned down Coca-Cola's offer to buy its business and is now building a sustainable Vietnamese business.
"Competing with Giants" revolves around the process CEO Than Qui Tran built Tan Hiep Phat company from empty hands and later became one of the largest beverage businesses in the Vietnamese market, even surpassing Coca Cola, Pepsico in several categories.
Phuong has highlighted the spirit "Nothing is impossible" – the fundamental philosophy that helps Vietnam gradually become Asia's new economic tiger.
Forbes earlier launched the book in the US. The event has made Vietnam and international headlines. Major US news agencies all dedicate a special position to publish photos of Phuong and the book "Competing with Giants" as a respect for a local Vietnamese company's desire to reach out to the world.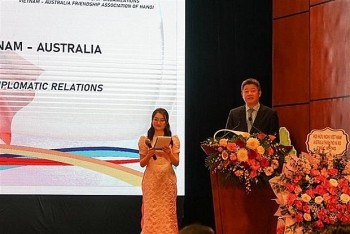 Friendship
A friendship exchange programme has been held recently in Hanoi to celebrate the 50th founding anniversary of the Vietnam-Australia diplomatic relations (February 26).