Top 4 magnificent salt fields in Vietnam's Central region
Vietnam's South Central Coast possesses stunning salt fields, drawing a slew of tourists and photography enthusiasts.
The salt field in Vietnam was named among the world's most beautiful spots to admire the sunset by a UK-based newspaper. The image of farmers industriously working on the salt fields can impress any nature-lovers and photography enthusiasts, Zing News reported.
Vietnam's South Central Coast is famous for its salt-making villages. The annual dry season, from March to July, is a good time to visit salt fields.
Sa Huynh (Quang Ngai)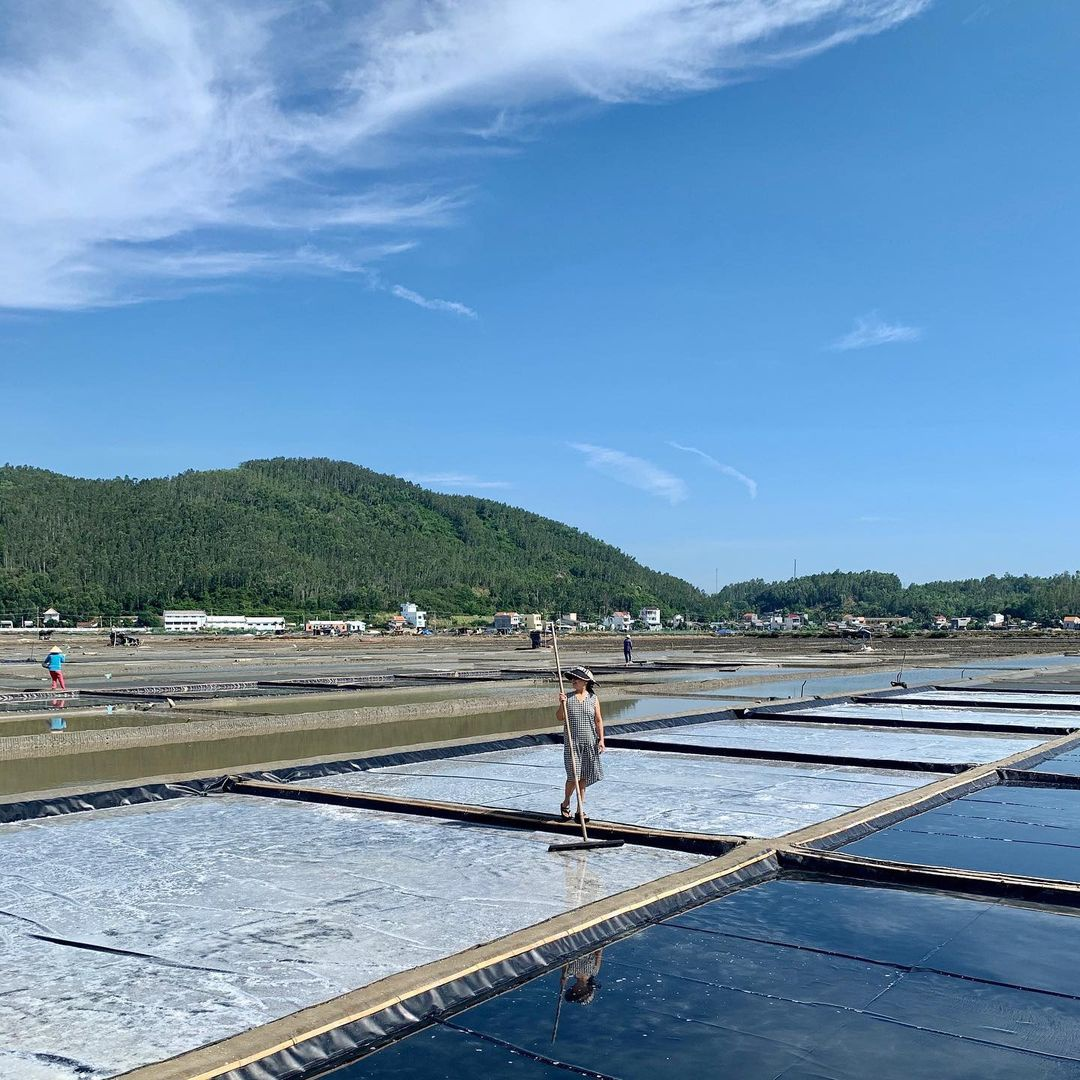 Photo: Hoang.mai.948
Sa Huynh salt field, located in Duc Tho District, Quang Ngai province covers an area of more than 100 hectares. According to historians, Sa Huynh salt field was formed in the nineteenth century. Salt-making has long been considered a tradition of Quang Ngai residents.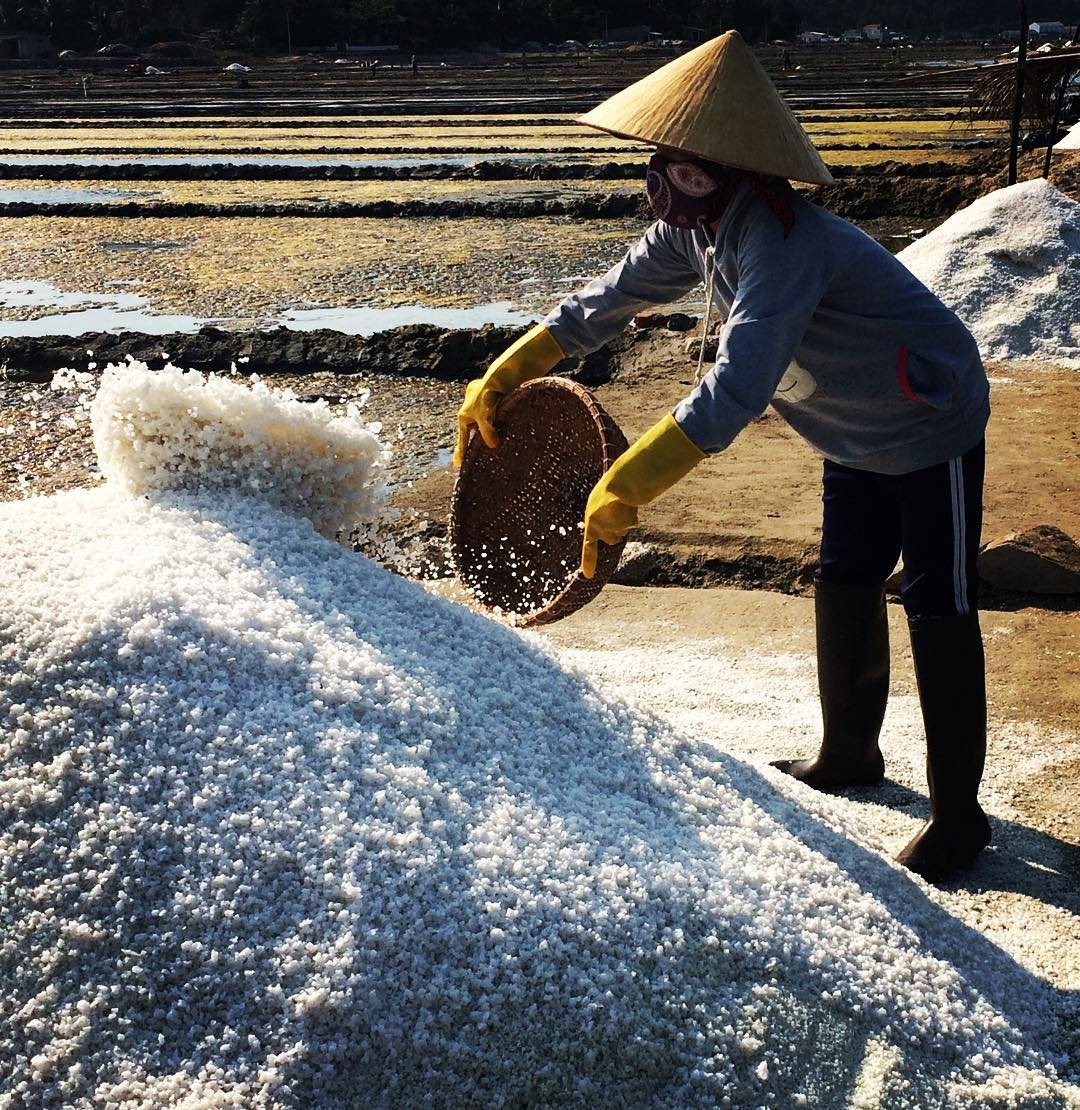 Photo: sahuseasalt
Farmers start making salts from dawn. Based on the high tide, farmers pump water from canals and ditches into the field. When the sun rises, the seawater crystallizes into salt. Farmers need to "dry" the seawater for 3 days so that salt can be white, big, and iridescent.
In early summer, the purely white salt fields shimmer under the sun, creating a charming scene. Coming here, tourists will have the chance to see with their own eyes salt-making processes, relish the sea atmosphere and immerse in the idyllic life of the locals.
Hon Khoi (Khanh Hoa)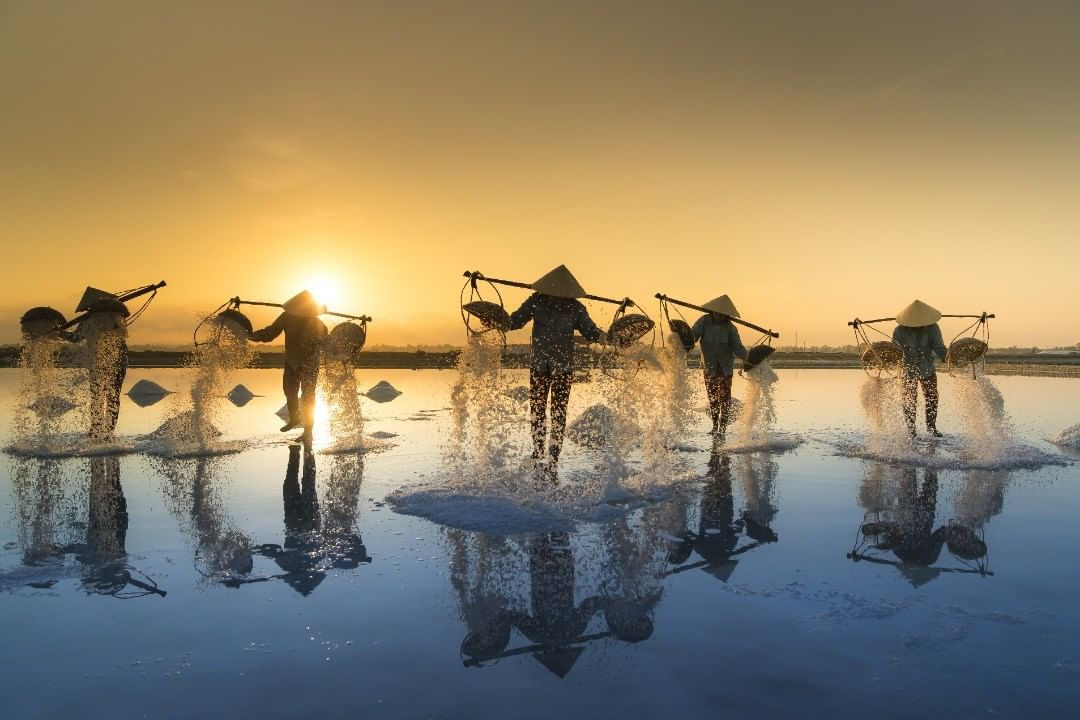 Photo: the_amazing_orient
Khanh Hoa is endowed with a long coastline, serving as a favorable condition for the salt-making profession to develop. Residents of Hon Khoi and Ninh Hoa, mainly women create giant salt "piles" which stand out amidst the sea.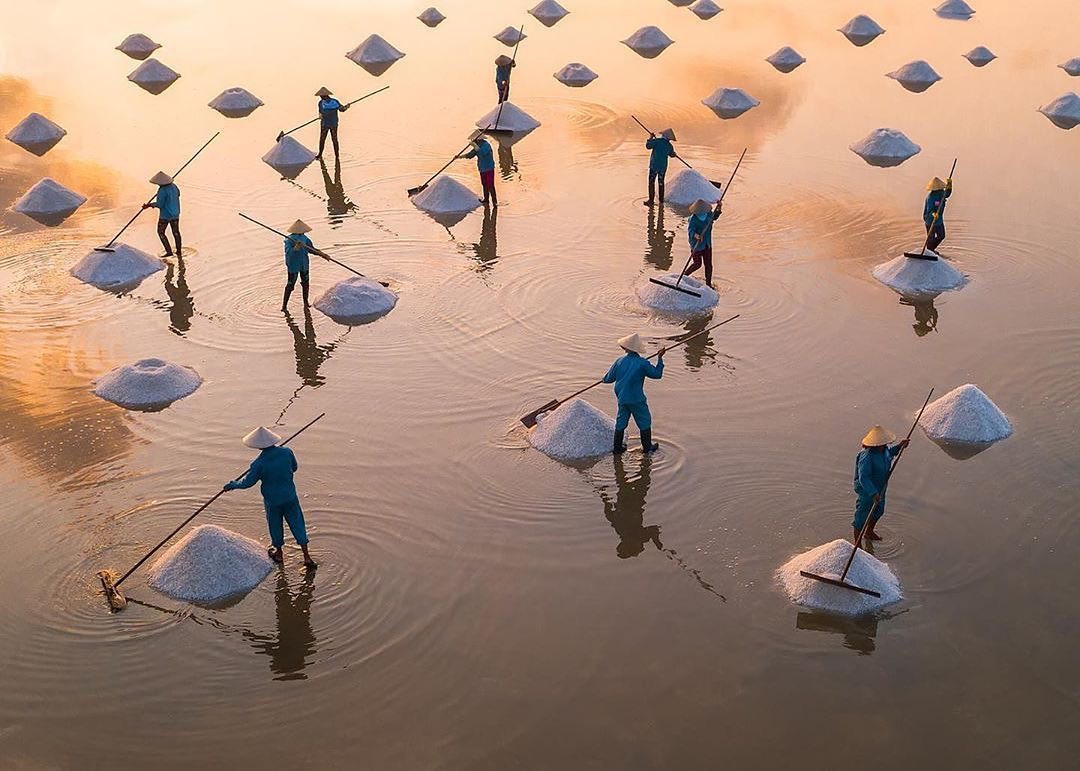 Photo: dreaminstreets
The best time to visit Hon Khoi is from December to April. Hon Khoi is believed to boast distinctive beauty at different time of the day.
From distance, the salt fields look like undulating mountains covered by morning mist. When the sunset descends, the salt fields become even more ravishing, capturing the hearts of any romance-seekers.
Ca Na (Ninh Thuan)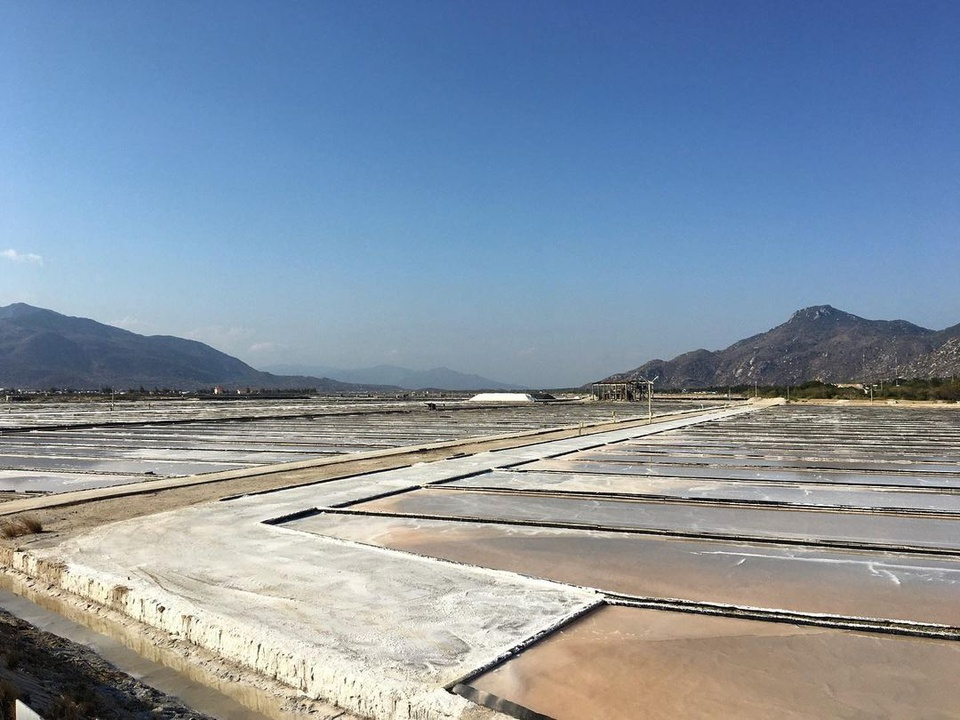 Photo: Nnt_journey
Ca Na is located in Thuan Nam district, Ninh Thuan Province, about 30 km south of Phan Rang - Thap Cham city. The salt-making profession in Ca Na has existed for more than 100 years. This place is considered one of the largest salt warehouses in Vietnam with an area of ​​up to 1,000 hectares spreading along the coast.
Farmers make salt from December to the end of the eighth lunar month, coinciding with the dry season. Since 2017, farmers have used canvas sheets to make salt, creating higher quality salt.
Ca Na salt is favored by many consumers thanks to its rich salty taste. The taste of the famous Ca Na fish sauce is partly contributed by pure white salt grains.
Phuong Cuu (Ninh Thuan)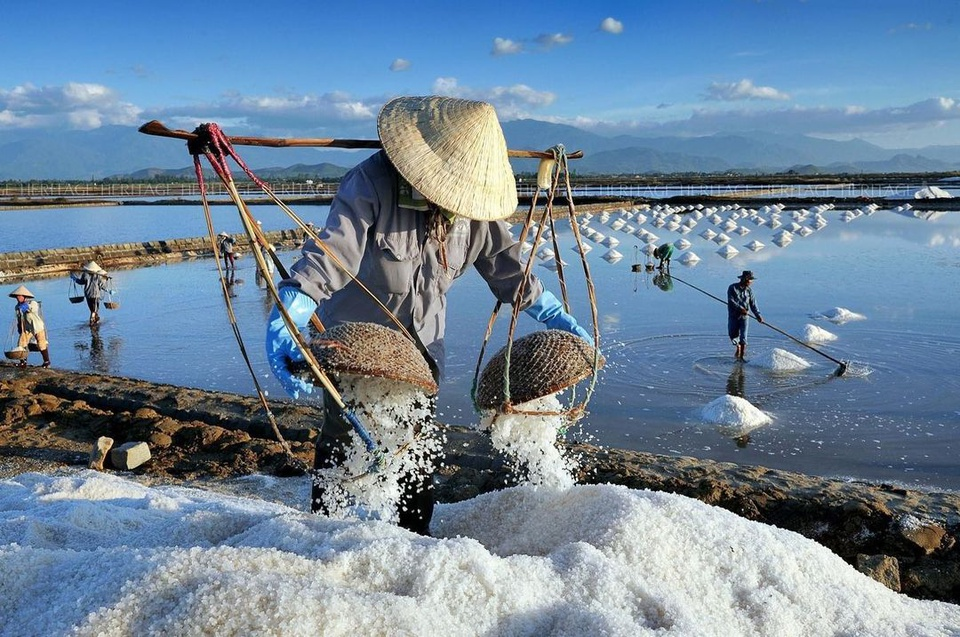 Photo: Heritagevna.magazine
About 15 km from Phan Rang - Thap Cham city, Phuong Cuu salt field is situated in Ninh Hai district, Ninh Thuan province. Not only bringing economic value, but Phuong Cuu salt field is also a "not-to-be-missed" destination of many visitors when coming to Ninh Thuan.
The salt-making season in Phuong Cuu lasts from December to May. If visiting the place in the salt-harvesting season, visitors will have the opportunity to enjoy the vivid picture which is blended between the sky, the sea, and farmers.
Farmers start to make salt from the early morning. The sunnier it is, the faster the salt crystallizes. It's the blazing sun in Ninh Thuan that creates pure white salt grains.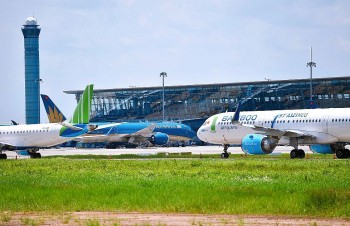 Economy
Vietnam Business & Weather Briefing (August 9): Vietnam's economic growth is expected to reach 7.5% in 2022, new securities accounts hit a near two-year low in July.