Truong Sa Brings Overseas Vietnamese Closer to Motherland
Vietnamese-French writer Hieu Constant recently released her book entitled 'Viet Kieu Voi Truong Sa' (Overseas Vietnamese people's sentiments toward the Spratly Archipelago), telling the story about the trip that Hieu and other Vietnamese expats from 24 countries around the world made to Truong Sa archipelago in 2018.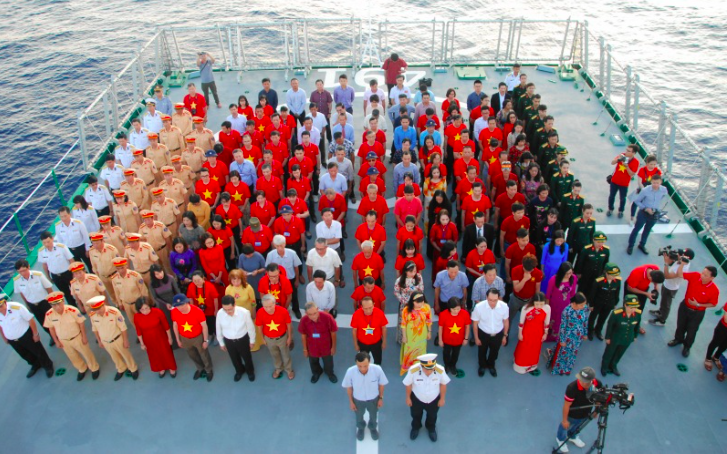 Delegates join a memorial service for Gac Ma naval martyrs. Photo: NDO
On the occasion of releasing the book, the author has shared more about 'Viet Kieu Voi Truong Sa' book in an interview, cited NDO.
Can you share with us about your feelings on your trip to Truong Sa?
Writer Hieu Constant: Prior to the trip, I had read quite a lot of books and documents, and attended film screenings, seminars, and talk exchanges with journalists and filmmakers about Truong Sa. I also got to see many posts and photos about the archipelago on social networks. Thus, I thought I knew a lot about Truong Sa. However, when I set foot on the archipelago, I was still very touched and surprised.
The trip lasted only 10 days, but I felt like I lived through dozens of lives, experiencing both joy and sadness, and above all, a lot of love. I believe that anyone who has once been to Truong Sa will not see life in the same way as before. Truong Sa makes people feel so small in the face of nature and brings Overseas Vietnamese closer to each other and closer to their motherland.
What did you gain the most from this meaningful trip?
Writer Hieu Constant: I must say that I have gained many things from this trip, but most of all, I discovered the land that I call the "fourth land" of Vietnam, in addition to the north, central and southern regions.
Another thing is that, thanks to this trip, I had the chance to become friends with many expatriates who are currently living in 24 countries around the world. They helped me learned about the life and activities of the Vietnamese communities in the host countries, many of which I have only heard the names of but never thought that there are Vietnamese people living there.
I also had the opportunity to listen to their life stories and difficulties, such as teaching Vietnamese language to their children and preserving Vietnamese national identity while integrating into host country. I admire achievements made by some of the OVs, and I have learnt a lot from them.
Also, through this trip, I consolidated by belief that no matter who they are and where they are living, OVs always turn their hearts towards the motherland.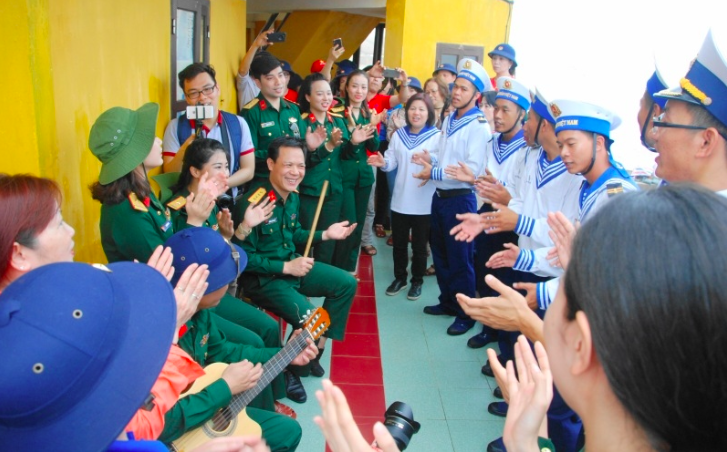 Cultural exchange with soldiers on the island. Photo: NDO
By bringing together Vietnamese expatriates from 24 countries around the world, it can be said that the trip was a special gathering of Overseas Vietnamese. From the perspective of a writer and a journalist, what do you think is the biggest difference as well as similarity among the participants?
Writer Hieu Constant: Apart from the fact that we have the same origin of Vietnamese culture, each of us is somehow affected by the culture and language of the host country where we are living and working.
Although there are many differences between us, including the reasons for leaving the country, we share one thing in common, which is our unfailing love for our homeland and Truong Sa. We are all willing to make contributions to the national construction and support our fellow countrymen when it is needed, such as natural disasters, floods, droughts, and diseases.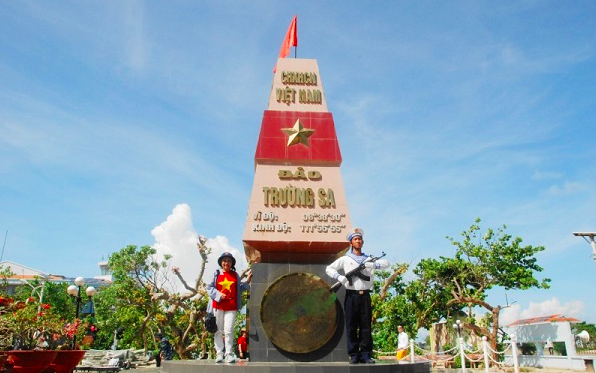 Writer Hieu Constant stands next to a sovereignty marker on Truong Sa Island. Photo: NDO
What surprised you the most during the 10-day journey to Truong Sa?
Writer Hieu Constant: The trip brought many nice surprises to me, but perhaps the most impressive one is witnessing with my own eyes the reefs in the archipelago, the green gardens grown by soldiers in the islands, and the giant turbines using wind to make electricity.
I was also surprised by the delegation of OVs in Thailand. Many of them were born and raised in Laos or Thailand, but they speak Vietnamese very fluently and have good understanding about Vietnamese history as well as a deep respect for the Fatherland and President Ho Chi Minh.
What motivated you to pen the book 'Kieu Bao with Truong Sa'?
Writer Hieu Constant: Prior to the trip, I planned to write several articles on the occasion. But when I arrived at Cam Ranh City and met other Overseas Vietnamese people who would join me in the trip, I came up with an idea of writing a book about this trip.
That's why during the journey, I tried to collect opinions, make detailed observations, and interview many people. I was very excited about this book, but after returning to France, it was very difficult for me to start writing. When I finished writing on this book, I felt so relieved indeed. I am so happy about this.
I have received many thank-you messages from the trip's participation for helping them speak out their love for Truong Sa. Through this book, I also want to send a message that Overseas Vietnamese always turn hearts to the homeland with the sincerest feeling and attachment.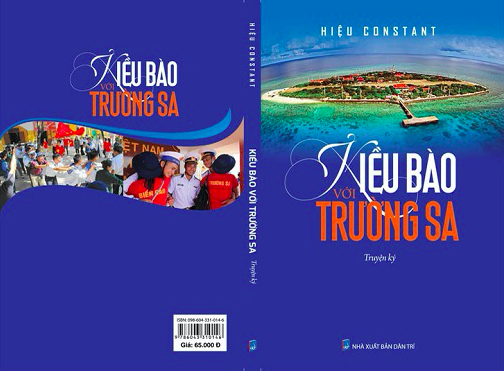 The cover of 'Viet Kieu Voi Truong Sa' book. Photo: NDO
What was your biggest challenge while working on the book?
The biggest challenge for me was how to portray and introduce the heroic and extraordinary beauty of Vietnam's seas and islands as well as the unyielding bravery of our naval soldiers, to readers at home and abroad.
I also tried to describe the feelings and emotions of Overseas Vietnamese, particularly the participants at the trip, towards Truong Sa. I'm glad that I fulfilled my wish and introduce the book to readers.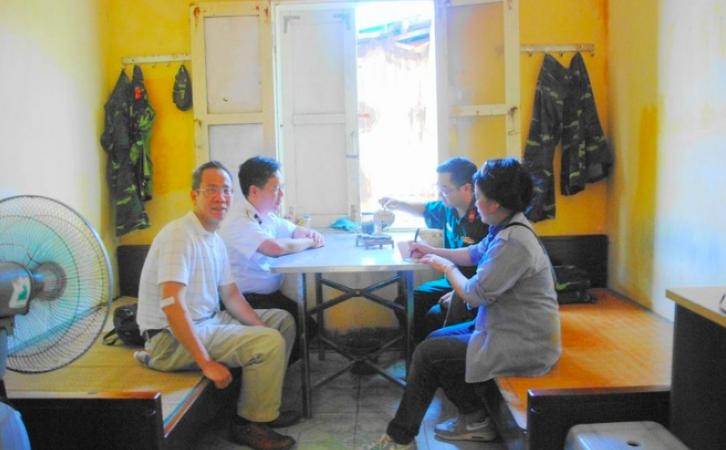 Writer Hieu Constant talks with doctors and nurses on Phan Vinh island. Photo: NDO
Truong Sa archipelago
Truong Sa archipelago consists of 21 islands and islets and is home to 33 navy units. Recognizing the importance of the archipelago and the DK1 rigs on the southern continental shelf, over the years the Party, State, and people have joined hands to make them stronger. In addition to military units, Truong Sa now boasts schools, medical stations, cultural houses, memorials, pagodas, and green spaces.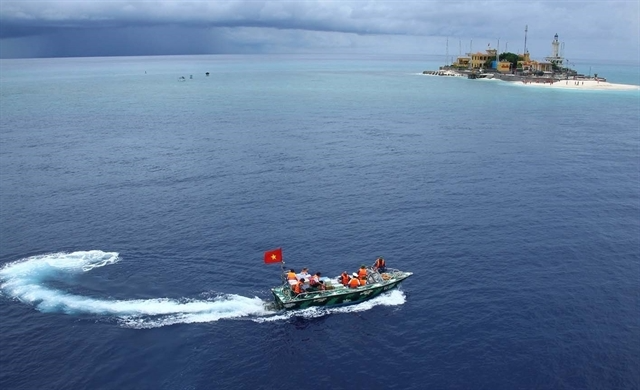 Approaching An Bang (Amboyna Cay) Island in Vietnam's Truong Sa (Spratly) archipelago. Photo: VNA
The Truong Sa archipelago is about 350 nautical miles from the Hoang Sa archipelago to the nearest island, about 500 nautical miles from the farthest island, 305 nautical miles from Vung Tau and 250 nautical miles from Cam Ranh, and 240 nautical miles from Phu Quoc island.
Amid an ocean of difficulties and despite being far from the mainland, navy sailors continue to safeguard Vietnam's sacred national sovereignty over seas and islands so that Truong Sa is forever a place for Vietnamese fishermen, helping to maintain peace for all, cited VNA.
"As we have repeatedly affirmed, Vietnam has sufficient historical evidence and legal basis to assert its sovereignty over the Hoang Sa (Paracel) and Truong Sa (Spratly) islands in accordance with international law," Foreign Ministry spokeswoman Le Thi Thu Hang said at a press meeting, reported VnExpress.
"Vietnam resolutely opposes against all acts of infringements of its sovereignty and rights related to these islands," Hang said.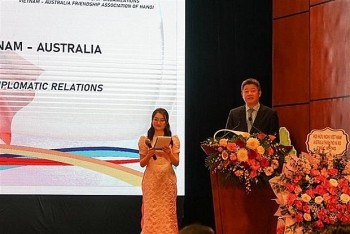 Friendship
A friendship exchange programme has been held recently in Hanoi to celebrate the 50th founding anniversary of the Vietnam-Australia diplomatic relations (February 26).