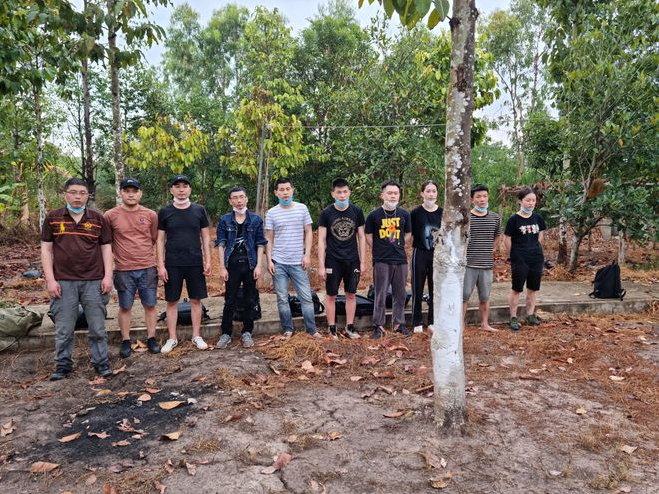 Long An Border Guard Command has just arrested and quarantined 12 Chinese people who illegally exited on the borderline in Vinh Hung district, Long An province. (Photo: Thanh Nien)
Accordingly, on March 23 morning, during a patrol over KT10, Ca Trot village, Khanh Hung commune, Vinh Hung district, the force, which includes border guards, police, local consultants discovered and arrested the 12 Chinese.
On the afternoon of March 25, Lieutenant Colonel Tran Van Thang, Head of the Ben Pho Border Guard (Long An Border Guard), said the unit had coordinated with relevant units to make minutes and report to the Steering Committee for COVID-19 Prevention in Vinh Hung commune.
After initial investigations, the arrested people confessed that they illegally entered Vietnam's northern Border on March 30 with the intention of exiting to Cambodia looking for jobs. Currently, the competent forces are continuing to investigate and handle the case according to the law, as well as coordinate with the Steering Committee of Covid-19 Prevention to conduct medical isolation of 12 above people in Vinh Hung district's isolation area.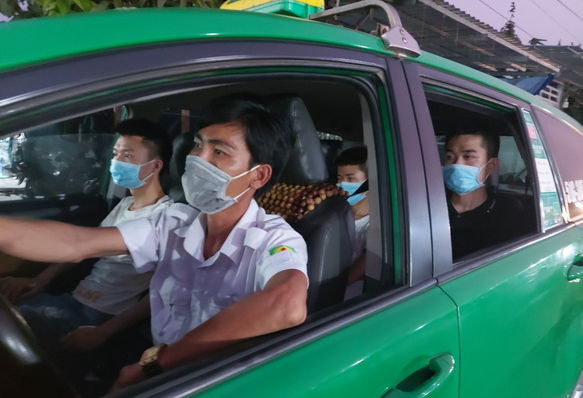 An Giang authority captured 7 Chinese illegally exiting Vietnam to Cambodia on two taxi cabs on March 20. (Photo: Bien Phong)
Since the beginning of 2021, the Long An provincial border guard has arrested 19 illegal entering and exiting cases with a total of 109 people, prosecuted 4 cases with 20 people as brokerages for others to illegally exit, sanctioned administrative violations of 84 people, handed over to Cambodia 1 case with 5 people illegally entering Vietnam.
Nearly a week ago, An Giang's border guard arrested 7 Chinese illegally exiting Vietnam to Cambodia on two taxi cabs. The issue was found out on March 20, as the provincial border force was performing its duties on Highway 91C in Ong Cai crab area of Dong Ky hamlet, Quoc Thai commune, An Phu district, An Giang province. The two cabs were driven by Long An locals. Those 9 people (7 illegal exiting Chinese and 2 cab drivers) were then put in isolation areas.
Valerie Mai