UK and Europe daily weather forecast latest, February 21: Strong winds, heavy rain engulf large parts of the UK as temperatures continue to soar
The UK is forecasted to cope with warnings of heavy rain and strong wind battering large parts of the country. Meanwhile, high pressure with dry and fine conditions set to cover across central Europe. Less settled elsewhere with heavy rain is expected for Portugal.
UK's weather forecast
The UK faces soaring temperatures with a 17C Saharan blast while parts of the country brace for more than double the monthly rainfall in February within just 24 hours.
The UK is facing "extremes" this week, as the country expects its warmest weekend in several months, according to the latest BBC weather forecast. Parts of the country, predominately in the south-east, will experience soaring temperatures as Saharan winds drift in. However, other areas, including southern Wales, could see double a month's worth of rain within just 24 hours, sparking Met Office warnings.
BBC meteorologist Tomasz Schafernaker told BBC Breakfast viewers that "it is looking a little mixed this weekend from one extreme to another".
He said: "For some of us, it will end up being a pretty decent weekend - mild with sunshine. But for others, it is going to be a washout, at least today across some western parts of the UK. It is southern Wales that is bearing the brunt of these heavy rain clouds."
He continued: "In this rainfall accumulation map, you can see a striking difference between the west and the east. There is hardly any rainfall in the forecast for the east of the country, while across southern parts of Wales, there is up to 200mm of heavy rain is expected with some flooding."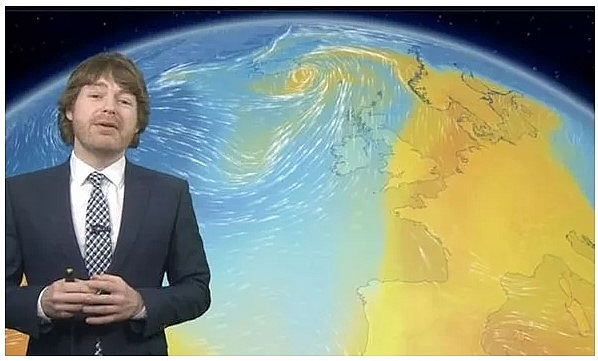 The country expects its warmest weekend in several months, according to the latest BBC forecast (Image: BBC)
Mr Schafernaker said that the Met Office had issued an amber warning for the region. A number of other heavy rain weather warnings have been issued for parts of England and Scotland from Friday until Sunday.
The BBC weather presenter added that temperatures will continue to soar across the south-east of the country with "as high as 17C with some sunshine in London". The milder air is due to a Saharan heat blast arriving in a "plume of warm air from Spain".
Met Office senior meteorologist Marco Petagna said: "For the amber warning, potentially up to 200mm (8in), that's twice the normal February rainfall."
According to Express, strong winds and heavy rain are set to engulf large parts of the UK over the next 48 hours as jet stream heads towards the UK. Weather charts show swirling winds circulating in the Irish Sea as an area of low-pressure closes-in from the Atlantic. Maps show a dark-red area forming along the west coast of Britain and it has triggered a series of weather warnings.
The Met Office already has four alerts for rain in place, including an amber warning covering the south western areas of Wales. The amber warning remains in place until 6pm on Saturday and says up to 200mm of rain is expected across higher ground.
UK weather warning: Strong winds are circulating around coastal regions (Image: Windy)
It says: "35 to 70 m of rainfall is expected widely within the warning area, with high ground and upslopes exposed to the south and southwest expected to see significantly more."
"Here rainfall totals are expected to reach 100 to 150 mm quite widely, with as much as 200 mm possible on the highest ground of south Wales before the rain band clears to the east during the late afternoon and evening."
"As well as heavy rain, strong to gale force southerly winds will be an additional hazard through Saturday."
BBC weather forecaster Louise Lear said the spell of wet and windy weather has been triggered by a jet stream over the past 24 hours, which is set to get stronger.
She said: "Thursday saw heavy rain clearing to sunny spells and scattering showers, but I suspect, as we head towards the weekend it gets a little more unsettled. Yes, it is going to stay mild, but the winds are really going to pick up, gale force gusts at times and there is going to be some heavy persistent rain for some but not all of us."
"One of the reasons – there is a fairly amplified jet stream at the moment. It's the jet stream that is responsible for directing areas of low pressure across the UK."
She added: "It's going to bring gale force gusts of winds and a spell of very wet weather across west-facing coasts throughout the day on Friday. But the winds gusting in excess of 55mph on exposed coasts and some of that rain fairly relentless, so rainfall are certainly starting to tot-up."
Ms Lear said the unsettled conditions will "continue to bring some erratic spells of wet weather", with western areas most affected. She added: "As we move towards the weekend we've still got this feed of very moist air."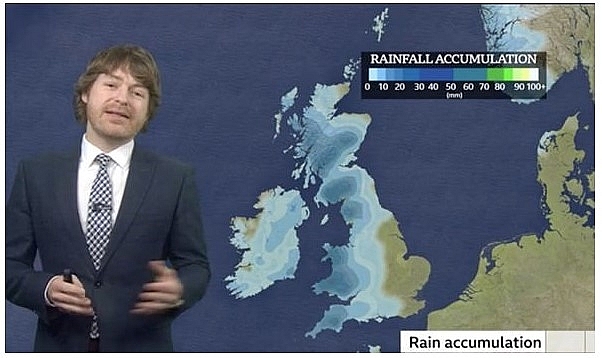 Schafernaker said that the Met Office had issued an amber warning for the region (Image: BBC)
"That's going to be driving that weather front, that's going to continue to bring some erratic spells of wet weather out to the west, and some of those totals are really going to start to tot-up as we see that intense weather particularly across higher ground."
The spell of wet and windy weather is set to escape large parts of the south east of England. Temperatures are set to remain relatively mild with highs of 16C on Saturday.
Met Office chief forecaster Steve Willington said: "Mild air - from much further south in the Atlantic - is being directed towards the UK."
On February 21
According to Weather Online, a band of rain remains through central and southern England on Sunday, possibly turning heavy for some at times. Drier with some bright spells across East Anglia and South East England. Largely dry and fine elsewhere although some scattered showers are likely to blow in across southern and western parts of Scotland, Ireland and Northern Ireland as well as western areas of Wales. Windy for the far north and far west. Highs at 14C in southeast England, mainly 9 to 12C elsewhere.
Rain, mostly light, across southeastern areas of England, probably edging westwards later. Showery in the northwest with some sunny intervals, but a wedge of fine weather in between these areas, Met Office reported.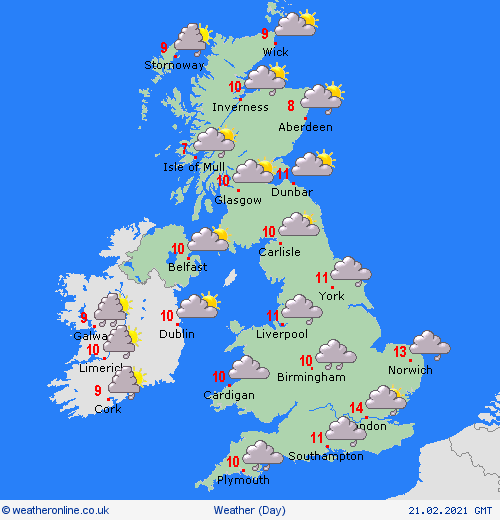 Photo: Weather Online
Outlook for Monday to Wednesday
Monday, cloud with some rain across the south, brighter elsewhere with showers in the far north-west. Tuesday/Wednesday, turning much more unsettled in the west/north-west, drier and very mild further east/south-east.
Europe's weather forecast
Heavy rain across western Portugal and north-west Spain on Saturday. Breezy, warm and dry for the rest of Spain. Staying warm and sunny to across the Balearics, Corsica and Sardinia. Italy will have a fine day with lots of sunshine. Remaining sunny and dry across Greece and Turkey.
Windy weather across France and mostly dry here with good sunny spells although the far northwest seeing some rain. Windy through the low countries and fair. Staying fair and dry as well as very mild across Germany and Poland. Hungary will be dry and warm with good spells of sunshine. The fair weather continues through Austria and Switzerland with more sunshine here.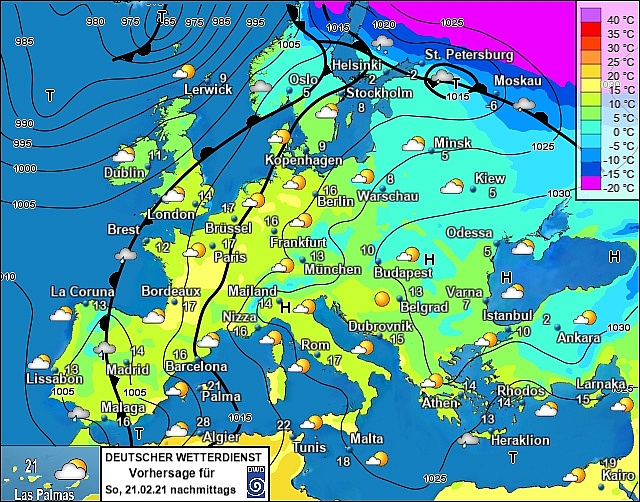 Photo: Stirimeteo
Cloudy skies for Denmark with some drizzle and this will be affecting much of southern Sweden. A rather dull day in the Baltic states as well with cloud and some drizzle here. Finland will have more persistent rain and sleet, with some heavy rain and sleet affecting northern Sweden. Norway will be rather dull and cloudy with drizzle over western and southern coasts, rain and sleet in central areas.
On February 21
According to Weather Online, rain clearing Portugal through the morning to allow for sunny spells but also some showers about. The rain will push across Spain although the far northeast should remain dry throughout. Breezy along southern coasts. Dry through the Balearics but winds will strengthen and cloud amount will increase. Dry and fine across Italy but rather windy across Corsica and Sardinia. An improving day across Greece as showers clear from the north. Dry for much of Turkey.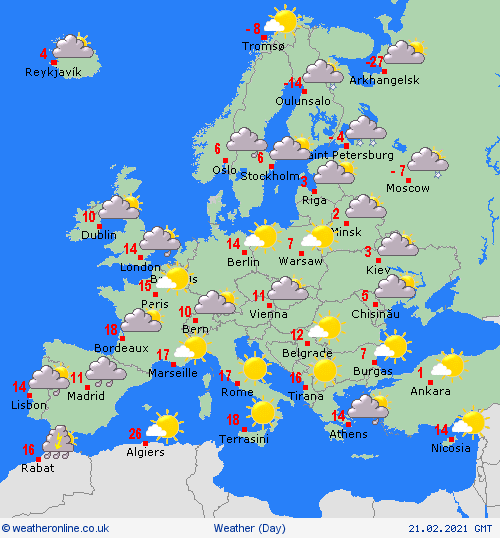 Photo: Weather Online
A mostly dry and fine scene once again across central Europe, although rain and cloud will still affect northwest France as well as western coasts here. A gale force wind will also blow up through the coastal areas of southern France. Less windy for the Low Countries on Sunday.
Still rain, sleet and snow affecting much of Norway as well as northern Sweden and Finland will see largely cloudy skies with a mix of rain, sleet and snow too. A largely cloudy but dry day for the Baltics. Denmark too will be dry but sunny spells are expected.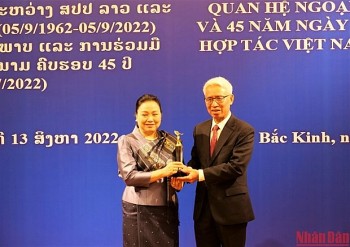 Friendship
The embassies of Vietnam and Laos in China held a friendship exchange in Beijing on August 13 in celebration of the 60th anniversary of the two countries' diplomatic ties (September 5) and 45 years since of signing of the Treaty of Friendship and Cooperation (July 18).