UK and Europe daily weather forecast latest, February 27: Fine and mainly dry day with bright or sunny spells in the UK
UK and Europe daily weather forecast: The UK is forecasted to experience another fine and mainly dry day, with bright or sunny spells. However, southern Ireland, parts of southern Scotland and the north of England and Wales will be rather cloudy at times with some light rain possible. Meanwhile, Europe is expected to have plenty of sunshine across many areas and some rain in western Norway.
UK's weather forecast
In fact most places start off sunny today, but there's also a widespread frost with some isolated fog patches, Sky News reported.
It's a mainly dry morning though, except across northern Scotland where it's cloudy and breezy with rain over the Northern Isles.
There will be plenty of sunshine this afternoon, once the early murky conditions clear. Rain across Shetland and Orkney will clear as well, leaving most of the UK and Ireland mainly dry.
However, later it'll become cloudier and windier across the far North West as a band of rain approaches. Tonight will be clear and frosty for most of England and Wales again, with some fog forming by dawn too.
Meanwhile, Ireland, Northern Ireland and Scotland will be cloudier and milder with some outbreaks of rain.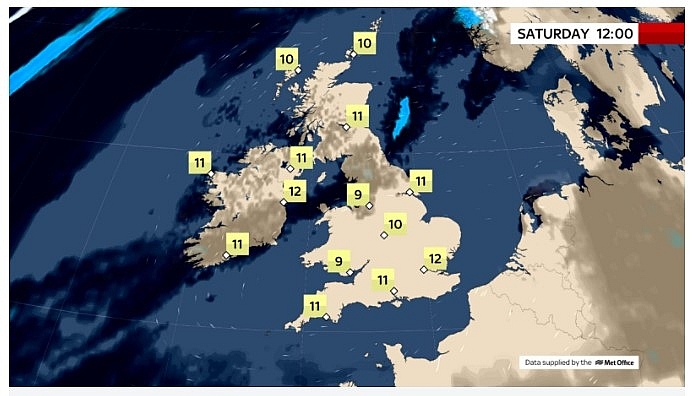 Saturday Afternoon Weather. Photo: Sky News
Tomorrow looks to be another fine and mainly dry day, with bright or sunny spells. However, southern Ireland, parts of southern Scotland and the north of England and Wales will be rather cloudy at times with some light rain possible. Sunday will be a cloudier day overall for most places, but staying mainly dry again.
The bitterly cold air could head towards the UK at the start of March triggering a sharp drop in temperatures with -4C expected in central Scotland, weather maps suggest. According to a forecast chart by the Weather Outlook, the colder air - represented by darker blue shades on the map, moves into Scandinavia on March 2-3 and remains in place for over a week, Express reported.
Commenting on a chart which shows blue air sweep across Europe towards Britain, the Weather Outlook wrote on Twitter: "GFS 06z shows quite a cold evolution with the risk of snow returning to central and northern areas".
Freezing conditions are expected for parts of Scotland on March 3 and will be widespread across the UK by the night of March 6, a chart by WxCharts suggests.
The bone-chilling air will grip the country overnight for a number of days, especially over high areas, with parts of the Scottish Highlands forecast to receive -4C on March 13.
BBC Weather has forecast conditions will become colder and more volatile for Britain between March 8 and March 21 after a more temperate period.
Cold weather will blow into the UK from the East (Image: TheWeatherOutlook)
Its weather forecast reads: "For the second week of March, high pressure will begin to shift away to the west. This will allow the colder flows from northeast Europe to move in, bringing fresher Atlantic air from the north or northwest."
"Temperatures will tend to dip below average, but it will still be drier than normal with high pressure close enough to keep any strong weather fronts away to the north. However, it won't be quite as dry as the first week of March, and some rain is likely at times."
On February 27
According to Weather Online, pressure will be staying high through Saturday. However a weak front will slip south through Scotland and Ireland bringing some cloud and a few spots of rain over western coasts and hills. This cloud is slipping into northern England and parts of Wales in the afternoon as well. Staying fine though across many central, southern and eastern parts of England, with brighter weather returning to northern Scotland and Northern Ireland in the afternoon. Highs at 9 to 11C.
Band of cloud and patchy light rain moving south into northern England and north Wales, else dry with sunny spells and mild once again, Met Office reported.
Outlook for Sunday to Tuesday
Continuing largely dry for most with patchy cloud and sunny spells by day, and some overnight frost and fog. Temperatures on the mild side and feeling warm in light winds.
During Sunday thicker cloud could bring an odd spot of rain at times to central and possibly southern regions but it should be mostly dry. The brightest skies will probably be in northern areas and to the south of London. After a chilly start it will be quite mild in the afternoon, The Weather Outlook reported.
The predominantly settled theme continues on Monday. In the afternoon sunshine it should feel quite warm.
Tuesday is expected to be a fine day in the northern half of the UK. In southern and central Britain there is a risk of showery spells of rain developing later on. It stays mild.
According to The Sun, Sunday and going into Tuesday, it will continue being largely dry for most with patchy cloud and sunny spells by day, and some overnight frost and fog. Temperatures will be on the mild side mainly. It will be feeling warm with light winds.
Europe's weather forecast
A few showers across Southwest Portugal and southern Spain on Friday. Most of Iberia will be fine with lots of sunshine. Further sunshine through Italy as well as Greece and feeling warm here. Fare across Turkey and warmer than the last few days.
Fair for much of northern and western France, although there will be some cloud and rain in the east. Sunny spells across the Netherlands and northern Germany, but some rain in southern Germany. Poland will be dry with broken cloud. Fare through Hungary and Austria as well as Switzerland.
Windy in Denmark but dry with good spells of sunshine. Chilly and windy in much of Sweden and generally dry. Windy to through the Baltic states and feeling cool with some sleet showers. Bright but cold in Finland although mostly dry. Some wintry showers affecting western coast of Norway.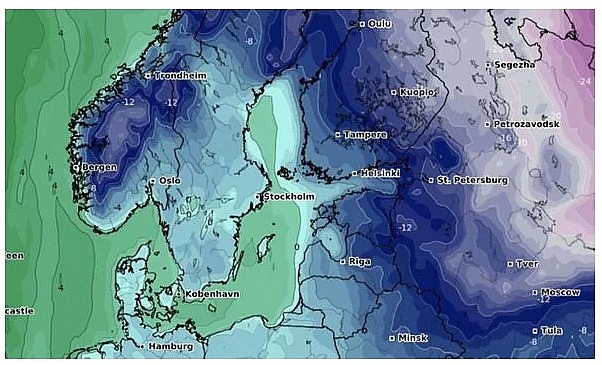 Parts of Russia will see temperatures of -24C on March 8 (Image: WXCHARTS)
On February 27
According to Weather Online, a fine morning in Portugal with good spells of sunshine. Staying sunny too through Spain. There will be further sunshine and fair conditions through Italy and Greece. More sunshine in Turkey as well.
Breezy through France but with broken cloud and some sunny spells. A few showers in central France but dry elsewhere. Sunny too through the Low Countries and Germany. Breezy and bright in Poland. Fair across Hungary and Austria with more sunshine here. Switzerland will be breezy and dry with yet more sunshine.
Fair in Denmark, more sunny spells. Breezy for the Baltic States with sunny periods. Staying bright in Finland and feeling chilly in the breeze. Fair for Sweden. Norway will be cloudier with rain in the west.
Outlook for March
A separate temperature model from WxCharts shows Norway and northern parts of Sweden will see temperatures to fall to -9C during the evening and night of March 3, Express reported.
The following day thermometers are expected to drop down to -16C in some areas.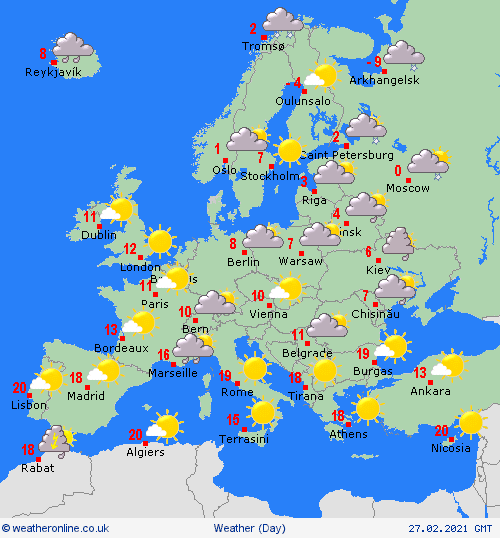 Photo: Weather Online
On March 5, temperatures in parts of Russia could hit -20C east of Petrozavodsk with -12C for the capital Moscow. The temperatures are projected to fall even lower on the days following - reaching as low as -24C on March 7.
The cold snap over Scandinavia will continue into March 13 when -12C temperatures are expected across Norway. This colder air moving across Europe is expected to nudge towards Britain during this period.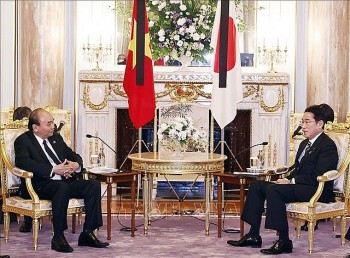 Friendship
Vietnam always treasures the extensive strategic partnership with Japan and views Japan as an important and long-term strategic partner, President Nguyen Xuan Phuc told Japanese Prime Minister Kishida Fumio in Tokyo on September 26.