UK and Europe weather forecast July 21: Searing temperature continues before thundery downpours in Europe
Heat blast is forecasted to boil Britain this week, meanwhile, searing temperature will continue in Europe before thundery downpours.
UK's weather forecast July 21-22
The UK has basked in hot weather this month, with more on the way over the coming days. While showers and wind will break up the heat at various points, areas such as Surrey and London will scorch in 25C highs on Friday as Atlantic heat from Portugal, according to Netweather's hot weather maps.
Paul Michaelwaite at Netweather said: "Looking ahead to the start of next week, the friend of UK summers; the Azores high will ridge in from the southwest. "So there'll be plenty of fine, dry and warm weather."
"It'll struggle to exert its influence to northern Britain at times though, with weather fronts bringing some rain in from the northwest on Tuesday and into midweek."
He added this weekend is also experiencing highs of 27C in southern regions.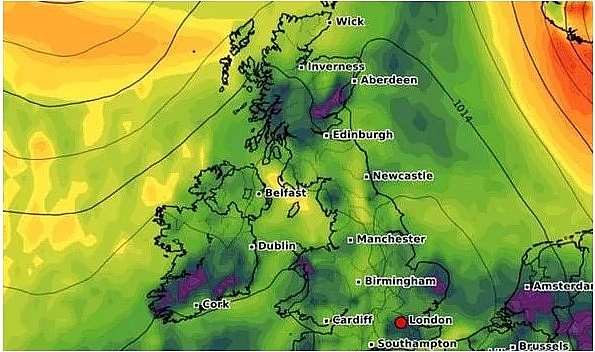 UK hot weather forecast: Britons will bake in heat from the Azores (Image: WX CHARTS)
Mr Michaelwaite said: "Temperatures on Saturday will peak at 24-27c across southern and southeast England, including East Anglia.
"15-19c will be typical elsewhere, with the lower end of that scale in western parts of Wales and Northern England under the thicker cloud.
"Overnight, it stays muggy in the southeast but cooler and fresher elsewhere with lows dipping into single figures from northern England northwards."
He added Sunday will be hit with moderate highs of 21C in many parts.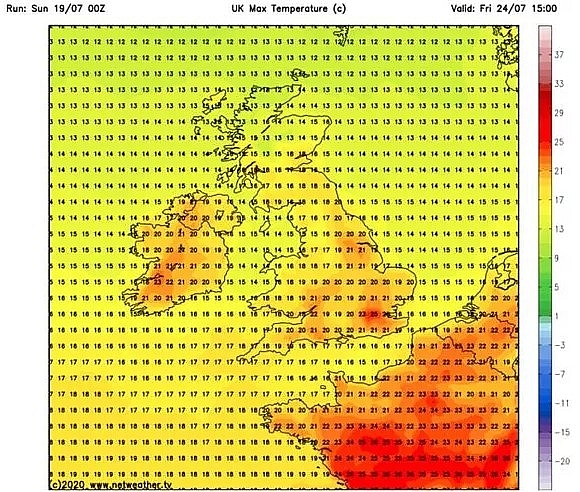 UK hot weather forecast: The latest maps show highs of 25C (Image: NET WEATHER)
He said: "By Sunday, a good part of England and Wales will see highs rise to 18-21c under often sunny skies.
"The southeast, with more cloud, will be cooler, as will Scotland and Northern Ireland with the mid-high teens more likely.
"The sunshine will be interrupted by showers at times across the northern half of the UK though, and that southeast corner will stay under the front with patchy, showery rain coming and go through much of the day."
Meanwhile, The Met Office also forecast wamer air creeping in next week.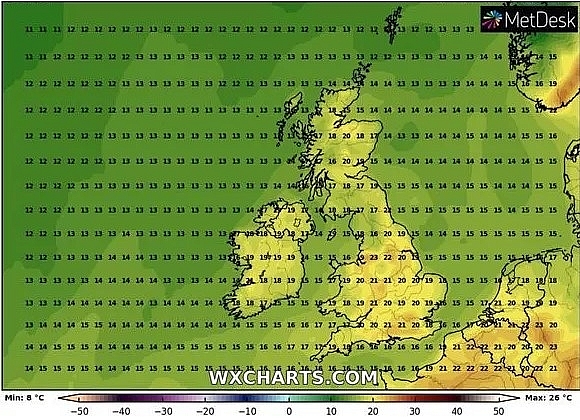 UK hot weather forecast: High pressure will swamp the UK (Image: WX CHARTS)
It said on Sunday morning: "Early cloud and outbreaks of rain over southern England and East Anglia slowly becoming confined to far southeast England. Otherwise, sunny spells but also a few showers in the north.
"Tonight, rain clearing the southeast then a cool night expected with good clear spells. A few showers continuing in the north.
"Monday: A mostly dry day for England and Wales and feeling warm in sunshine and light winds. Showers in the northwest developing further over Northern Ireland, Scotland and perhaps northern England.
"Outlook for Tuesday to Thursday: A few showers for the north Tuesday, otherwise dry. Rain reaching the north Wednesday then edging slowly south. The far south may stay dry and here it will become warm."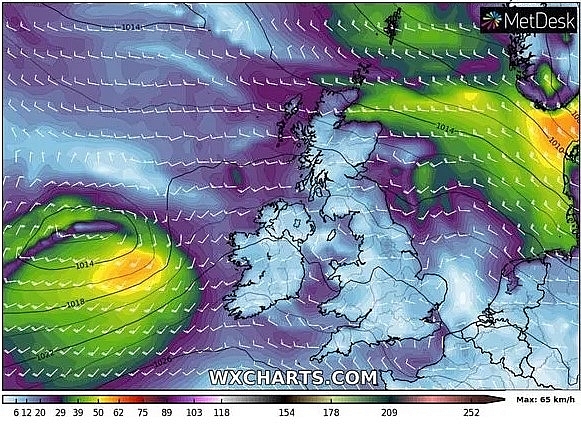 UK hot weather forecast: Southern regions will be blasted with heat (Image: WX CHARTS)
On July 21
High pressure extends across southern areas, with dry and pleasantly warm conditions for England, Wales and much of Ireland. Sunny spells and well broken cloud here with light winds and coastal sea breezes. Cloudier for Scotland and Northern Ireland with a risk of a little rain or drizzle for western coasts. Local showers may form in eastern Scotland and northeastern England by afternoon. Highs at 16 to 22C, warmest southeast.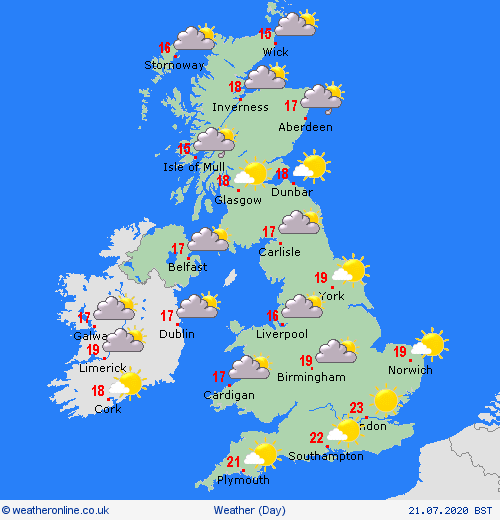 Photo: weatheronline.co.uk
On July 22
A weak front spreads cloud and outbreaks of rain through Scotland and the northern half of the island of Ireland, mostly affecting western areas where it could be locally heavy. Elsewhere it should be dry with increasing cloud, but some bright or sunny spells too. The best of the sunshine in the south. Warm for many with highs at 23C in southern England, 14C in northern Scotland.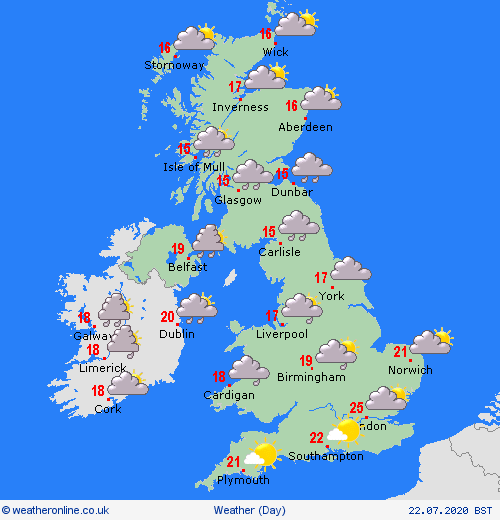 Photo: weatheronline.co.uk
Europe's weather forecast
BBC Weather have forecasted searing temperatures in Europe will continue for the majority of the continent with only a few thunderstorm outbreaks expected in the new week, express.co.uk reported.
BBC weather forecaster Louise Lear said Europe can expect warm and dry days in the new week. She said the hottest temperatures will likely be in Spain and Portugal and will be just shy of 40C. This widespread hot weather will make way for thunderstorms and showers to from a new weather front moving from the north into the continent.
Ms Lear said: "It is dry and settled through much of the Mediterranean at the moment.
"It is the western Med that has got the heat, particularly across Iberia. "High pressure is controlling things and it is quieting down in the UK down to France."
The BBC Weather forecast added there was a weather front of rain moving south from Scandinavia into central and eastern Europe.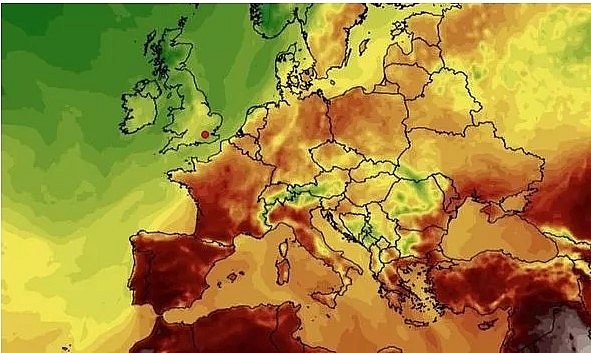 BBC Weather: Boiling temperatures continue across Europe ahead of thundery downpours (Image: WXCHARTS)
Ms Lear continued: "There is a weather front moving through Sweden and it will be effecting northern Germany and Poland.
"That will also be bringing heavy outbreaks of rain as well. "There will be a good deal of sunshine, however.
"If you look at the temperatures in Madrid you can see it is 37 degrees Celsius expected here."
BBC Weather: The weather forecaster explained that despite the majority of Europe experiencing hot dry weather, some pockets of the continent will experience heavy rain and thunderstorms. (Image: WXCHARTS )
"It is a little bit cooler into Italy, a little bit down on where they should be for the time of year."
The weather forecaster explained that despite the majority of Europe experiencing hot dry weather, some pockets of the continent will experience heavy rain and thunderstorms.
She said: "On Tuesday there could be a few sharp thundery downpours through the Alps as we go through the afternoon.
"Turkey and mainland Greece, as well as the isles, will be fine and quiet with temperatures around 30C.
"There will be a good deal of dry weather stretching through France and across the UK.
"It will also be a little bit quieter across Scandinavia as that wet front slowly starts to edge its way eastwards."
In the new week, western Europe will remain the most dry and see the hottest temperatures with some countries avoiding the new weather front altogether.
On July 21
Hot and sunny again for Portugal and Spain with the warmth focussed to the southwest of Iberia. This may also be where we see thunderstorms flare up later. Warm, dry and sunny conditions extend through the Mediterranean to the Balearic Islands, Corsica, Sardinia, Italy, the Balkans, Greece, Cyprus and Turkey, weatheronline.co.uk reported.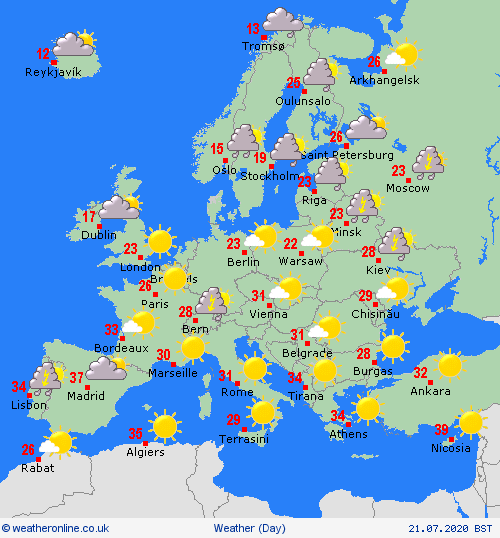 Photo: weatheronline.co.uk
A dry and fine day for France and the Low Countries though there may be some cloud around to the north. Showers affecting Germany tend to ease to the southeast through the day while thundery outbreaks are widespread over the Czech Republic, Poland and Slovakia. Isolated showers for Switzerland, Austria and Hungary.
A fine day for Denmark with isolated showers. Lower pressure keeps conditions unsettled over Norway, Sweden and Finland with outbreaks of rain, these locally heavy over eastern Sweden, and scattered showers. Mixed too for the Baltic States on Monday with widespread thundery showers developing here later.
On July 22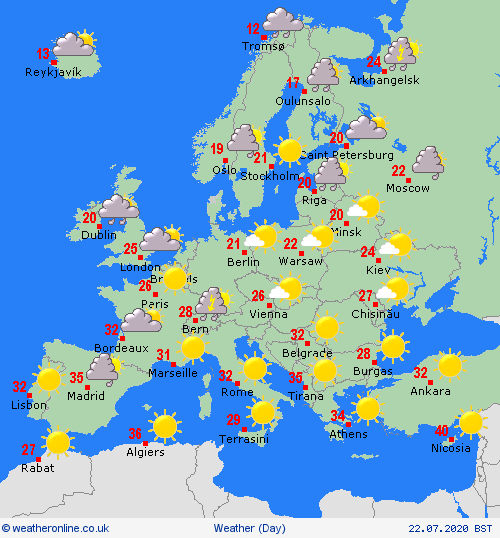 Photo: weatheronline.co.uk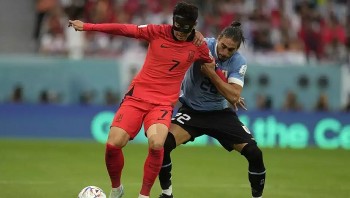 World
Both South Korea and Ghana are searching for their first wins at this year's World Cup. Ghana are facing the prospect of an early elimination from World Cup 2022 Group H when they travel to the Education City Stadium to face South Korea on Monday.