U.K military gun salutes across the country to honor Prince Philip after his death
Military gun salutes has been held on the Tower of London and British warships at sea, including Edinburgh and Belfast to mark the passing of Prince Philip, the Duke of Edinburgh and husband of Queen Elizabeth II. A small funeral is set for April 17 at Windsor Castle.
At midday local time Saturday (7 a.m. ET), saluting batteries began firing 41 rounds at one round every minute to mark the death of Queen Elizabeth II's husband, Britain's Ministry of Defense said in a statement, according to NBC News.
The salutes took place in London; Belfast, Northern Ireland; Cardiff, Wales; and Edinburgh, Scotland, the capitals of the four nations that make up the U.K. Guns were also fired in Gibraltar, a British overseas territory located in the southern tip of the Iberian Peninsula, and at sea from Royal Navy warships.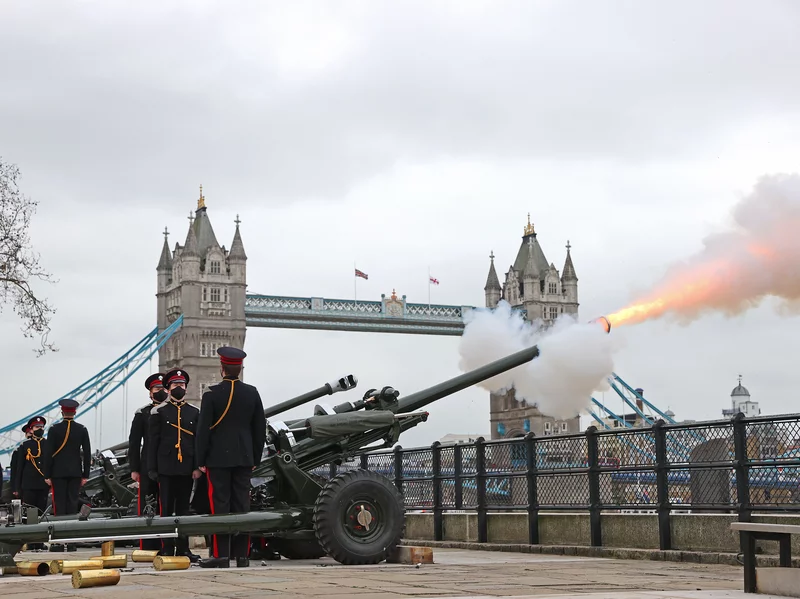 The Honourable Artillery Company fire a gun salute at the Tower of London on Saturday to honor Prince Philip, the Duke of Edinburgh, who died on Friday at age 99. Chris Jackson/Getty Images
Philip died early Friday at the age of 99. He was the longest-serving consort of any British monarch.
In London, the King's Troop Royal Horse Artillery rode out from its base at Napier Lines, Woolwich Barracks, onto the parade ground with 71 horses, 36 of them pulling six 13-pounder field guns dating from World War I, the Ministry of Defense said.
The same guns were fired at Philip's wedding to the queen in 1947 and at the queen's coronation six years later, in 1953, the statement added.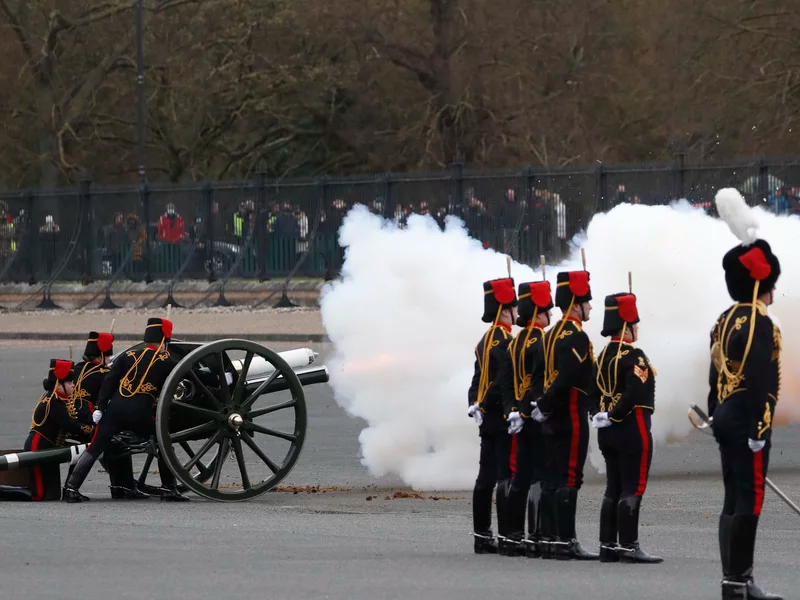 Members of the King's Troop Royal Horse Artillery fire a gun salute at Woolwich Barracks on Saturday. The guns used here were also used to mark the wedding Queen Elizabeth II Prince Philip 73 years ago. Alastair Grant/Getty Images
Guns were also fired by the Honourable Artillery Company's light guns at the Tower of London. The company is the oldest regiment in the British army, with its origins dating back to 1537, the ministry said.
The tradition of gun salutes being fired throughout the country to mark significant national events dates back to at least the 18th century, and there are historical records of salutes taking place as early as the 14th century.
Earlier Saturday morning, representatives from the Household Calvary also stood in front of Windsor Castle, where Philip died, and held a moment of silence for two minutes.
Due to the ongoing public health concerns over the coronavirus, the British public have been urged to avoid congregating in big groups to honor Philip.
"During this time the Royal Family ask that members of the public consider making a donation to a charity instead of leaving floral tributes in memory of The Duke of Edinburgh," the Royal Family said in a statement Friday. There is also an online condolence book the public can sign, NPR reported.
That said, a line of people hoping to leave flowers has formed in front of Buckingham Palace. Crowds are also congregating outside Windsor Castle.
The funeral is set for April 17 at St. George's Chapel at Windsor Castle and will allow a maximum of 30 attendees, multiple news outlets report. Philip will lie at rest at Windsor Castle instead of lying in state, a choice he made before his death.
The Royal Family pays tribute to Prince Philip's death
The royal family had issued a request to the public to adhere to COVID-19 social distancing rules and avoid visits to their homes. Nevertheless, people lined up outside royal residences to lay flowers.
"What a life! Thank you for serving our country," read one tribute outside Buckingham Palace.
"We're all weeping with you, Ma'am," read the front page of British tabloid The Sun. Another mass-circulation paper, The Daily Mail, ran a 144-page tribute to Philip.
Philip, who had been ill for some time, spent more than a month in hospital from February 16, being treated for a preexisting heart condition and an infection. He was later released on March 16.
The queen announced Philip's passing "with deep sorrow" after he died peacefully on Friday.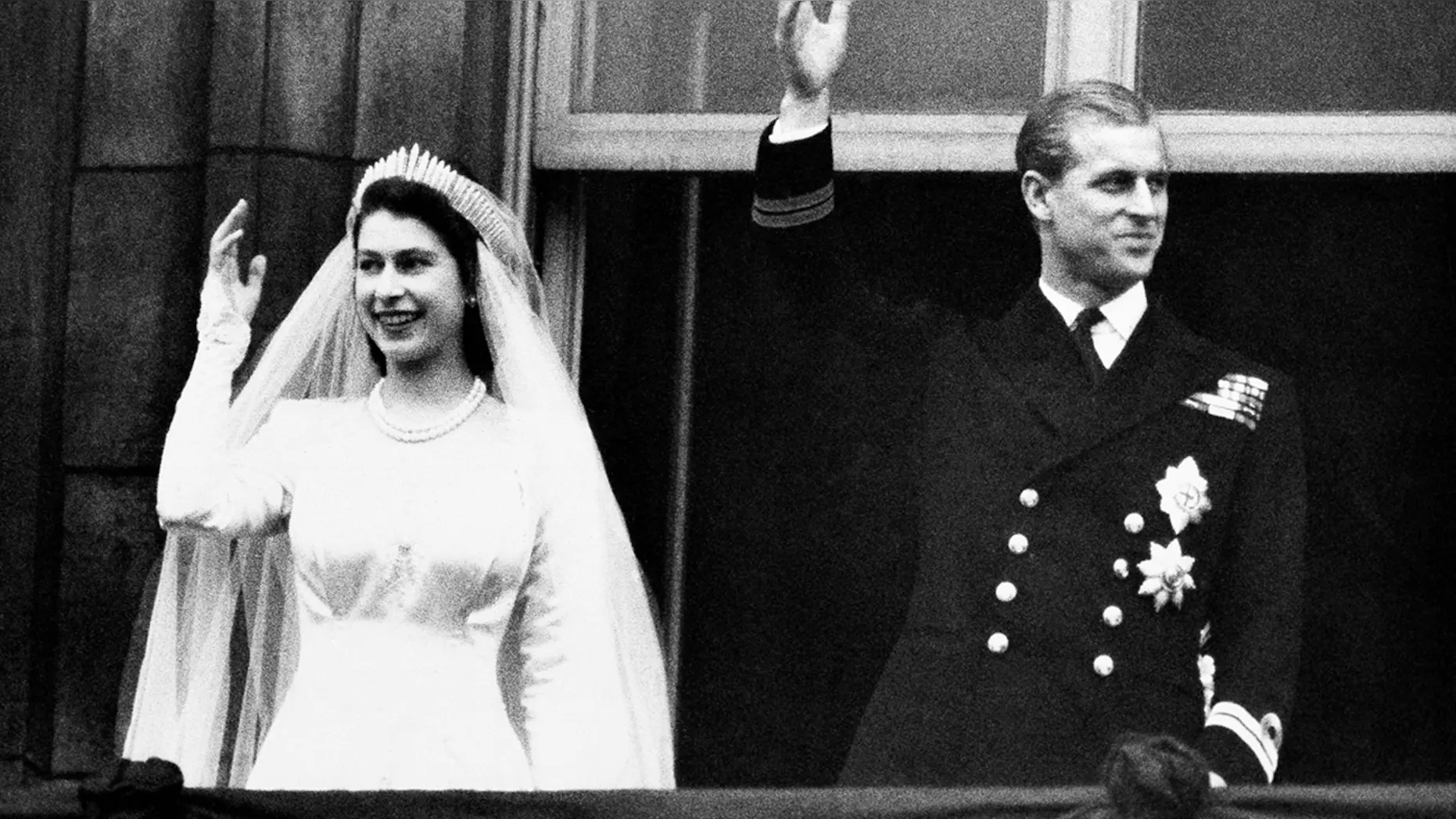 In this Nov. 20, 1947 file photo, Britain's Princess Elizabeth and her husband the Duke of Edinburgh wave to the crowds on their wedding day, from the balcony of Buckingham Palace in London. Buckingham Palace officials say Prince Philip, the husband of Queen Elizabeth II, has died, it was announced on Friday, April 9. (AP)
The palace's statement touched on the profound connection the royal couple shared during their 73-year marriage.
"It is with deep sorrow that Her Majesty The Queen has announced the death of her beloved husband, His Royal Highness The Prince Philip, Duke of Edinburgh. His Royal Highness passed away peacefully this morning at Windsor Castle," the statement, issued midday on Friday, read.
The palace added that the royal family would be joining "with people around the world in mourning his loss."
Philip married then-Princess Elizabeth in 1947 and is the longest-serving royal consort in British history. He and the queen have four children, eight grandchildren and 10 great-grandchildren.
Many would call the royal couple's relationship a fairytale. Their love story began shortly after Philip joined the navy at age 18. He met his bride-to-be when the then-13-year-old Elizabeth toured the Royal Naval College with her family. The pair began exchanging letters and fell in love, their romance strengthening while Philip served overseas during World War II.
On Saturday, the palace continued to commemorate the nurturing role Philip played in the queen's life. A post shared to the royal family's social media accounts recalled Queen Elizabeth speaking of her husband's unwavering support in 1997.
"He has, quite simply, been my strength and stay all these years, and I, and his whole family, and this and many other countries, owe him a debt greater than he would ever claim, or we shall ever know," Her Majesty said of Philip.
The royal family also recalled Philip's vow to be a pillar of strength for his wife years ago.
"At The Queen's Coronation in 1953, The Duke of Edinburgh swore to be Her Majesty's 'liege man of life and limb.' The Duke was a devoted consort (companion to the Sovereign) for almost 70 years, from Her Majesty's Accession in 1952 until his death," the post continues.
"As you can imagine, my family and I miss my father enormously," Charles, the couple's eldest son and heir to the throne, said outside his Highgrove House home in west England.
"My dear papa was a very special person who I think above all else would have been amazed by the reaction and the touching things that have been said about him and from that point of view we are, my family, deeply grateful for all that. It will sustain us in this particular loss and at this particularly sad time."
The Duke of Edinburgh "did not suffer fools gladly", Prince Charles said, which "made one choose your words carefully".
Prince Edward said had taken on a challenging role "with the most extraordinary flair, and the most extraordinary tact and diplomacy - he's never, ever tried to overshadow the Queen in any way, shape or form.
"He's always been there as that rock in the Queen's life. Certainly within his family that was exactly the same."
"His energy was astonishing, in supporting my mama, and doing it for such a long time," said Prince Charles. "What he's done has amounted to an astonishing achievement, I think."
Buckingham Palace announced that the funeral for Philip would be held on April 17, and that the queen's grandson Prince Harry, who had become estranged from the family after moving to the United States with his wife Meghan, would attend.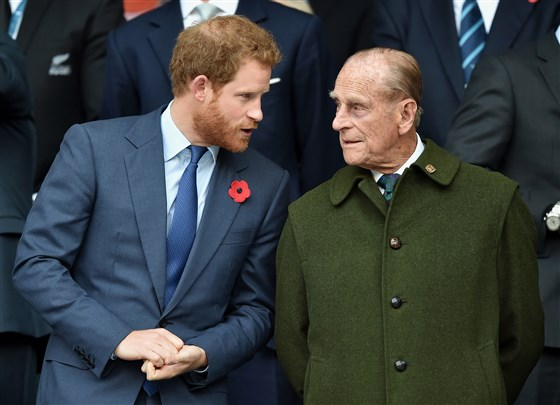 Prince Harry and Prince Philip, Duke of Edinburgh attend the 2015 Rugby World Cup Final match on Oct. 31, 2015 in London, England.Getty Images
Meghan, who is pregnant with their second child, will not attend on doctor's advice, the palace said.
India Hicks, a cousin of the Duke of Edinburgh, told BBC Newsnight of her mother Lady Pamela Hicks' enduring memory of the duke.
Hicks said: "I called her (my mother) first thing this morning and said, 'How are you feeling?' and she said, 'Emotional.'
"And I said, 'What would be your defining words about your cousin Prince Philip?'
"She said, 'He was a unique man, there will never be another man like him again."'