Driver arrested after a semitrailer speeds toward crowd of George Floyd protesters on Minneapolis bridge
According to Fox News, A semitrailer sped toward a crowd of people protesting the death of George Floyd on Sunday, video showed, in a harrowing series of events forcing the protesters to run for safety. The Minnesota Department of Public Safety [DPS] announced the unidentified driver was arrested and taken to Hennepin Healthcare with non-life threatening injuries.
Remarkably, DPS officials said it appeared none of the protesters was seriously injured. The truck barreling toward the crowd of peaceful protesters assembled on both lanes of the I-35W bridge in Minneapolis. The Minnesota State Patrol said in a tweet that "disturbing actions" by the driver appeared deliberate.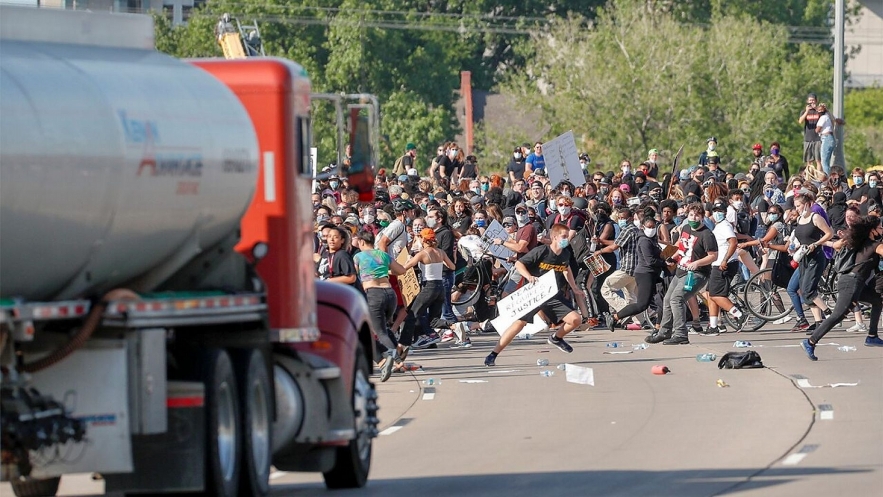 A tanker truck speeding toward protesters marching on the highway during a protest against George Floyd's death in Minneapolis police custody. Photo: Reuters.
Many of the protesters could be seen scrambling to get out of the way as the truck appeared to come to a stop. As the truck stopped, the crowd dragged him from his vehicle and beat him, while protesters smashed its windshield, according to the Guardian. People reportedly threw their bicycles in front of the truck in an effort to slow it down.
Officials in Minneapolis and St. Paul had ordered the highway closed at 5 p.m. It was unclear how the semi managed to get on the highway. DPS Commissioner John Harrington estimated about 5,000 to 6,000 people were on the bridge at the time the truck sped through, according to the station.
Minneapolis, the city where George Floyd was killed in police custody on Monday, saw its sixth consecutive day of protests on Sunday. The city declared an evening curfew and Walz activated the National Guard to help enforce it.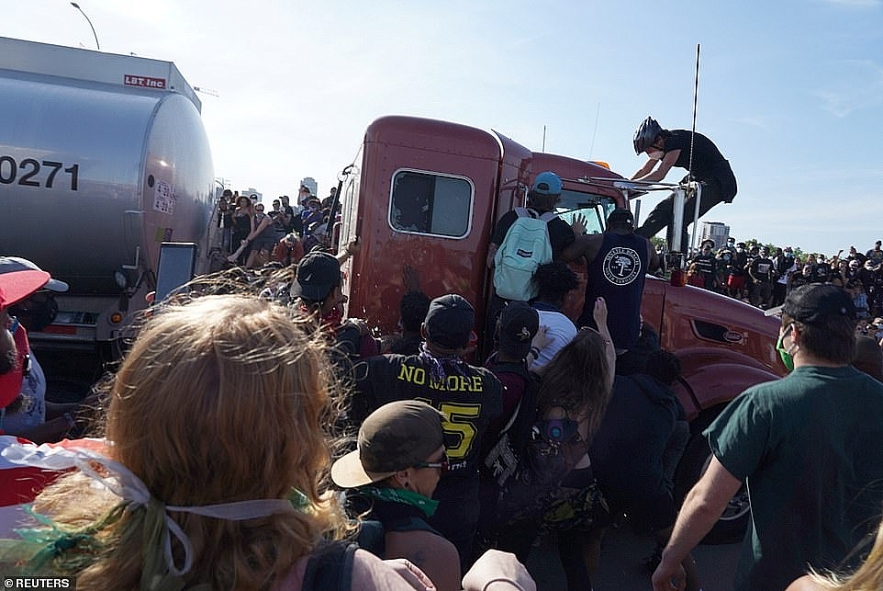 Dozens of protesters approached the semi-truck after it came to a stop in the roadway. Photo: Reuters.
Polk County declares emergency, curfew in place overnight
A curfew order is effect overnight across Polk County in accordance with a local state of emergency, according to the sheriff's office. The curfew runs from 10 p.m. Sunday through 5 a.m. Monday. Sheriff Grady Judd cited reports of injuries to law enforcement officers and citizens in Lakeland following a Sunday afternoon protest, WTSP reported.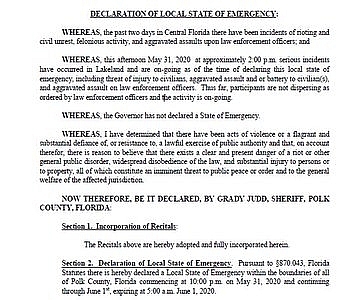 The statement of emergency and curfew. Photo: Twitter Polk County
The curfew and state of emergency means all people within the county need to stay inside except for those going to their jobs, needing emergency are exempt from the order. It also stipulates the "sale or other transfer of possession" of gas is not allowed.
Anyone who violates the curfew order could face up to 60 days in jail and a $500 fine if they're charged with a second-degree misdemeanor. If somebody violates it as a first-degree misdemeanor under state statutes, they could face up to a year in prison and/or a $1,000 fine.
The city of Tampa is under a curfew from 7:30 p.m. through 6 a.m. until further notice. Hillsborough County is exempt from the curfew.
Sheriff Grady Judd, of Polk County, Fla., listens during a state commission meeting. Photo: AP.
Minnesota attorney general to take over prosecution over George Floyd's death
As Reuters reported, Minnesota's state attorney general said on Sunday he will lead the prosecution of the case involving the killing of George Floyd, the unarmed African-American man who died after a policeman knelt on his neck as he groaned "I can't breathe".
Minnesota's governor appointed state Attorney General Keith Ellison on Sunday to lead the prosecution of any cases arising from the death of George Floyd in Minneapolis police custody, Fox News also reported.
"It is with a large degree of humility and a great seriousness, I accept for my office the responsibility for leadership on this critical case involving the killing of George Floyd," Ellison said in a tweet. "We are going to bring to bear all the resources necessary to achieve justice in this case".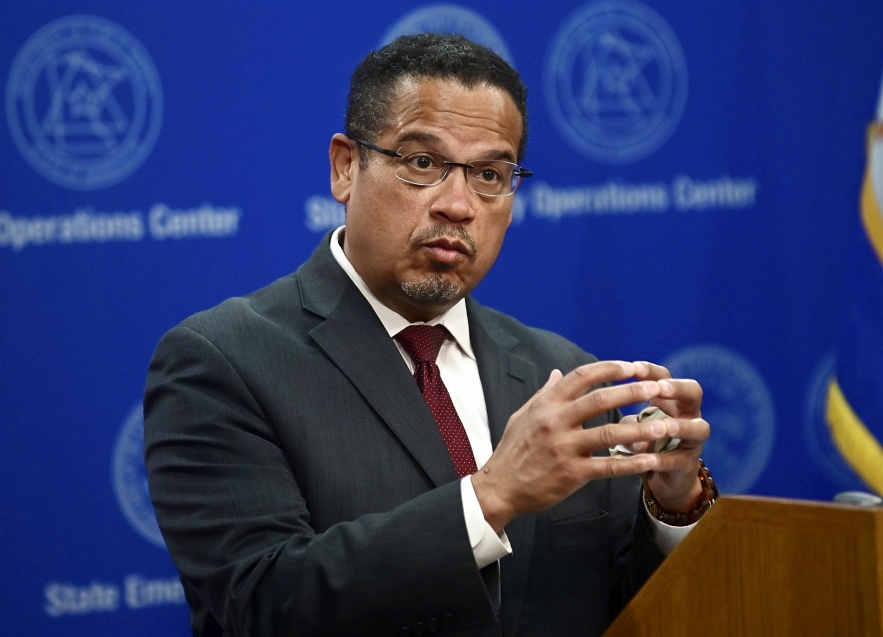 Minnesota Attorney General Keith Ellison answers questions about the investigation into the death of George Floyd, in St. Paul, Minn., on Wednesday, May 27, 2020. Photo: AP.
"Prosecuting police officers for misconduct, including homicide and murder, is very difficult, and if you look at the cases that have been in front of the public in the last many years, it's easy to see that is true," he said. "Every single link in the prosecutorial chain will come under attack as we present this case to a jury or a fact finder", NBC News reported.
Ellison will be working with Hennepin County Attorney Mike Freeman, who on Friday announced third-degree murder and second-degree manslaughter charges against former police officer Derek Chauvin, who was shown in video footage using his knee to pin Floyd to the street.
Former Minneapolis police Officer Derek Chauvin is charged with third-degree murder and second-degree manslaughter in Floyd's death on May 25 as Chauvin pinned his neck to the ground with his knee.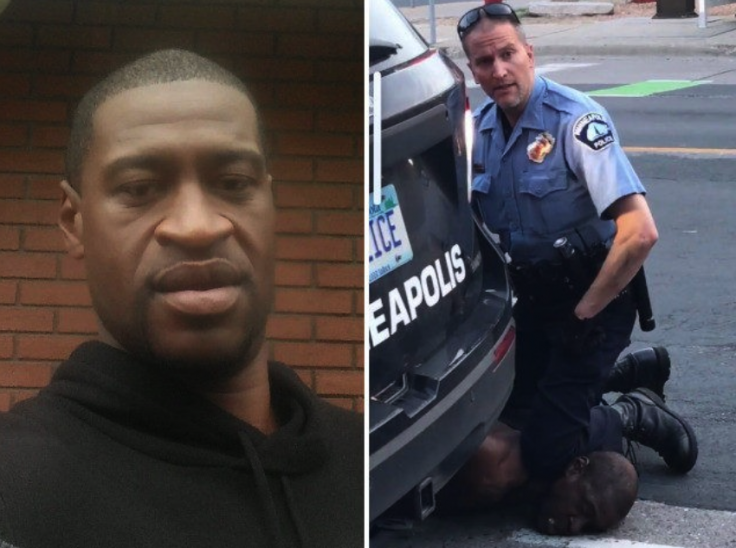 Georege Floyd (left). Photo by IB Times.
Setting fire to Nashville's Historic Courthouse, a 25-year-old man arrested
Police in Tennessee arrested a 25-year-old man suspected of setting fire to a historic courthouse in Nashville during protests in response to the police killing of George Floyd on Saturday night, The Hill reported.
A tweet from the Nashville police department identified the suspect as Wesley Somers, and noted that Somers was charged with vandalism, disorderly conduct and felony arson for the fire Saturday evening that damaged the historic building.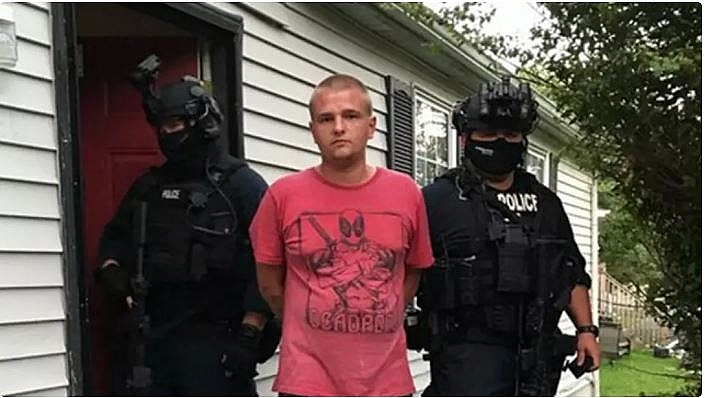 Wesley Somers, 25, on charges of felony arson, vandalism, & disorderly conduct for setting fire to Nashville's Historic Courthouse. Photo: newschannel5.
As reported by Newschannel5, police say 25-year-old Wesley Somers was arrested at a home on Manzano Road in Madison, and that assistance from the community helped lead to his identification.
He will be booked into the Metro Jail shortly. Police say the investigation into the arson attack on the Historic Courthouse and other vandalism is continuing.
Windows were smashed at the courthouse, explicit graffiti spray painted on the walls, and several people attempted to set parts of the building on fire during violent protest Saturday.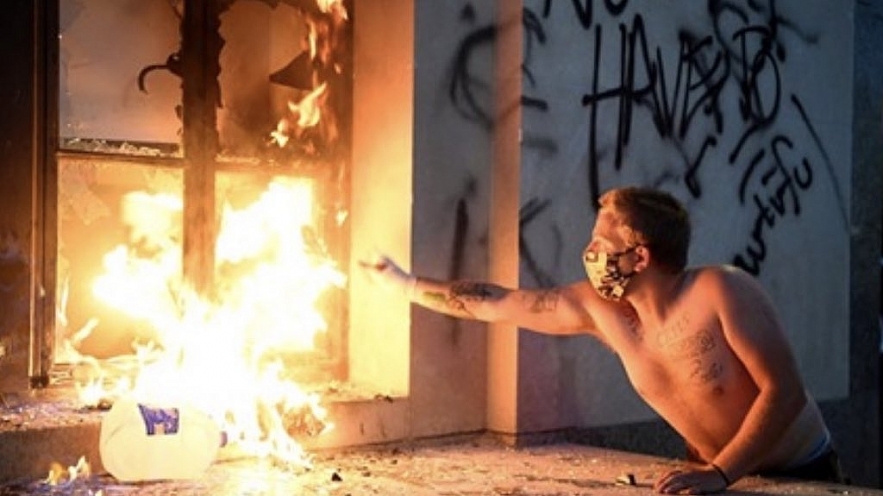 Photo: trendsmap
Ruby Lee