According to The Washington Post, some cities in the world have seen protests over George Floyd's death after being kneeled by a police in a custody, which was seen earlier this week in a viral video on social media. Over the weekend, demonstrators in London, Berlin and Toronto gathered under banners declaring that Black Lives Matter and called for an end to police brutality in the United States and around the world.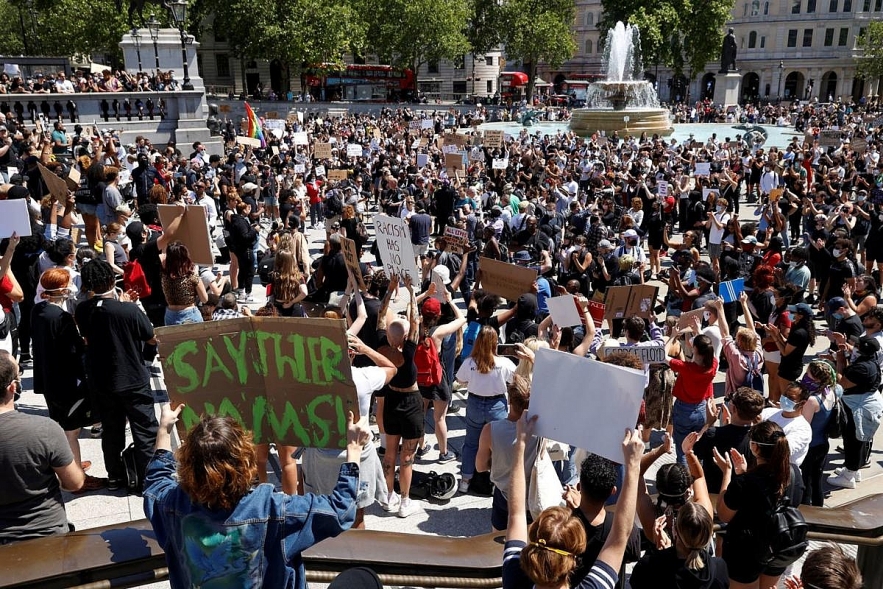 People react in London on May 31 over the death of George Floyd. Photo: Reuters.
In London, hundreds defied rules against large gatherings Sunday to rally in Trafalgar Square and mass outside the new U.S. Embassy on the south bank of the River Thames, where they chanted "no justice, no peace" in solidarity with the U.S. movement against racial bias in the criminal justice system.
Four Minneapolis police officers have been fired over Floyd's May 25 death. Derek Chauvin has been charged with third-degree murder and second-degree manslaughter. The other three are under criminal investigation. London's Metropolitan Police said they had made five arrests outside of the U.S. Embassy on Sunday -- two for assault on a police officer and three for "breaches of COVID-19 legislation".
Britain's Foreign Secretary Dominic Raab on Sunday called the video of Floyd's death "very distressing," but declined to criticize President Donald Trump for his tweets about the violent protests that have erupted in Minneapolis and cities across the United States. "We want to see de-escalation of all of those tensions and Americans come together," Raab told the BBC on Sunday.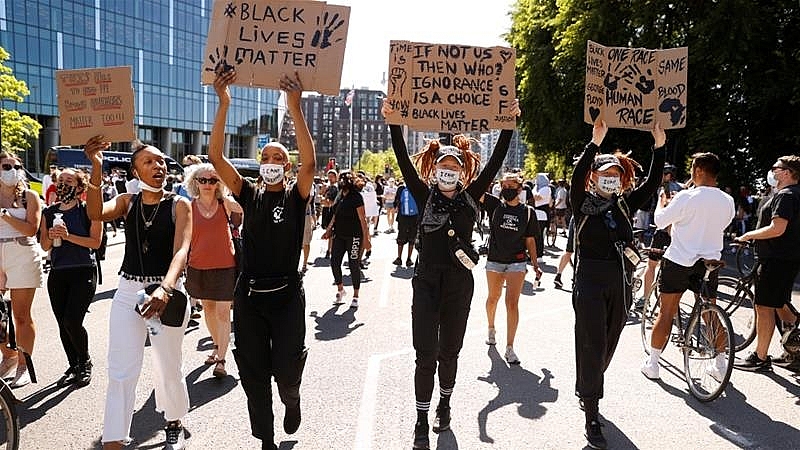 Demonstrators waving placards marched to the US embassy in London where a long line of officers surrounded the building. Photo: John Sibley/Reuters.
Al Jazeera's correspondent in London Nadim Baba said protests in support of US demonstrators also took place in Manchester in the northwest of England.
"One of the chants that was popular was 'no justice, no peace', which is not a new chant in Britain," said Baba, comparing the demonstrations to the 2011 London riots which were sparked by the death of a Black man named Mark Duggan during a police operation.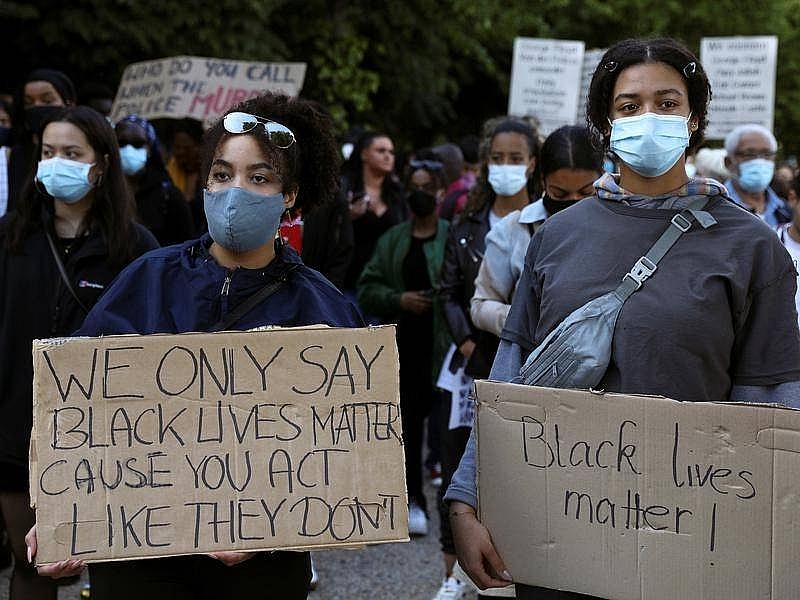 Footballer Marcus Thuram celebrated his goal by taking a knee, a nod to the Black Lives Matter movement.
Photo: Martin Meissner/AP Photo
In Berlin, demonstrators gathered Sunday for a second day to protest Floyd's killing. Hundreds marched a mile through the city before gathering at Hermannplatz, a square in one of the German capital's most diverse neighborhoods.
A total of around 1,500 people took part, according to police reports cited by German media. "Injustice anywhere is a threat to justice everywhere," read one sign. "Being black is not a crime," read another. Berlin loosened its limits on demonstrations over the weekend, but protesters are still supposed to keep a safe distance to prevent the spread of the novel coronavirus.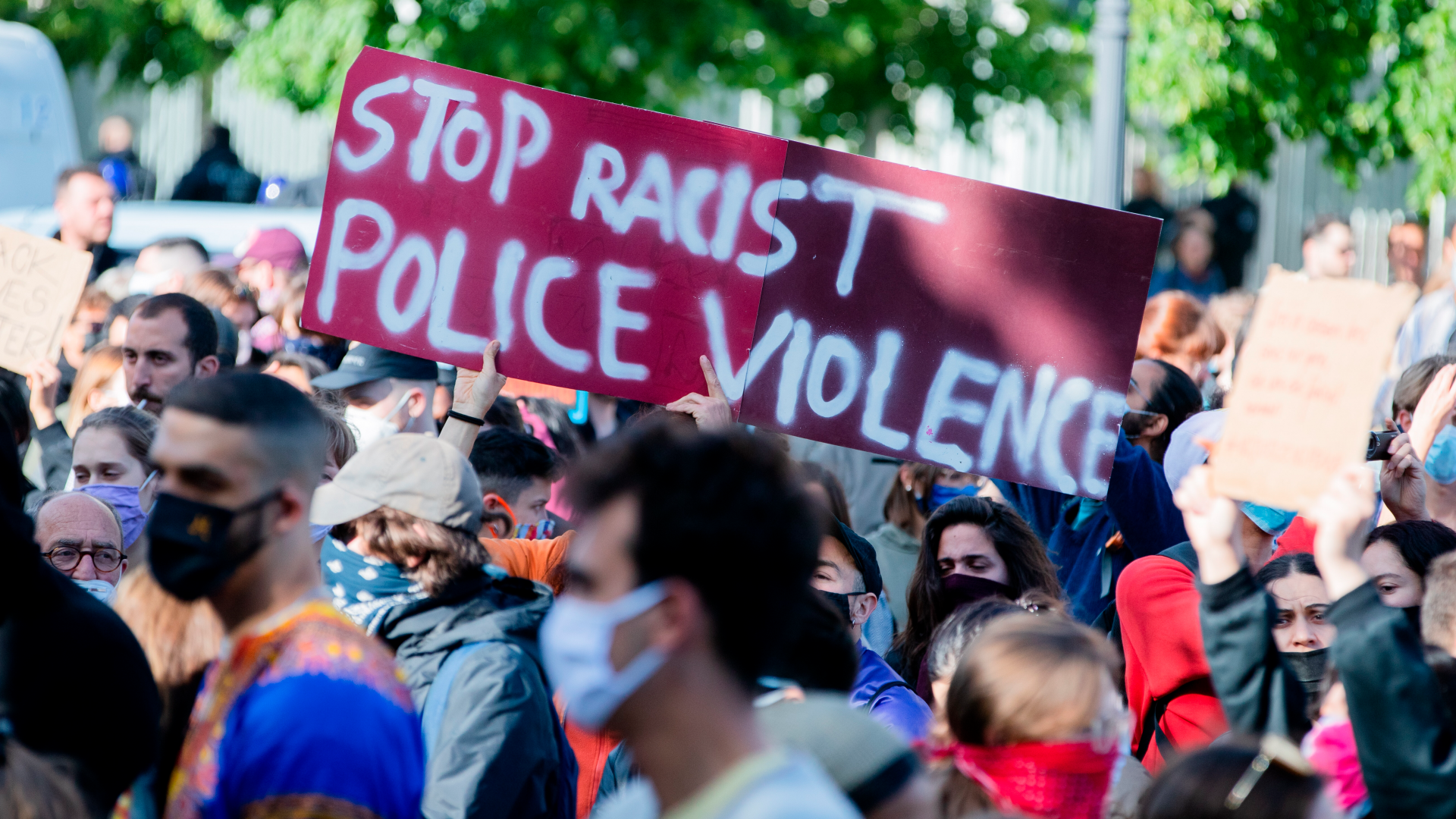 Protests against police brutality and racism erupted in Berlin after the killing of George Floyd in the U.S.
Photo: Christoph Soeder/dpa via AP
A mural depicting George Floyd alongside the words "I can't breathe" was painted in graffiti on a former part of the Berlin Wall that divided East and West Germany until unification in 1989. The U.S. embassy in Berlin and the German government are both yet to make a statement on the demonstrations, CGTN reported.
Signs of solidarity didn't just take place on the streets of Germany, but on football pitches as well. After scoring a goal in the German Bundesliga match against Union Berlin, Borussia Monchengladbach striker Marcus Thuram celebrated by taking a knee - a nod to the Black Lives Matter movement.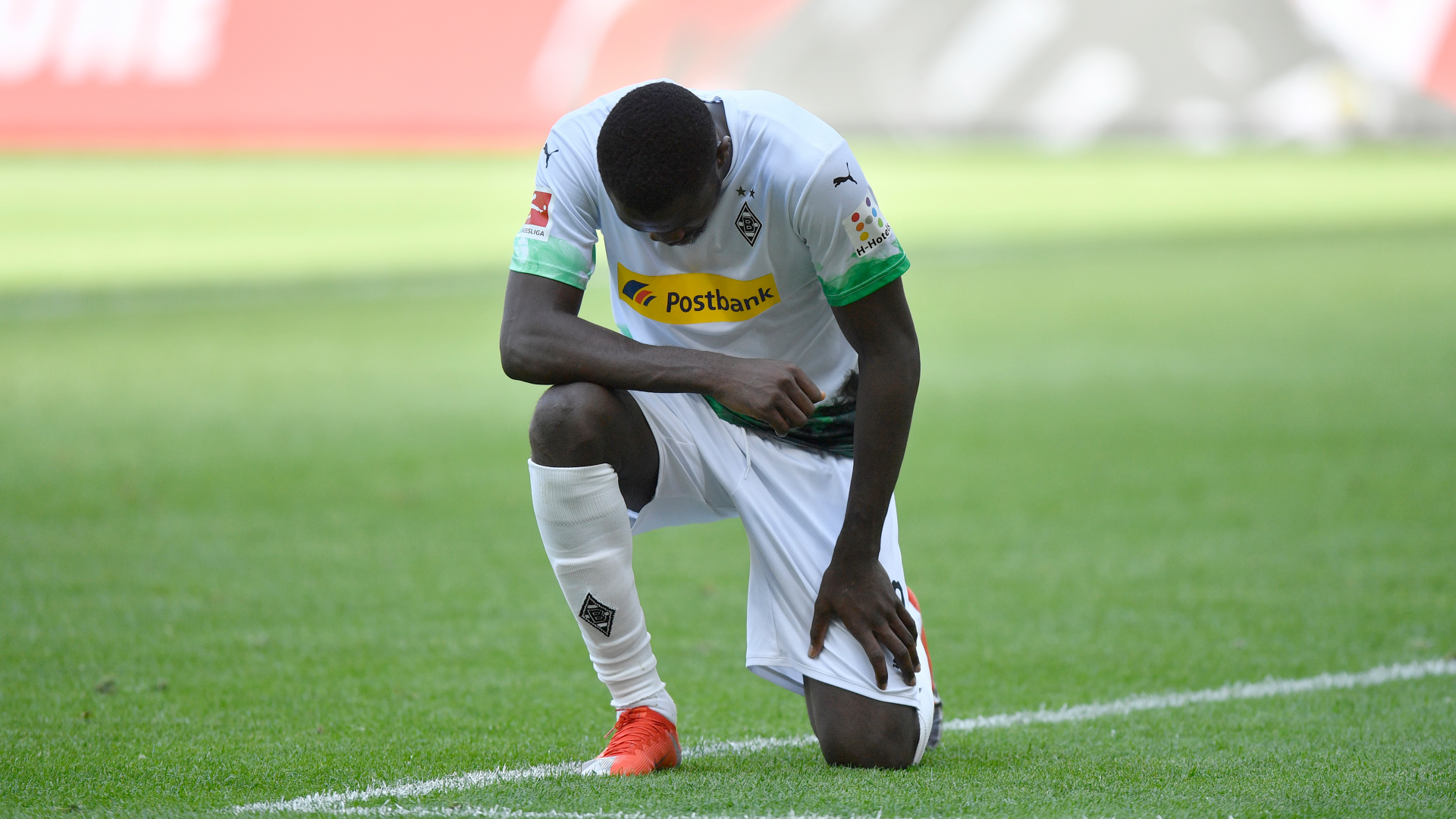 Footballer Marcus Thuram celebrated his goal by taking a knee, a nod to the Black Lives Matter movement.
Photo: Martin Meissner/AP
In Toronto, as many as 4,000 demonstrators marched on Saturday. A video posted by Global Toronto journalist Albert Delitala on Twitter shows protesters marching down Brunswick Avenue in the Canadian city.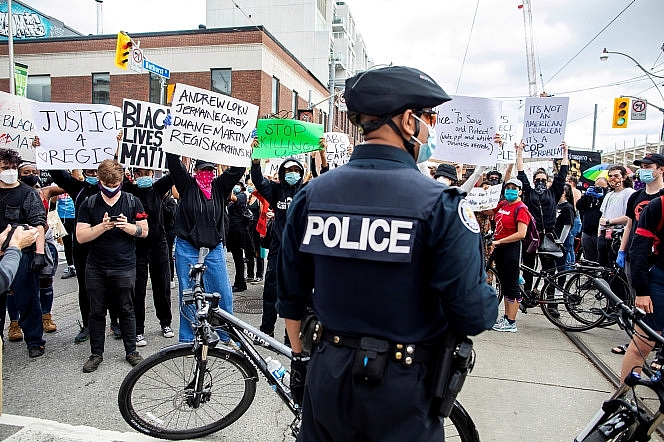 Protesters march against the death of George Floyd by a police officer in Toronto, Canada. Photo: Reuters.
Additionally, several thousand people rallied in Toronto on Saturday to denounce racism and demand answers in the death of Regis Korchinski-Paquet, 29, who fell from a balcony apartment while police were in her home Wednesday.
In the Toronto protests, people chanted "not another black life" as they marched in face masks to control the spread of the virus, according to Canadian Broadcasting Corp. News.
Ruby Lee