US veterans raise fund to help locals in Quang Tri
US veterans gave bicycles to children affected by floods and funded new kitchen and bathrooms at the Quang Tri province's Blind Center.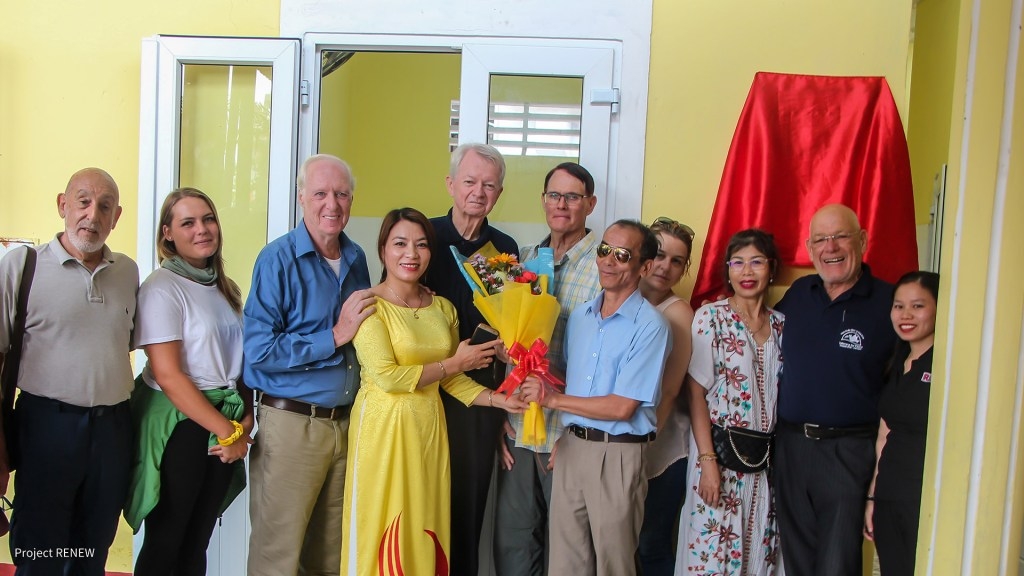 Members of Veterans For Peace Chapter 160 and friends pose for a photo with Cao Nghia (wearing sunglasses), Chairman of the Quang Tri Town Blind Center during the celebration. Source: Project RENEW
A group of 10 American veterans and friends on April 16 joined with members of the Quang Tri Town Blind Association in a ceremony to celebrate the completion of construction of two new bathrooms and renovation of an old kitchen in disrepair at the Association's workshop.
These major improvements were made possible by donations from members of Veterans For Peace (VFP) Chapter 160.
Thanks to this support from VFP, 20 members of the Quang Tri Blind Association now have a decent kitchen and two hygienic bathrooms to support their daily work at the Association's workshop, where they make incense, toothpicks and brooms to generate independent incomes.
"Having a kitchen and accessible bathrooms right at the Blind Center's workshop is a dream come true for me and other members who work here," said Tran Dinh Loi, who lost both eyes in a bomb explosion in 1987. "We are grateful to the American veterans for your support, which helps ease the difficulties we have encountered in daily work for many years."
According to Chuck Searcy, US Army vet and president of VFP Chapter 160, construction of bathrooms and renovation of the kitchen at the Quang Tri Blind Center were generously funded by three VFP members in the US, John Meagher, Edward Meagher, and Betty Munson, with additional donations from many other VFP members.
"Also, it is important to add," Searcy said, "that this work is dedicated to the memory of our friend and fellow veteran Christopher Jamison, who fought in Quang Tri in 1971 before succumbing to cancer last year."
Searcy said many veterans and medical personnel considered Chris's illness to be a consequence of Agent Orange. In 2013, Chris and his wife Signe had a chance to visit Quang Tri and Project RENEW as part of a tour organized by VFP Chapter 160.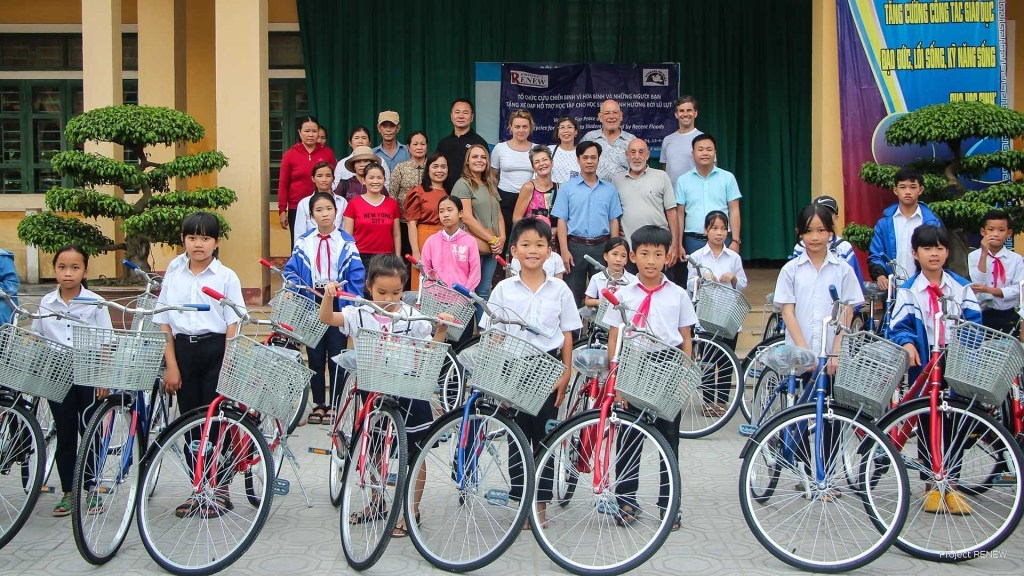 Veterans For Peace members pose for a photo with schoolchildren of Hai Hoa Primary and Secondary School in Hai Phong Commune, Hai Lang District, who are delighted to be given new bicycles. Source: Project RENEW
Earlier on April 15, the VFP group traveled to three schools in Trieu Phong and Hai Lang districts to give new bicycles to 60 schoolchildren whose families suffered serious difficulties during the historic floods that occurred in late 2020.
"Many of our VFP members are veterans who fought during the American war in Vietnam and we all want to give something back to the country," said David Clark, US Marine vet, VFP Chapter 160 secretary-treasurer, who organized the bicycle fund-raising drive. "We hope these bicycles for education, making it easier for these kids to get to and from school, will help young children prosper in their studies for a brighter future and strong Vietnam."
Starting on 6 October 2020, the central region of Vietnam has experienced prolonged heavy rainfall as a result of several distinct and severe tropical storms. In Quang Tri Province, 53,759 households have been destroyed and are now living in temporary shelters and/or evacuation centers. Total losses were estimated at over VND 4.25 trillion (USD 183 million).
Total funds raised so far have been enough to buy 200 brand new high-quality bikes, made in Viet Nam. Distribution of the bicycles to poor and disadvantaged families has included residents of A Luoi District of Thua Thien Hue, with remaining bicycles to be distributed in Quang Nam Province next week.
Veterans For Peace Chapter 160 has provided support to Project RENEW's work to help survivors of bombs and mines and Agent Orange victims over the past 10 years./.
A large number of UXOs found in Quang Tri

Nearly 500 explosives were safely destroyed on April 9 by a Norwegian People's Aid/Project RENEW explosive ordnance disposal team at NPA/RENEW's central demolition site in ...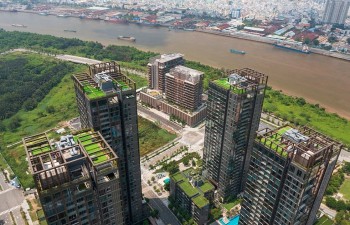 Economy
Vietnam Business & Weather Briefing (August 11): Vietnam to increase coal imports in 2025-2035 period, ten tonnes of Vietnamese longan exported to Australia.