The 64-year-old Vietnamese woman is the aunt of 26-year-old Nguyen Hong Nhung, Hanoi's first Covid-19 patient who landed March 2 in Hanoi from London. She was confirmed infected on March 7, one day after her niece who has recovered and been discharged.
The patient was suffering from vestibular disorder as an underlying condition. She experienced breathing difficulties that escalated into respiratory failure on March 15, according to the Vnexpress.
Doctors had inserted a breathing tube and used a ventilator, among other measures, to help stabilize her. She was later transfered to the ICU.
However, she continued to experience respiratory failure the following day. Her lungs were heavily damaged and her blood had to be filtered continuously.
Blood filtration is a standard treatment for people in critical condition including those who suffer from septic shock, multiple organ failure, and metabolic disorders.
Two days later, doctors decided to use the ECMO on her.
Thanks to great efforts of frontline medical workers, she has had 'wonderful recover'. The patient no longer needs the support of ECMO or as much support of a ventilator as before. She now can talk and eat and drink normally. She is currently going through rehabilitation and a nutrition boost regiment.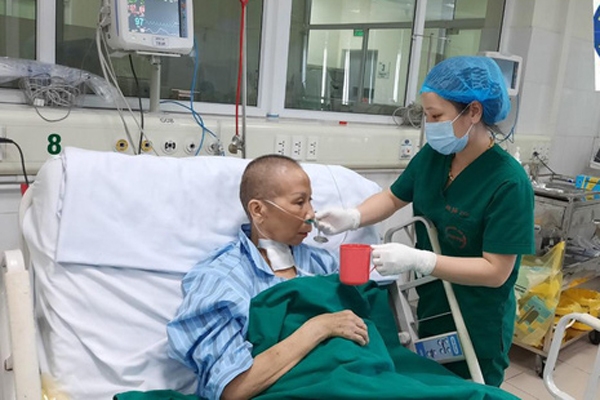 The patient is recovering very well. She now can eat and drink by her own.
On May 11, she could wave hands at the doctors.
The other critical one is patient 91, who is being treated at the Ho Chi Minh City Hospital for Tropical Diseases since March 20.
The patient, who weighs 100 kg and 1.83 meters tall, is obese with a body mass index (BMI) of 30.1. He suffers from a blood clotting disorder and cytokine storm syndrome, an intense immune response where the immune system releases a lot of cytokines through the bloodstream which works against the body.
The patient's body has been resistant to all types of domestic coagulant drugs and the health ministry has had to purchase drugs overseas for his treatment.
Top doctors convened a teleconference on May 10 to discuss lung transplant possibility for him.
Viet Nam has gone 25 days without new community infection of COVID-19, keeping the patient tally unchanged at 288, including 148 imported cases.
On Monday, eight more patients with COVID-19 in Vietnam have recovered and were discharged from the National Hospital of Tropical Diseases in Hanoi, bringing the country's total recovered cases to 249.
Jennifer Tran