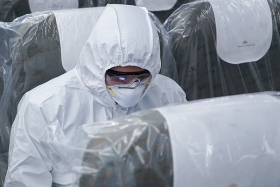 Vietnam confirmed the 34th corinavirus case today
Ministry of Health has just confirmed the newly 51-year-old female patient, Vietnamese nationallity tested positive for corronavirus.
On 22 February, she departed from Vietnam to New York (the USA) by plane and transited via Incheon airport in Korea.
On 29 February, she flied from Washington (the USA) back to Vietnam and transited via Quatar aiprport to enter Vietnam at Tan Son Nhat international airport on 2 March.
On 3rd morning, the patient was admitted to Binh Thuan general hospital and kept in quarantine there.
Totally, Vietnam has recorded 34 infectious cases up to now, among 16 recovered.
Tarah Nguyen
thoidai.com.vn