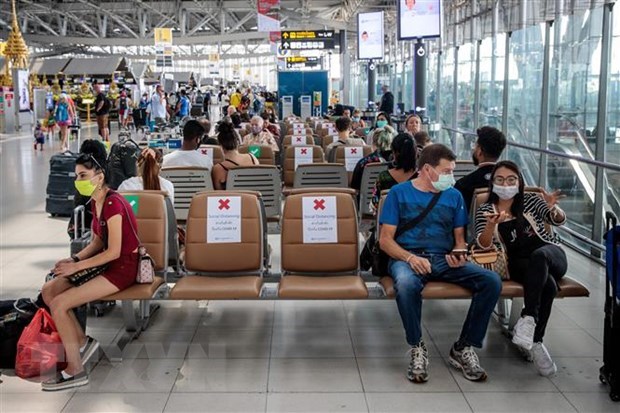 Passengers are waiting for their flights at Suvarnabhumi airport in Bangkok, Thailand. (Photo: VNA)

Speaking at the ministry's regular press conference in Hanoi on March 26, Hang said the representative agencies have also helped the stranded passengers seek temporary shelters and suitable flights to Vietnam.

According to the spokeswoman, from March 21-25, the ministry requested the representative agencies to join hands with authorities both at home and abroad to assist about 800 Vietnamese citizens to fly home safely.

But there are still around 40 Vietnamese citizens stuck at international airports in foreign countries, she added.

The complex developments of the COVID-19 pandemic have forced many countries and territories to impose strict travel restrictions and many airlines have cancelled flights without notice, leaving hundreds of Vietnamese people stranded at foreign airports.

Therefore, the foreign ministry has continuously updated Vietnamese abroad on relevant information and warned them against travelling, especially trips to different countries and Vietnam.

Overseas Vietnamese have also been advised to observe precautionary measures set by their host countries, keep themselves updated on regulations of the countries and airlines, and prepare necessary papers for flights, particularly health certificates, she said.

Those who lack essential papers or are subject to changed regulations of foreign countries and territories, and airlines may get stuck at international flights abroad. Hang said.

The foreign ministry has asked the representative agencies to partner with competent agencies, international airports and airlines in foreign countries to popularise Vietnam's entry policy that allows Vietnamese citizens to return home without any certificates by the representative agencies, the spokeswoman stressed.

In case of emergency, it is recommended to contact citizen protection hotlines posted on the websites of the Consular Department under the Ministry of Foreign Affairs, and Vietnamese representative agencies abroad, or the citizen protection hotline, Hang added.
Also at the press conference, she said no COVID-19 infections have been recorded among staff at Vietnamese representative agencies abroad so far.
Stay calm
Data shows that about 5.3 million Vietnamese people are residing, working and studying in 130 countries and territories around the globe. They include over 300,000 students at all levels of education and around 600,000 guest workers, mostly in Asia and the Middle East.
Only a handful of Vietnamese people overseas have reportedly been infected with the virus while foreign countries are enforcing various measures to protect their citizens and foreigners, including the provision of free diagnostic testing and treatment for infected people, said Vice Chairman of the State Committee for Overseas Vietnamese Affairs Luong Thanh Nghi.
Vietnamese expats have been providing great support for one another during this time, the official continued. Many Vietnamese communities living in the Europe, America and Oceania have contributed to COVID-19 relief efforts by making anti-bacterial masks and donating medical supplies and food to local governments, hospitals and residents.
Vietnamese people in Poland, the Czech Republic, Russia and other countries have donated 100,000 face masks as well as hand sanitiser and protective gear for people in Son Loi commune, Binh Xuyen district in Vinh Phuc province and several hospitals in Hanoi when the outbreak began last month, he added.
Nghi advised that at this time, Vietnamese people abroad should remain calm and carefully decide whether they should stay back or book flights home since it is the highest risk of infection when travelling on public transports, at airports or on the planes.
Thousands of people in Vietnam are on the frontline in the battle against the virus, and struggle everyday to protect others and keep the situation under control. So if the situation is non-essential, people should refrain from travelling home, he said.
He further said that Vietnamese returnees must comply with Vietnam's exit and entry rules, fill in health declarations and go into mandatory quarantine./.
VNF