Vietnam Covid-19 Updates (Dec. 27): Further 15,218 Fresh Infections Detected
The new infections bring the country's total number of infections since Covid-19 initially broke out in the country back in early 2020 to 1,651,673, ranking 31st among 222 countries and territories globally.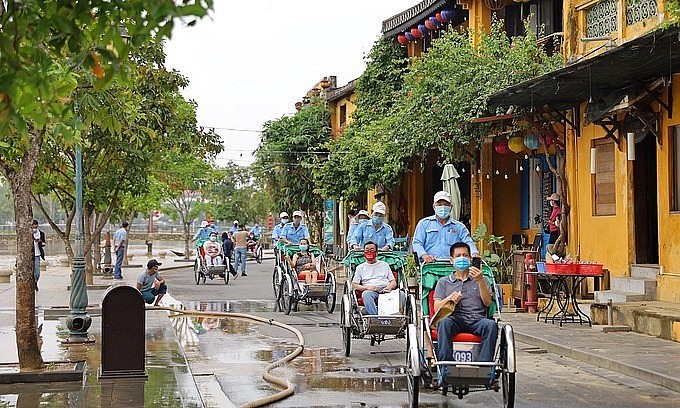 Photo: VNE
A further 15,218 fresh Covid-19 infections were detected across 62 localities nationwide
An additional 15,218 positive Covidcases were confirmed by the Ministry of Health on December 26, with Hanoi capital continuing to suffer the highest number of infections at 1,910. Several localities also recorded hundreds of local cases, including Tay Ninh (928), Vinh Long (889), Binh Dinh (800), Dong Thap (781), Khanh Hoa (763), Can Tho (715), Ca Mau (579), Tra Vinh (572), and Ho Chi Minh City (544).
Hanoi has continued the recent trend of recording an increasing number of fresh Covid-19 infections in the local community, thereby raising the overall number of cases during the fourth pandemic wave which first emerged in late April to more than 3,900. This figure includes 14,333 recorded within the local community and the rest being detected in quarantine, according to VOV.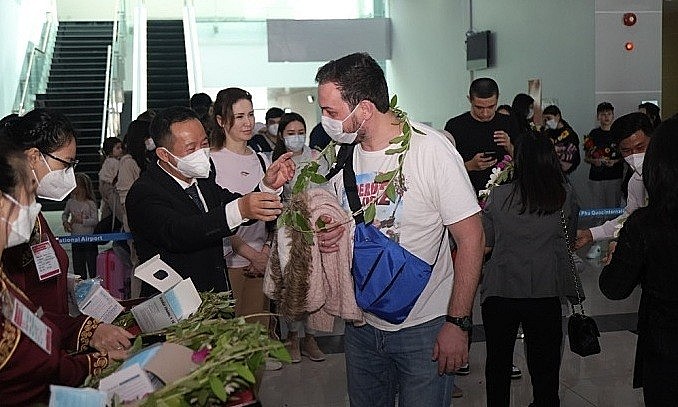 Photo: VNE
Phu Quoc welcomes 210 Uzbek tourists with vaccine passports
210 tourists from Uzbekistan landed at Phu Quoc Airport in the southern province Kien Giang Saturday on a nine-day tour under the ongoing vaccine passport trial program. They arrived on a charter flight operated by Uzbekistan Airlines. The Uzbek visitors will stay at the Vinpearl Discovery Coastalland Phu Quoc, and the Vinpearl Resort and Spa Phu Quoc for nine days and eight nights.
During their stay, they will visit tourist attractions like the Phu Quoc United Center, VinWonders theme park, Vinpearl Safari wildlife conservation park and play golf at Vinpearl Golf. All tourists were required to furnish certificates showing they have been fully vaccinated or had recovered from Covid and tested negative for the novel coronavirus within 72 hours before departure, said VN Express
Kien Giang is one of five localities to get the green light from the government to welcome back fully immunized tourists from November onwards, alongside Quang Nam, Khanh Hoa, Quang Ninh, and Da Nang. In more than a month after the partial reopening of international tourism following nearly two years of closure over the Covid-19 pandemic, Vietnam has welcomed 3,500 foreign visitors on special tour packages, Nguyen Trung Khanh, head of the Vietnam National Administration of Tourism, said at a Friday seminar on tourism recovery.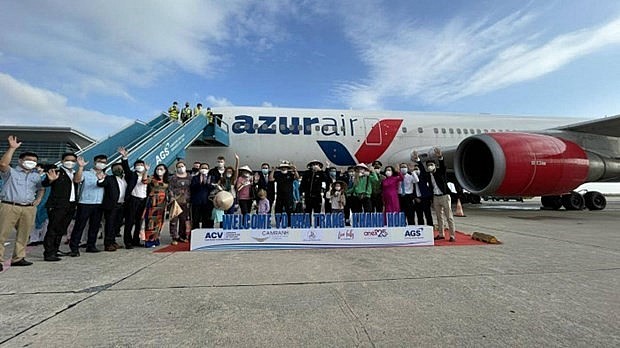 Photo: VNA
Khanh Hoa welcomes Russian tourists with 'vaccine passports'
The south-central coastal province of Khanh Hoa on December 26 welcomed the first group of Russian tourists back since March 2020 due to the adverse impacts of Covid-19. A ceremony was held in the province to welcome 325 tourists, comprising 226 Russians holding 'vaccine passports'. Natalia Rukavichkina said this is the sixth time that she has traveled to Vietnam and looks forward to new experiences during her stay in Khanh Hoa.
Director of the Khanh Hoa Department of Tourism Nguyen Thi Le Thanh said the welcome of Russian tourists holding 'vaccine passports' for the first time after two years serves as a driving force for the province's tourism sector, helping affirm Khanh Hoa and Nha Trang beach city in particular as a safe, quality and attractive destination.
Another group of more than 200 Russian holidaymakers is set to arrive in Khanh Hoa later this month in a similar method, she added. After more than the one-month of implementation of the pilot program to receive 'vaccine passport' holders in the first phase, Khanh Hoa welcomed nearly 3,000 tourists from the Republic of Korea, Japan, and Malaysia, VNA cited.
Khanh Hoa tourism has been hard hit by the Covid-19 pandemic for the second consecutive year. In 2021, the province served about 643,000 visitors, including nearly 23,000 foreigners, posting a year-on-year plunge of 48.55 percent and 94.81 percent.
The new infections bring the country's total number of infections since Covid-19 initially broke out in the country back in early 2020 to 1,651,673, ranking 31st among 222 countries and territories globally. The nation also recorded 207 Covid-19 fatalities on December 26, increasing the country's death toll to 31,214, and accounting for 1.9% of confirmed cases.
The overall number of recoveries also climbed to more than 1.248 million following an additional 18,556 patients being discharged from the hospital over the past 24 hours. The country has to date administered over 145.5 million vaccine doses, with more than 65.9 million people being fully vaccinated.
The Ministry of Health has continued urging localities to accelerate the progress of vaccination against Covid-19 for people of a specified age, and ensure safe vaccination according to regulations set out by the Ministry of Health, with priority given to people aged 50 years or older, and those with underlying medical conditions.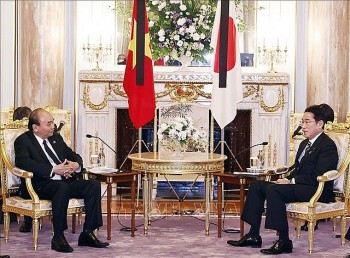 Friendship
Vietnam always treasures the extensive strategic partnership with Japan and views Japan as an important and long-term strategic partner, President Nguyen Xuan Phuc told Japanese Prime Minister Kishida Fumio in Tokyo on September 26.