Vietnam Covid-19 Updates (Dec. 28): Daily Infections Fall To 15,000, Hanoi Tops Localities
As of 6 pm on December 27, Vietnam has detected 1,666,545 Covid-19 cases since the start of the first outbreak in January 2020, ranking 31st out of 223 countries and territories worldwide.
Photo: Zing
Daily Covid-19 infections fall to nearly 15,000, Hanoi again tops localities
The Ministry of Health has confirmed 14,872 new coronavirus cases, including 14,867 locally acquired infections, in 59 cities and provinces across the country during the past 24 hours. The past 24 hours saw Vietnam's daily count fall by 315 cases compared to the previous day, the MoH said in its coronavirus update on December 27. Notably, as many as 10,418 cases (or two-thirds of the total) were detected in the community, posing a high risk of the virus spreading in localities.
The Covid-19 outbreak remains complicated nationwide, with most of the cases documented in the south. Localities that recorded hundreds of new cases each included Tay Ninh, Vinh Long, Can Tho, Dong Thap, Bac Lieu, Tra Vinh, Binh Dinh, and Ca Mau. The number of infections continued to fall in Ho Chi Minh City, at just 560.
However, Hanoi in the north topped localities in infection numbers, registering 1,948 cases. The number of new infections suddenly skyrocketed in the northern port city of Hai Phong, hitting 931 almost doubling the previous day's figure.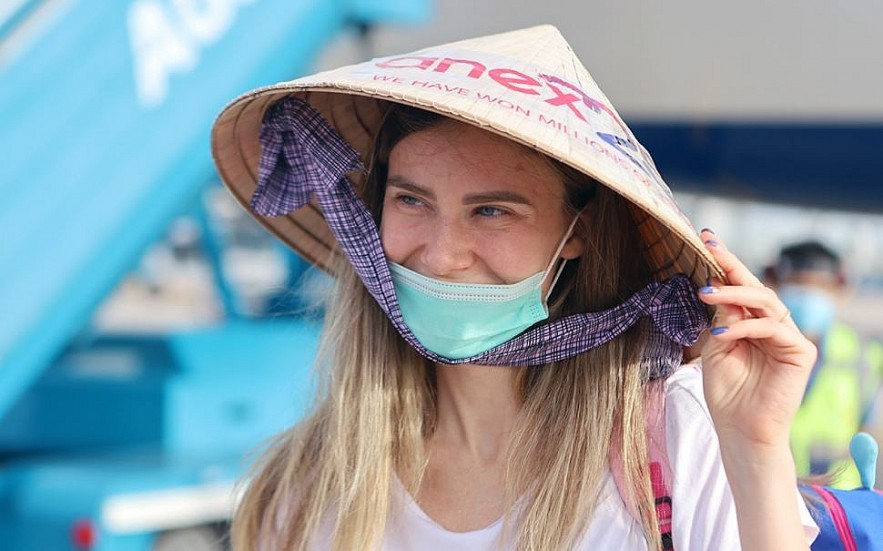 Photo: VNE
Khanh Hoa welcomes first bunch of Russian tourists in nearly 2 years
A charter flight brought 226 Russian tourists to the central coastal Khanh Hoa Province on Sunday under an ongoing vaccine passport trial program. The first Russian tourists visiting the province since the country partially reopened its borders last month after nearly two years are staying at Vinpearl Resort Nha Trang, Selectum Noa Resort and Cam Ranh Riviera Beach Resort.
All were required to furnish certificates showing they have been fully vaccinated or had recovered from Covid and tested negative within 72 hours before departure. They were required to make health declarations on arrival and told to install the IGOVN and PC-Covid health declaration applications on their phones.
In 2019, the year before the onset of Covid, Khanh Hoa received over seven million tourists, half of them foreigners. It is one of five localities to get the green light from the government to allow in fully immunized tourists from November along with Quang Nam, Kien Giang, and Quang Ninh provinces and Da Nang.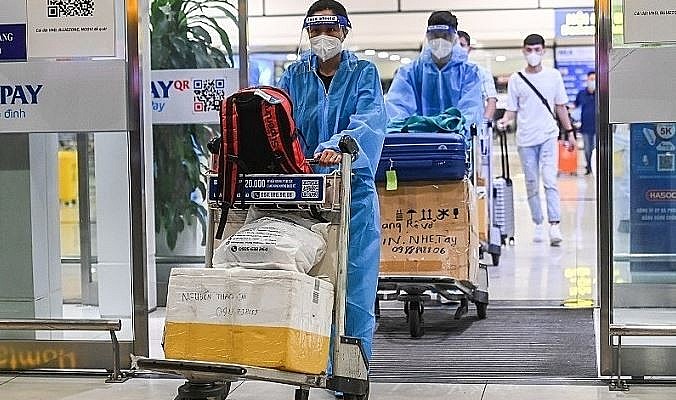 Photo: VNE
No Covid test results for flights from HCMC, Can Tho
The Transport Ministry has decided that air passengers from HCMC and Can Tho Province don't have to furnish negative results of Covid tests done within three days before boarding. Monday's decision says only passengers traveling from very-high Covid risk localities or living in locked-down areas are required to show the Covid negative results from tests done within 72 hours before boarding their flight and submit the prescribed health declaration.
Travelers will not be allowed to board flights if they have Covid-19 symptoms including coughing, fever, shortness of breath, muscle aches, sore throat, and loss of taste. The ministry has also allowed an increase in the frequency of flights on domestic routes from Dec. 29 to Feb. 16, 2022. Accordingly, the number of flights on the Hanoi - HCMC route will increase to 25 round-trip flights per day from now to Jan. 18 next year, and to 52 round trips per day from Jan. 19 to Feb. 16, 2022.
The frequency of flights on the HCMC - Da Nang and Hanoi - Da Nang routes will also be increased to 20 flights per day. On all other domestic routes, the frequency can be increased by nine round-trip flights per day, according to VN Express.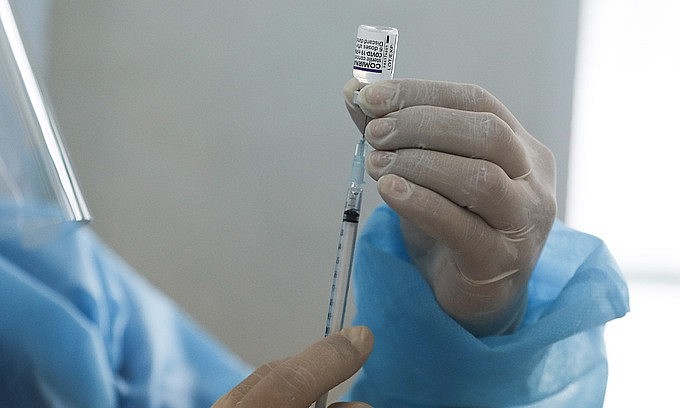 Photo: VNE
Vietnam to give all adults third Covid shot by next March
Cities and provinces have been ordered to complete vaccinating all people over 18 with the third Covid-19 dose within the next quarter. Speaking at a Ministry of Health's meeting held in response to the International Day of Epidemic Preparedness in Hanoi on Monday, Deputy Minister Nguyen Truong Son said cities and provinces must boost the progress to inoculate all adults with the third Covid-19 jab and cross the finish line within the first quarter of 2022.
"Vietnam's vaccination rate and vaccine coverage rate have reached a high level compared to other countries in the region and around the world." With the current vaccination rate, by the end of this month, Vietnam will guarantee coverage for all people aged 18 and above with the first dose and have 90 percent of them inoculated with the second dose, he said.
For now, 98 percent of the adult population have received at least one shot, and 86 percent, two shots. By Tuesday, over 65.9 million people of Vietnam's 96 million population have been vaccinated with two doses, and more than 2.5 million have received the third dose. Vietnam allowed mass administration of the third Covid-19 vaccine shot on Dec. 1. On Dec. 17, the health ministry issued a new guideline to reduce the waiting time for the third Covid-19 vaccine shot from six months to three.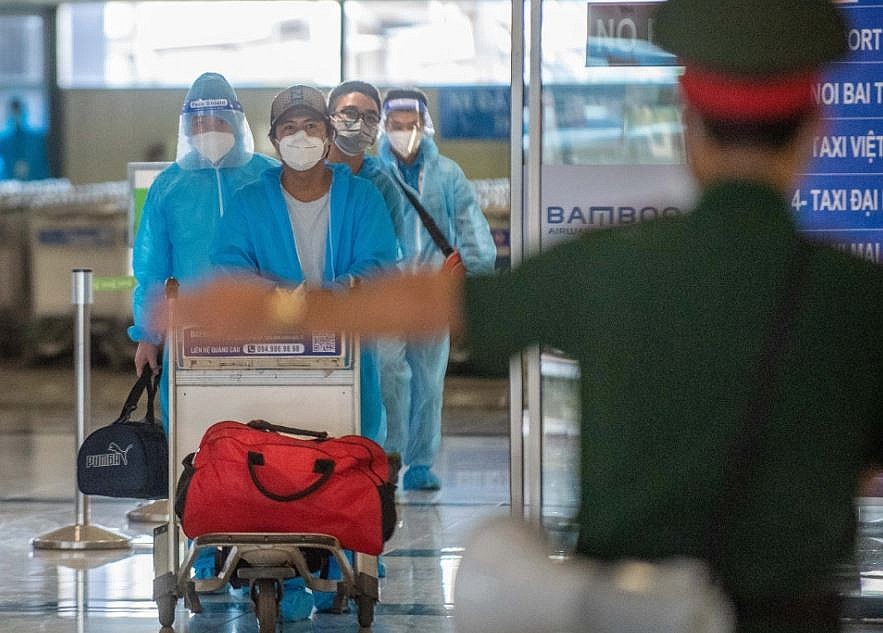 Photo: Zing
Vietnam, Italy talk use of stem cells in Covid-19 treatment
A webinar on the application of stem cells in Covid-19 treatment was held on December 27. Speaking at the event, Director of Italy's national emergency service 118 Mario Balzanelli said amid the rapid spread of Omicron variant so far, the best method is the earliest intervention, quarantine, and treatment of infection cases.
Apart from the traditional regimen, autologous stem cells could be used in treatment, he said, adding that many patients recovered without lung scars left after 30 days of therapy. The Vietnamese and Italian doctors also presented the application of stem cells in medicine and Covid-19 treatment. The event was the second of its kind to share Italy's experience in caring for and treating Covid-19 patients.
As of 6 pm on December 27, Vietnam has detected 1,666,545 Covid-19 cases since the start of the first outbreak in January 2020, ranking 31st out of 223 countries and territories worldwide. Of the infected patients, 1,259,614 have recovered from the disease, and 31,418 patients have died of the disease.
More than 146 million vaccine doses have been administered nationwide, with 66.4 million people getting their second shot and nearly 2.8 million people receiving their booster jab.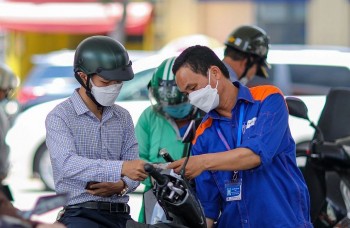 Economy
Vietnam Business & Weather Briefing (Oct 2): Binh Duong lures foreign investors with special care, the North and Central regions continue to have heavy rains, leading to the risk of flooding, flash floods, and landslides.