Vietnam Covid-19 Updates (Dec. 29): Vietnam Detects First Omicron Case
The fourth wave that hit the country in late April has now seen over 1.67 million Covid-19 cases recorded, whilst more than 1.26 million have since recovered from the disease.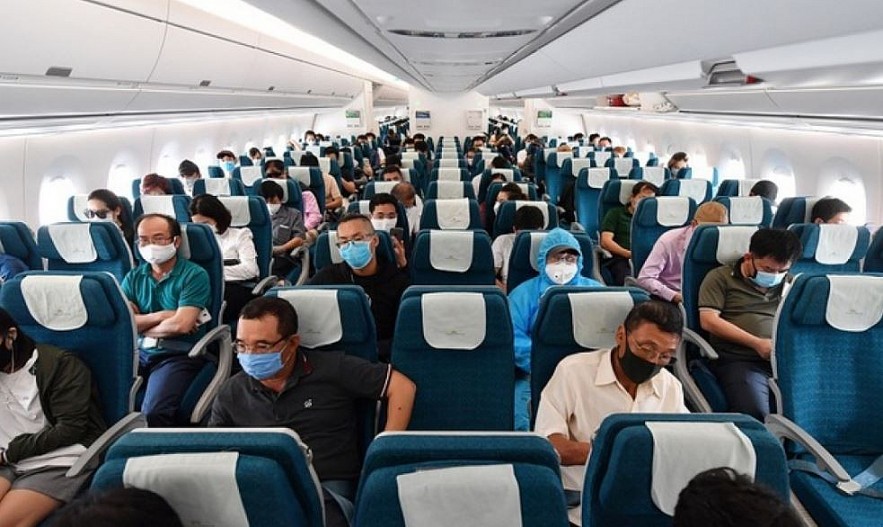 Photo: VOV
Daily Covid-19 count drops by 446 to 14,440 across 61 localities nationwide
A further of 14,440 people across 61 localities nationwide were detected to be positive for the SARS-CoV-2-virus, marking a drop of 446 from the previous day, according to statistics released by the Ministry of Health on December 28.
Hanoi continued to lead the way for infections with 1,920, trailed by the southern provinces of Tay Ninh with 923 and Vinh Long with 911 cases. Since the fourth pandemic wave started back on April 29, Hanoi has detected more than 39,000 active cases, of which over 15,000 were recorded outside the community and the remaining case were found to be positive in isolation facilities.
A total of 214 Covid-19 fatalities were also reported over the past 24 hours, thereby taking the national Covid-19 death toll up to 31,632, or 1.9% of all infections.
Photo: VOV
Vietnam detects first Omicron case
The first case of the Omicron variant of coronavirus has been detected in Vietnam, according to the Ministry of Health (MoH). The carrier is a man who arrived in Hanoi from the United Kingdom. The patient was immediately quarantined after he landed in the country, and has not had any contact with the public.
The Central Military Hospital 108 in Hanoi on December 19 received the patient, who landed at Noi Bai International Airport the same day, and a rapid Covid-19 test returned a positive result. The man was transported from the airport using a specialized vehicle to a quarantine facility at Hospital 108. The hospital has also collected a specimen from the patient and confirmed the infection using RT-PCR.
Following the health ministry's order to conduct genomic sequencing of foreign arrivals infected with SARS-CoV-2, the hospital on December 20 analyzed the man's specimen using a sequencer made by Oxford Nanopore Technologies and he was suspected to have contracted Omicron variant but it was not conclusive due to the many deletion mutations of the variant. A day later, the hospital again conducted genome sequencing for the patient and confirmed he was carrying the Omicron variant (B.1.1.529).
In response to the detection of the first Omicron case, the Hanoi People's Committee has sent an official dispatch to the People's Committees of districts and relevant agencies regarding the implementation of pandemic prevention measures toward immigrants. Accordingly, all passengers who have received two doses of Covid-19 vaccine or have recovered from the disease have to monitor their health at residence, hotels, or guest houses for three days. They are not allowed to leave their residence. They must take the SARS-CoV-2 test on the third day since arrival and continue to have their health monitored for 14 days if the results turn out negative.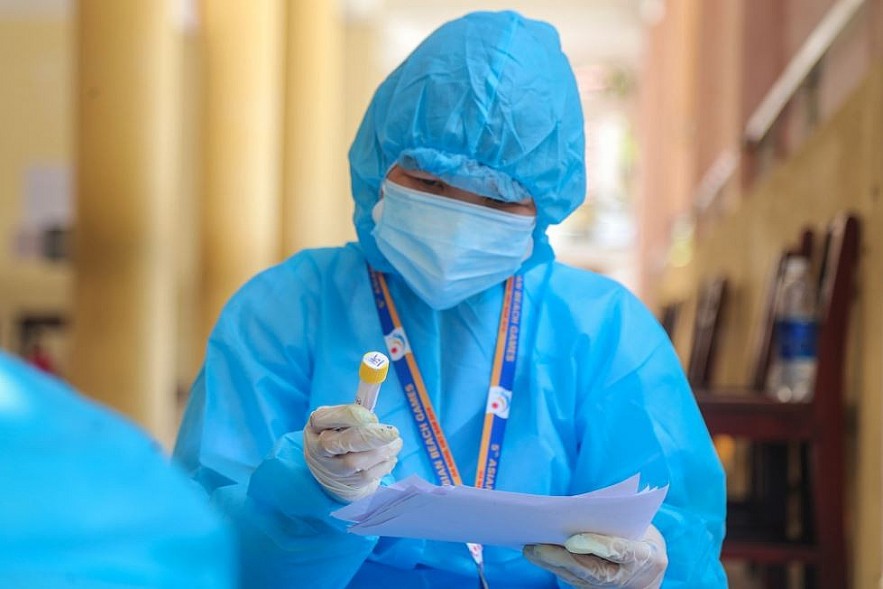 Photo: Zing
14 localities cover basic doses of Covid-19 vaccines for people aged 12 -17
The Ministry of Health reported on December 27 that as many as 14 localities nationwide have fully covered the basic doses of Covid-19 vaccines for children aged 12-17. Meanwhile, 11,218,402 doses of vaccines against Covid-19 have been administered to people of this age group, including 7,346,621 first shots and 3,871,421 second ones.
The coverage rates of at least one shot and two jabs are 80.7 percent and 42.5 percent of the total population in this age group, respectively, the ministry said. By region, the respective rates are 75.4 percent and 28.8 percent in the North; 69.2 percent and 26.7 percent in the central region; 80.1 percent and 6.6 percent in the Central Highlands; and 91.3 percent and 70.8 percent in the South. The localities that have fully covered the basic doses for people aged 12-17 are Ha Nam, Quang Ninh, Lang Son, Da Nang, Khanh Hoa, Ho Chi Minh City, Tien Giang, Tay Ninh, Ben Tre, Tra Vinh, Vinh Long, Binh Duong, Bac Lieu, Hau Giang.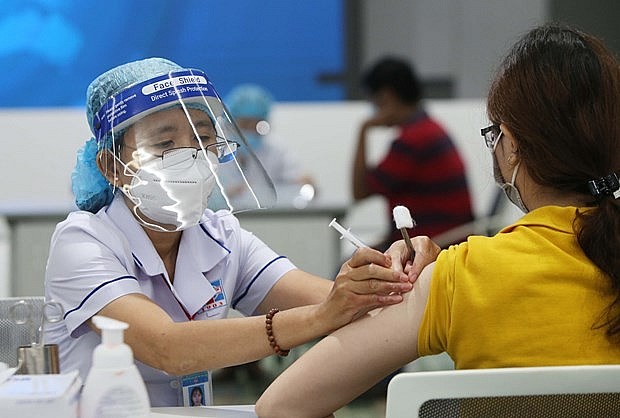 Photo: VNA
HCM City aims to complete injection of Covid-19 booster doses within next January
Ho Chi Minh City is striving to complete the injection of booster doses of vaccines into all local adults within January 2022, earlier than the target set by the Ministry of Health in the first quarter of next year. At a meeting on December 27, local authorities reported that last week, the number of new infections was under 1,000 each day with less than 50 deaths.
Head of the Office of the city Department of Health Nguyen Thi Huynh Mai said that as of December 27, the city had administered more than 14 million doses of vaccines, with 7.9 million people receiving one shot, 6.9 million getting two shots, and more than 438,000 receiving three shots. She said that the city Department of Health has coordinated with local public and private clinics to mobilize personnel for vaccination activities.
The city has allowed ninth and 12th graders to learn in-person at schools since December 12. Thanks to the good adaptation of students and schools, in the last two weeks, teaching and studying activities have taken place stably and safely. Based on the good results, the city has decided to continue to allow ninth and 12th graders to learn at school this week.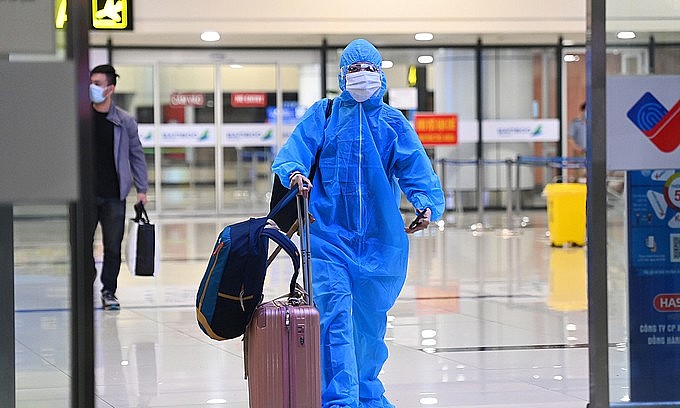 Photo: VN Express
Hanoi allows foreign arrivals to self-isolate
Those that have been fully vaccinated or recovered from Covid-19 will only need to self-isolate for three days when arriving in Hanoi from abroad. In a regulation issued Tuesday, Hanoi stated those who have been fully vaccinated with two doses or recovered from Covid-19 will only need to self-monitor their health for three days, either at home, hotels, or other facilities. They will be tested on the third day. If results are negative, they will be required to monitor their health for the next 11 days, free to move about, but required to avoid large gatherings or crowded places.
Fully vaccinated people and recovered cases must have relevant certificates to prove their status. Arrivals who are not fully vaccinated will be quarantined at home or other facilities for seven days, then tested on the third and seventh days. Those under 18, above 65, pregnant women, and those with underlying conditions can be quarantined with caretakers. However, the caretakers must be fully vaccinated or have recovered from Covid-19.
Taking effect from Jan. 1 next year, the new guideline is made just one day after the capital announced that everyone arriving from countries where the Omicron variant of Covid-19 has been detected has to stay in a centralized quarantine facility regardless of their vaccination or recovery status. Hanoi made the adjustment after the government approved the resumption of international flights between Vietnam and nine destinations that have managed high vaccination rates and good pandemic control on Jan. 1. Among the approved destinations are the U.S. and Japan, where Omicron has been detected.
The fourth wave that hit the country in late April has now seen over 1.67 million Covid-19 cases recorded, whilst more than 1.26 million have since recovered from the disease.
As of December 27, a total of 147,271,054 Covid-19 vaccine doses have been administered, with over 66.8 million people now being two jabs with both inoculations. According to the Ministry of Health's report, 7,103 patients nationwide are in serious conditions, with 802 requiring invasive ventilation and 19 on life support (ECMO).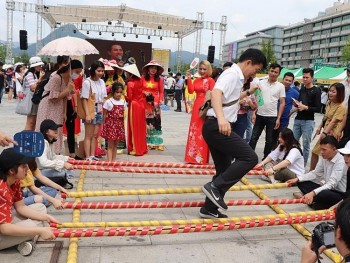 Focus
Vietnam Days Abroad is an annual national promotion program hosted by the Ministry of Foreign Affairs since 2010.