Vietnamese Embassy's officials directly assist stranded citizens at Singapore's airport
The Vietnamese Embassy in Singapore sent staff to the airport to assist passengers on board the repatriation flight including elderly people, minors under 18, pregnant women, sick people with underlying illnesses, guest workers with expired labour contracts, students who had completed the academic year, and travelers, among others.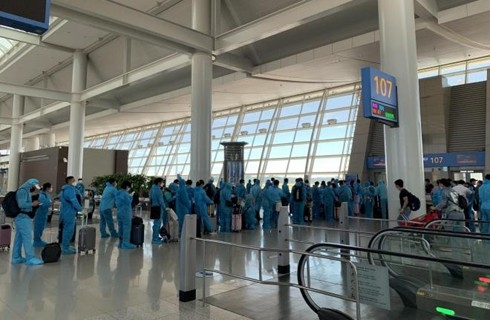 Vietnamese citizens line up for boarding the aircraft in the RoK's airport. Photo: VOV
A special flight, arranged by Vietnam's authorities, the Vietnamese Embassy in Singapore, budget carrier Vietjet Air, and relevant Singaporean offices, have brought home more than 240 Vietnamese citizens stranded in Singapore due to the impact of the COVID-19 pandemic.
Preventive measures against COVID-19 were implemented seriously during the flight.
There was another flight brought home about 240 Vietnamese citizens stranded in Singapore two days ago.
More than 310 Vietnamese citizens stranded in the Republic of Korea, also returned home on a Vietnam Airlines flight on July 26.
Vietnam Airlines strictly implemented security, safety and epidemiology measures during the flight, in order to protect the passengers' health and prevent the spread of the virus.
After landing at Noi Bai International Airport in Hanoi and Can Tho International Airport, all the passengers and crew members underwent medical check-ups and were transferred to quarantine facilities according to regulations on COVID-19 prevention and control.
Following the direction of the Government, both Vietnam Airlines and Vietjet have cooperated with Vietnamese authorities and representative offices abroad to bring Vietnamese citizens home in response to the citizens' wishes and in line with the country's quarantine capacity. They also participated in transporting essential goods, medical equipment and medical masks from Vietnam to support many countries in preventing and repelling the COVID-19 pandemic.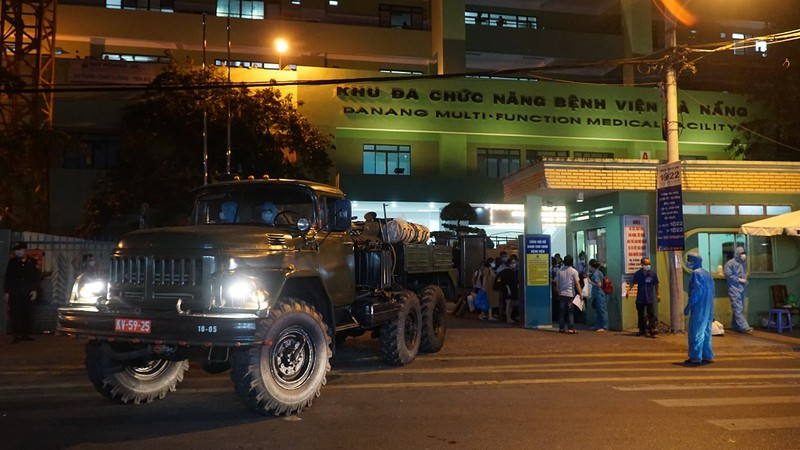 With the sudden resurgence of Covid-19 in Da Nang (3 cases), the People's Army of Vietnams' chemical battalion under Military Region 5 deployed troops to spray disinfectant at Hospital C & the Da Nang Hospital. Source: plo.vn
Da Nang, the largest centrally-run city in central Vietnam, has decided to re-impose social distancing measures from July 26 after locally transmitted coronavirus infections were detected, ending a 99-day streak Vietnam has obtained without new locally transmitted infections.
The Da Nang Center for Disease Control issued a statement on July 27 that all 761 people who had come into contact with the latest novel coronavirus patients in the city had tested negative for the virus.
Each of the individuals are still required to remain under quarantine at public hospitals and isolation sites for a further 14 days.
Moreover, the health sector will continue to investigate and apply isolation measures for all people who came into direct contact with COVID-19 patients, known as F1s, with samples being taken from individuals in order to test for the virus.
As a way of stamping out the latest outbreak, the health sector will collect 10,000 blood samples from the local community in Da Nang, according to a meeting held this morning at a local Government office.
In addition, the results of 4,000 test samples taken from staff in the city will be announced on July 28./.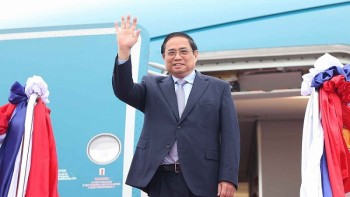 National
Vietnam News Today (Feb. 6): PM Chinh to pay official visits to Singapore, Brunei; Vietnam attends ASEAN+3 Tourism Ministers Meeting; Exports in 2023 and high demands from new generation FTAs; Digital technology to spearhead Vietnam's drive for Industry 4.0.