Vietnam Covid-19 Updates (June 5): 944 New Cases, Three More Death
Vietnam has recorded nearly 17,000 positive cases following the resurgence of the virus on April 27. On July 4, three more people have died of Covid-19 related complications.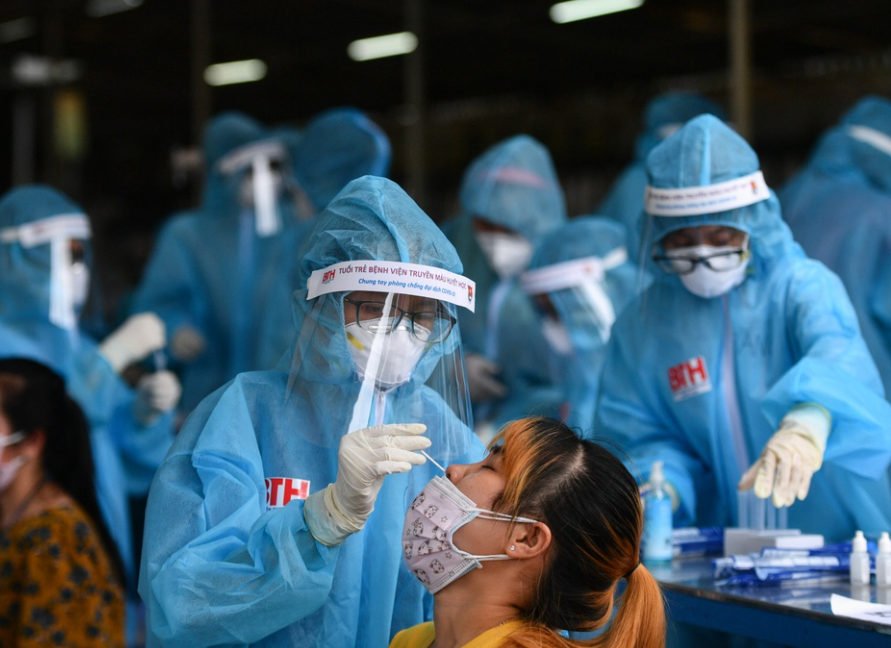 Photo: Zing News
944 new cases over the last 24 hours
Vietnam detected another 260 cases of Covid-19, including six imported, from 6 am to 12 pm on July 4, raising the national count to 19,570. Among the locally-infected cases, 213 were found in Ho Chi Minh City, 11 in Binh Duong, 10 in Phu Yen, five in Long An, four in Binh Dinh, two each in Vinh Long, Hai Phong, Bac Giang, and Tay Ninh, and one each in Ninh Thuan, Ha Tinh, and Tra Vinh.
360 new infections, including 356 domestic and four imported cases, were found in the afternoon of July 4. Ho Chi Minh City, which is the country's current largest pandemic hotspot, recorded most of the infections, with 169 cases. It was followed by neighboring Binh Duong province with 76 infections; Long An (52), Tien Giang (29), Quang Ngai (8), Phu Yen (5), An Giang (5), Dong Thap (4), Nghe An (3), Thua Thien – Hue (1), Ha Tinh (1), Ben Tre (1), Bac Giang (1) and Da Nang (1).
As many as 328 people have tested positive for the SARS-CoV-2 virus in 11 Vietnamese cities and provinces on the morning of July 5. Most of the new cases were detected in quarantine or lockdown areas, while 56 cases were of unknown origin, the Ministry of Health said.
Photo: Zing News
Three more deaths related to Covid-19 recorded
Three more people have died of Covid-19 related complications taking the total number of fatalities to 87.
One is a woman, aged 81, from northern Bac Ninh province with a history of high blood pressure. Her condition worsened and she was transferred to the National Hospital for Tropical Diseases. The woman died on July 2 for pneumonia caused by SARS-CoV-2 and complications of progressive respiratory failure in patients with hypertension.
The second man who died was receiving chemotherapy and radiation for throat cancer at K Hospital's Tan Trieu facility. He was tested positive for coronavirus on June 16 and died on July 2. His cause of death has been recorded as pneumonia caused by SARS-CoV-2, complications of bacteremia, and septic shock in nasopharyngeal cancer patients.
The third fatality was a 52-year-old woman from An Phu district in the Mekong Delta province of An Giang. She had been treated for breast cancer for a long time before contracting Covid-19. The patient died on early July 4 morning with the cause of death recorded as final stage breast cancer, pneumonia caused by SARS-CoV-2, heart failure level 2, type 2 diabetes, and stage 3 chronic kidney disease.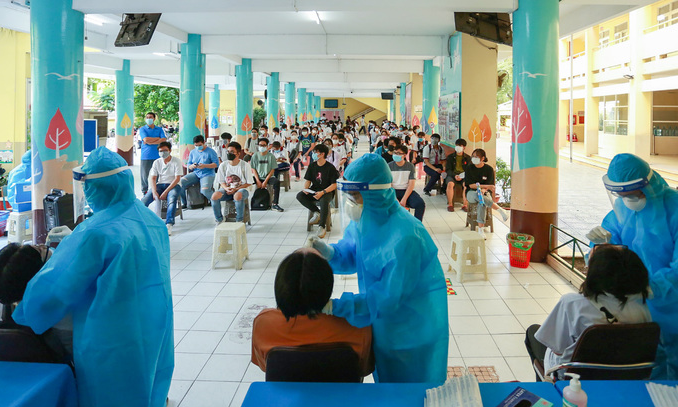 Photo: VN Express
Ho Chi Minh City refutes lockdown rumors as Covid-19 cases surge
Ho Chi Minh City reported the latest discovery of a further 169 local cases of Covid-19 on July 4 evening, taking its daily infection count to 599 on a single day, according to the Ministry of Health. The new additions have propelled the southern metropolis's infection tally to rank first in the latest coronavirus wave with more than 6,034, surpassing Bac Giang province with 5,631.
Also on July 4, the city hit back at rumors that it will lock down the entire city for pandemic prevention, saying the information is incorrect. The HCM City Steering Committee for Covid-19 Prevention and Control advised local people to stay calm, get information from reliable sources, and remain vigilant against sources that may cause public panic.
According to the committee, the city is taking many measures to prevent the spread of the virus and gradually control the fresh outbreak. The committee requested that all grassroots-level administrations and people strictly implement endorsed measures, including Covid-19 guidelines.
Vietnam has recorded nearly 17,000 positive cases following the resurgence of the virus on April 27. Overall it has logged a total of 20,261 cases since the virus attacked the country in January 2020.
As many as 7,891 patients have been discharged from the hospital after making a full recovery from the disease. Eighty-six patients have died of Covid-19 and other underlying illnesses.