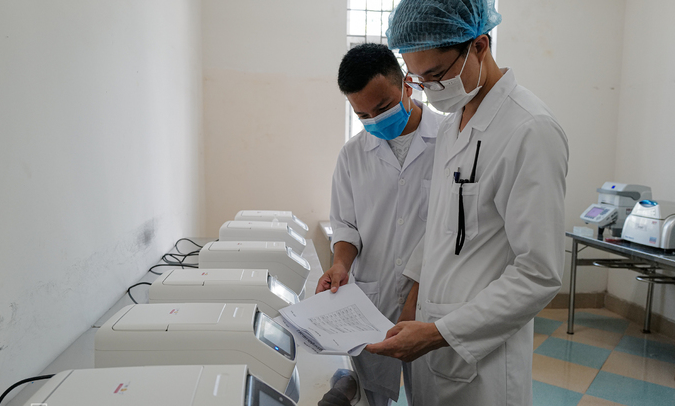 Photo: VN Express
245 cases in the last 24 hours
The Ministry of Health reported 53 new COVID-19 cases, all local infections on the morning of May 27, raising the national tally to 6,164. Of the new cases, 30 were confirmed in Bac Ninh, 21 in Bac Giang, and one each in Dien Bien and Hai Duong.
Vietnam recorded additional 152 COVID-19 infections, including two imported on the afternoon of May 27, with a new outbreak detected in Ho Chi Minh City. According to the Health Ministry, among the new cases, 84 were reported in Bac Giang, 22 in Bac Ninh, seven in Hanoi, and one in Da Nang. All are in quarantine sites or locked-down areas. Meanwhile, 36 new infections in HCM City are all related to a new outbreak found in the Revival Ekklesia Mission - a Christian church in Go Vap district.
Another 40 Covid-19 patients were confirmed Friday morning, sending the domestic count of Vietnam's fourth wave to 3,295 in a month. The new cases were recorded in Bac Giang, Lang Son, Thai Binh Provinces in the north, and Long An Province that borders HCMC. In Bac Giang, 30 cases are linked to clusters at its industrial parks.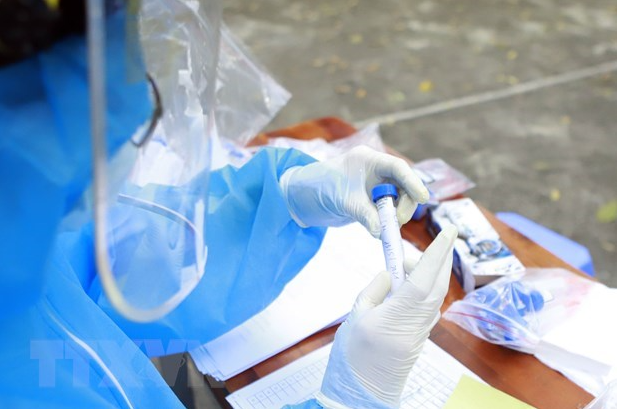 Photo: VNA
Vietnam's COVID-19 death toll hits 46
The Treatment Subcommittee under the National Steering Committee for COVID-19 Prevention and Control on May 27 confirmed the 46th COVID-19-related death – an 81-year-old male with underlying health conditions.
The patient, residing in the northern province of Bac Ninh's Thuan Thanh district - a current hotspot of COVID-19 outbreaks, had a history of broken rib and collarbone and liver abscess. On May 5, he developed mild fever, body aches, and cough, and was hospitalized for 4 days with a diagnosis of pneumonia. His SARS-CoV-2 PCR test showed negative results, with the patient sent home for self-quarantine.
On May 14, the man showed signs of shortness of breath and was taken to the medical center of Thuan Thanh district for a quick test for COVID-19, which turned out positive. On May 15, he was transferred to the National Hospital for Tropical Diseases in Hanoi's Dong Anh district with a diagnosis of septic shock and pneumonia caused by SARS-CoV-2. The patient died on May 26 of septic shock, SARS-CoV-2-induced pneumonia, complications of progressive respiratory failure, and sepsis.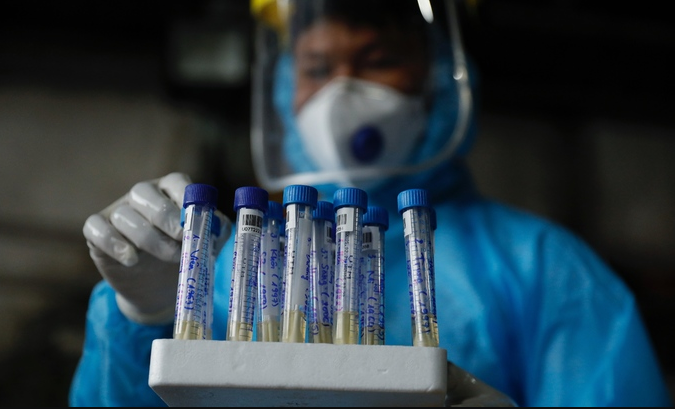 Photo: VN Express
Ho Chi Minh City considers lockdown in high-risk areas
On May 27, the Ho Chi Minh City Steering Committee for Covid-19 Prevention and Control held an urgent meeting to deal with the new cluster of Covid-1 castes in the area. Nguyen Thanh Phong, Chairman of Ho Chi Minh City People's Committee required stricter pandemic prevention. He asked to simultaneously suspend restaurant operations in hotels. A restaurant can only serve guests staying in the hotel where it is located.
The Ho Chi Minh City leader asked localities to strengthen inspection and fining of cases who not wear masks in public places. Regarding social distancing, he assigned the Ho Chi Minh City Department of Health to consider social distancing in high-risk places to submit a proposal to the People's Committee of Ho Chi Minh City for decision.
As of 6 pm on May 27, Vietnam logged a total of 4,824 domestically transmitted cases and 1,492 imported cases. Reports from the ministry's Medical Examination Administration showed that the country has seen 2,853 recoveries and 46 deaths related to the disease. Among active patients undergoing treatment, 111 have tested negative to coronavirus SARS-CoV-2 once, 40 twice, and 67 thrice.
Valerie Mai