Vietnam protests the Philippines' recent naming of six sandbars, reefs near Vietnam's island
Vietnam on August 27 protested against the Philippines over its recent naming of four sandbanks and two reefs near Thi Tu Island in Vietnam's Truong Sa (Spratly) archipelago, now claimed and occupied illegally by the Philippines, in Bien Dong Sea (internationally called South China Sea).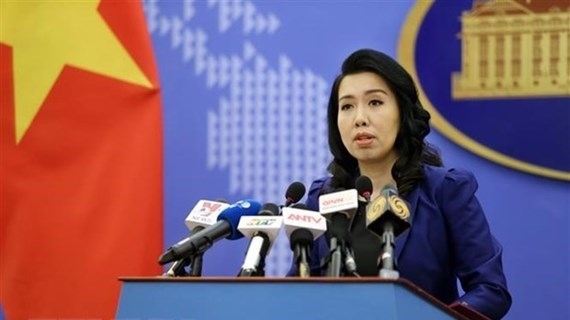 Spokeswoman of the Foreign Ministry Le Thi Thu. Photo: VNA
Any activities in Vietnam's Truong Sa (Spratly) archipelago without the country's permission are meaningless, spokeswoman of the Foreign Ministry Le Thi Thu Hang said during a regular press briefing held in Hanoi on August 27, in response to a question from the Vietnam News Agency regarding the Philippines' recent naming.
She then repeated Vietnam's consistent view that all activities by parties in the East Sea must comply with international law and respect countries' sovereignty, sovereign rights, and jurisdiction, as specified in line with the 1982 UN Convention on the Law of the Sea (UNCLOS), as well as the content and spirit of the Declaration on the Conduct of Parties in Bien Dong Sea (DOC), to help maintain peace, security, and stability in the waters.
Maurice Phillip Albayda, the municipal information officer, told the Inquirer on August 20 that four sandbars and two reefs situated within the 22-kilometer territorial sea of Pag-asa Island (Thi Tu Island in Vietnamese), the municipal seat, were given formal names through Municipal Ordinance No. 50-2020 signed by Kalayaan Mayor Roberto del Mundo on August 14.
The sandbars are now officially called Pag-asa Cay 1, 2, 3, and 4, from nearest to farthest point of Pag-asa Island, while the reefs were named Pag-asa Reef 1 and 2 by the Philippines.
In an interview, Albayda said the move was in line with the town's "vision" to develop these sandbars and reefs into possible sites for agri-tourism and fishery projects.
In June, the Philippines has completed a beaching ramp on Pag-asa, that allows easier transfer of construction equipment. The development bolsters Manila's maritime defense position amid ramped-up efforts by Beijing to assert its expansive territorial claims in Bien Dong Sea.
The Philippine Department of National Defense said it held a formal turnover ceremony on June 9. A sheltered port for Philippine fishing vessels was also built.
Vietnam has exercised its sovereignty over Truong Sa (Spratly) and Hoang Sa (Paracel) archipelagos throughout history, consistent with all international norms and laws regarding national territorial sovereignty, VOV reported. Evidence has been recorded in Vietnamese and Chinese historical documents through multiple feudal regimes and in many western countries, including France, Portugal, and Spain.
Numerous old documents and maps of foreign countries contain evidence of Vietnam's sovereignty over the Hoang Sa and Truong Sa archipelagos. The most important event confirming Vietnam's claim of sovereignty over the two archipelagos occurred in 1816 when King Gia Long sent troops to hoist a Vietnamese flag in Hoang Sa archipelago. Lords of the Nguyen dynasty regularly sent missions to manage and exploit Hoang Sa and Truong Sa archipelagos.
Other Vietnamese feudal regimes organized Hoang Sa and Bac Hai naval fleets to exercise Vietnam's sovereignty and exploit the two archipelagos. In 1884 the French administration in Indo-China continued to observe and strengthen Vietnam's sovereignty over Hoang Sa and Truong Sa archipelagos.
China seized the Hoang Sa Islands from South Vietnam by force in 1974, and Truong Sa Islands from Vietnam in 1988. China also formed the so-called "Sansha City" on Woody Island since 2012, with the intention of taking control of islands in the Dong Sea.
China claims historical jurisdiction over about 80 percent of the sea, using a U-shaped "nine-dash line" that includes swathes of Vietnam's exclusive economic zone (EEZ), as well as Truong Sa and Hoang Sa Islands. It also overlaps the EEZs of Brunei, Indonesia, Malaysia, the Philippines and Vietnam.
China has also been illegally building artificial islands in recent years, some equipped with radar, runways,and surface-to-air missiles. Those include Subi Reef just 24km away and visible from Thi Tu.
Vietnam and the Philippines last month criticized China's holding of an earlier set of military drills in the area./.