Vietnam ranks high in expats' satisfaction with official Covid communication
A majority of expats in Vietnam are satisfied with the official communication on Covid-19, a survey by the world's largest expat community, InterNations, has found.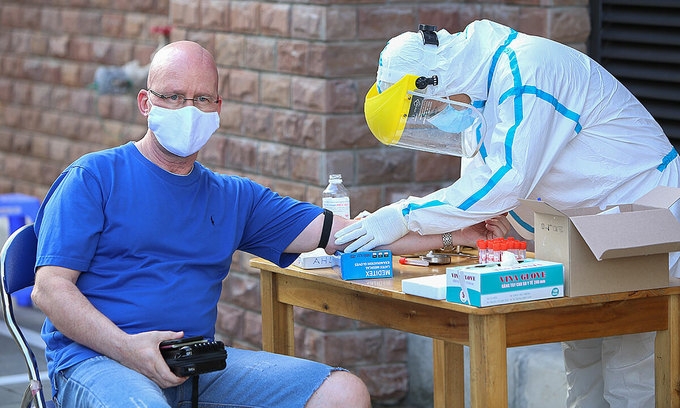 A foreign man has his blood sample taken for the new coronavirus tests in Da Nang, August 2020. (Photo: VNE)
As against 66 percent globally, 79 percent of expats in Vietnam said they are satisfied with the official information they receive about Covid and the protocol to prevent its spread, VNE reported Tuesday.
To stay up to date, most surveyed respondents said, they follow news sources from forums and sites run and contributed by expats, the international media (45 percent), social media (43 percent), and official government channels (39 percent),
Close to one in three expats in Vietnam have decided not to move back home in the near future due to the pandemic versus 18 percent globally.
For its annual Expat Insider survey, InterNations asked 12,420 expats of 174 nationalities and living in 59 countries and territories about various aspects of life.
They were asked to rate 37 aspects of life abroad on a scale of one to seven.
Of the 59 places where expats are most and least satisfied with the official Covid-19 communication, Vietnam was 12th.
New Zealand, Taiwan and Qatar were first, second and third while Indonesia, Egypt and Brazil brought up the rear.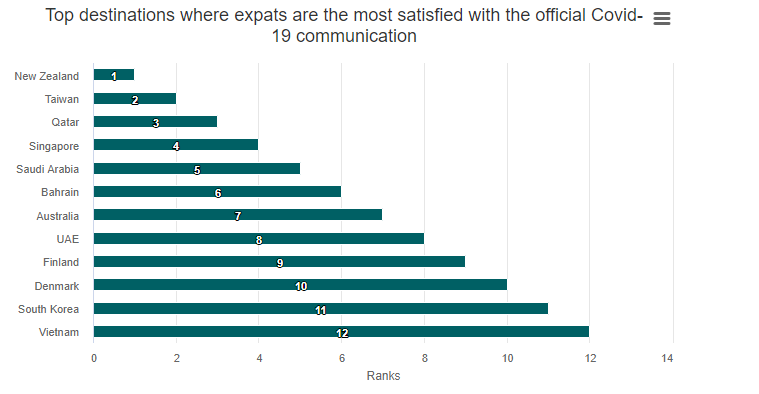 (Chart: VNE)
Vietnam is grappling with the 4th outbreak which is evaluated as the biggest one since early last year. Within 21 days since its onset, a total of 1,340 cases have been reported. Bac Giang, Bac Ninh and Hanoi are having the highest tally, which stands at 411 cases, 290 and 239 respectively.
The country is gearing up for the 3rd nationwide vaccine rollout.
On May 16, a new batch of AstraZeneca vaccine, sourced via the global Covax facility, reached Hanoi.
The country will receive a total of 110 million doses by late 2021, including allocation from Covax, Astra Zeneca and Pfizer. The Ministry of Health has also purchased another 10 million doses from Covax under a cost-sharing mechanism. It is also negotiating with other vaccine sources, including Moderna, Johnson & Johnson, Sputnik V and Sinopharm.
Nationwide vaccine rollout started on March 8. In late February, the health ministry purchased over 117,000 doses via Vietnam Vaccine JSC. Over 800,000 doses supplied by the Covax facility arrived in March. All the doses have been administered to prioritize individuals in 62 provinces and cities, including frontline medical personnel, the Steering Committee for Covid-19 Prevention and Control members, police and military forces.