Vietnam sends COVID-19 aid packages to overseas countrymen in Cambodia
The Vietnamese Embassy in Cambodia and Khmer-Vietnam have continuously provided support for those Vietnamese nationals struggling during the COVID-19 pandemic.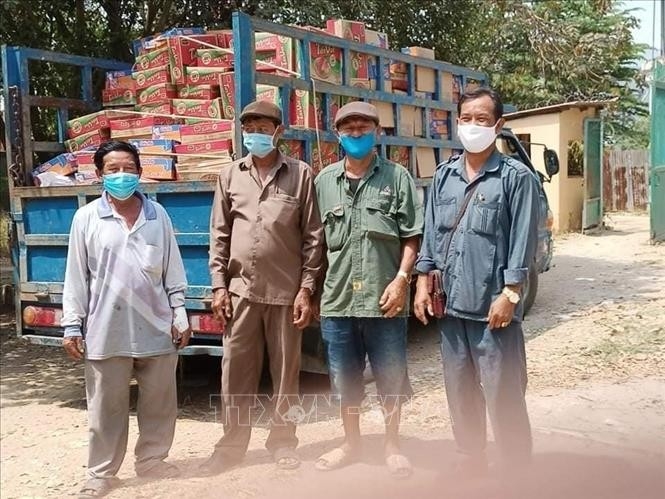 Transporting instant noodles to needy Vietnamese nationals in Kandal province (Photo: VNA)
As reported by VNA, a number of overseas Vietnamese are undergoing quarantine period in Cambodia. Their initial anxiety has now alleviated and their quarantine life has been gradually stabilizing. On top of that, they have been receiving continuous support from their home country.
"Local authorities have been giving us good care and creating favorable living conditions. We are also provided with enough daily necessities", Ms. Luu Thi Da, 60 years old, living in Prey Veng city, was quoted as saying.
According to the Community Department, Vietnamese Embassy in Cambodia, 500 gifts including rice, instant noodles and face masks were handed over to 500 needy Vietnamese households in 5 provinces (Luek Daek, Mukh Kamphool, Lvea Aem, Kien Svay, Ponhea Lueu) on March 20. The package is donated by the Dong Thap Union of Friendship Organizations and 5 benefactors.
On March 19, the Prey Veng Provincial Branch also sent a batch of rice and instant noodles to 408 households of Vietnamese and Khmer people in Prek Sai Kho commune. The branch also sent another 135 gift boxes to local authorities who would later hand the gifts to 135 Khmer households in difficult circumstances and affected by the COVID-19 epidemic.
This is the second support with donations raised by Tan Chau commune, An Giang and Mr. Hua Van Sai's family. The first donation was given to 219 households on March 14.
On March 19, an aid package including rice, instant noodles, personal medical gears that worth roughly VND 120 million (US $5,189) were handed over to the Khmer-Vietnam Association at Thuong Phuoc border gate. The package was then sent to Vietnamese Cambodian under quarantine and local first responders in the fight against the pandemic.
On top of that, the Vietnamese Consulate General in Sihanoukville and a number of benefactors and some benefactors also sent financial support to and distribute vegetables and other ingredients to the Vietnamese Cambodians living in quarantine are in Luek Duek district, Kandal province.
Mr. Le Van Phuoc, vice chairman of An Giang Provincial People's Committee had earlier mobilized enterprises in and outside the province to donate the Khmer – Vietnamese in Cambodia a considerable aid package, including 10 tons of rice, 220 cartons of instant noodles, 440kg of sugar, 220kg of MSG, 20.000 face masks, 20 bottles of antiseptic solution.
On March 14, 15, a working delegation of the Vietnamese Embassy and the Khmer-Vietnam Association in Cambodia visited Cambodians of Vietnamese origin living in lockdown areas in Kandal and Prey Veng provinces, where over 150 COVID-19 cases have been found, including 10 Vietnamese-Cambodians, VNA reported.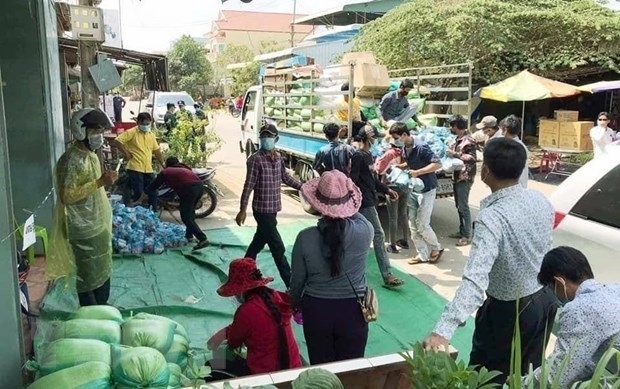 Transporting rice for Vietnamese in Cambodia,(Photo: VNA)
Over 14 tonnes of rice, 530 boxes of instant noodles, and 50 boxes of canned fish have been delivered to support 230 households in Prek Tamlop commune in Kandal and 100 households in Prek Sai Kho commune in Prey Veng.
They also presented medical supplies to local authorities at a working session with officials and forces involved in pandemic control work at Prek Tamlop commune, including 5,000 masks, 50 bottles of hand sanitiser, and 100 protective suits.
The authorities pledged to continue working closely with the Khmer-Vietnam Association's local branch to offer timely support to the community of Vietnamese-Cambodians.
Many philanthropists, businesses, and Vietnamese representative agencies in Cambodia have also donated food and medical supplies in recent times to disadvantaged Cambodians of Vietnamese origin in lockdown areas in the country.
The Khmer Times on March 16 said the country's health ministry has appealed for public donations to purchase more vaccines to inoculate the targeted 80 percent of the population.
Prime Minister Hun Sen said in December last year that his target was to inoculate at least 80 percent of the population or nearly 13 million people.
At the end of last year, the Cambodian government announced that it has managed to raise some USD 55 million so far to buy vaccines