Vietnam to concentrate on bringing 14,000 citizens home
Prime Minister Nguyen Xuan Phuc recently has asked government agencies to bring home around 14,000 Vietnamese citizens in the course of rising global infections of coronavirus with laborers of terminated employment contracts will be the top priority.
Passengers waiting to conduct procedures before boarding the flight back to Vietnam at Sydney airport. Photo: VNA
Addressing the Cabinet-locality meeting on July 2, PM stressed that it was important to take COVID-19 prevention measures to ensure that the country would not face the second wave of the pandemic.
Under the government leader's instruction, agencies need to closely co-operate to bring Vietnamese nationals in foreign countries home. He has allowed some 14,000 Vietnamese people abroad who mostly are children under 18, the elderly, the sick, laborers with expired contracts or no accommodation, students without dormitories, stranded tourists, and others of special cases.
Phuc asked authorities to keep up the good work and be ready to deploy fast contact-tracing measures if a new case is discovered, and government-run quarantine sites must also always stand ready.
The Ministry of Defense and localities need to prepare quarantine centers, including military barracks, military schools, hotels, and lodging facilities for the returnees who would undergo a 14-day mandatory quarantine.
The Ministry of Transport is asked to operate more commercial flights to repatriate both Vietnamese people and foreign diplomats, experts, and businesspeople, as well as to send Vietnamese workers abroad.
According to an announcement by the Government Office, the plan mapping out the repatriation of Vietnamese citizens, has been carried out since the virus outbreak. So far, the country has repatriated more than 11,000 citizens from different parts of the world.
For those who are in the priority list by the Ministry of Foreign Affairs should receive privilege in entry procedures and the criteria for selection must be transparent, the Government Office noted.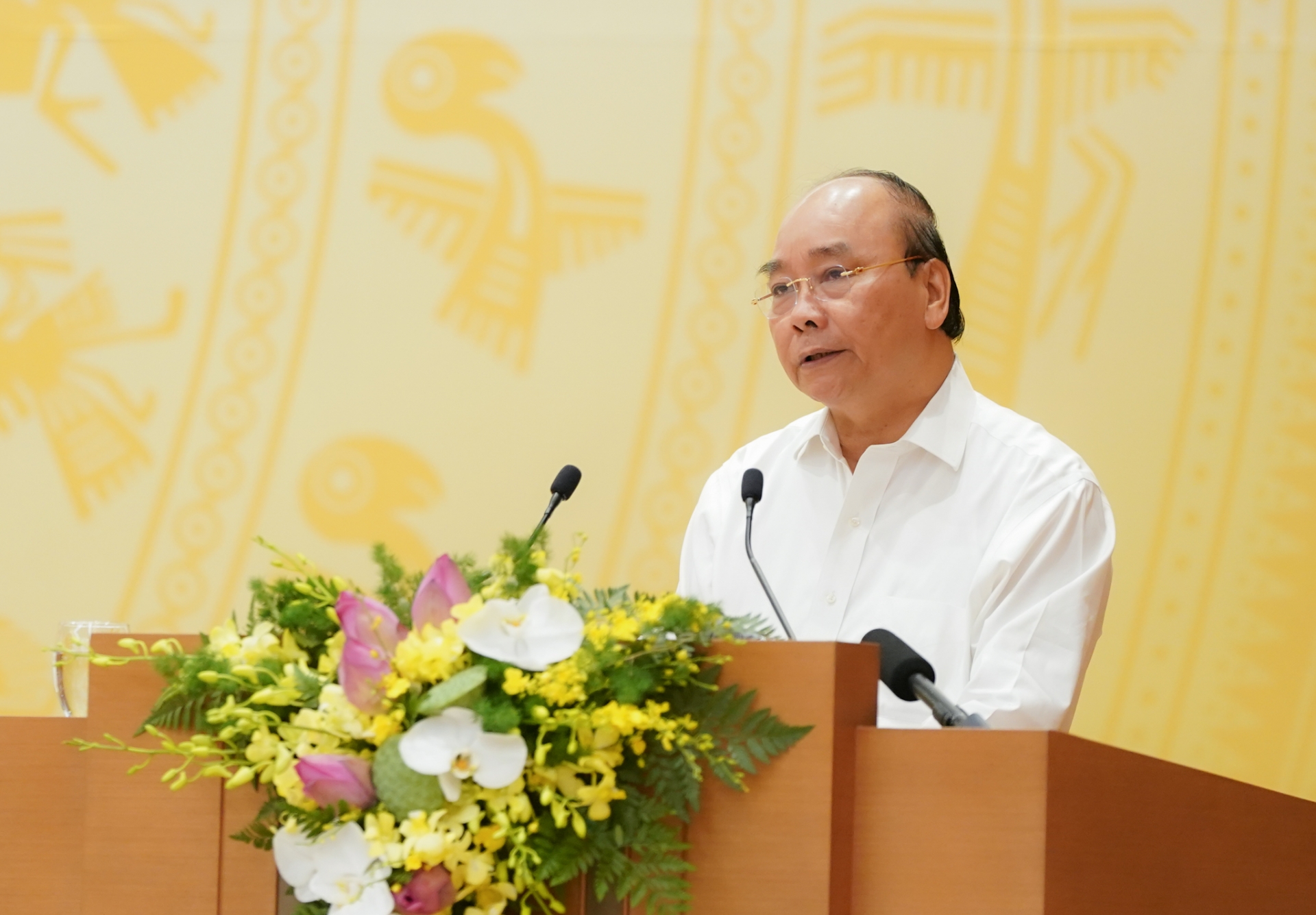 Prime Minister Nguyen Xuan Phuc addresses the Cabinet-locality meeting on July 2, 2020. Photo: VGP
The latest repatriation flight on July 3 had been brought home more than 350 Vietnamese citizens from Australia and New Zealand.
Crew members and passengers had their body temperature checked and went under quarantine as regulated.
Relaxing entry of foreign visitors of special cases
PM Phuc has also allowed local authorities to authorize the entry of foreign diplomats, experts, businesspeople, and skilled workers, including for a stay of less than 14 days.
The COVID-19 Prevention and Control Steering Committee have to identify foreign markets which are safe for Vietnamese airlines to resume their flights.
Localities having international airports, roads, and waterways need to choose safe destinations for the visitors who come for investment and trade purposes.
Meanwhile, Vietnamese workers are only to go to countries which are in need of and basically safe with COVID-19 such as Japan, Taiwan (China) and South Korea.
Vietnam is one of few countries in Asia that have relaxed traveling restrictions and reopened the economy. As of July 5, the country has undergone 80 days without local transmission./.