Vietnamese citizens donates 100,000 masks to 16 German states
Vietnamese citizens continue supporting the fight against the ravaging COVID-19 pandemic in Germany.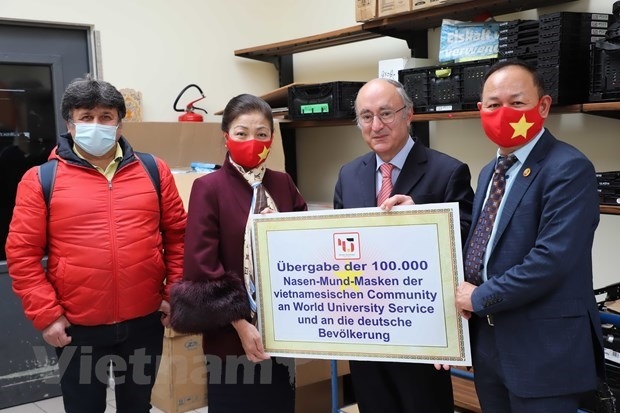 Vietnamese people present masks to Germany. Photo: VNA
100,000 masks purchased by the Vietnamese community in Germany have been presented to the World University Service (WUS) in an effort to fight COVID-19, reported VNA.
The masks, carried by national flag carrier Vietnam Airlines, will later be sent to 16 German states.
Speaking at the presentation ceremony, WUS President Kambiz Ghawami said over the past time, many Vietnamese associations in Germany have also sewn masks and offered free meals to nurseries, firefighting forces and frontline medical workers in the host country.
On the occasion, the organising board also symbolically handed over 6,250 masks to Rheinland-Pfalz state.
As of May 14, the WUS sent masks to 11 German states, and more will come to the remaining states in the near future.
In April, the Vietnamese Government had handed over 110,000 antibacterial face masks as gifts to help Germany in COVID-19 fight.
In return, the WUS has donated 20 water filtering units to Vietnam's remote areas, as a show of gratitude for Vietnamese support to Germany and Europe in COVID-19 fight.
More than 4.5 million novel coronavirus cases have been officially detected across the globe.
The number of confirmed coronavirus cases in Germany increased by 620 to 173,772, data from the Robert Koch Institute (RKI) for infectious diseases showed on May 16.
The reported death toll rose by 57 to 7,881, the tally showed.
Meawhile, May 15 marked the 29th day in a row Vietnam has seen no new locally transmitted infections. However, the Ministry of Health announced that 25 passengers on board the flight VN0062 returning from Russia had contracted the virus.
The newly detected case brought the total cumulative number of coronavirus infections in Vietnam to 314, of whom 174 people entered Vietnam from overseas.