Vietnamese deal with surging cases in Taiwan, normalcy returns to UAE
Overseas Vietnamese residing in Taiwan said they feel secure in the country even though new cases have been rising every day.
Medical staff taking samples for Covid-19 testing in Taipei, May 15 (Photo: AFP)
Thuc Oanh, working at Jinwen University of Science and Technology, is waiting for her turn to get vaccinated.
"Taiwanese press has been writing a lot about the vaccine rollout plan. I myself feel that the country is doing a good job in inoculating residents against coronavirus," she told VNE.
Taiwan is battling its worst coronavirus outbreak yet. Experts say a vaccine shortage is partly to blame for the quick surge. In mid-May, Taiwan documented only 1,500 cases and 12 deaths. The number has now reached over 8,000 infections and more than 100 deaths. The country of 23 million population has inoculated around 1%.
However, Minh Thong, a senior at Ming Chuan University, Taipei, said he, as most of the Taiwanese are, has been calmly responding to the pandemic.
"I'm very impressed by local self-discipline and compliance to authorities' orders. As soon as medical officials in Taipei and New Taipei raised danger alert to Level 3 and asked for people to stay at home, all the streets were left deserted," Thong said.
The overseas student said his life has not changed so much since the outbreak. If there are any, it's that most of his study and work have been switched to online to avoid gatherings.
"However I'm way luckier than other international students in Taiwan. Many were laid off, especially those working at catering establishments. Those doing internships at companies, like me, can work from home without too much disruption", he added.
The healthcare industry in Taiwan, according to Thong, is very well-oiled. Most people acknowledge the limited life cycle of the coronavirus, thus, they proactively protect themselves against the virus and don't worry to the extent that they have to get the vaccine by all means.
Thuc Oanh, another overseas Vietnamese in Taiwan, shares the same experience. Her work wasn't affected too much in the past year. During the recent large-scale outbreak, she can still work from home and earn a stable livelihood.
"The Center for Disease Control and Prevention and the mayor update the Covid-19 situation every day. Therefore, I know how to protect myself better," Oanh said.
Meanwhile, Kiet Tuong, 29, an electronic engineer in the northern Taiwan city of Hsinchu, said he still has to work at the company due to the nature of the job. Anti-pandemic protocols are strictly deployed. Taiwan still recommends those without coronavirus symptoms don't need to get tested, which eases the burden on the health sector.
"There are not so many positive cases in the city I'm working in. Thus, there's no need for me to worry," he added.
Taiwanese hoarded goods at supermarket on May 15 (Photo: Reuters)
Many Vietnamese in the United Arab Emirates (UAE) also feel secure even though they are living far away from home. Its government has good control of the COVID situation and provides free vaccination for everyone.
Dam Hanh, a Vietnamese living in Al Satwa in Dubai said COVID is well controlled in the United Arab Emirates. She feels secure living there.
"Since COVID first broke out, the government has been applying many strict measures to control the pandemic. For instance, they require people to wear face masks when going to work, mandate that taxi car does not take more than two passengers or prohibit large gatherings or parties. Those who do not follow the rules will be fined," said Hanh.
So far, the United Arab Emirates has reported over 569,000 cases and 1,677 deaths. The number of new cases has dropped more than 51% compared to January when the pandemic reached its peak in the country. According to Reuters, the United Arab Emirates is currently recording 132 new cases per 100,000 people.
Hanh said people in Dubai are recommended to get COVID vaccination, which is provided for free, regardless of nationality. One of the many Vietnamese in Dubai who have been vaccinated, Hanh received two shots of Sinopharm on January 21 and February 11.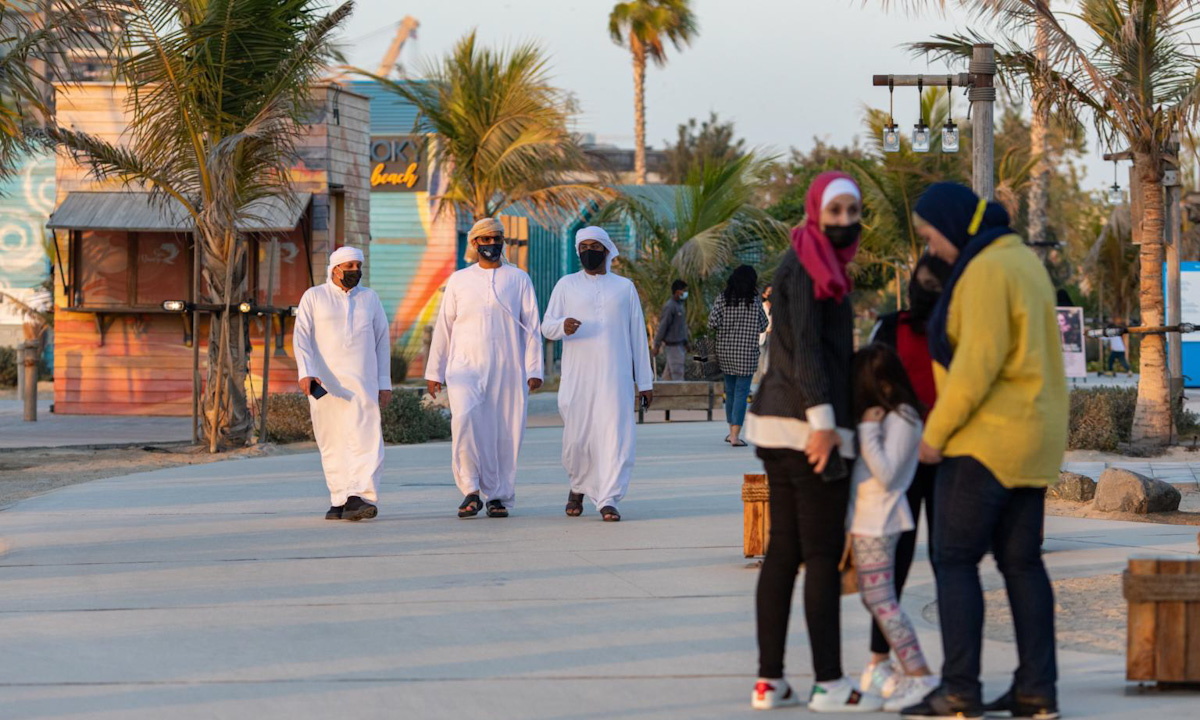 Photo: People wore face masks while walking on a street in Dubai in January (Photo: Bloomberg)
"Right after I was vaccinated, I had a slight fever and was somewhat tired, but these symptoms went away after one day. I didn't experience any other symptoms," said Hanh. According to Hanh, all information on her vaccination is updated on the website of the Dubai government.
Lives in the United Arab Emirates and Dubai go on almost as normal, thanks to effective COVID control measures. However, like with the rest of the world, the pandemic has negatively affected people's livelihoods, especially in places that rely heavily on tourism like Dubai.
Living in Bur Dubai, a community in Dubai, Tieu Xuan Long said the Vietnamese community has been receiving good support, from getting COVID vaccination to quarantining when they are infected.
"Most citizens and workers with a two-year VISA can get vaccinated for free," said Long.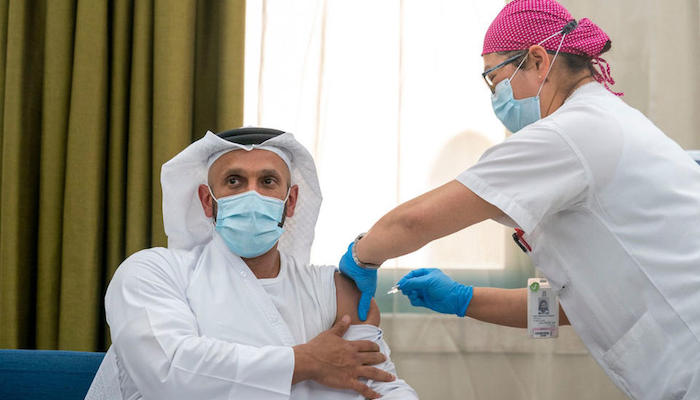 Photo: Frontline health workers getting COVID shots (Photo: Abu Dhabi Department of Health)
Long's family received Pfizer shots in January. "I just felt slightly painful around the injection area, but I didn't experience any other side effects," said Long.
The United Arab Emirates has provided COVID vaccines for almost 12,8 million people. Last week, the country gave over 106,000 shots per day on average, according to Reuters.
Data by Our World in Data shows that 3.84 million out of 9.7 million people have been fully vaccinated, accounting for 39.3% of the total population.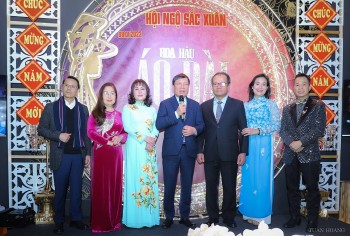 Overseas Vietnamese
The 2022 Spring Reunion Program was organized to celebrate the beauty of Ao Dai and spread the love for this traditional gown to Vietnamese overseas, as well as create a lively artistic space for the Vietnamese community in the foreign land.