Vietnamese Embassy in Brazil Solemnly Celebrates the 76th National Day
Many activities have been held Monday at the Vietnamese Embassy in Brazil's Brasilia capital on the 76th anniversary of Vietnam's National Day (September 2)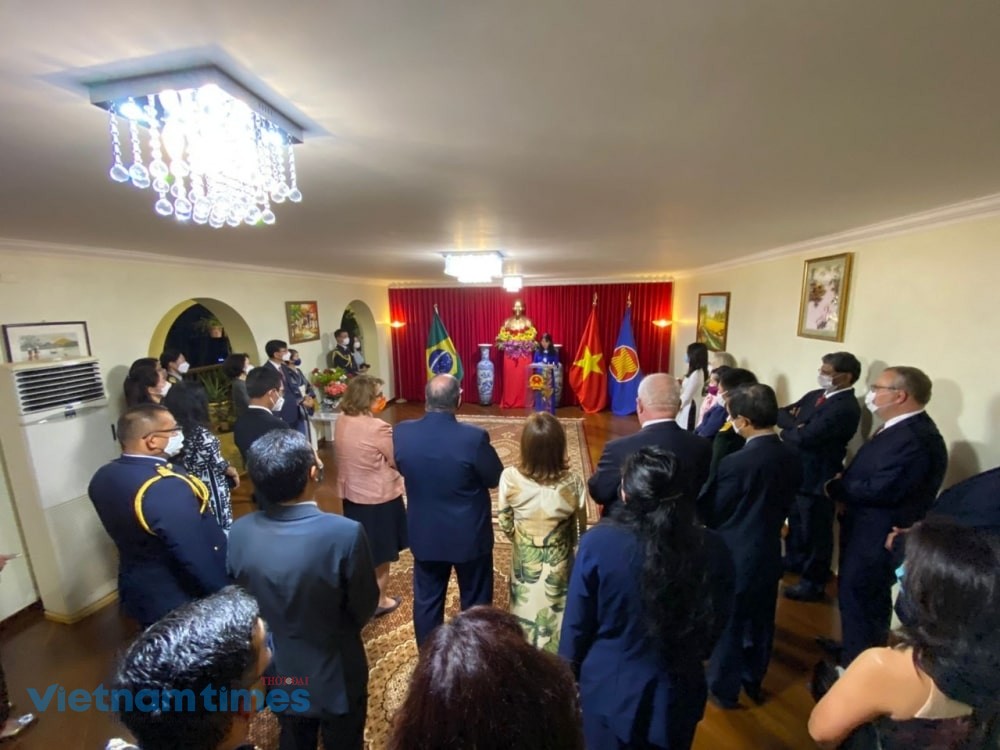 Ambassador Pham Thi Kim Hoa speaks at the ceremony. Photo: Vietnam Times
At the ceremony, Ambassador Pham Thi Kim Hoa affirmed the important historical achievements Vietnam has achieved in the past 35 years of renovation. The attainments include maintaining political stability, creating a favorable and balanced business environment, implementing sustainable development goals to help Vietnam win trust from international friends and become an attractive destination in Southeast Asia for investors and tourists.
Vietnam in 2020 was among a few countries worldwide to maintain a GDP growth rate of 2.91%, and a year-on-year rise by 5.64% in the first half of 2021. The country is considered one of the 16 most successful emerging economies in the world and has a fast V-shaped economic recovery.
Hoa said Brazil has always been a major and important partner of Vietnam in South America. Over the years, the two countries have always supported each other to boost socio-economic development and closely coordinated at international organizations and multilateral forums.
The bilateral exchange on culture, education, travel has also bridged Vietnamese and Brazilian people. Such activities will be enhanced once the world gets closer to herd community.
The Vietnamese ambassador also expressed her sincere thanks to all Brazilian agencies and the Diplomatic Corps for their close cooperation with the Embassy of Vietnam. She hopes the two countries will bring their friendship and cooperation to a new level.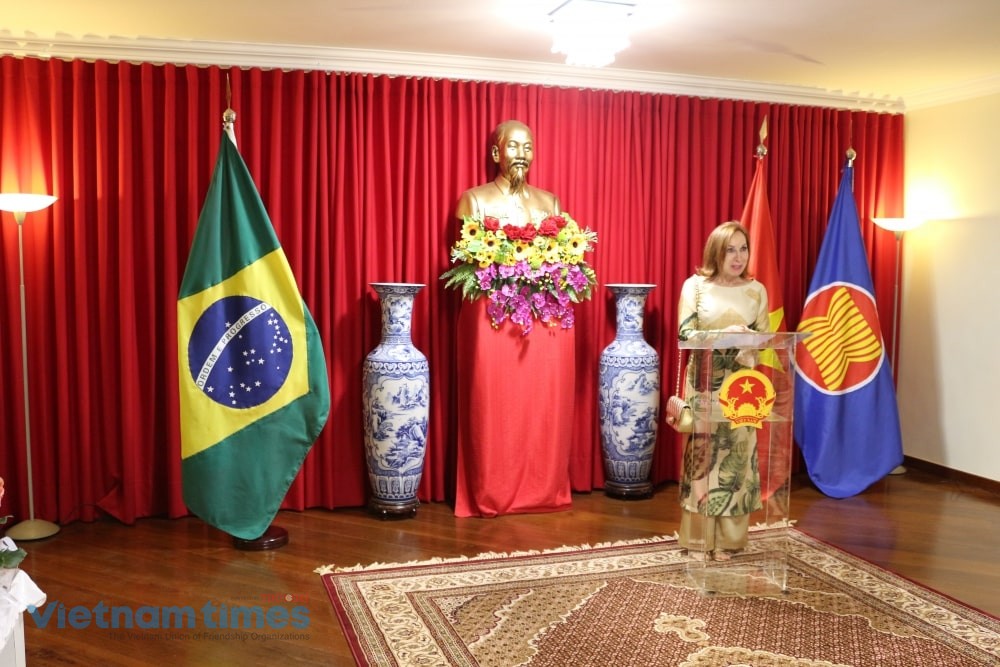 Márcia Donner Abreu, Deputy Minister of Foreign Affairs of Brazil speaks at the ceremony. Photo: Vietnam Times
On her part, Márcia Donner Abreu, Deputy Minister of Foreign Affairs of Brazil in charge of bilateral negotiations in Asia, the Pacific, and Russia, Ministry of Foreign Affairs of Brazil, said Vietnam has become Brazil's largest trading partner in ASEAN, with the total value of bilateral trade in 2020 exceeds US$ 4.6 billion. Bilateral trade relations maintained in harmony, rationality, and mutual benefit.
She stressed that Brazil is willing to deepen and diversify its trade relationship with Vietnam even though both countries are undergoing difficult time with the pandemic. Abreu wishes Vietnamese people peace, health and prosperity on the 76th anniversary of Vietnam's National Day. She also cited President Ho Chi Minh's immortal saying "Nothing is more precious than independence and freedom."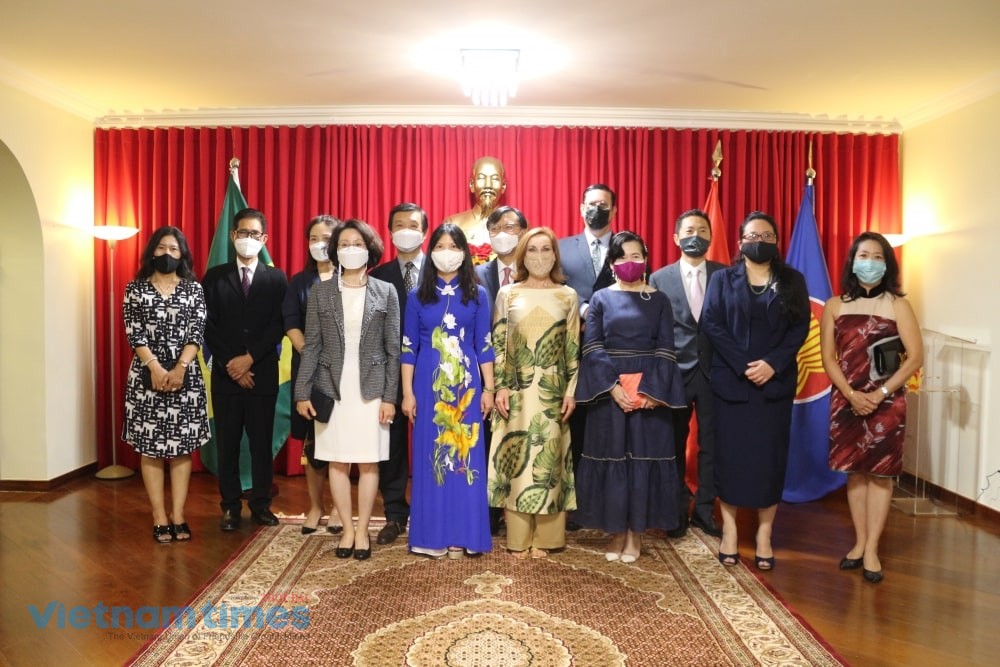 Photo: Vietnam Times
Meanwhile, the Vietnamese Embassy in Canada held a get-together on August 27 to celebrate the 76th National Day of Vietnam.
Vietnamese Ambassador to France Dinh Toan Thang on August 30 received his Lao counterpart Yong Chanthalangsy, who came to offer congratulations on Vietnam's anniversary.
The Lao ambassador also took this occasion to congratulate Vietnam on the 76th founding anniversary of its diplomatic sector (August 28) and 59 years since the establishment of the two countries' diplomatic ties (September 5), VOV reported.
On August 28, the Vietnamese Embassy in Malaysia also held a ceremony to celebrate the occasion.
Last year, the 75th anniversary of the National Day was also celebrated in several countries, including Thailand, Venezuela, Cambodia, Cuba, Switzerland, France, according to VNA.
Vietnam is preparing for the celebration of the National Day holiday (September 2) which lasts for four days. Many activities have been deploying.
A documentary that provides thorough and systematic information about Vietnam's history during the two resistance wars is being aired on various local television channels in celebration of the 76th anniversary of the August Revolution (August 19) and the National Day (September 2), as reported by VOV.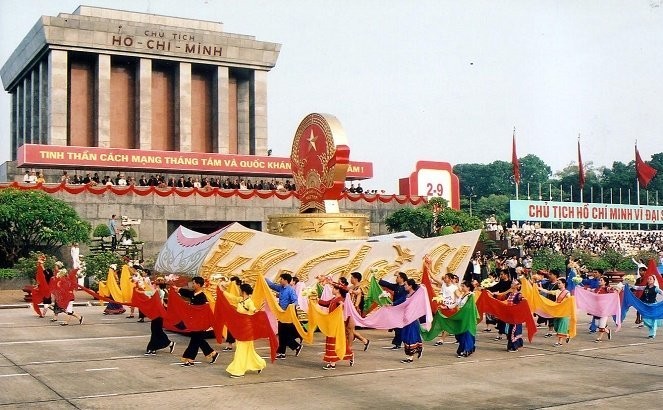 National Day celebration at Ba Dinh Square, Hanoi in 2015. Photo: Tuoi Tre
Meanwhile, Prime Minister Pham Minh Chinh on August 31 signed official dispatch No. 1108/CD-TTg on strengthening COVID-19 prevention and control during the country's National Day holiday.
He asked Chairpersons of the People's Committees of centrally-run cities and provinces to continue directing and strengthening prevention and control measures in a strict and effective manner. The issuance was made as Vietnam battles its worst coronavirus outbreak yet.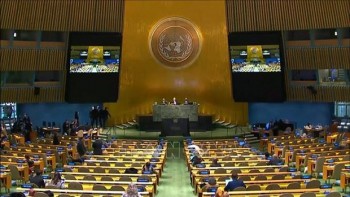 National
Vietnamese Ambassador Dang Hoang Giang underlined the historic significance of the 1982 United Nations Convention on the Law of the Sea (UNCLOS) to all humankind, while representing more than 40 member states of the UNCLOS Group of Friends at a meeting in New York on December 8.