Vietnamese football team ends 2020 in top 100 FIFA ranking
The Vietnamese national football team will wrap up 2020 at 93rd place in the FIFA ranking, 18 spots higher than Thailand.
This is the first time Vietnam end the year at 93rd. The team broke their previous record last year when they peaked at 94th, VNExpress reported.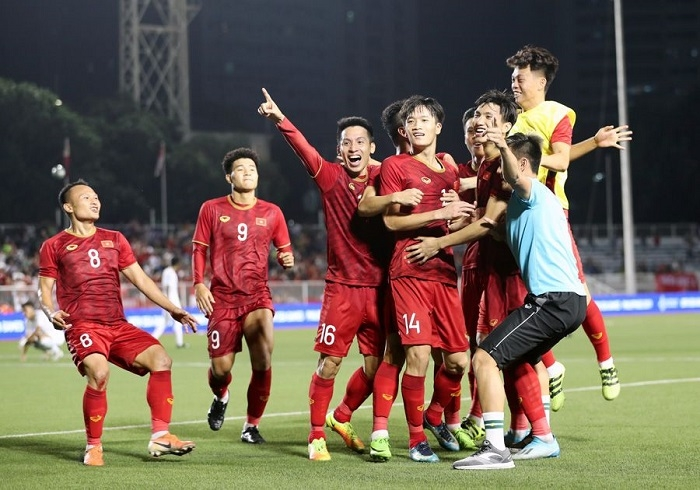 Vietnamese team remain the no. 1 in Southeast Asia in the FIFA Rankings for December 2020. Photo: Nhan Dan
In the latest FIFA ranking update, Vietnam still have 1,258 points, unchanged since the start of 2020, while Madagascar, who previously peaked at 92nd with 1,264 points, shed seven points after losing to Burkina Faso in a friendly and drawing and losing against Ivory Coast in Africa Cup of Nations qualifiers in November.
Due to the Covid-19 pandemic, Vietnam have played no international matches in 2020, with World Cup 2022 Asian qualifiers and AFF Cup moving their calendars to next year.
The best FIFA ranking Vietnam has ever achieved was in September 1998 when they peaked at 84th. However, they dropped to 98th in December that year.
Vietnam will enter 2021 in 14th position across Asia and first in Southeast Asia, followed by Thailand, the Philippines, Myanmar and Malaysia.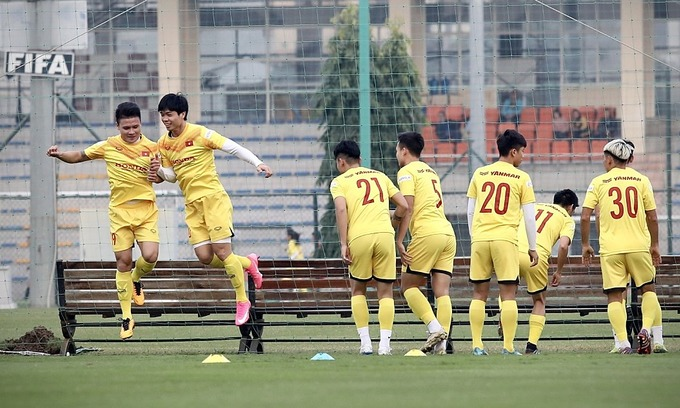 Vietnam national football team during a training session on November 9, 2020. Photo: VnExpress/Kim Hoa.
The world's top five teams remain the same, with Belgium first, followed by France, Brazil, England and Portugal.
In December, the national team will play two friendlies with the U22 team on the 23rd and 27th, as part of their long training period from December 6 to 28 in Hanoi. Coach Park called up 36 players for this session to find the ultimate line up as well as formation.
In 2021, the Golden Dragons have two main goals. The first is advancing to the next round of World Cup Asian qualifiers. They will play Malaysia in March, then Indonesia and UAE in June. Their second goal is defending their AFF Cup title in December.
AFF Championship, which features national teams from around the South East Asian region, was originally due to take place in November 2020 only to be moved to April and May next year.
However, the continuing COVID-19 pandemic has forced another shift in the schedule, with the regional body now slating the competition to start on December 5 with the second leg of the final to be held on January 1, 2022.
Vietnam's clubs and the national team will enjoy a certain edge from this adjustment.
At the moment, three key national team defenders, Tran Dinh Trong, Do Duy Manh and Doan Van Hau are nursing prolonged injuries, expected to heal in several months' time. Competing in World Cup qualifiers and AFF Cup in March and then April would place them at high risk of relapse. With AFF Cup moving to December, they would have enough time not only to recover but also regain their form, bolstering Vietnam's title defense.
For club football, hosting AFF Cup in late 2021 would help avoid conflict with other club competitions like AFC Champions League and AFC Cup, which will conclude around November next year. Vietnamese clubs who participate in these tournaments, Viettel FC, Hanoi FC and Saigon FC, would not have to worry about letting their players join the national team, ensuring the field their best squads.
Vietnam is currently topping group G of World Cup 2022 Asian qualifiers with 11 points, followed by Malaysia (9 points), Thailand (8 points), UAE (6 points) and eliminated Indonesia with zero. The Golden Dragons will clash with Malaysia on March 30, followed by a home game with Indonesia on June 7, and UAE on June 15. The team need to accumulate at least one win and a draw in their remaining matches, with the game against Malaysia the most important because if Vietnam were to get three points out of this tough opponent, their next two matches would provide significantly less pressure.