Vietnamese German's slap-up Lunar New Year meal
Welcoming Tet (Lunar New Year) in a Western country where Asian ingredients are pretty hard to find, Thuy's family managed to prep a Vietnamese traditional meal with iconic Tet dishes.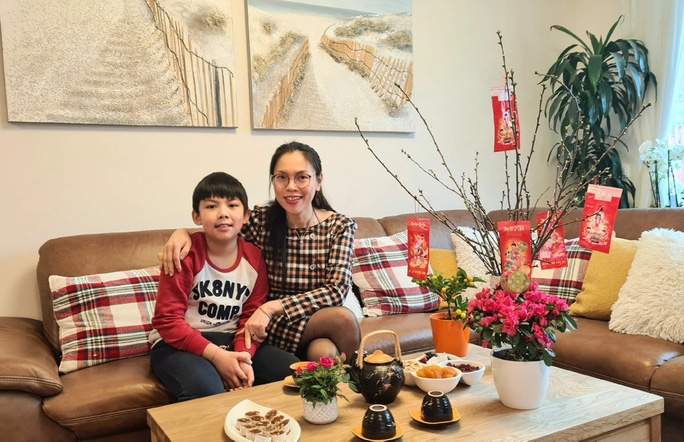 Thuy and her son (Photo coutersy of Tran Thuy)
Many Vietnamese nationals working in Germany were laid off from work, facing constant worries and uncertainty as the COVID-19 ravaging the country. However, thanks to the long off-work time, family like ours have more time for Tet preparation.
My family has five people, me, my husband, two children, and my big sister. We live in Giessen city, Hessen state, Germany. The small city has been struggling to battle the novel coronavirus and coping with the economic downturn.
In the face of adversity, we encourage each other to take care and look on the brighter side. This is a rare thing among overseas communities.
My family normally celebrates Tet after work, thus it's not so much celebrative. And not just the time constraint, we could hardly find Asian foodstuffs at that late of the day. This year, however, we have a lot of time to properly prepare for the big occasion.
My family started to clean and decorate the house as early as December 23. After long waiting in the snow, going from supermarkets to supermarkets, we could finally buy a small branch of peach blossom, a mini kumquat tree, and some pretty flowers. At home, I dangle red envelopes onto the peach blossom branch, making it Vietnam-like. Jams and candies and a hot teapot are placed on the table. "These are enough to warm up the room, Tet atmosphere is in the air", Thuy told Nguoi Lao Dong.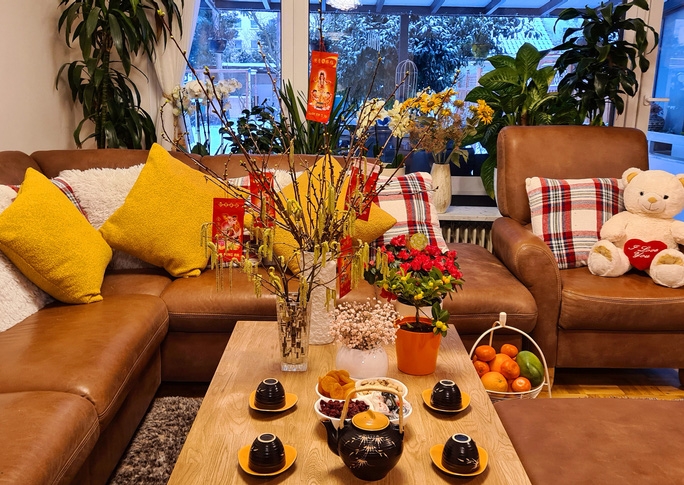 (Photo courtesy of Tran Thuy)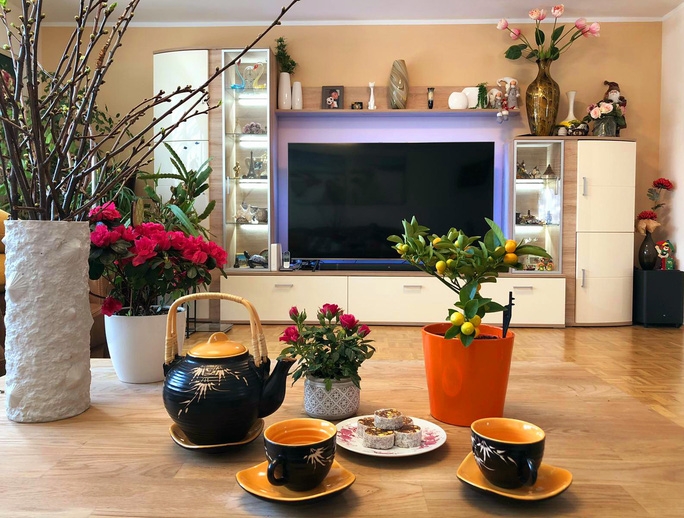 (Photo courtesy of Tran Thuy)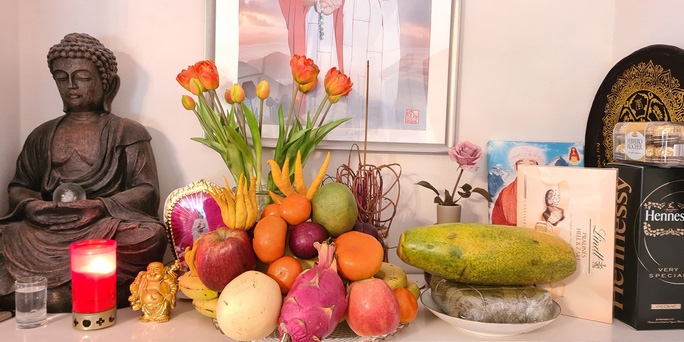 (Photo courtesy of Tran Thuy)
To have a tray full of Vietnamese traditional dishes, I had spent a lot of time shopping for ingredients. This is the first time I make a Chung cake (Vietnamese sticky rice cake) myself, all from scratch. While boiling the cakes, seeing and my children run around in joy, I feel a strange sense of nostalgia. Memories of the good old childhood days in Vietnam come rushing back to me, where the little me, just like my children now, cheerfully ran around the fire as I knew "Tet is coming".
"It's a wonderful feeling to unwrap the sticky, green cake in the middle of German", Thuy said.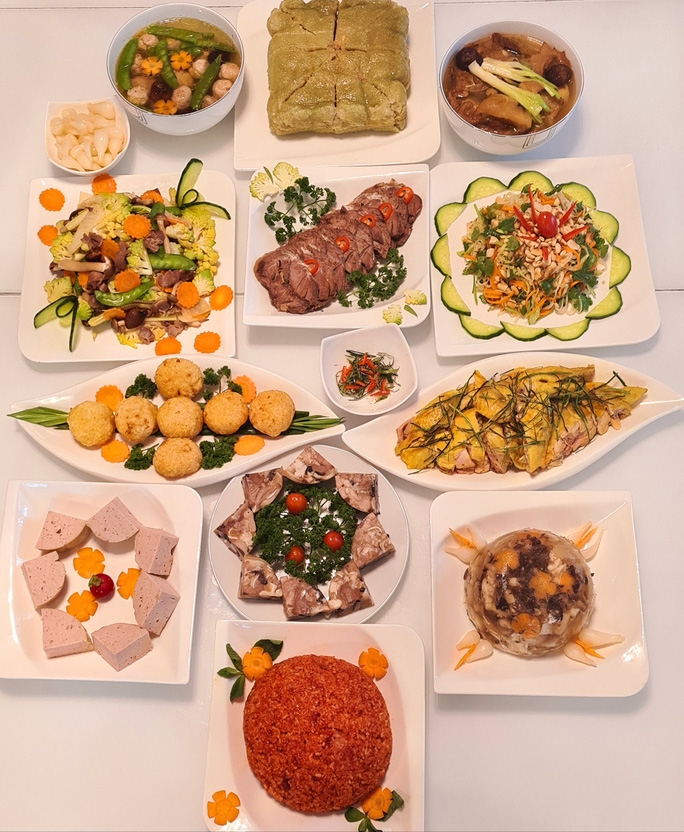 The Tet tray is full of traditional Vietnamese food (Photo courtesy of Tran Thuy)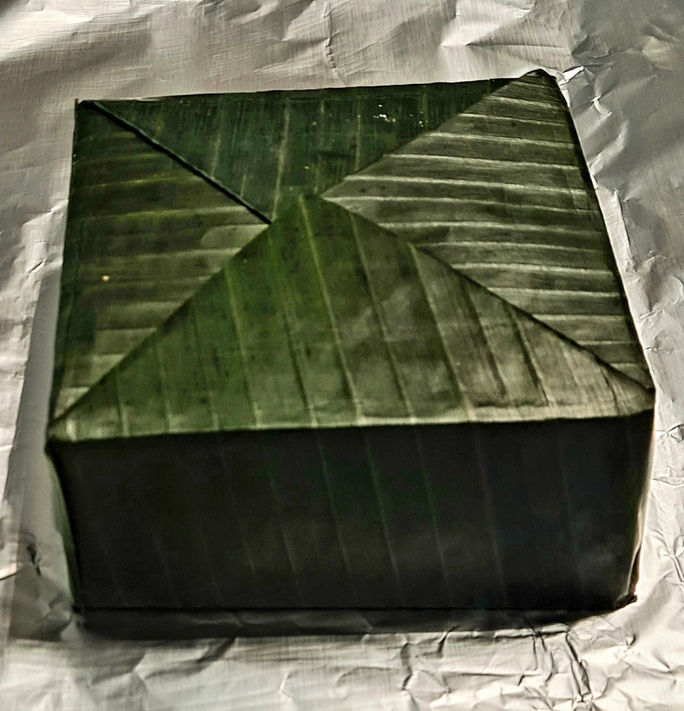 Thuy makes Chung cake in Germany all by herself (Photo courtesy of Tran Thuy)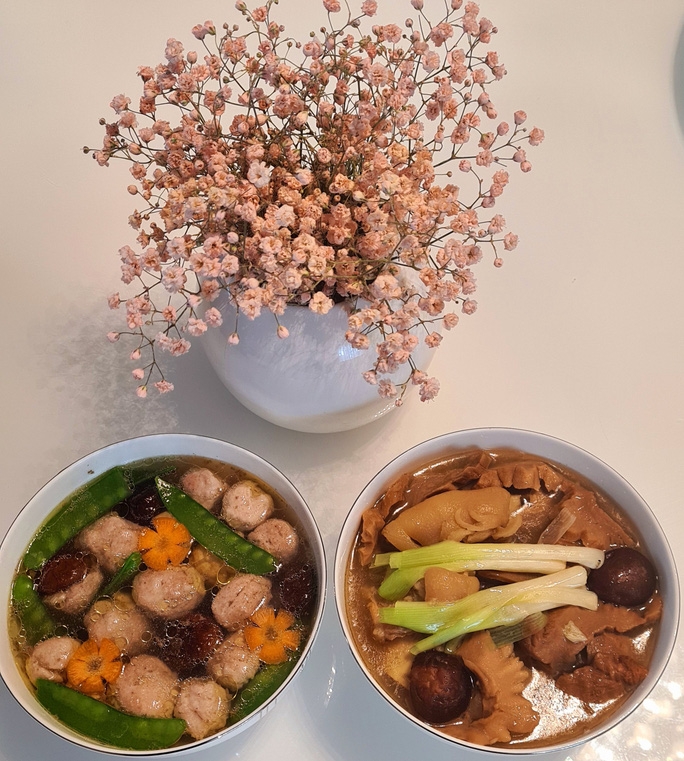 (Photo courtesy of Tran Thuy)
On the Tet tray, dishes like boiled chicken, jelly meat, cold cuts, veggies soup, etc, are nicely decored and look mouth-watering. A pickled dish gives the meal a much more Vietnamese vibe.
"This is probably the most special Tet of my family in German. All the worries and grief of the pandemic were gone. The joy of reunion and traditional celebration is here instead", Thuy was quoted as saying.
Tet celebration in Vietnam
Tet is by far the biggest celebration in Vietnam. Every year, millions of people fly, drive and float their way back to their hometowns to spend quality time with their friends and families.
Generally speaking, Tet is a time to dish out the spoils from a prosperous year — to bring good fortune through generosity. In the months leading up to the holiday, people work long hours to pay for lavish gifts and celebrations. But it's time spent with family and friends that makes Tết so special.
Flowers are intricately linked to Tet, and different flowers represent different messages in the home. In the south, you'll mostly see yellow apricot flowers — a symbol of wealth. In the north, you'll see pink peach flowers — the color of seduction. To go along with the flowers, people hang envelopes with lucky money around their homes. For public areas, the money in the envelopes is usually fake.
The most famous snack associated with Tet is Bánh tet — or Tet cake — which is sticky rice, mung bean and pork, boiled inside a leaf. Roadside carts selling these cylindrical green bundles pop up everywhere as the holiday approaches. Just the sight of a bicycle loaded with Tết cakes gets people excited because it means their favorite holiday is almost here.
Families also have large fruit trays in their homes, featuring plums, bananas, pomelos and tangerines. The more fruit, the better. They're symbolic of fertility in the upcoming year. No fruit means no babies. Dried fruit is also a popular snack to give to children during the holiday, along with peanut brittle and coconut candies.
The most joyous part of Tet, though, is the meals. They are huge, delicious, and the room is typically full of laughter. People who haven't seen each other in months catch up and share stories, drinking a lot of beer and liquor in the process. Don't be surprised if you hear families still going strong in the very early hours of the morning, as reported by Culture trip.