Vietnam's Bai Tu Long Bay under the camera of foreigner
Jason Andrews had recorded a stunning video of Bai Tu Long Bay, northern Vietnam after her trip to the stunning hotspot last year. In the video, Bai Tu Long appears to be a secluded, pristine bay with turquoise water, majestic islets, small fishing boats sailing through the water, depicting Andrews' love for the destination. 
(Video: Out there doing that)
In an article posted on the website named Out there, doing that, Andrews shares her self-made video about Bai Tu Long Bay and recalls how fascinated she was seeing the gorgeous Bai Tu Long Bay for the first time.
Andrews chose to visit Bai Tu Long Bay after her trip to Ha Long Bay on the recommendation of the local tour guide name Mike, who arranged her the month-long journey in Vietnam. Being a travel lover, Andrews had compared the two neighboring bays by writing "Having been to both, I can say that they are very similar".
According to Andrews, both share the towering limestone cliffs and mesmerizing blue-green water, whose color comes from the limestone dissolving into the sea. The cruise through Ha Long Bay traverses up and down the eastern edge of Cat Ba Island while Bai Tu Long Bayweaves through archipelagos of many small islands.
"The experiences are very similar, but Bai Tu Long felt quieter and less crowded and I personally enjoyed weaving through many smaller islands instead of past several larger ones", she notes.
More about Bai Tu Long Bay
Bai Tu Long Bay is a bay and national park that sits directly northeast of Halong Bay, and while it may be Halong's lesser-known neighbor, it is without a doubt, equal in beauty! The Bay encompasses Bai Tu Long National Park and like Halong Bay, is an area protected by the local government on both land and sea, Visit Ha Long reported.
Bai Tu Long Bay legend
Legend has it that an immense dragon descended to Halong Bay (meaning ''Descending Dragon'') million years ago, dropping numerous eggs. These eggs hatched forming thousands of rocks and islands. The tail of the dragon extended far to the sea, forming Bach Long Vi (meaning ''The Tail of the White Dragon''). As she returned to heaven, she said goodbye to her offspring at the Bai Tu Long Bay (which means "The dragon parts the offsprings''). Now the Park is part of Van Don district, 20 km distant from Cai Rong town, Vietnam Tokin Travel said.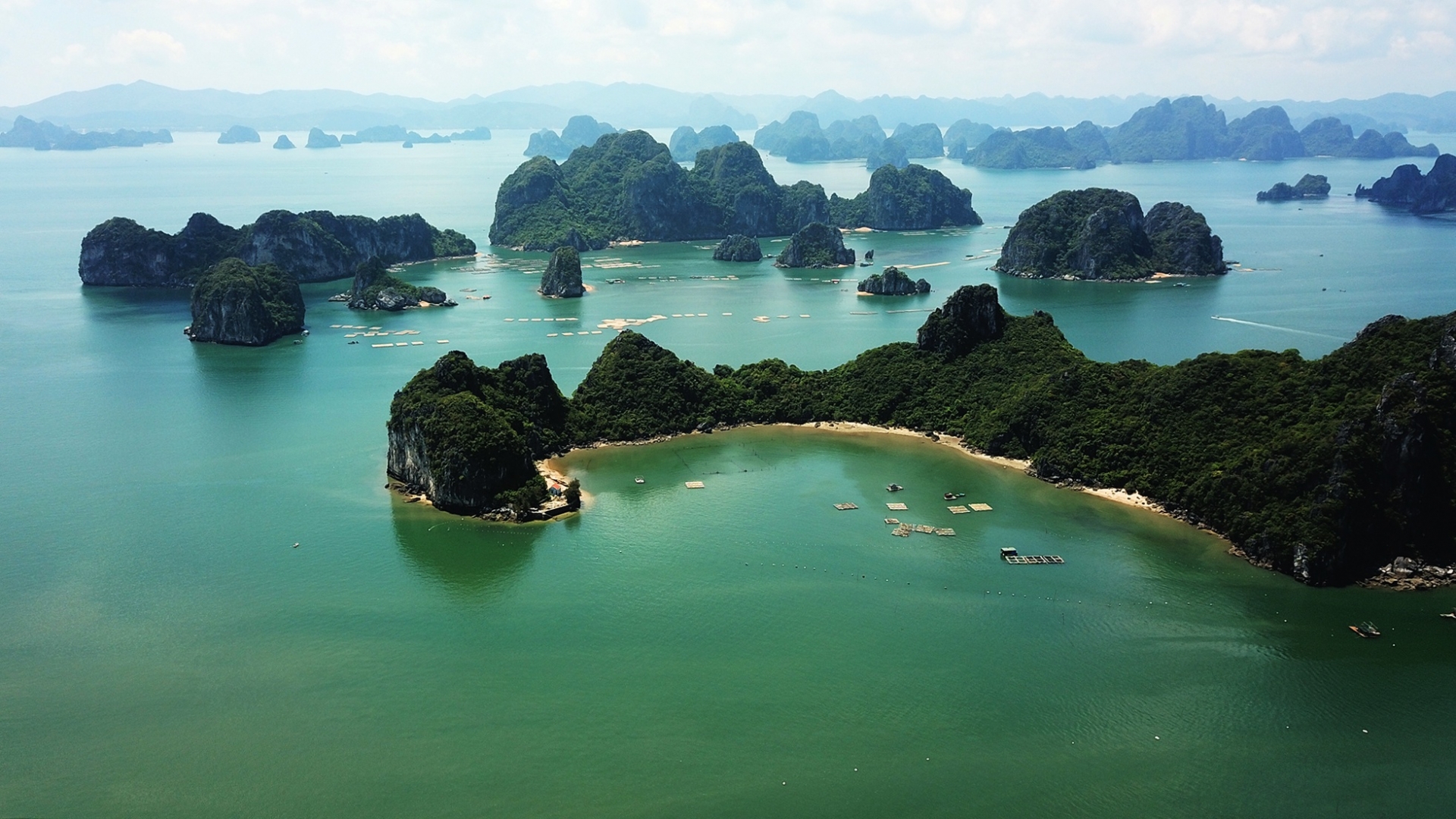 A bird-eye view of Bai Tu Long Bay (Photo: Zing)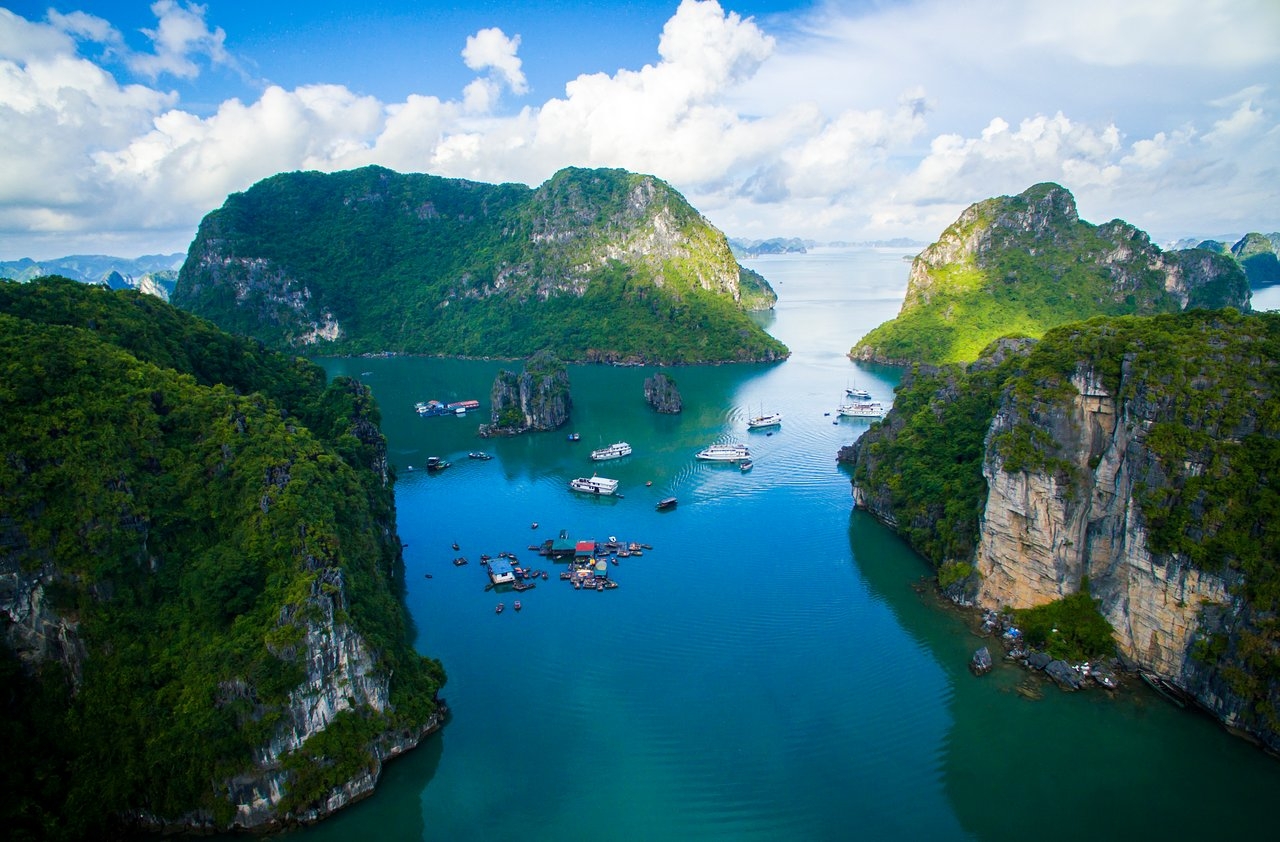 Bai Tu Long Bay is considered the identical twin of the nearby Ha Long Bay (Photo: TripAdvisor)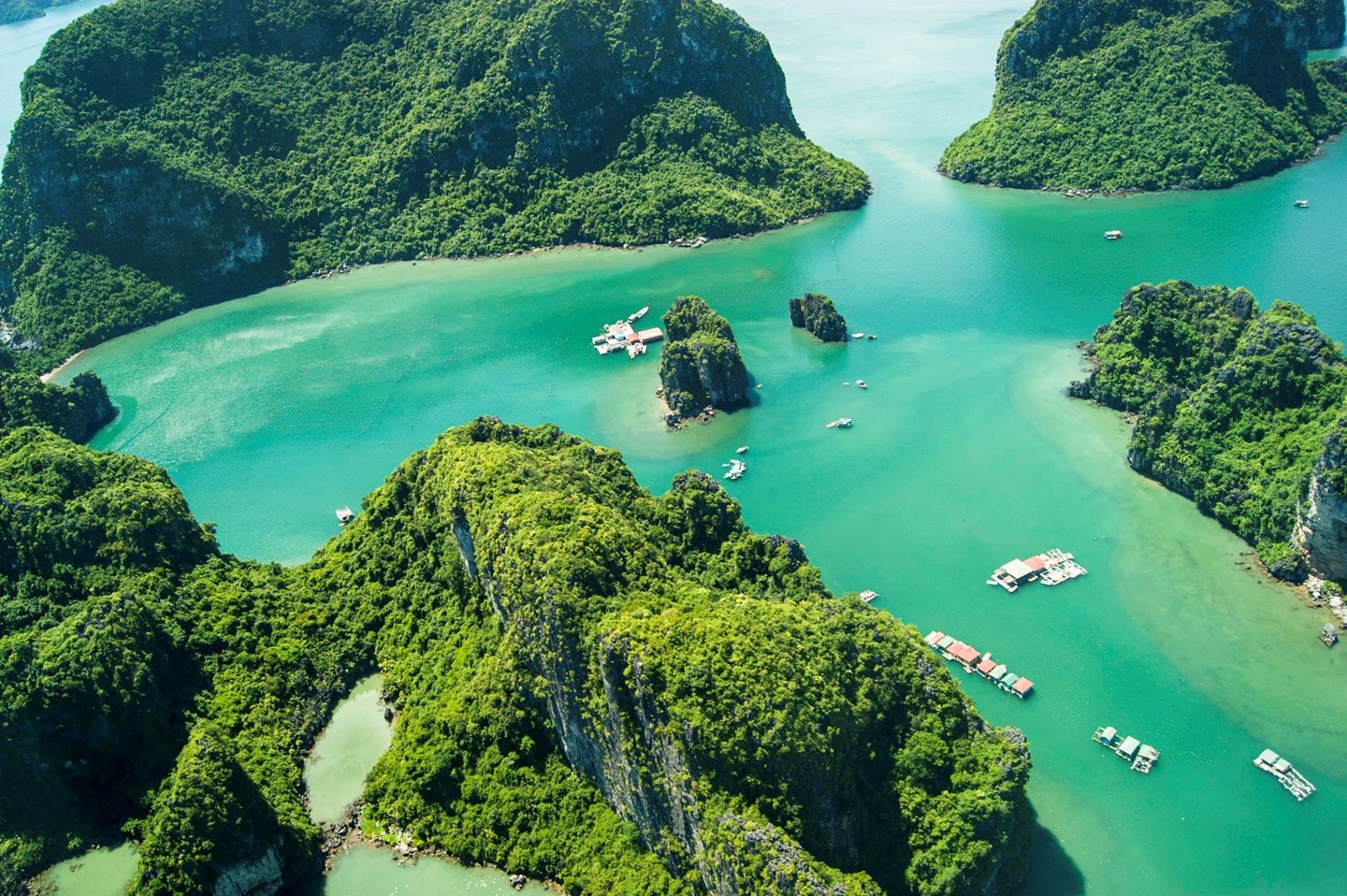 (Photo: Ha Long Wave)
Visitors to Bai Tu Long Bay will notice that the landscape is identical to that of Halong Bay, and that it is more of an extension of Halong rather than a neighbor. Just like Halong Bay, throughout Bai Tu Long there are giant limestone karsts jutting out of the tranquil green waters. However, in Bai Tu Long the karsts seem slightly taller, the concentration of them feels somewhat denser and the number of tourists is fewer. All of this adds to the wonderful feeling of being somewhere almost undiscovered, allowing visitors to truly contemplate their surroundings in peace. Bai Tu Long is made up of hundreds of islands and islets, some of which are well-known tourist locations, and others that are completely unknown to foreign visitors. This particular bay is home to a variety of ecosystems - visitors can find mangroves, schist islands, coral reefs, and tropical forests.
Must-do things while in Bai Tu Long Bay
Visit Ha Long Bay suggested three not-to-be-missed activities that are about to give visitors a blast.
Fishing Village
While in Bai Tu Long Bay, one point of interest that you cannot miss is Vung Vieng Fishing Village. In Vung Vieng you will be immersed in local culture and learn about the fishing families who have made their homes here. The best way to explore Vung Vieng is probably by kayak. Kayaking is an easy and fun mode of transportation as the ocean is mostly very calm and serene in this area It gives you the freedom to go at your own pace.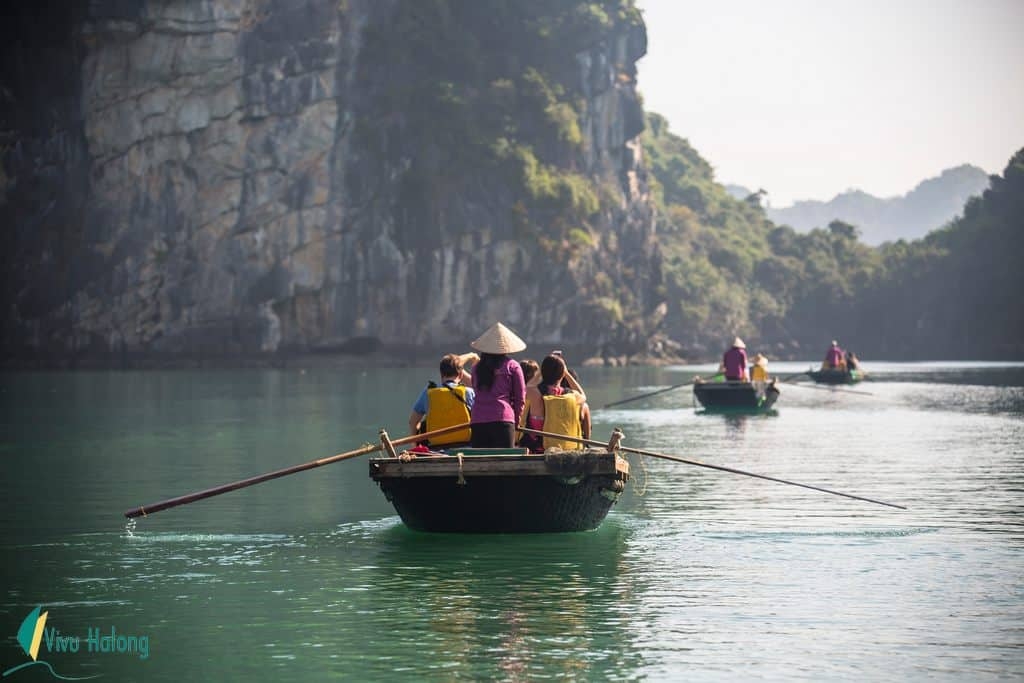 A small fishing boat in Vung Vieng fishing village (Photo: Vivu Halong)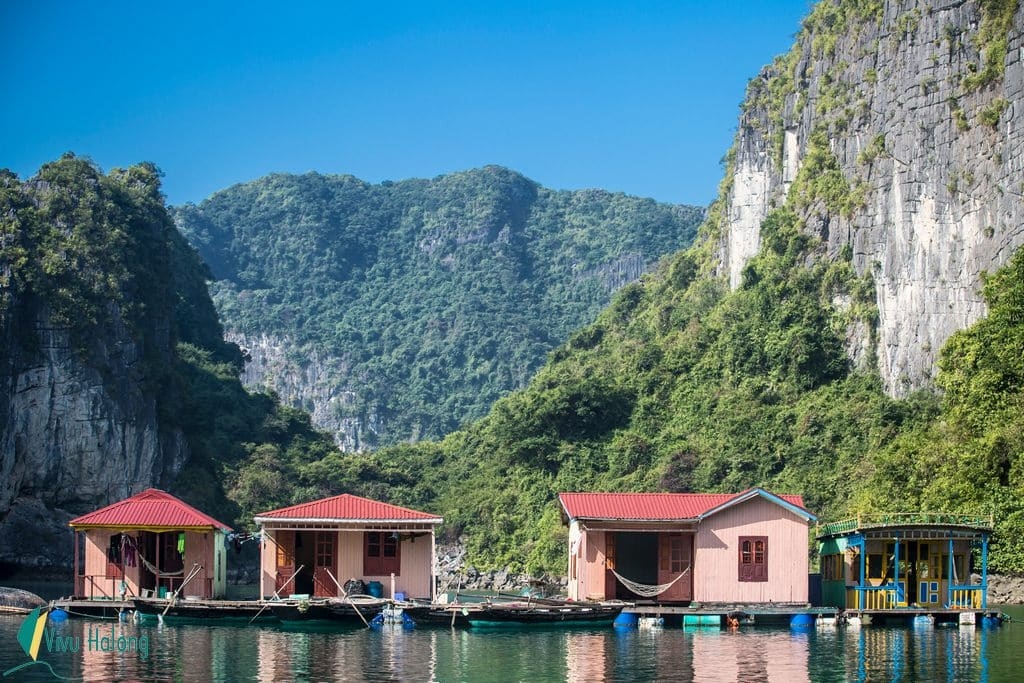 Floating houses on the fishing village (Photo: Vivu Halong)
Caves
The bay is also the location for many of Halong Bay's famous caves - each one impressive in its own way. Exploring the caves can give an almost spiritual experience as you take in the beauty of stalactites and stalagmites that glisten in the beams of light that sometimes make their way into the caves. The most famous cave in the area is Thien Canh Son Cave which can be reached by walking through a hidden path under the dense forest canopy.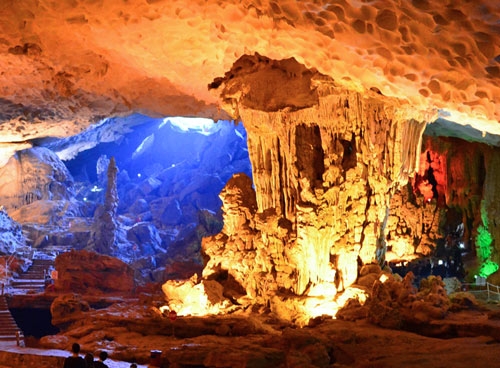 Thien Canh Son Cave (Photo: Paradise Cruise)
Beaches
As for beaches, Bai Tu Long Bay has a wealth of options and may even overshadow Halong Bay. Most are genuinely beautiful, with glorious white sand, cool green waters and framed by those famous limestone karsts.
Ban Chan is possibly the most popular and the biggest beach in the bay. Swimming and snorkeling at Ban Chan beach are highly recommended, as Bai Tu Long has clear and clean waters and usually great visibility.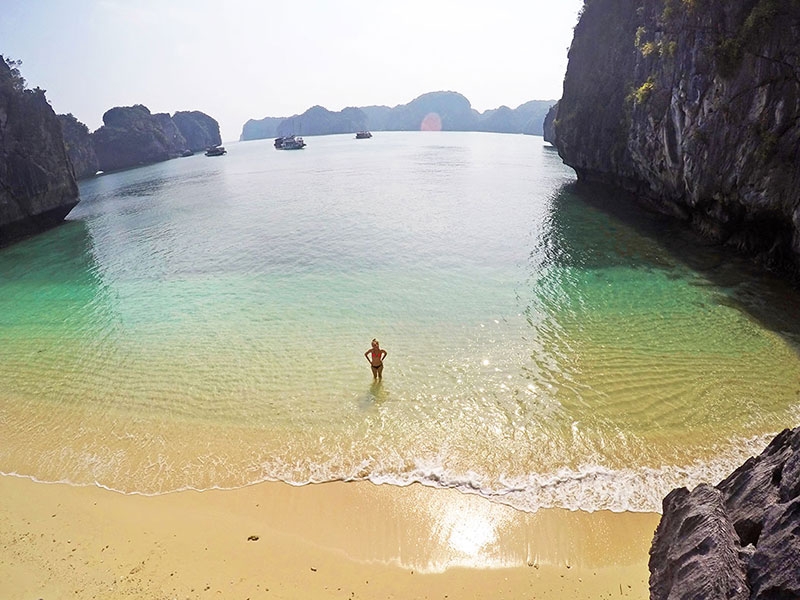 Ban Chan beach (Photo: Ha Long Hub)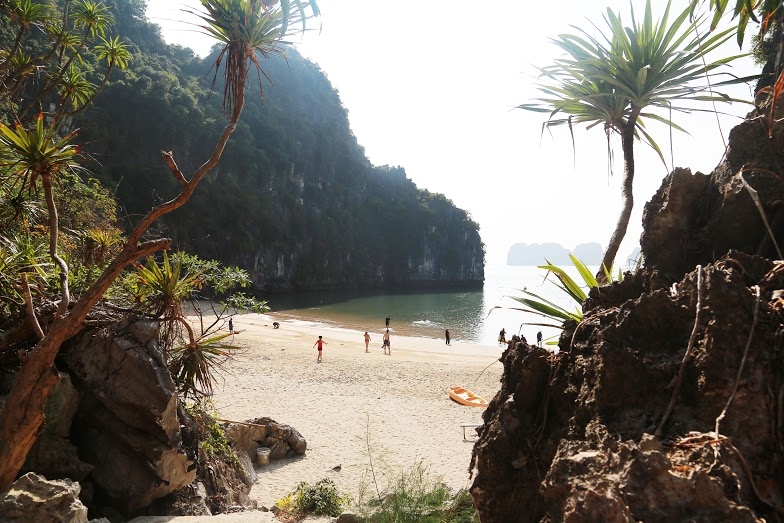 Ban Chan beach (Photo: Ha Long Hub)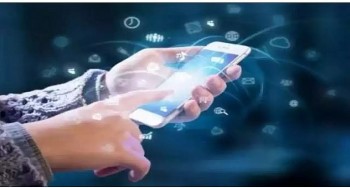 World
The Indian government has blocked as many as 232 apps operated by foreign entities, many of them Chinese, for being involved in betting, gambling and unauthorised loan services.