Volunteers in homegrown Covivac vaccine feel 'confident and proud'
The 6 first volunteers in the first phase of Covivac vaccine's human trials say they feel a sense of "pride and confidence" as they receive the jab.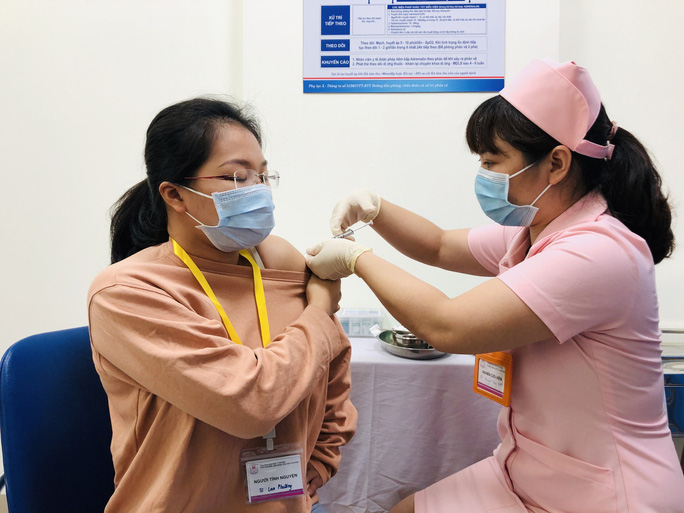 One volunteer getting Covivac injection in Hanoi on March 15 morning (Photo: VNE)
The 6 recipients, including 3 males and 3 females – all with eligible health conditions and blood tests - were randomly injected with either placebo or Covivac vaccine. They stayed at Hanoi Medical University for another 24 hours for further monitoring and prompt treatment of possible severe post-vaccination injection.
"For me, this is a beneficial activity for the society and community. I'm a blood donor already and there's no reason not to volunteer for the trial", one female volunteer who wanted to stay anonymous, told VNE. "30 mins after the injection, I'm in stable health condition without any side effects except for a mild pain at the injection site".
A 46-year-old volunteer said her daughter had encouraged her to sign up for the trial. "My daughter said this is a very meaningful activity, thus the three of us, me, my husband and my daughter registered for the human trials", she was quoted as saying.
However, her spouse and her daughter were not healthy enough for the injection, leaving her the only one to join the trial on March 15.
Her health condition was stable in 30 mins after getting the vaccine. The doctors' attentive care and dedication had reassured her.
"When I said I was going to get the Covivac jabs in its human trials, people were kind of apprehensive. For me, I just thought if everyone hesitates for the jab, when would Vietnam's vaccine be rolled out?", she said.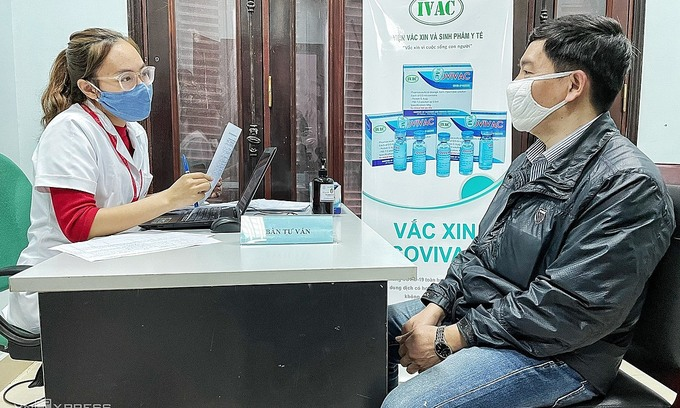 A researcher (L) informs a volunteer about the Covivac vaccine trials at the Hanoi Medical University. Photo: VnExpress.
The first phase of the human trials of Covivac vaccine, expected to end on April 20, involves 120 volunteers. The remaining 144 people will be divided into groups of 12-18. Each group is scheduled to receive the vaccine 8 days apart.
All recipients will be injected with two doses of Covivac, 28 days apart.
"I'm glad to see such an important milestone in the research and development process of the so-called made-in-Vietnam COVID-19 vaccine, which is carried out by an affiliated unit of the Ministry of Health", Deputy Minister of Health Tran Van Thuan said.
The Covivac vaccine is the research work of the Institute of Vaccines and Medical Biologicals (IVAC) under the Ministry of Health (MOH). It had earlier yielded safe results and strong immunity responses on mice, rabbits, etc. Given promising results on animals, the vaccine is granted to enter human trials starting January, two months earlier than expected.
"If all three trial phases yield good results, Vietnam might have the vaccine in late 2021", Thai said. "IVAC has an edge in the production process thanks to its available infrastructure, technology, and decade-long experience in producing flu vaccines", Dr. Duong Huu Thai, Director of IVAC said.
Meanwhile, Nanogen's Nanocovax which has just entered the second human trial is priced at VND120,000 ($5.17) per dose. Along with injections, Vietnam's COVID-19 Nanocovax vaccine will also be developed in the form of eye-drop and nasal spray for special subjects.
Along with this, two other made-in-Vietnam vaccine candidates produced by Vabiotech and Polyvac are currently evaluating their vaccines on animals, having completed the laboratory-scale production process.
On February 24, the first batch of 117,600 doses of AstraZeneca has landed in Vietnam and quickly transferred to Vietnam Vaccine Jsc's super-cold storage for preservation. Vietnam is expecting another 5 million AstraZeneca vaccines in March and April from COVAX, UNICEF and AstraZeneca company. A total of 60 million AstraZeneca doses are scheduled to be distributed to Vietnam in 2021.
One case of COVID-19 was detected in the past 12 hours to 6 pm March 16, raising the national tally to 2,560, according to the Health Ministry. The new case was reported by the northern province of Hai Duong, which is home to the largest hotspot of the latest wave of COVID-19 in the country since January 27.
On the morning of March 17, no new case was recorded. The National Expanded Immunization Program states that an additional 4,260 people were vaccinated against COVID-19 on March 16. Thus, by the end of March 16 afternoon, a total of 20,695 people were vaccinated against COVID-19, mostly medical staff directly treating COVID-19 patients.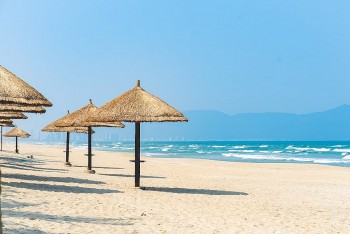 Travel
According to NZ Herald News, Da Nang beach is an ideal place to sunbathe during summer vacation.