What is mRNA-1273 - Moderna COVID-19 vaccine?
The drugmaker Moderna announced highly encouraging results on Monday, saying that complete data from a large study show its mRNA-1273 vaccine to be 94.1 percent effective. What is mRNA-1273 and how it works?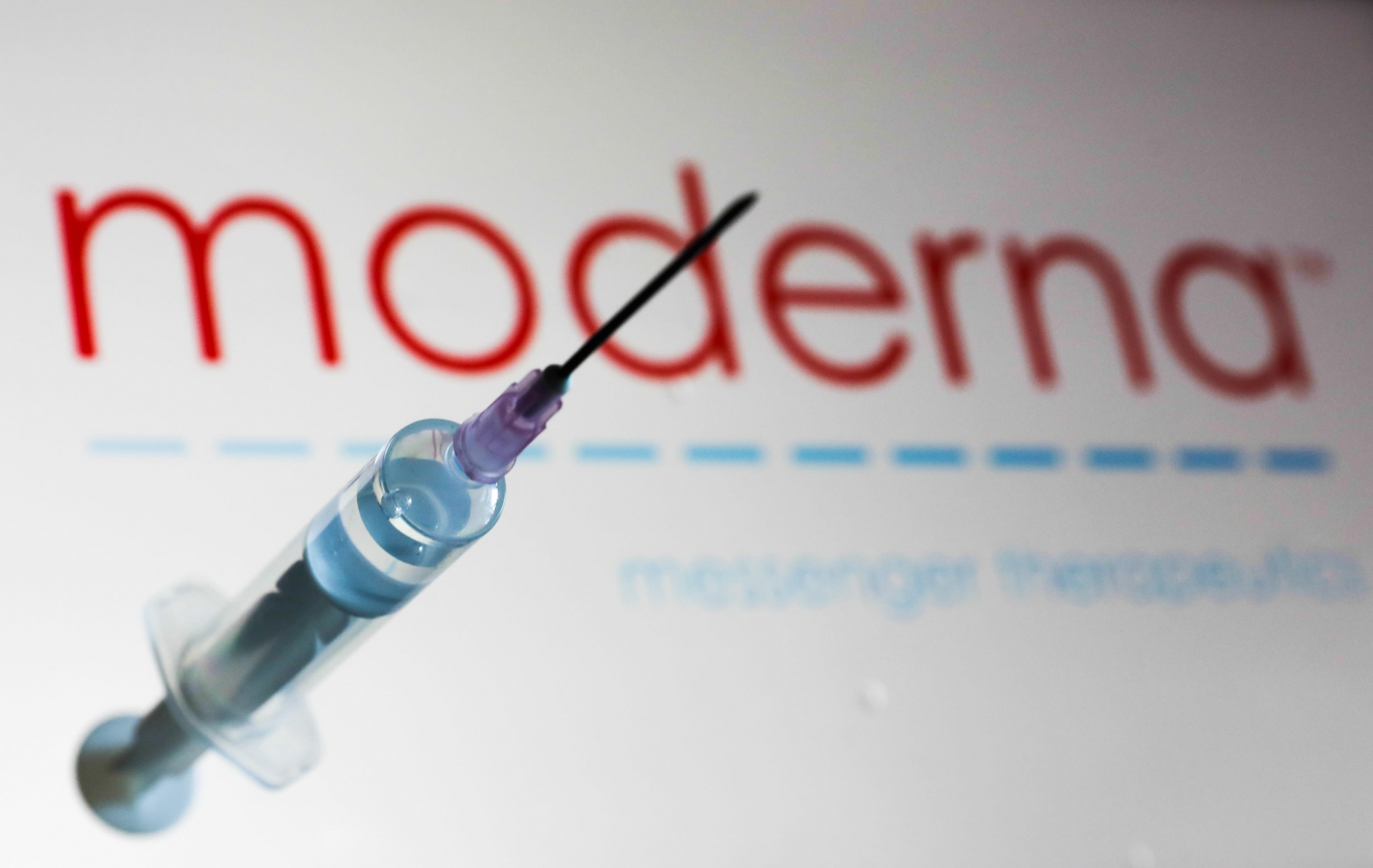 mRNA-1273 is expected to be one of the leading vaccines by sales in 2026 (Photo: CNBC)
According to Q2 2020 forecasts from GlobalData's Pharma Intelligence Center, Drug Sales and Consensus Forecast database, Moderna's Covid-19 vaccine, mRNA-1273, is expected to be one of the leading vaccines by sales in 2026.
About mRNA-1273
mRNA-1273 is an mRNA vaccine against COVID-19 encoding for a prefusion stabilized form of the Spike (S) protein, which was selected by Moderna in collaboration with investigators from Vaccine Research Center (VRC) at the National Institute of Allergy and Infectious Diseases (NIAID), a part of the NIH.
The first clinical batch, which was funded by the Coalition for Epidemic Preparedness Innovations, was completed on February 7, 2020 and underwent analytical testing; it was shipped to NIH on February 24, 42 days from sequence selection. The first participant in the NIAID-led Phase 1 study of mRNA-1273 was dosed on March 16, 63 days from sequence selection to Phase 1 study dosing, according to Moderna.
On May 12, the FDA granted mRNA-1273 Fast Track designation. On May 29, the first participants in each age cohort: healthy adults ages 18-55 years (n=300) and older adults ages 55 years and above (n=300) were dosed in the Phase 2 study of mRNA-1273. On July 8, the Phase 2 study completed enrollment.
The Phase 3 COVE study of mRNA-1273, being conducted in collaboration with the NIH and BARDA, began on July 27; enrollment is on track to complete in September. Results from a non-human primate preclinical viral challenge study evaluating mRNA-1273 were recently published in The New England Journal of Medicine. On July 14, an interim analysis of the original cohorts in the NIH-led Phase 1 study of mRNA-1273 was published in The New England Journal of Medicine.
Moderna's standard Informed Consent Form and Authorization To Use and Disclose Protected Health Information for Protocol Number
mRNA-1273-P301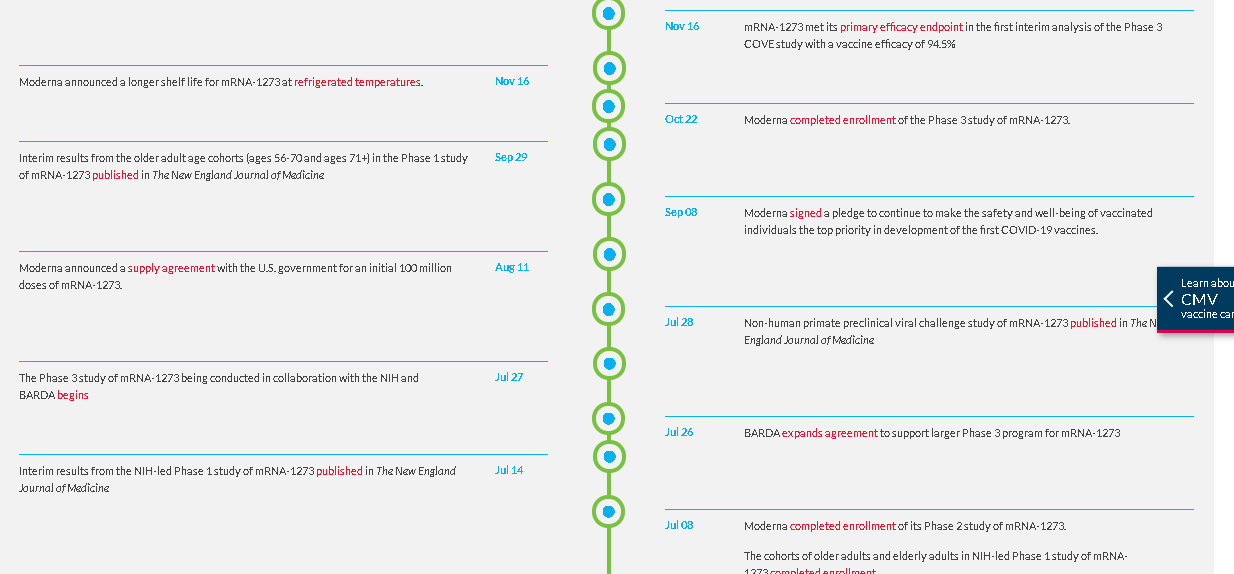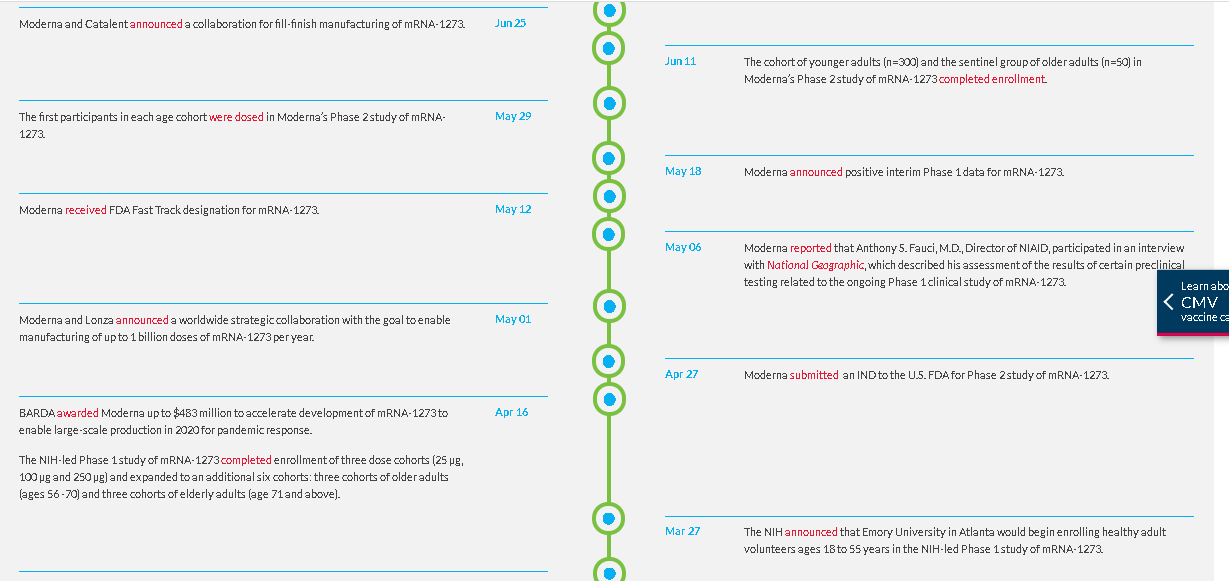 The advantages of mRNA vaccines
Ability to mimic many aspects of natural viral infections. mRNA enters cells and is used to produce viral antigen proteins from within the cell that includes natural, post-translational modifications. This mimics the process by which natural viral infections occur, where information from viral genomes is used to produce viral proteins from within a cell. This can potentially enhance the immune response, including improved B and T cell responses, according to Moderna TX.
Multiplexing of mRNA for more compelling product profiles. Multiple mRNAs encoding for multiple viral proteins can be included in a single vaccine, permitting the production of complex multimeric antigens that are much more difficult to achieve with traditional technologies. As an example, our CMV vaccine (mRNA-1647) contains six mRNAs, five of which encode five different proteins that combine to form a pentameric protein complex that is a potentially critical antigen for immune protection against CMV.
Rapid discovery and advancement of mRNA programs into the clinic. Many viral antigens are known. However, with traditional vaccines, the target pathogens or antigens have to be produced in dedicated cell-cultures and/or fermentation-based manufacturing production processes in order to initiate testing of potential vaccine constructs. Our ability to design our antigens in silico allows us to rapidly produce and test antigens in preclinical models, which can dramatically accelerate our vaccine selection.
Capital efficiency and speed from shared manufacturing processes and infrastructure. Traditional vaccines require product-dedicated production processes, facilities, and operators. Our mRNA vaccines are produced in a manufacturing process that is sufficiently consistent across our pipeline to allow us to use a single facility to produce all of our mRNA vaccines.
(Video: Moderna TX)
Moderna Applies for Emergency F.D.A. Approval for mRNA-1273
The drugmaker Moderna announced highly encouraging results on Monday, saying that complete data from a large study show its coronavirus vaccine to be 94.1 percent effective.
The company said that it applied on Monday to the Food and Drug Administration to authorize the vaccine for emergency use, and that if approved, injections for Americans could begin as early as Dec. 21, NY Times reported.
The new data from Moderna show that its study of 30,000 people has met the scientific criteria needed to determine whether the vaccine works. The findings from the full set of data match an analysis of interim data released on Nov. 16 that found the vaccine to be 94.5 percent effective.
The study also showed that the vaccine was 100 percent effective at preventing severe disease from the coronavirus. The product was developed in collaboration with government researchers from the Vaccine Research Center at the National Institute of Allergy and Infectious Diseases.
"This is why I think this vaccine is going to be a game-changer," Stéphane Bancel, the chief executive of Moderna said. The vaccine will reduce hospitalizations and deaths, he added, "and I hope get this country back to its pre-pandemic state".
Moderna said it was also seeking authorization to market its vaccine in Europe, Canada, Britain, Israel and Singapore.
The second wave of Covid-19 cases is now affecting many countries, and the increasing number of patients emphasises the growing need to bring a prophylactic vaccine to market. Moderna is set to be the winner in the race for a Covid-19 vaccine, with the highest recorded forecast peak sales and millions of doses already ordered by both the US and Canadian governments. However, key questions surrounding Moderna's ability to deliver the hundreds of millions of doses necessary to treat this global pandemic and its unfamiliar mRNA vaccine casts doubt on the company's potential victory. The Covid-19 vaccine race is far from over, and competitors such as BioNTech and Inovio still have a chance to beat Moderna to the finish line.