World breaking news today (May 23): 20 die in extreme weather in China cross-country race
World breaking news today (May 23): 20 die in extreme weather in China cross-country race. Meanwhile, quiet holds for 2nd day in Israel and Gaza as focus turns to rebuilding, Queen Elizabeth visits new aircraft carrier and gold price also make headlines today.
(Photo: AP)
20 die in extreme weather in China cross-country race
At least 20 people running a mountain marathon cross-country race have died in northwestern China after hail, freezing rain and gale winds hit the high-altitude track, rescuers said Sunday.
The rescue headquarters quoted by the official Xinhua News Agency said participants suffered from physical discomfort and the sudden drop in temperature.
Some went missing in the extreme weather around 1 p.m. Saturday, when the 100-kilometer (60-mile) race in the Yellow River Stone Forest tourist site in Baiyin city in Gansu province was halted.
Early Sunday, 20 people were found dead and one was missing, state broadcaster CCTV reported. More than 700 rescuers were taking part in the operation, made difficult by low nighttime temperatures and the area's complex terrain and topography.
A total of 172 people joined the race and 151 are confirmed to be safe. Some were treated for minor injuries and were stable, Xinhua said.
Quiet holds for 2nd day in Israel and Gaza as focus turns to rebuilding
The cease-fire between Israel and Gaza held for a second day Saturday, as focus turned to rebuilding after 11 days of fighting left more than 240 Palestinians and 12 Israelis dead.
At the center of talks is the reconstruction of Gaza, where Israeli airstrikes destroyed hundreds of homes and commercial buildings, damaged six hospitals and 53 educational facilities, and damaged roads and electricity lines, according to the United Nations. Israel says it was targeting Hamas militants.
Electricity shortages have created other problems: desalination plants that provide drinking water and sewage treatment plants are offline. About 800,000 people in Gaza are without regular piped water.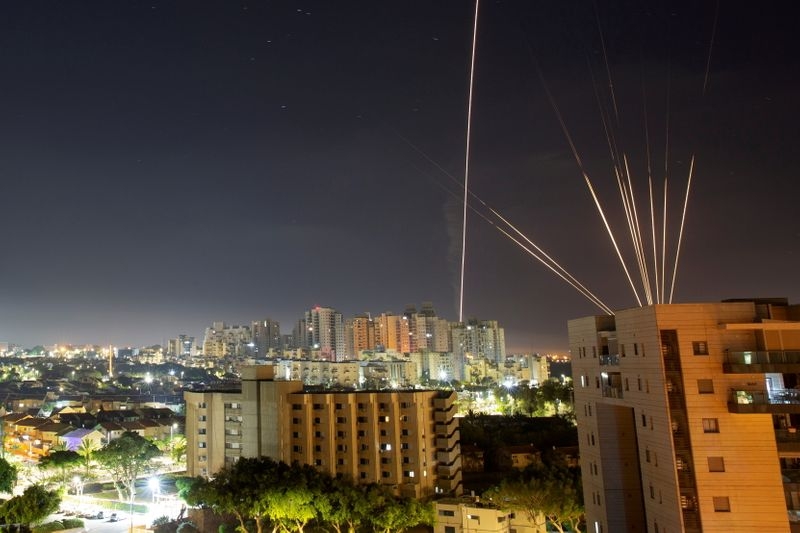 (Photo: US News)
Any rebuilding effort will likely cost billions. Egyptian President Abdel-Fattah el-Sissi pledged $500 million. But other international donors — including the U.S. — are wary that aid could be misused for military purposes by Hamas or any investment in Gaza could be destroyed in another war.
Additionally, the materials necessary for rebuilding — such as cement and pipes — have long been subject to restrictions by Israel, which, along with Egypt, has for years held Gaza under blockade. Israel argues that the materials are used by Hamas to build up its military capabilities.
The negotiations are being mediated by Egypt, which shares a border with Gaza and maintains direct contact with Hamas, unlike the U.S. Next week, U.S. Secretary of State Antony Blinken is expected to arrive to participate in talks, as reported by NPR.
Instagram photo seems to show Princess Latifa in Dubai mall
Sheikha Latifa bint Mohammed bin Rashid Al Maktoum of Dubai, whose plight has captivated the world since a daring attempt at escaping her father across the Indian Ocean, appears to have been photographed in public for the first time in years.
In a picture posted to Instagram two days ago by both former Royal Navy member Sioned Taylor and another user, Princess Latifa is seated with two women at a cafe table in what Taylor identified as Dubai's Mall of the Emirates.
While Instagram posts do not include metadata, which would show the date and time the photograph was taken, a cinema in the background carries adverts for the film Demon Slayer: Mugen Train, which was released in the UAE on 13 May.
Friends of the princess told the BBC that the photograph was legitimate.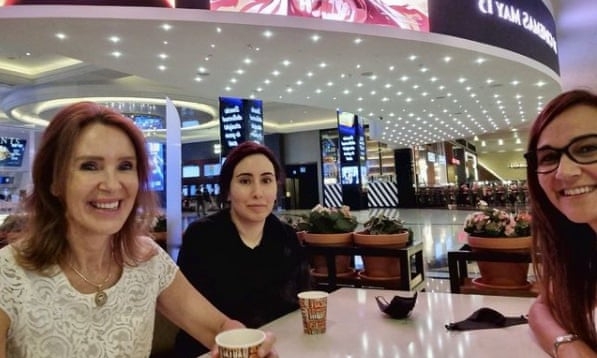 Unverified image is believed to show Princess Latifa at a Dubai mall cafe with Sioned Taylor, formerly of the Royal Navy (Photo: Instagram)
The now 35-year-old Latifa fled Dubai in early 2018, accusing her father, Sheikh Mohammed bin Rashid Al Maktoum, of years of abuse. She and a friend left for Oman by car, then used jetskis to join the yacht Nostromo and sailed across the Indian Ocean to Goa.
She was forcibly returned to the United Arab Emirates eight days after her escape when at least eight Indian and 10 UAE special forces members intercepted the Nostromo vessel off the coast of India using unmarked speedboats and a helicopter.
The princess is believed to have been held against her will since then on the orders of the sheikh, who is the powerful ruler of Dubai and prime minister of the UAE, Guardian reported.
British Queen Elizabeth visits new aircraft carrier before its Asia voyage
Britain's Queen Elizabeth visited the country's new aircraft carrier on Saturday (May 22), named in her honour, before it leads a flotilla of Royal Navy ships to Asian waters on its maiden operational voyage.
The queen, aged 95, stepped aboard the HMS Queen Elizabeth in Portsmouth, seven years after she named the vessel alongside her late husband, Prince Philip, who died last month.
The 65,000-tonne Queen Elizabeth will carry eight British F-35B fighter jets and 10 US F-35s as well as 250 US marines as part of a 1,700-strong crew.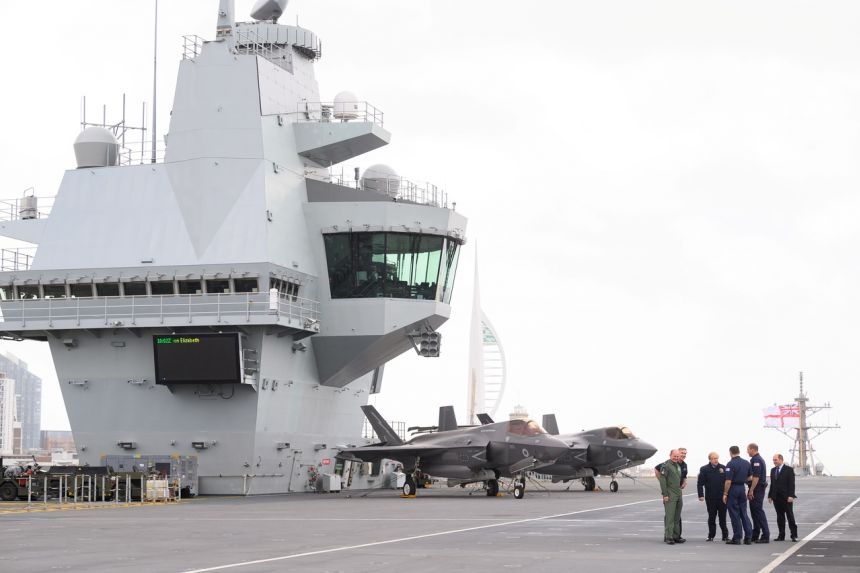 The aircraft carrier will lead a flotilla of Royal Navy ships to Asian waters. (Photo: Reuters)
It will lead the flotilla alongside two destroyers, two frigates, a submarine and two support ships on its journey of 26,000 nautical miles over 28 weeks. The group will be joined by a US destroyer and a frigate from the Dutch navy.
The group will sail through the contested South China Sea - claimed almost entirely by China, and in part by Vietnam, the Philippines, Malaysia, Brunei and Taiwan - on its way to the Philippine Sea. The ships will also stop in India and Singapore, Straits Times reported.
Gold price forecast: gold soars towards resistance at multi-month high
Gold prices rallied for a third consecutive week with XAU/USD up more than 1.5% after breaking to fresh multi-month highs. Gold has now rallied more than 12.6% off the March / yearly low and while the broader focus remains weighted to the topside, the rally may be maturing here as we head into the close of month. These are the updated targets and invalidation levels that matter on the gold weekly charts. Review my latest Weekly Strategy Webinar for an in-depth breakdown of this gold technical setup and more.
The aircraft carrier will lead a flotilla of Royal Navy ships to Asian waters. (Photo: The Balance)
In last week's Gold Weekly PriceOutlook we noted that XAU/USD was within striking distance of the 2021 high-week reversal-close at 1849 with a topside breach, "needed to mark resumption with such a scenario exposing subsequent objectives into the yearly open at 1898 and key resistance at the 2011 high-close / 61.8% Fibonacci retracement at 1909/23." The rally persisted into the weekly open with gold registered a high at 1890 before pulling back on Friday. Although the trade remains constructive, the immediate advance may be vulnerable in the days ahead.
Key topside resistance remains unchanged 1909/23- look for a larger reaction there IF reached with a breach / close above needed to keep the long-bias viable towards the objective yearly high at 1959. Initial weekly support rests at 1849 backed by the 52-week moving average at ~1840 and the 2012 high at 1795- both areas of interest for possible downside exhaustion IF reached. Broader bullish invalidation now raise d to the monthly open / low at 1764, according to Daily FX.