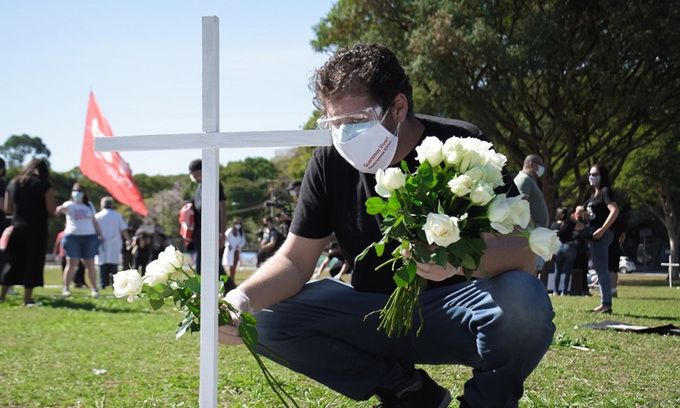 People place flowers to commemorate the death of COVID-19 victims in Sao Paulo, Brazil on June 20 (Photo: Reuters)
WHO reports largest one-day increase in COVID-19 cases
WHO on Sunday reported 183,000 new COVID-19 infections over the past 24 hours, marking the highest one day increase since the outbreak began.
A total of 4,743 deaths have been reported within one day, of which over two-thirds of the Americas, with razil and the United States placing first and second with 54,771 and 36,617 infections, respectively. In third place, India reported 15,400 new coronavirus cases.
Experts attributed the increase to both testing capacity and widespread infection. Brazil, in particular, has seen skyrocketing case numbers with a total number of deaths second only to the United States as President Jair Bolsonaro continues to try and downplay the risks of the pandemic.
Earlier on Saturday, WHO Director-General Tedros Adhanom Ghebreyesus said the coronavirus pandemic has entered a "new and dangerous phase" as daily Covid-19 cases hit record highs.
Cases are rising rapidly not only in the Americas but also in South Africa and other countries. South Africa on June 20 reported nearly 5,000 new infections and 46 deaths. Despite the increase, President Cyril Ramaphosa announced further relaxation of the blockade measures. Casinos, beauty salons and restaurant services will be reopened.
In Europe, a canned meat factory in Germany recorded more than 1,000 cases, forcing the regional government to isolate all 6,500 workers, managers, and their family members. In Asia, China and South Korea continue to record new cases, raising fears of a second wave of outbreaks in the two countries.
Russia's Putin may seek another term as Russia's president
Vladimir Putin, who has been in power for two decades and is now 67, is considering running for a new term as Russia's president if costitutional changes passed.
According to Reuters, Russia will hold a nationwide vote from June 25 to July 1 on proposed changes to the constitution, which includes an amendment that would allow Putin to seek two more six-year terms as president when his current mandate ends in 2024.
The changes that Russians will vote on, already approved by parliament and the Constitutional Court, would reset Putin's presidential term tally to zero. The Kremlin say they want to strengthen the role of parliament and improve public administration and social policy.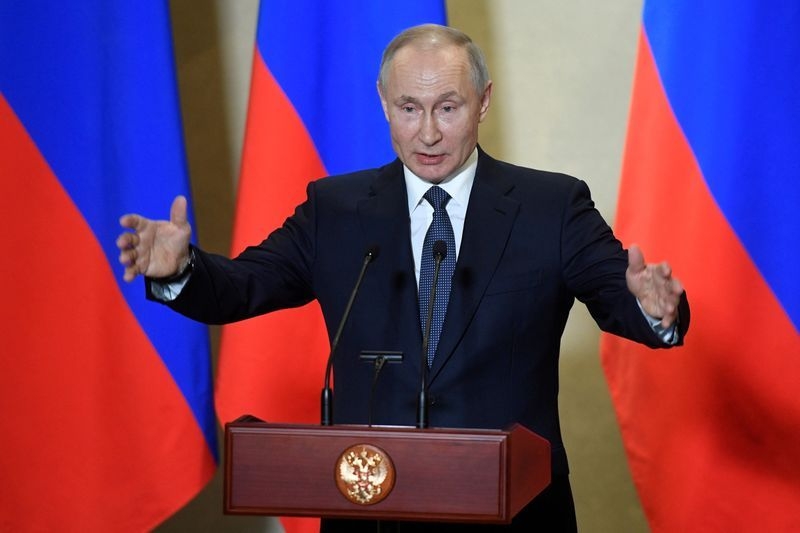 Vladimir Putin, who has been in power for two decades and is now 67, is considering running for a new term as Russia's president (Photo: The star)
Michelle Obama posts sweet tribute to her husband for Father's Day
Michelle Obama posted to Instagram a photograph of former President Barack Obama and their two daughters, Malia and Sasha, along with a heartwarming note on Father's Day.
"Thank you for the way you love our girls—and all the young people in this country, no matter who they are or where they come from," she captioned the post. "We feel your warmth and generosity today and everyday. Happy Father's Day, Barack!
The post has garnered a large amount of attention from international netizens, with over 2 million likes and over 18.000 comments, mostly showing their admiration for the enduring love and family bonds. "Best role model across the board", one account wrote.
Current first lady Melania Trump also posted a Father's Day message on Twitter, CNN reported.
"Today we celebrate all fathers for their love, dedication & wisdom to help guide our youth to help them succeed & grow. Happy #FathersDay!" she wrote.
Michelle Obama's post on her Instagram account
China halts Tyson chicken shipments over COVID-19 fear
China is halting the import of poultry from a Tyson Foods plant in Arkansas following 227 workers at the facility tested positive for nCoV. Products that have already arrived will be seized.
In addition, China also requested the US PepsiCO plant to close after 8 employees had tested postive for the novel virus.
According to the deputy director of the China Centers for Disease Control and Prevention, two of the aforementioned employees had been to the Tan Phat Dia wholesale market, a new outbreak in Beijing. PepsiCo has suspended production, sealing products, spraying disinfectants and quarantining employees to prevent the spread of COVID-19.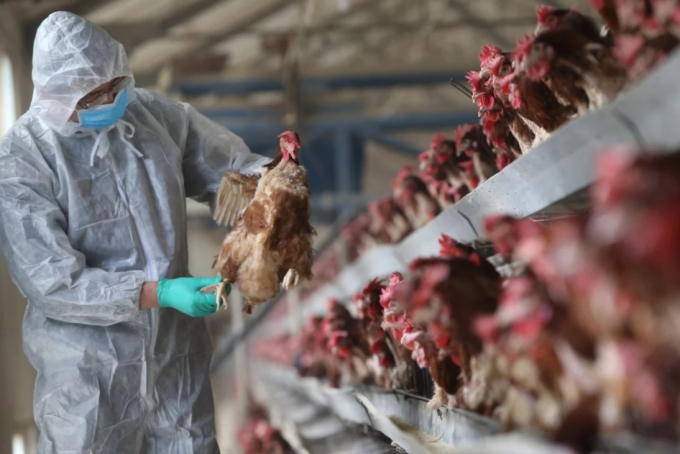 (Illustrated photo)
Gold prices today at Rs 47,960 per 10 gram, silver at Rs 48,670 per kg
Gold prices jumped to Rs 47,960 from Rs 47,950 per 10 gram, while silver went up to Rs 48,670 from Rs 48,660 per kilogram on Saturday, according to the Good Returns.
The prices of gold jewellery vary across India, which is the second-largest consumer of the metal, due to excise duty, state taxes, and making charges.
In New Delhi, the price of 22-carat gold is holding steady at Rs 46,760 per 10 gram, while in Chennai it is Rs 46,090. In Mumbai, the rate is Rs 46,860, according to Good Returns website. Prices of 24-carat gold prices in Chennai is Rs 50,280.
On MCX, August gold futures rose 1.23% to Rs 47,937 per 10 gram. Silver July futures also rose nearly 1.62% to Rs 48,636 per kilogram. MCX has decided to accept gold and silver bars refined at domestic refineries for deliveries, subject to final regulatory approval.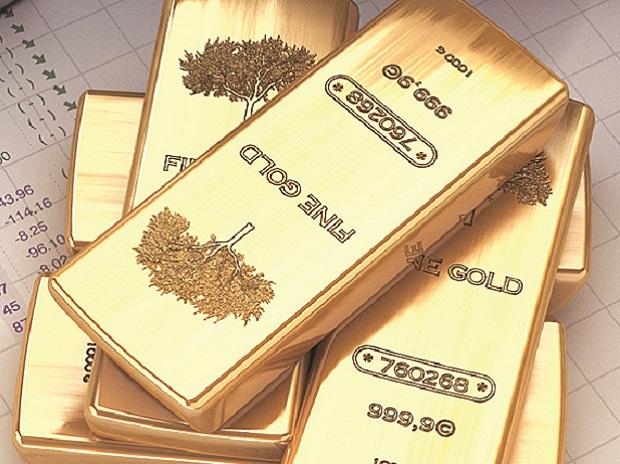 Gold prices jumped to Rs 47,960 from Rs 47,950 per 10 gram, while silver went up to Rs 48,670 from Rs 48,660 per kilogram on Saturday (Photo: Business Standard)
On the US-China front, sentiments improved after China said it planned to accelerate purchases of American farm goods to comply with the phase one trade deal.
In the international market, gold was trading with gains at $1,729 per ounce and silver at $17.49 per ounce.
Meanwhile, a surge in new infections in several US states and the imposition of travel curbs in Beijing to stop a new outbreak served as a reminder of the risks of reopening economic activity before a vaccine has been developed, according to Business Standard.
Jasmine Le