Yearly Horoscope 2021: Astrological Prediction for Pisces
Yearly Horoscope 2021 for Pisces: A tame year to come. In past years, things may have been crazy for you, but all that is ready to settle down. Things may be a bit tricky in your family life, but the planets are sure to help guide you. If you can keep a cool head, everything will work out in the end.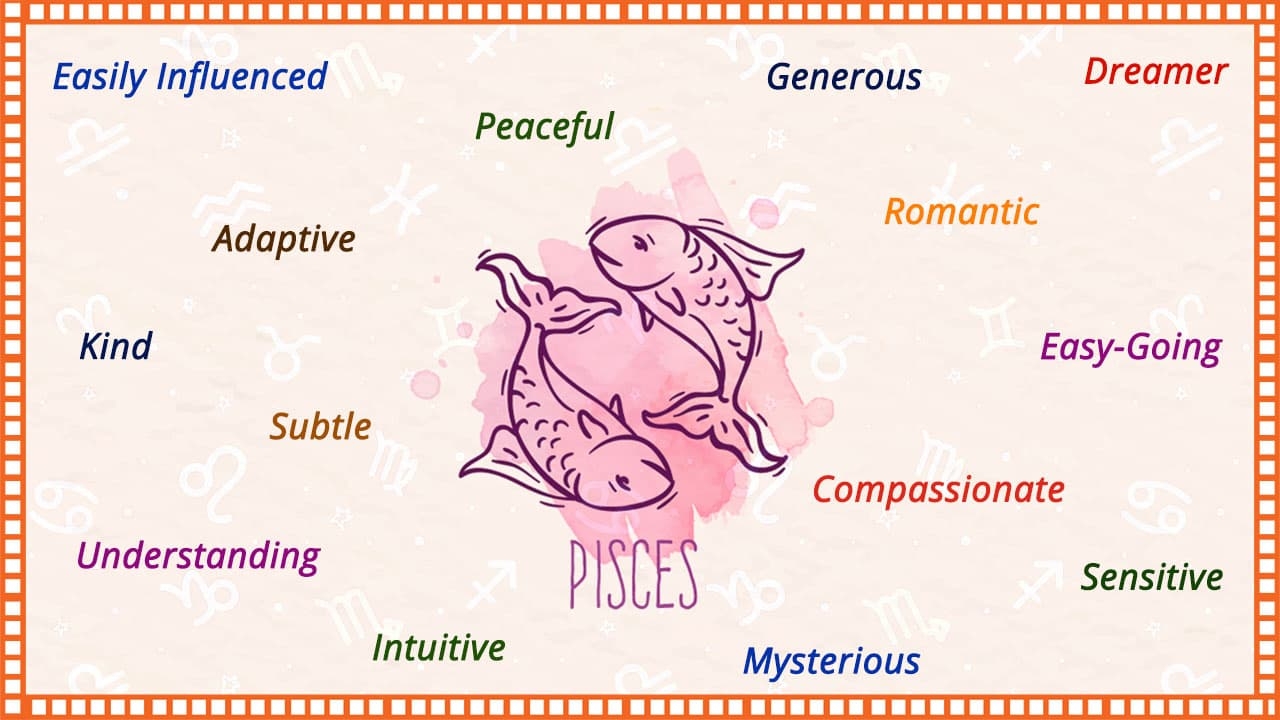 Photo: AstroSage Varta
Pisces Horoscope 2021 Overview
The year 2021 is favorable for communication. Your open mind will attract plenty of opportunities.
You may find a new job, or you may get a promotion at your current workplace. Despite all the changes and setbacks the planets predict, you may still have a beautiful year.
You hold friends and family close to your heart and are fairly sentimental. Parodoxically you can also be distant, aloof and a little elusive often because you are lost in a world thick with imagination. This fantasyscape is your favourite place to linger and the best of your friends will meet you there. This duality in your nature can be difficult for people to understand but they'll be rewarded with a truly beautiful friendship if they try.
This year you need to be true to yourself and follow some unique ideas you have as for your life to remain the same can only lead to you taking some rebellious action mid-year.
Pisces Love Horoscope 2021
You begin the year in one of the most beautiful positions a human being can find themselves in: falling in love. For you, falling in love is always a dreamlike experience and there can be a very surreal element to it. You are able to experience love as poets, movie makers and storytellers have always depicted it, according to Astroyogi.
Venus in Capricorn on the 28th makes falling in love a priority. Due to the open-ended nature of January, you may begin this year by ending an old relationship and entering a new one. Love can certainly come to you unexpectedly but isn't that the very nature of love? We cannot predict when it will happen or how or with whom.
By February, as Mercury moves into Capricorn relationships deepen and take on trust, respect, generosity and warmth. You'll feel very comfortable with one another as if you've known each other in a past life. There can be a sense of a karmic tie between you. On July 25, Mercury moves into Cancer and you may need to rekindle romance especially if you have been with your partner for some time. Take some time to do the little things for your partner and to keep up with your dreamlike sensibilities for this is always what draws others to you so exquisitely.
In September, you may find that you and your partner experience some squabbles or challenges but you'll learn a lot about how to deepen your bond and work together. The potential for the future of your relationships are endless as the year reaches a close, this is just the beginning.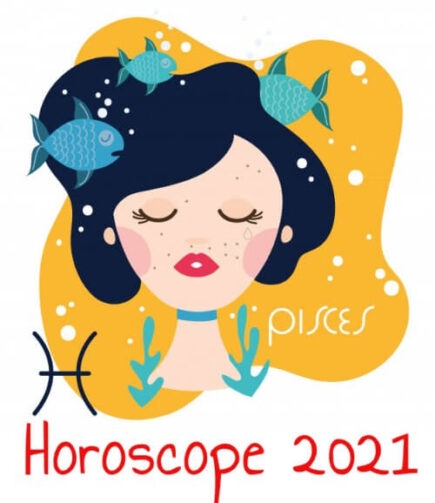 Source: Yearly Horoscope
Pisces Finance Horoscope 2021
You may begin this year with fairly high expenses but this may simply be because there are essential and necessary payments that you need to be making. As such, dig deep and focus on the payments that you need to be making and save whatever else you can. Move your mindset to needs rather than wants until you gain a little financial momentum. You'll have further opportunities to reflect on your earnings and savings on March 17 as Venus moves into Pisces when you might be able to dig a little deeper into your financial goals for the future.
By April you'll find that the sun allows you to tap into a place of prosperity and financial gain is assured. Stability and security follow which may encourage you to look into investments. Your effectiveness at the workplace sees you rewarded with profit in July thanks to the abundance of Mars in Leo from the 20th.
Your financial situation continues to improve across the duration of summer and as we wind down into autumn and winter, you'll experience a financial top-up from an unexpected place from the 8th onwards thanks to Venus in Capricorn – this may manifest as a gift. Your understanding of money is that it can come and go (like water) but if you dig deep you can actually do very well financially for yourself, building yourself a deep ocean of wealth rather than a shallow ditch.
Pisces Career Horoscope 2021
This year begins with an offering from someone who is willing to provide you with advice and guidance that sets you off to a good start this year. The advice will be around the area of career and help you make sensible and effective decisions especially when you combine what you are told with your own intuition – this can be a merging of the practical with the primal. You may feel as though life is directing you in meaningful ways. You'll start the year feeling adventure and may leap into a new career.
The time just feels right. This allows you to prosper all the way through to April where you find yourself feeling very professionally stable and a little more settled as though you've found a home thanks to Mars moving into livewire Gemini on the 14th. In June you are feeling so comfortable that you are sharing your opinions, thoughts and talents with your colleagues and initiating plenty of change with Mars in Gemini on the 2nd encouraging you to express and share.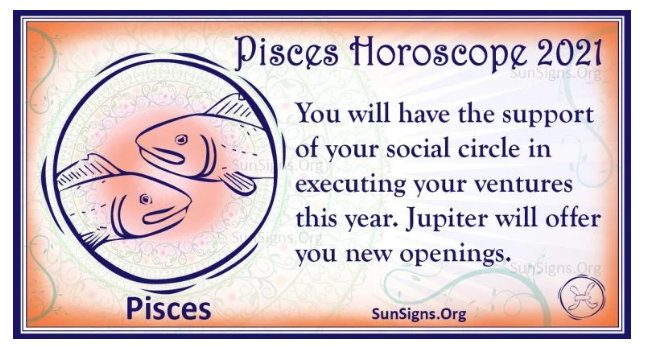 Source: Sunsigns
Pisces Health Horoscope 2021
As per 2021 Pisces Horoscope, the year 2021 is expected to be very good for the natives of Pisces zodiac sign in terms of health. Your health will remain good this year. But this doesn't mean that you become completely carefree about your health, said Astrocamp.
From April 6 to September 15 this year, Jupiter will remain in the twelfth house of your kundli, which seems to make your health weak. Apart from this, your health is expected to be weak between 20 November till the end of the year. You are advised to stay conscious of what you eat or drink, and take care of yourself.
This year, pay attention to your daily activities, since there is a strong possibility fat levels in your body increasing, which can make you obese. Take special care of your daily routine along with your health, since you are likely to suffer from a major illness.
Pisces 2021 Monthly Horoscopes
January 2021 starts the year off by giving you a sense of nearly boundless creativity and productivity. Use this time to work on projects, both at work and in your hobbies.
February 2021 encourages you to use this month for introspection. What do you want out of the year? This also continues to be a great time to work on projects.
March 2021 puts the focus on your financial state. The Sun and Venus will be in your sign for most of this month; this will boost your communication skills.
April 2021 splits the focus between your platonic relationships and your finances. This is a great time to seek advice on your finances, as this combines those two aspects of your life.
May 2021 puts the focus on your family life! For most of this month, both Venus and the Sun will be in Taurus. This will help to add stability in your relationships.
June 2021 encourages you to work on your romantic pursuits. With Neptune in Pisces all this year, this is a great time to get into a new relationship or take the next step in your current relationship.
July 2021 won't have much of a focus at all. Your daily routine will take over. Try to make time to spend time with your significant other and to work on your hobbies.
August 2021 will bless you with a boost of creativity and confidence. This makes August a great time to try to make new friends and to work on your hobbies.
September 2021 is a mixed bag. Until the 10th, Venus will be in Libra, which can help to boost your romantic life. After this period, you will be most likely to shift the focus on your family.
October 2021 will have your emotions at a high point, which can make you seem dreamy at times. Try to stay focused, as your family is likely to need you more than usual this month. This may affect your relationships with your friends.
November 2021 graces you with high levels of confidence. You are also likely to find some luck at work and in your finances.
December 2021 gives you time to prepare for the year ahead. You will be able to see potential changes in the distance. Use this month to plan your goals for 2022.
Conclusion
The yearly Pisces 2021 horoscope predicts a relaxed year ahead. This is the perfect year for getting back to your hobbies and focusing on your family life. Use this year to better yourself both intellectually and socially. If you can do this, then 2021 should go well for you.
Lucky months and days for Pisces in 2021
Lucky months: March, May, July, and November
Lucky days: If you're a Piscean, then your luckiest day will fall on June 3, 2021. This day will not be all about giving but also about being showered with all the love and affection you deserve. Look out for chance meetings that may blossom into great love affairs. In addition, you are all set to invest in something you love.
Pisces Lucky Number 2021
3 and 1 are the lucky numbers for pisces in 2021. In this time, your current responsibilities and warming in your future plans are balanced. Let your thoughts and actions to these tasks be more pronounced. Be social, connect with those who strive to improve mankind in general. Nowadays, turn more to charity and social causes. It would help you spread the joy of giving, sharing and keeping harmony.
Pisces Horoscope 2021 - Astrological Remedies
1. You should wear top-quality Pukhraj gemstone carved in a gold ring on the index finger between 12:30 AM to 1:00 PM on Thursday for good health and progress in life.
2. Apart from this, wearing Do Mukhi (Two-Faced) and Teen Mukhi (Three-Faced) Rudraksha on Monday and Tuesday respectively will incur good results for you.
3. You should always keep a yellow-colored handkerchief in your pocket.
4. Worshiping Lord Bajrangbali in particular will prove to be very fruitful for you.
5. Fill an earthen or iron vessel with mustard oil on Saturday, and donate it after seeing your reflection. This act is also known as Chaya Daan, and is said to eliminate all the troubles of your life.