(Video: Howard Lee)
Howard Lee, a multidisciplinary artist showed Spiderman, Captain America, Superman and Wolverine make appearances in his flipbook. However, the faces behind the mask turned out to be the emergency services workers, News18 reported.
"Superheroes are real. They walk among us." the next page of the flipbook read.
A doctor, a nurse or a package delivery worker –such professionals have been exposing themselves to the potential threat of being infected in order to serve during the emergency situation, News18 describes.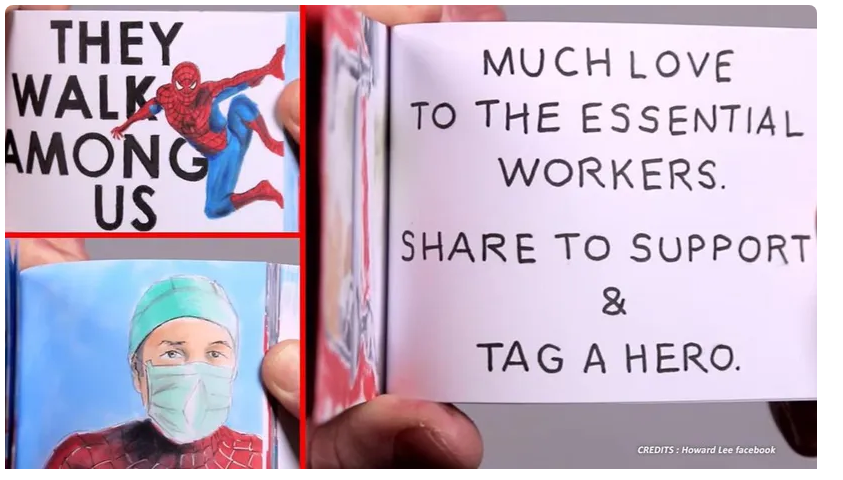 In Lee's flipbook, superheroes like Captain America, Spiderman, Hulk, Batman, and Wolverine are all turned into medics and police officers as pages turn. (Photo: Howard Lee Facebook)
The video, since being shared on April 4, has collected over 9.5 million views and counting, according to Hindustantimes.
The comments section of the post is flooded with words praise for the tribute and those shown in the artwork.
"Incredible, great way to pay tribute to real-life heroes," wrote a Facebook user. "That's amazing! And true!" said another. "This is fantastic work, well done for thinking outside the box and creating something in line with what's happening in our daily lives. You will be blessed for this work," commented a third.
There were many who suggested Lee left out many other key workers also working during these times. He replied to one such comment explaining his intent.
"I agree that everyone deserves recognition. I put a delivery driver in at the end as a nod to other professions. Maybe I'll do an expanded version of the book (if I get time!!)," he wrote, thanking the Facebook user who posted the comment. "I have huge respect for everyone working to save us," Hindustantimes quoted Lee as replying.
Lee has been working in the fields of illusion, trickery and playful deception. Other than superb works of painting and illusive drawings, Lee often takes to flipping books to etch a tale.
Given the straining nature of the COVID-19 combat, frontline medics and essentials workers have gone through countless hardships and imminent dangers. Along with Howard Lee's flipbook, there are also a lot of art works created as a token of gratitude and appreciation, towards the COVID-19 fighters, at the same time give them more strength in these difficult time.
In early April, 39-year-old Iranian artist Alireza Pakdel creates mindful illustrations that reflect on the world's current situation and show how to fight the spread of this invisible enemy. The illustrations is also meant to praise frontline workers' efforts and encourage them.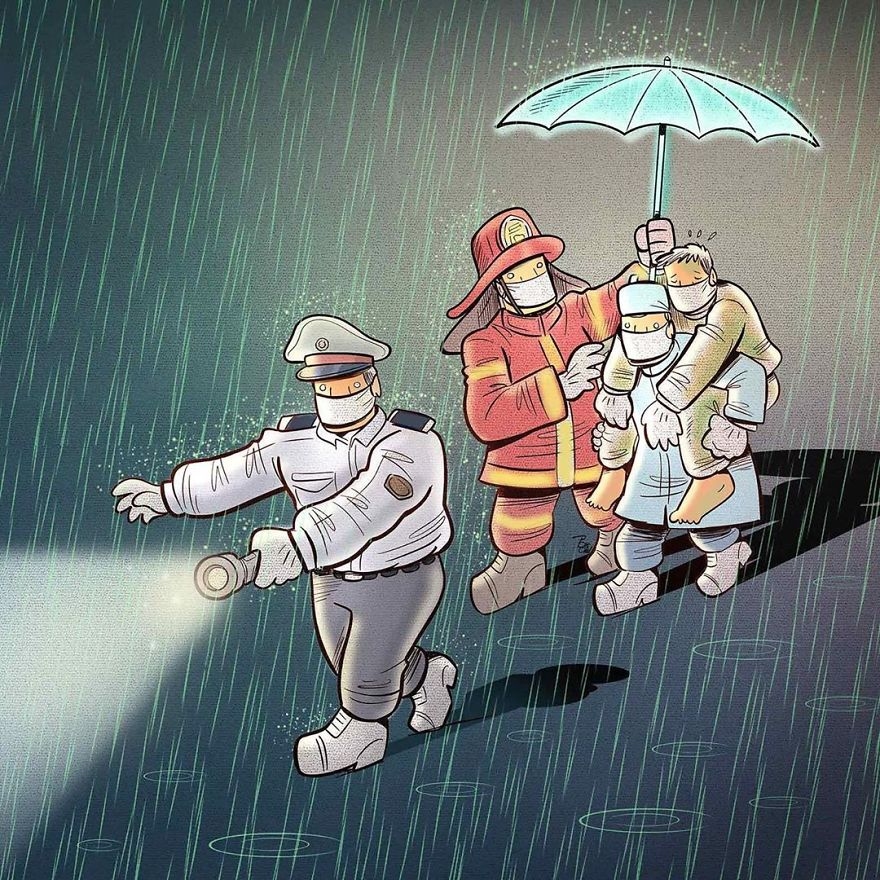 One of the photos in Alireza Pakdel's collection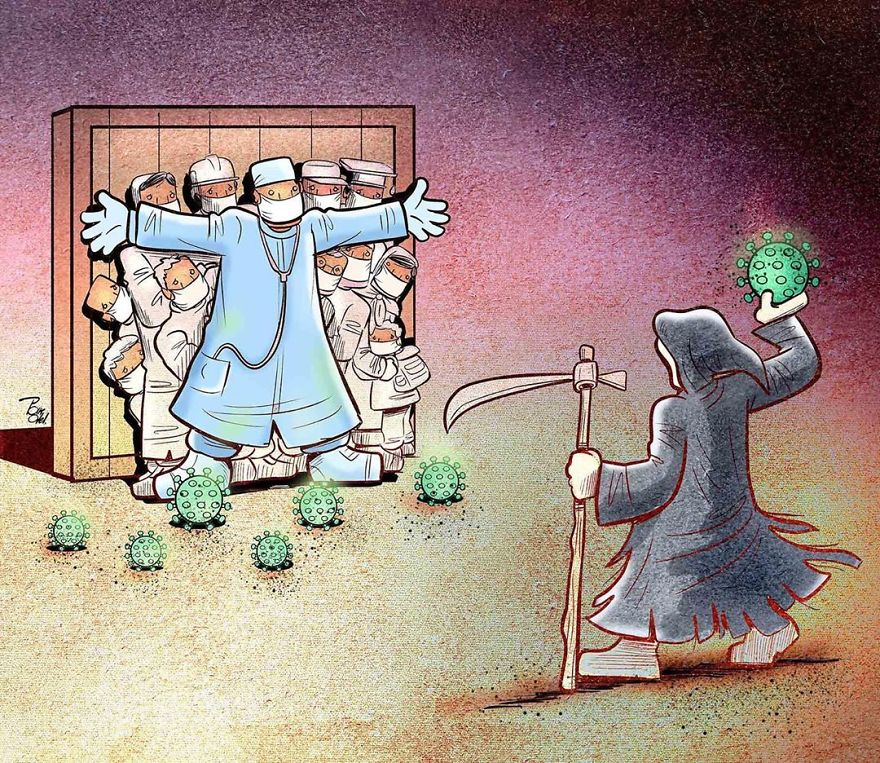 One of the photos in Alireza Pakdel's collection
A series of inspirational badges have been produced in support of healthcare workers in Singapore on the frontlines in early February - the initial phase of COVID-19 outbreak.
Designed and produced pro bono by 72andSunny, the messages range from 'Majulah Medics' ('Onward Medics) to 'Nurses are the Nicest' and 'Tok Kong Doctors' ('Impressive Doctors') and take the form of pin badges and physical and digital stickers, according to The Drum.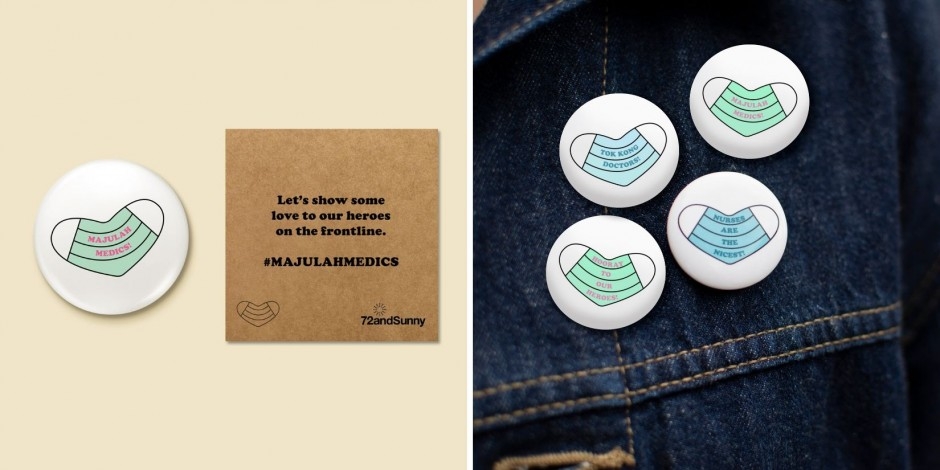 Inspirational badges are dedicated to the frontline fighters (Photo: the Drum)
#ClapforCarers movement, the idea of clapping to cheer up COVID-19 fighters has been catching on the world over since late March. People in the UK, Italy, France, Singapore, Vietnam, etc., are celebrating the one-minute-clap from balconies, doorsteps, windows to thank health workers for their hard work.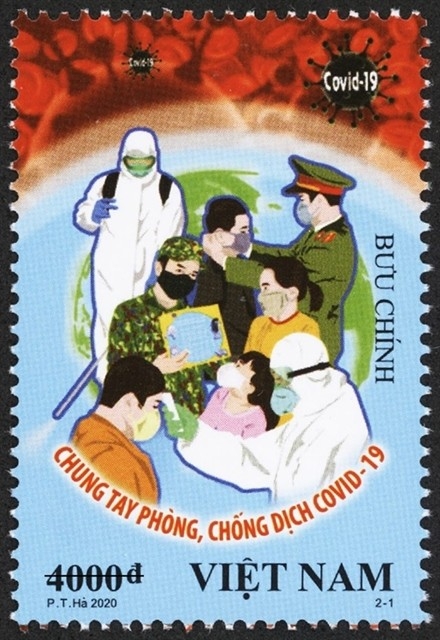 Vietnamese postage stamp which features pandemic fighting forces (Photo: VNS)
In Vietnam, the Ministries of Information and Communications and Health in collaboration with Vietnam Post Corporation also issued two sets of postage stamps under the theme "Joining hands to prevent and combat COVID-19", in a bid to send a supportive message to front-line fighters, and raise citizens' knowledge, responsibility, determination amidst the straining COVID-19 combat.
Moreover, there are also many newly-composed songs dedicated to inspiring the COVID-19 fighters around the country that gone viral on the Internet.
Jasmine Le