Australia and Vietnam collaborate to share digital innovations in education
With the COVID-19 pandemic causing global disruption to the education sector, the rapid shift to online learning, and the innovations developed as a result, have been shared at a high-level roundtable between Australian and Vietnamese higher education sector experts recently.

A high-level roundtable between Australian and Vietnamese higher education sector experts to discuss about education during 'the new normal'
The event brought together leaders from Vietnam's Ministry of Education and Training, the Australian Government, RMIT University, Australia's Tertiary Education Quality and Standards Agency (TEQSA), the Victorian Government, Hanoi Open University, and British University Vietnam on September 04 virtually.
Speaking at the event from Hanoi, Vietnam Minister of Education and Training Phung Xuan Nha said the shifting landscape of global education was a challenge that would require collaboration across the sector.
"The Australian education sector is highly regarded globally, and we are pleased to bring this expertise to Vietnam to inform the future of online and digitally-enhanced learning," he said.
"I look forward to RMIT and Australia taking a leading role as Vietnam's Ministry of Education and Training looks to accelerate developments in higher education, research and technology transfer into the future."
Academic leaders from RMIT University, Hanoi Open University and British University Vietnam offered in-depth insights into their universities' own experiences in transitioning to online and blended learning.
RMIT offers world-class digital learning, partnering with industry thought leaders and experts to deliver the best in flexible education. This year the university successfully transitioned over 5,000 courses online globally in response to COVID-19 restrictions.
In Vietnam alone, that meant reviewing 190 courses and employing a variety of best practices to successfully deliver them online, while maximising the student experience by also converting services such as academic support, library and wellbeing services to online.
While classes have resumed on campus in Vietnam since June, the University has started offering around 30 courses online in addition to the face-to-face option.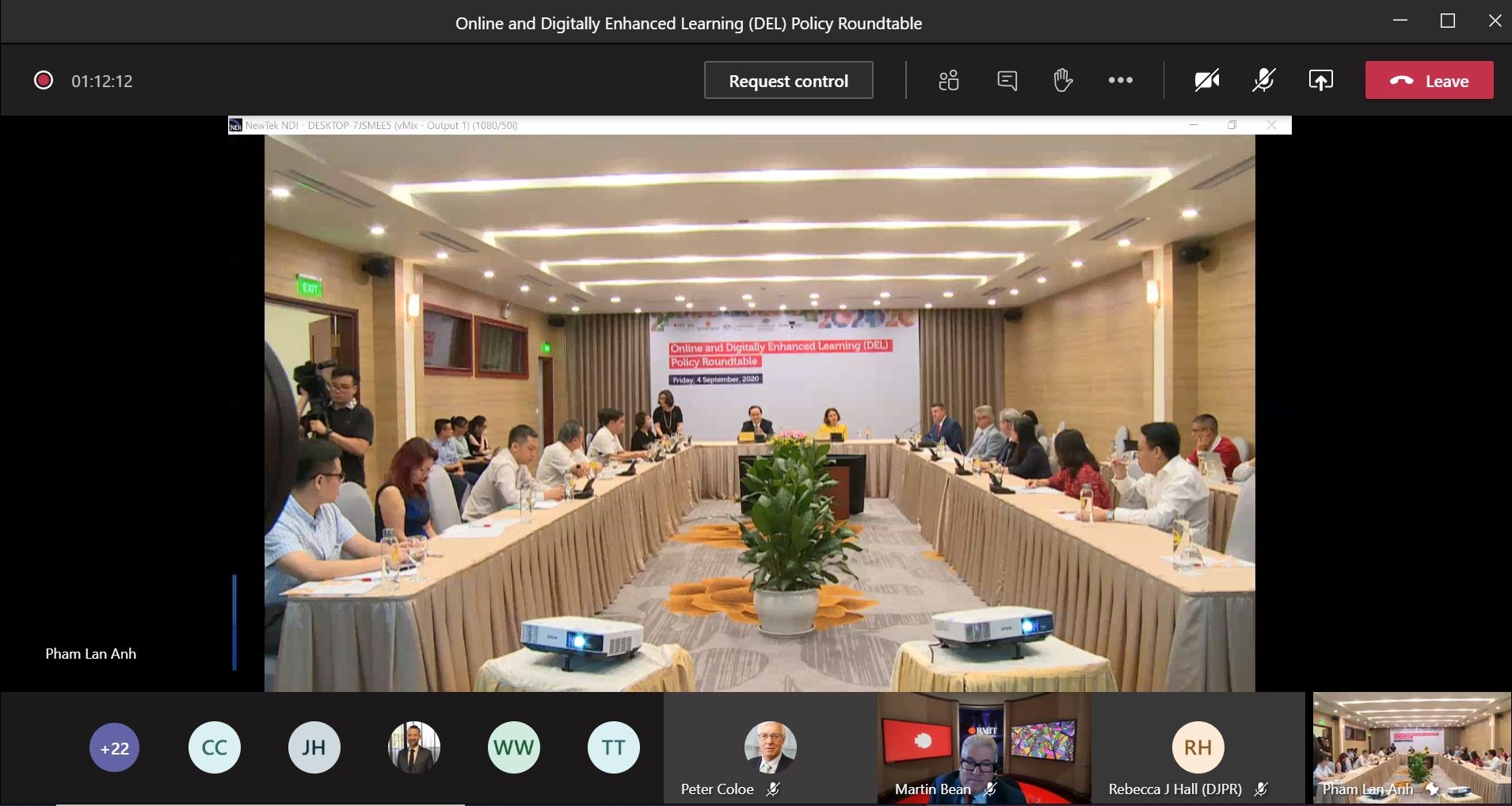 The Online and Digitally Enhanced Learning (DEL) Policy Roundtable was a platform to share experiences about the rapid shift to online learning and the innovations developed as a result.
Presenting virtually from Melbourne, Australia, RMIT Vice-Chancellor and President Martin Bean said the workshops were a reflection of RMIT's longstanding commitment to the region's prosperity.
"We are pleased to offer our international leadership in education to Vietnam's young people and lifelong learners alike as they embrace digital education," he said.
"Together we can scale great heights for the future and turn the opportunity of digital education into a milestone moment for Vietnam."
RMIT Vietnam Chairman Professor Coloe said blended learning was 'the new normal' at RMIT and reinforced the importance of providing flexible and accessible study options for students.
"In an increasingly digital and connected world, online learning ensures education is made available to many more of Vietnam's future leaders, wherever they are located," Professor Coloe said.
With such expertise, Minister Phung Xuan Nha said that he looked forward to more dialogue coordinated by RMIT and other partners to connect higher education around online learning and teaching.
"Over the years, the education sector has benefitted greatly from foreign investment, especially in higher education.
"I strongly believe that international universities will continue to play a major role in improving the quality of general and higher education in Vietnam, helping to produce new generations of skilled, global citizens."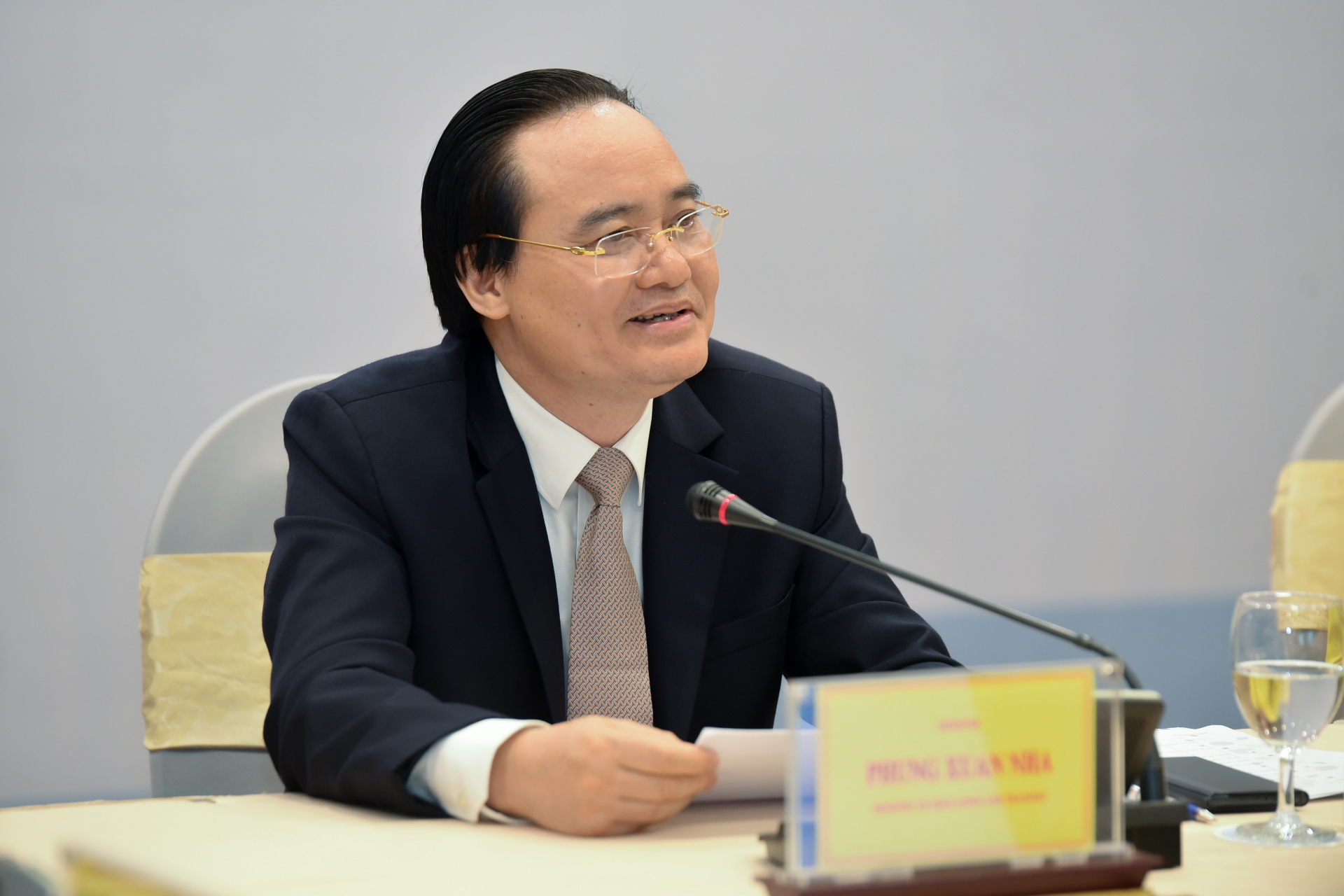 Minister of Education and Training Phung Xuan Nha spoke at the roundtable.
Australian Ambassador to Vietnam Robyn Mudie regarded the policy roundtable initiative as "a prime example" of Australia – Vietnam cooperation in key priorities of socio-economic development.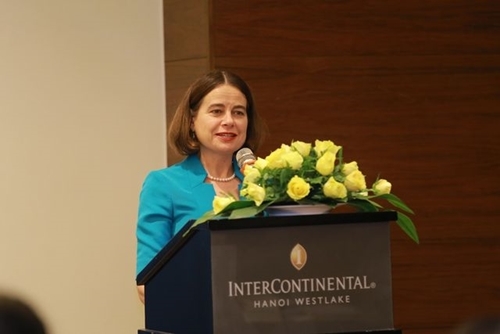 Australian Ambassador to Vietnam Robyn Mudie speaks at an event in Hanoi. Photo: qdnd
"Australia and Vietnam will continue to work together to expand bilateral cooperation in education, skills development and employment. Despite the COVID-19 impacts on both Australia and Vietnam, we are not losing sight of the development priorities that will keep our societies and economies moving forward.
"It is particularly in these taxing times that collaborations and knowledge exchange will help us come up with innovative solutions for mutual benefit," Ambassador Mudie said.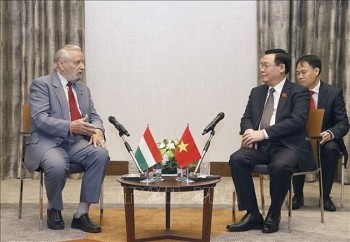 Overseas Vietnamese
National Assembly (NA) Chairman Vuong Dinh Hue received a delegation of the Hungary-Vietnam Friendship Association led by its President Botz László in Budapest on June 27.