Breathtaking and peaceful beauty of Tam Coc
Tam Coc Scenery Complex in Hoa Lu District, the northern province of Ninh Binh, is one of the most beautiful cave complexes in Viet Nam.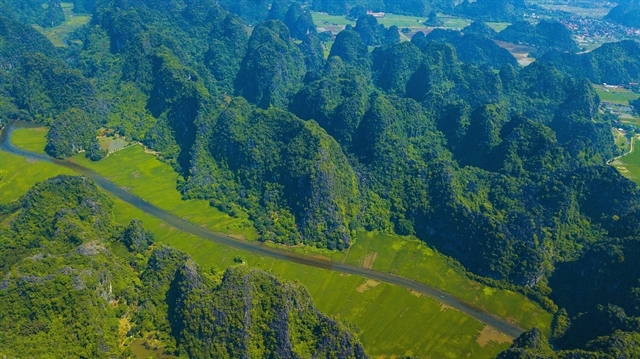 An aerial view of rice fields around the Ngo Dong River. (Photo: VNS)
A cave complex in Ninh Hai commune, Hoa Lu district, Ninh Binh province. Tam Coc - Bich Dong is also known as famous names like "Ha Long Bay on land".
It is a key national tourism area of Vietnam. The whole area includes a system of limestone caves and historical relics related to the Vu Lam palace of the Tran Dynasty.
The Trang An - Tam Coc landscape complex is ranked as a special national monument by the Prime Minister of Vietnam and has been ranked as a world heritage site by UNESCO, reported by Bao dan sinh.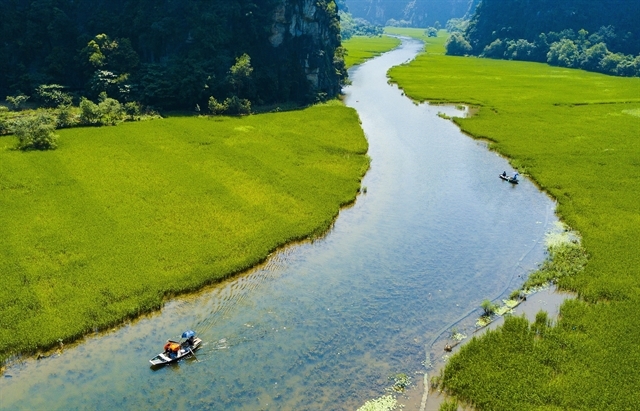 A breathtaking view from above. (Photo: Vietnam News)
In this time of transition between spring and summer, Tam Coc is bathed in an immense green colour of rice fields along the banks of the Ngo Dong River, creating a romantic and magnificent scene.
Coming here, visitors will admire the beauty of the mountains, the pristine natural caves mingled with rustic countryside fields. Its beauty brings people more immersed with the splendid nature and lets visitors rediscover their peace of mind, according to Bao tin tuc.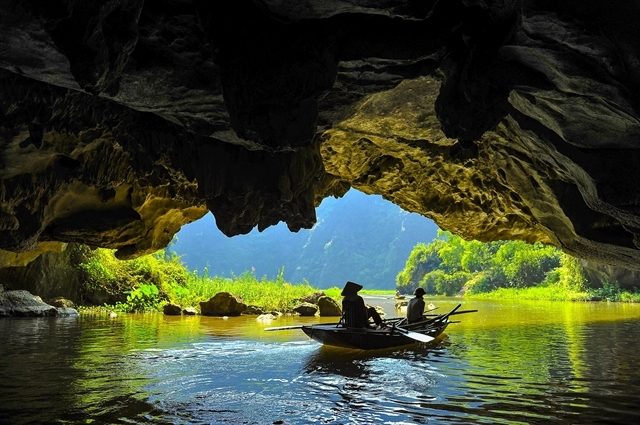 Caves created by river current. (Photo: VNS)
From a high view on a mountain, the scenery looks more like a stunning painting than reality.
The only way to get deep inside Tam Coc Complex is by boat while as the road ends after reaching the first cave, reported by Vietnam News.
Tam Coc tourist area currently has a natural area of 350.3 ha, located 2 km from National Highway 1A, 7 km from Ninh Binh city, 9 km from Tam Diep city.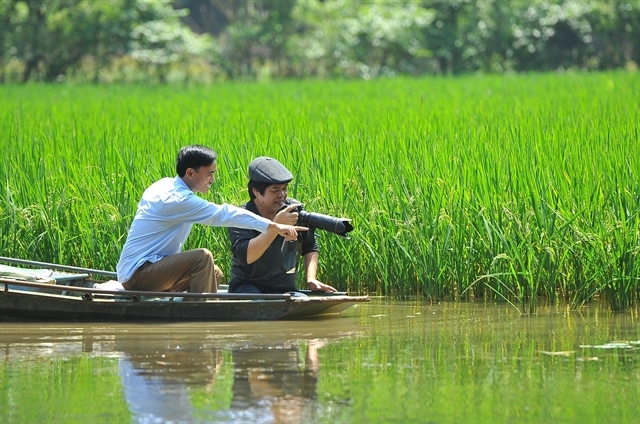 Visitors lose themselves in nature. (Photo: VNS)
Mainly the area is located in Ninh Hai commune (Hoa Lu). Tam Coc tourist area includes many sightseeing routes for yachts, bicycles and walking.
Tam Coc means Three caves, also known as Xuyen Thuy cave, is located in Ninh Hai commune, Hoa Lu. In the past, this area was a sea of waves causing the erosion on cliffs and creating strange shapes, according to Phuot.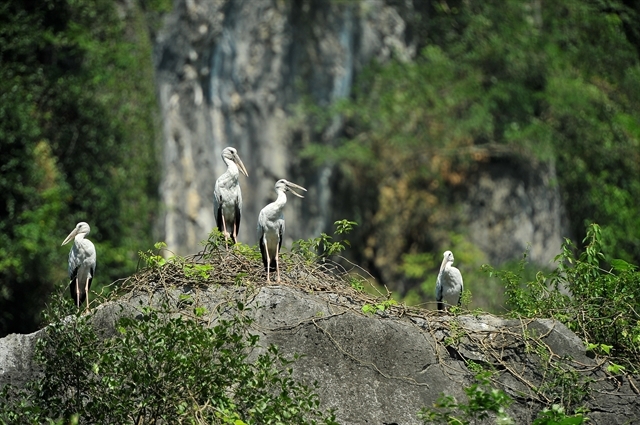 The site hosts a diversified flora and fauna (Photo: VNS)
Among the three caves, the Ca cave (the Great cave) is 127 m long, running through a big mountain, the cave gate is over 20 m wide. In the cave, the climate is quite cool and many stalactites hang down with various shapes.
Hang Hai (the Second cave) is about 1 km from Ca cave, 60 m long. The cave ceiling has many strange hanging stalactites
Hang Ba (the Third cave) is near Hang Hai, 50 m long. The cave's ceiling looks like a stone arch, and is lower than the other two caves, cited Gody.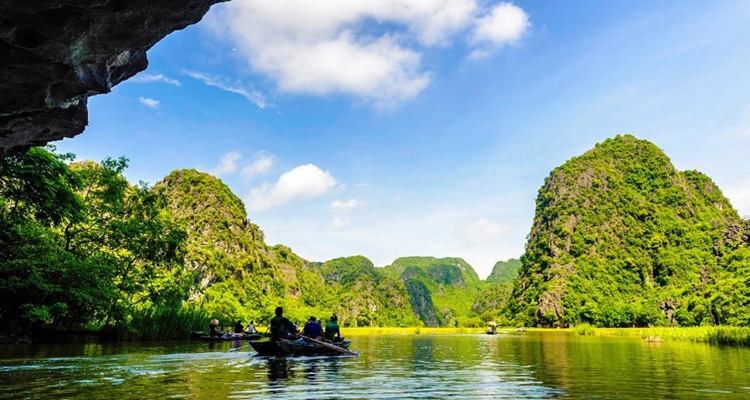 Tam Coc means Three caves (Photo: Best deal travel)
Ninh Binh Province is more than 90km south of capital Ha Noi. This year, the province is hosting National Tourism Year. Various tourism promotion activities have been planned to lure both domestic and foreign tourists. Last year, the province received 7.6 million tourists, a 4.79 per cent year-on-year increase over the previous year. Income from tourism in 2019 reached VND3.6 trillion (US$155 million), cited Vietnam News.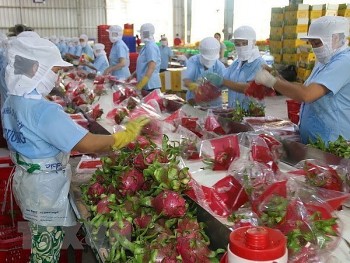 Make in Vietnam
Denmark and Vietnam strengthen cooperation in production, certification and management of organic products