Coronavirus stories: Vietnamese girl's quarantine dairy in pictures
Sometimes an adversity brings a beauty, such as interesting rose from the centralized quarantine zone in Bac Ninh province, 28 year-old Nguyen Ngoc Linh, who has just returned Vietnam from Italy, draws out her daily life to motivate herself and other people.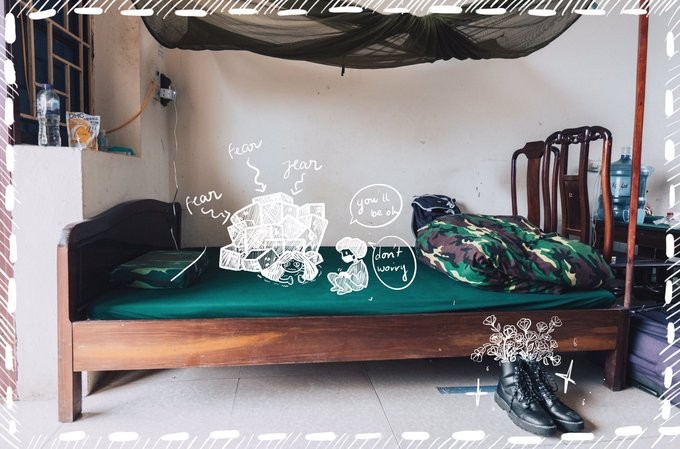 The diary in quarantine zone was drawn by Linh from March 11
Linh returned Vietnam on March 8. During her 36-hour-flight from Italy to home country, the girl was all stressed out, worrying she would become another "17th patient", who had returned from Western countries and unwittingly transmitted the novel virus to several individuals due to close contact, though Linh was in a different case, she had been examined previously and was eligible to take the flight.
Landing on Noi Bai International Airport was a breath of relief for her. "I felt secure. Seeing lines of people doing medical declaration, I realized I was safe", she said.
Preliminary health check done, Linh got on the bus, headed to the Military School in Bac Ninh province. (Photo courtesy of Nguyen Ngoc Linh/ Vnexpress)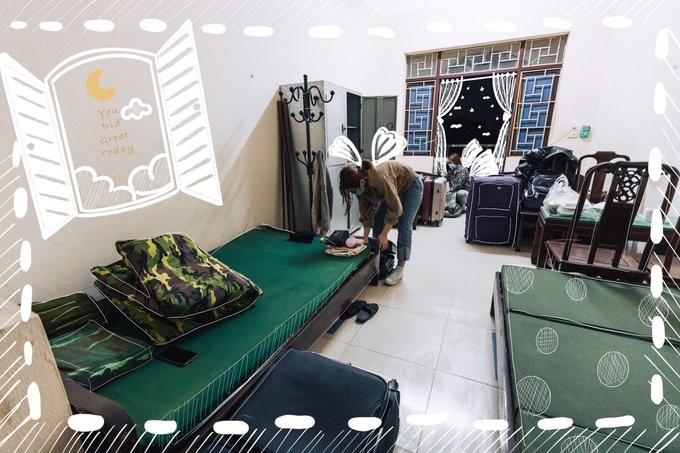 Linh's room can accommodate up to four people, fully equipped with daily necessities, from blanket, pillows, mattress, to sandals. "Everything is neat and clean", Linh smiles. She shares the room with two other oversea students, who she calls "two little fairies". (Photo courtesy of Nguyen Ngoc Linh/ Vnexpress)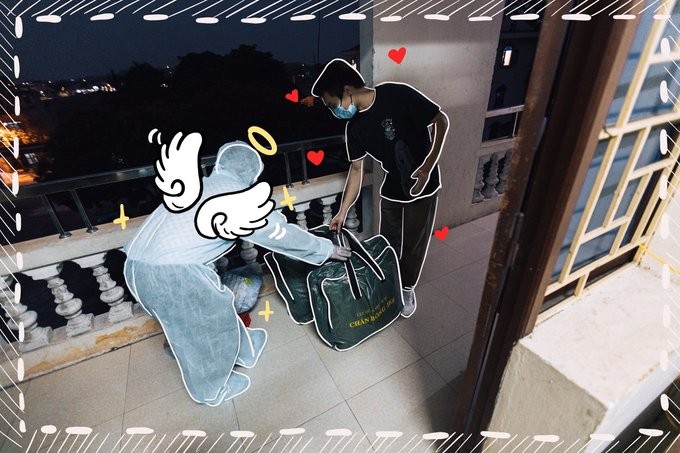 "My roomates are two fairies, and the medical staff surely are 'angles', for they are always caring, patient, accommodative despite the hard work and danger", Linh proudly said. (Photo courtesy of Nguyen Ngoc Linh/ Vnexpress)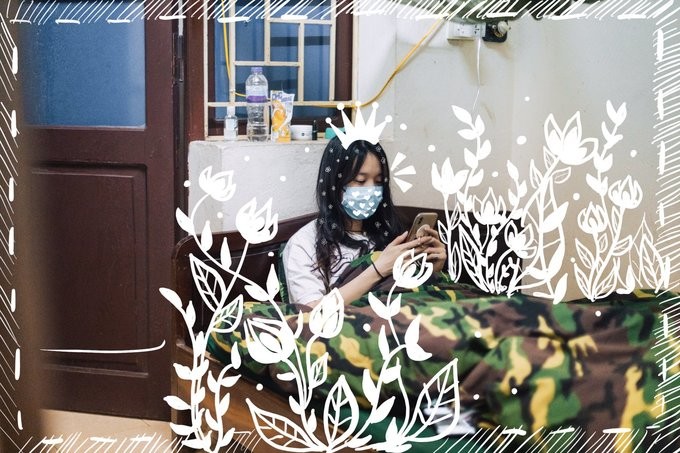 Linh has been feeling like "a princess" since the day she started live in quarantine zone, because she is served three nutrious, delicious meals a day.
She's also made a lot of new friends who are approachable and enthusiastic. "If you're still single, this is an amazing chance to meet your other half", she comments. (Photo courtesy of Nguyen Ngoc Linh/ Vnexpress)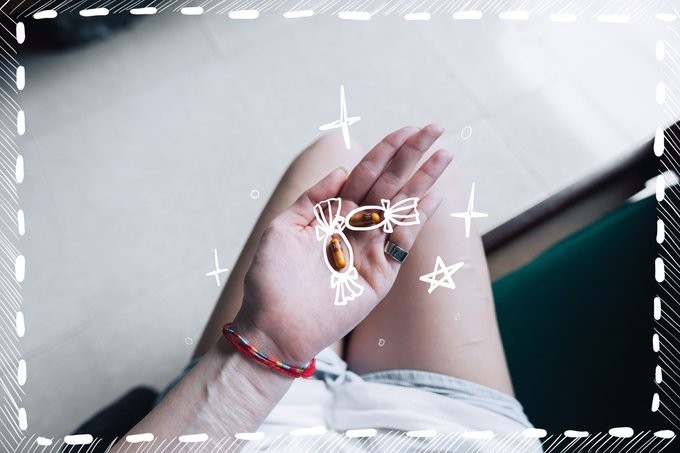 To boost her immune system, Linh takes vitamins on a daily basis. In addition, she strictly adheres to daily schedule in the centralised isolation:

7am: Wake up, have breakfast, which usually means bread, sticky rice, rice paper rolls
8am: Clean the room with disinfectant water
9h30-10am: Get temperature screening and health check by doctors
10h30am: Have lunch
3pm: Recheck by doctors
5pm: Have dinner, take a shower and enjoy break time
(Photo courtesy of Nguyen Ngoc Linh/ Vnexpress)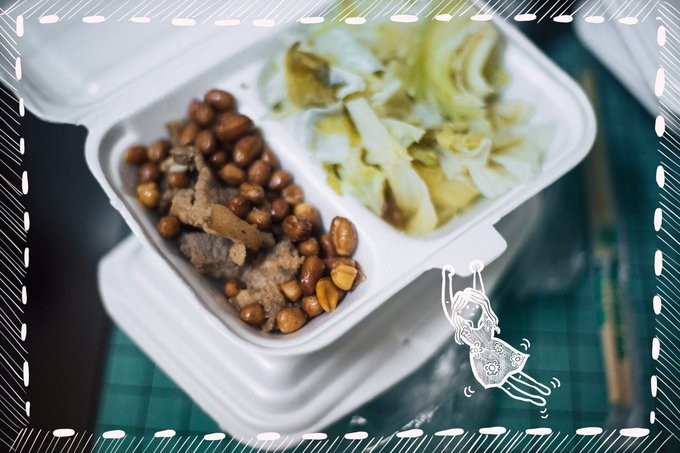 "Quite a light meal, but there are foods, like peanuts, or boiled lecttuce soup, that I haven't tasted for such a long time. This brings back memories", Linh describes. (Photo courtesy of Nguyen Ngoc Linh/ Vnexpress)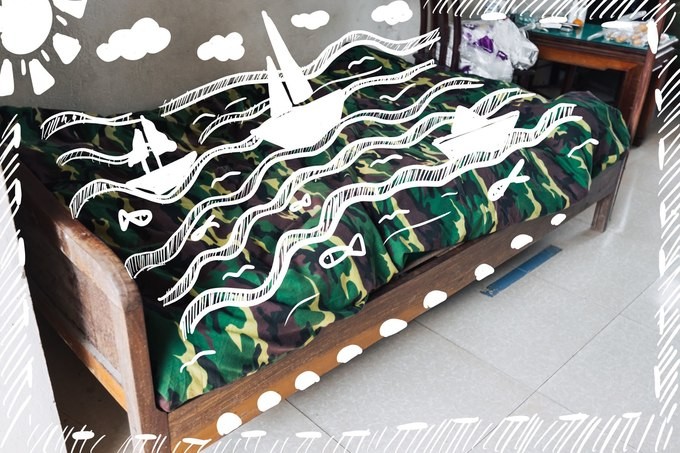 Life pace has been slower in here. She notices that each person with different personal trait has a different "blanket folding style", "Some spread their blanket and covers the bed like a beach, ... (Photo courtesy of Nguyen Ngoc Linh/ Vnexpress)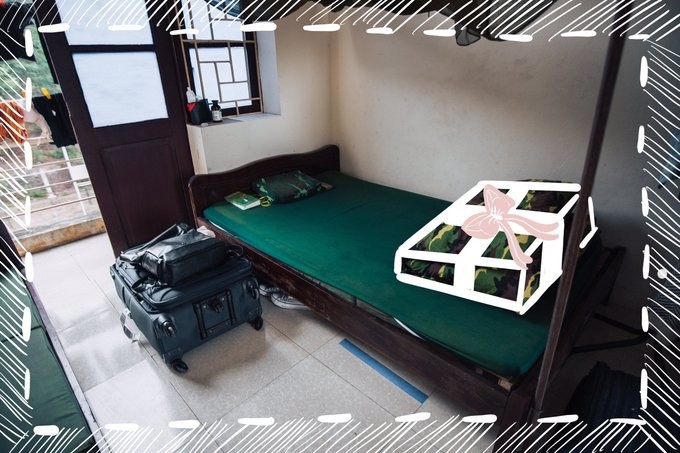 ...while others fold it neatly like a gift box", she shares. "There are also those who roll the blankets like an egg roll". (Photo courtesy of Nguyen Ngoc Linh/ Vnexpress)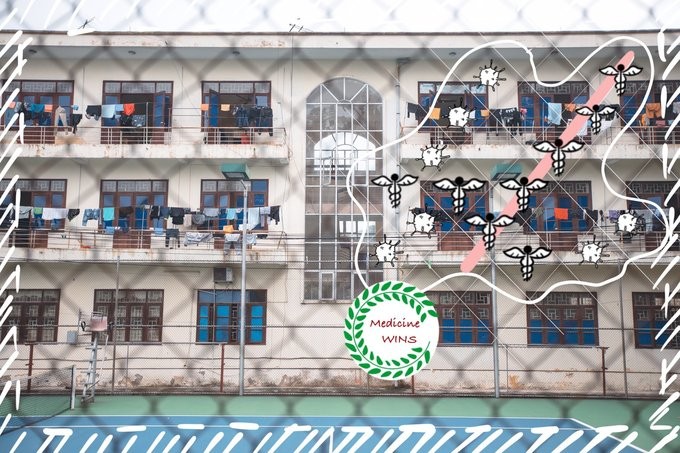 Linh draws a checkboard on the picture she takes from behind the quarantine building. The angle symbols on the top right are the medical staff who have won the COVID-19 pandemic.
"I wanna spread a positive and lovable sign in this epidemic season to ease the community out there, and also to show them that being quarantined is not that scary as they imagine. It's a short vacation you can enjoy", she shares. "Quarantine is a perfect solution. You can both protect yourself and protect others". (Photo courtesy of Nguyen Ngoc Linh/ Vnexpress)
Source: VNE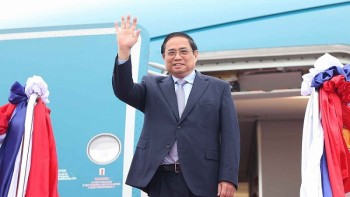 National
Vietnam News Today (Feb. 6): PM Chinh to pay official visits to Singapore, Brunei; Vietnam attends ASEAN+3 Tourism Ministers Meeting; Exports in 2023 and high demands from new generation FTAs; Digital technology to spearhead Vietnam's drive for Industry 4.0.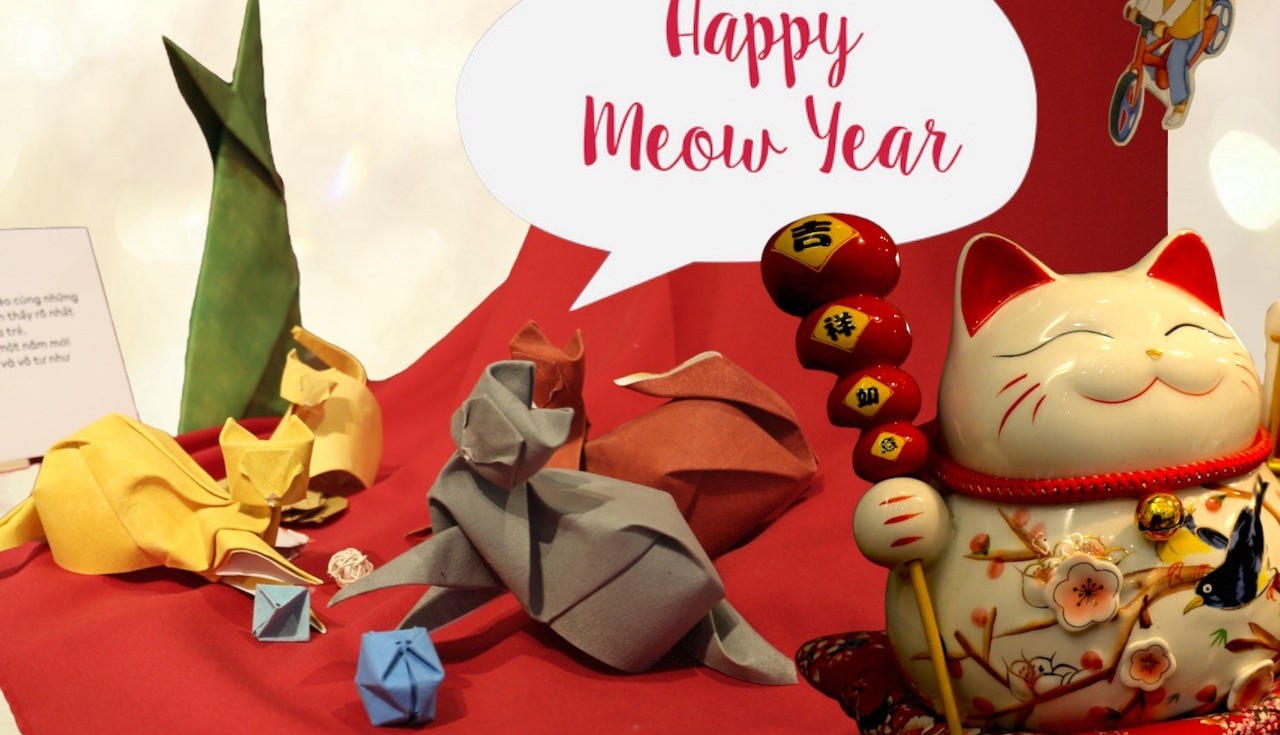 Handbook
The Year of the Cat is right at the corner and it is time to celebrate for all you cat lovers out there. This holiday season, check out how you can enjoy the company of furry feline friend, from cute cafe to personalized gifts in Hanoi.
January 20, 2023 | 08:22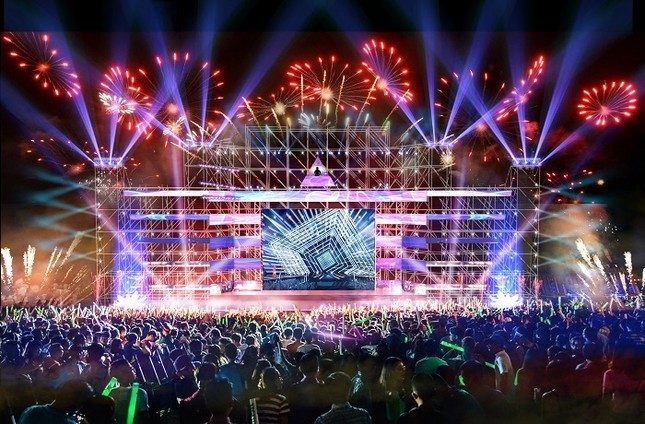 Handbook
Hanoi's young people are eagerly inviting each other to watch fireworks on New Year's Eve. Here are a few things to keep in mind and places with great views for people to watch the fireworks display.
January 17, 2023 | 07:41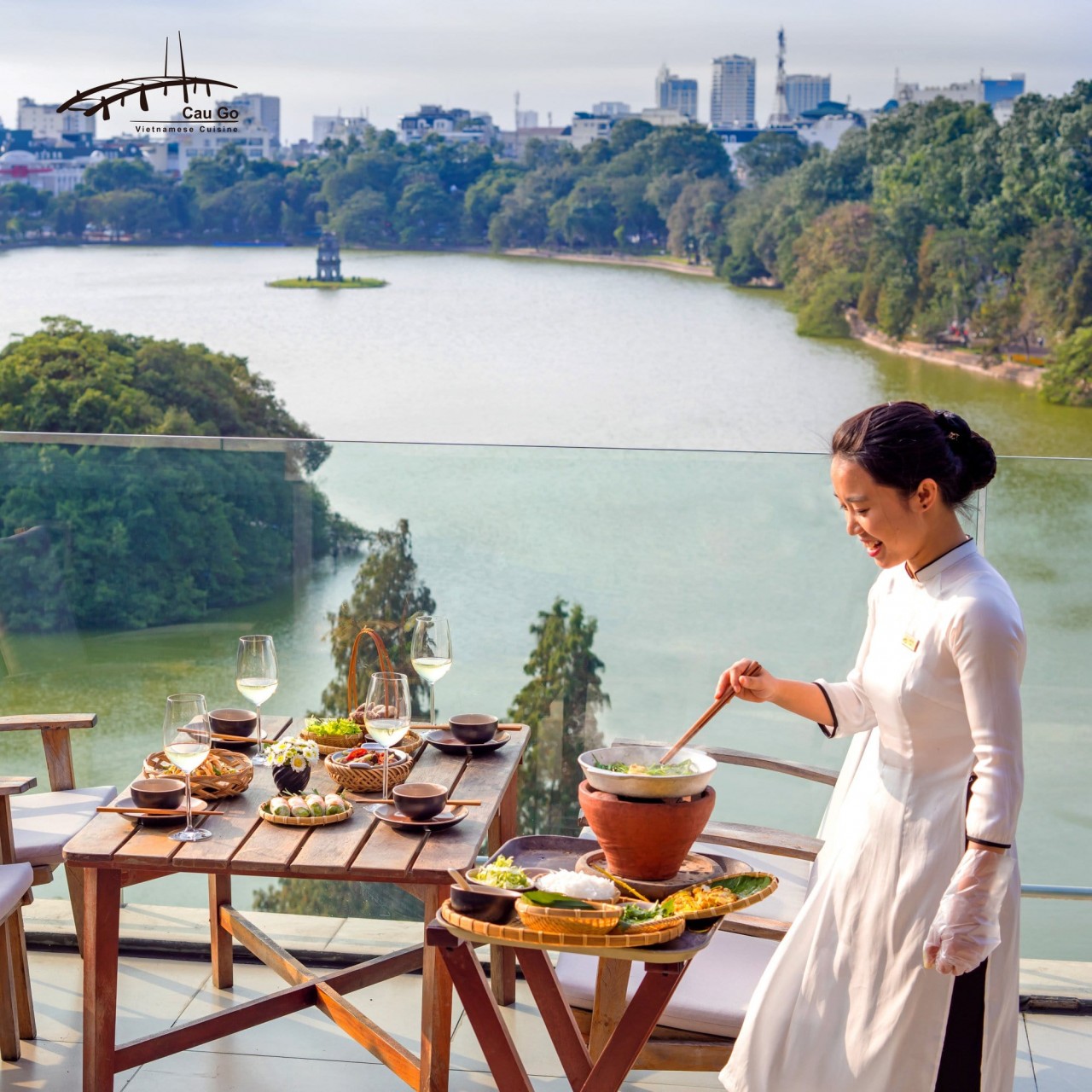 Handbook
Hanoi captivates visitors from all over the world with popular foods like pho, bun cha, etc. If you have a chance to visit the city during the Lunar New Year, try dining at restaurants serving traditional Hanoi dishes to immerse yourself in the culture of Tet in the North of Vietnam.
January 16, 2023 | 08:21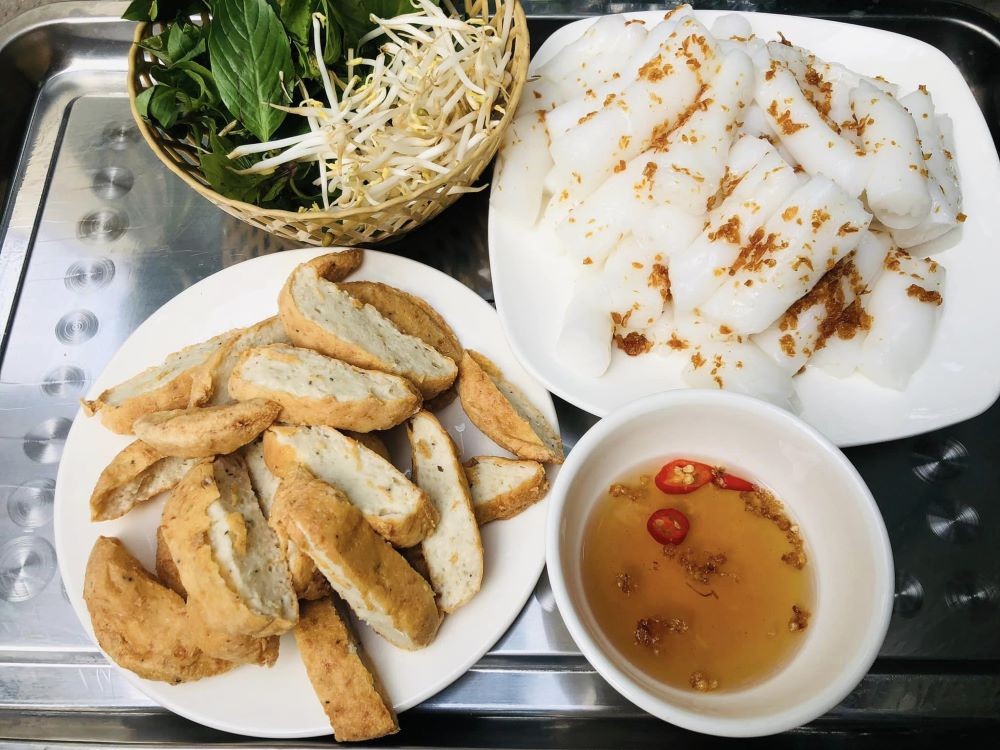 Handbook
The following Nghe An dishes are rated by many diners as delicious, nutritious, and cheap
January 09, 2023 | 06:56