COVID-19 combat: Vietnam schools install table partitions to curb coronavirus
Several schools across Vietnam are installing table partitions to limit direct contact between students in classes, along with other essential protective measures.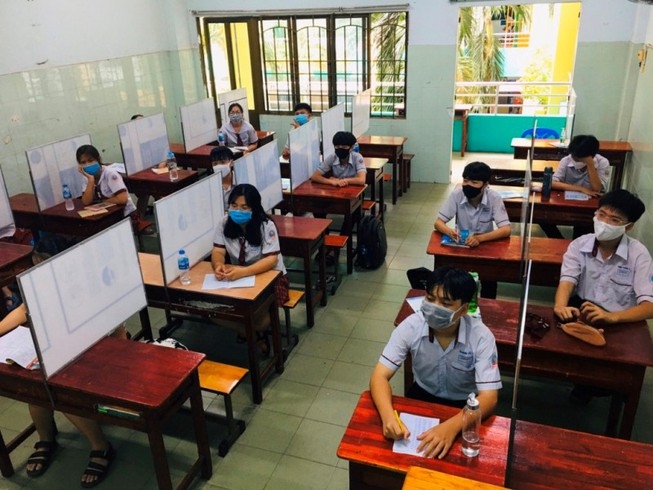 Tan Phu secondary school install table partitions in class (Photo: NTCC)
Along with mandatory face masks, campus sterilization, hand washing, body temperature checking, etc,. several schools across the countries are going a little further with table partitions, aiming to limit direct contact among students.
Millions of students in Vietnam have returned schools after a three-month break in early May following the lift of social distancing order. Educational facilities are asked to strictly abide by safety rules even though there's no COVID-19 community transmission for some 20 consecutive days.
Nguyen Du secondary school in Binh Phuoc, southern Vietnam was among the first educational establishments to stall students' tables with plywood partitions, attempting to protect students from coronavirus.
Five out of 20 classrooms in Nguyen Du school have been equipped with the new table partitions, each costs a total of VND 2.8 million (roughly US $119,54). The remaining rooms are due to be finished this weekend. With the newly-redesigned tables, most students feel comfortable and more secured in class.
Secondary schoolers in Tan Phu school, Ho Chi Minh City also enjoy the new model. According to Phap Luat, only half the students in each class attend one lecture at a time, with the even-numbered students and odd-numbered students take turn to attend class alternately.
Le Quy Don school, Ha Dong, eastern Hanoi also applies the table partitions model in its canteen. Accordingly, all dining tables are equipped with mica partitions.
100 percent of teachers and students' tables are installed transparent partitions, thus one can still "meet" and talk to other normally, Zing News reported.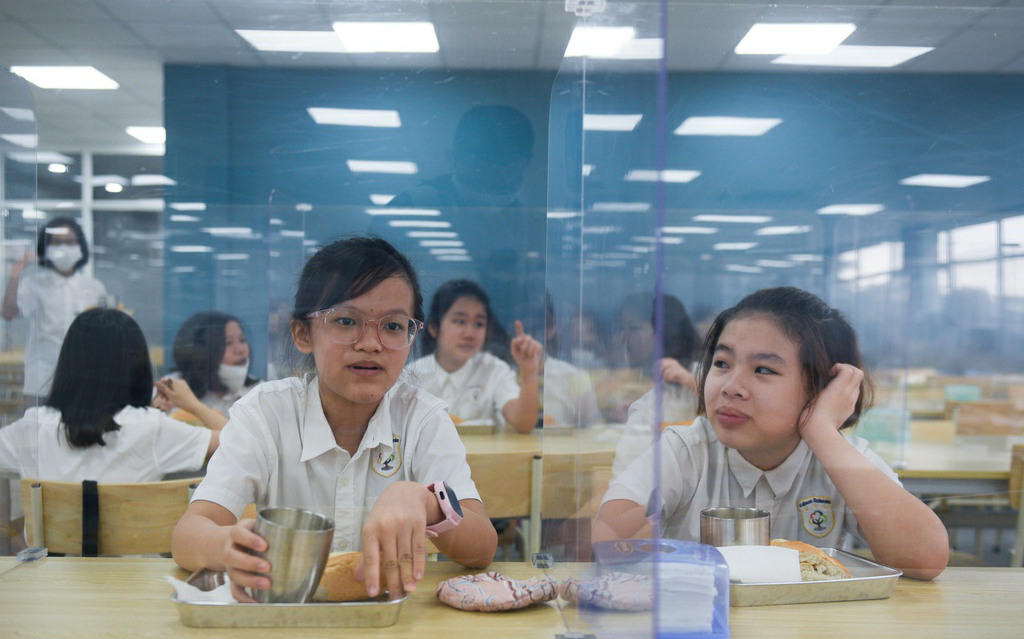 With see-through mica partitions, students can still communicate while dining (Photo: Zing News)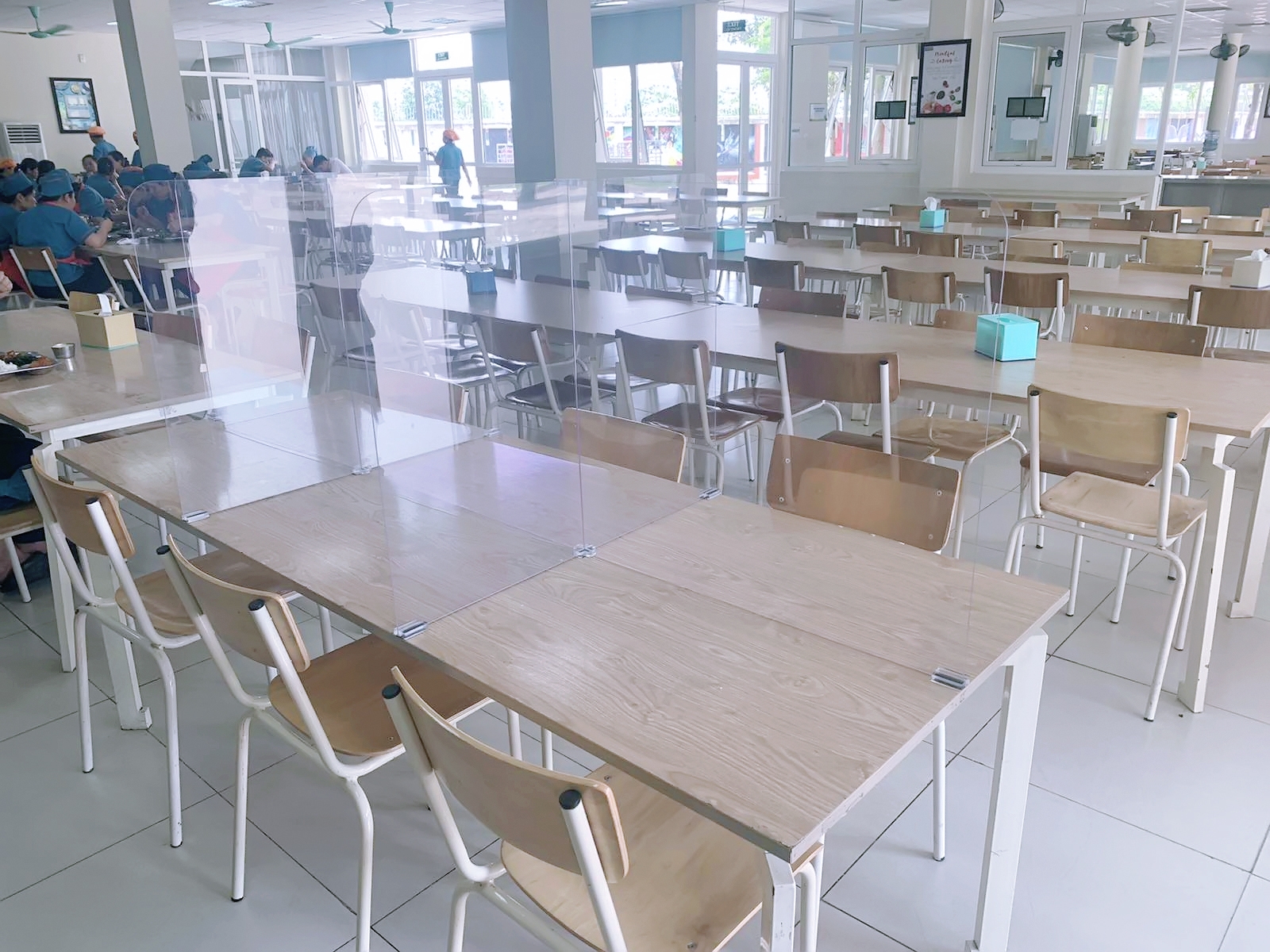 Tables with transparent partitions in Wellspring International Bilingual School, Hanoi (Photo: ICT News)
The Wellspring International Bilingual School, Hanoi do the same thing with their dining tables in the canteen, as reported by Bao Moi.
While the table partitions are new to educational establishments, many restaurants in the country have already applied the idea last month. Four-compartment tables divided by mica partitions, ensuring a proper distance among diners.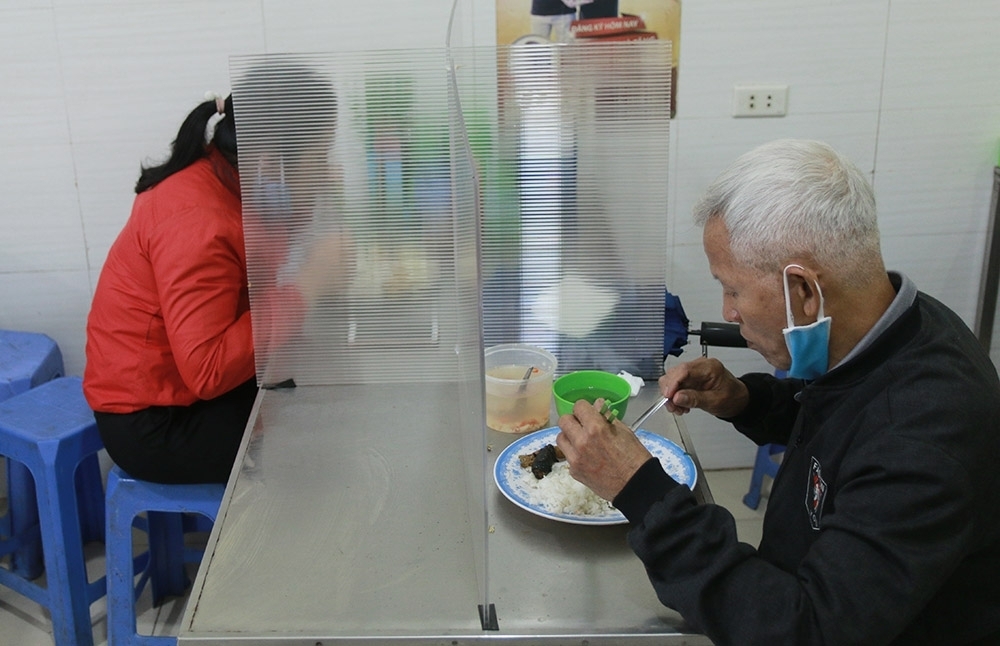 Earlier, restaurants in Hanoi use the table partitions model to prevent the novel virus from spreading
(Photo: Thoi Dai)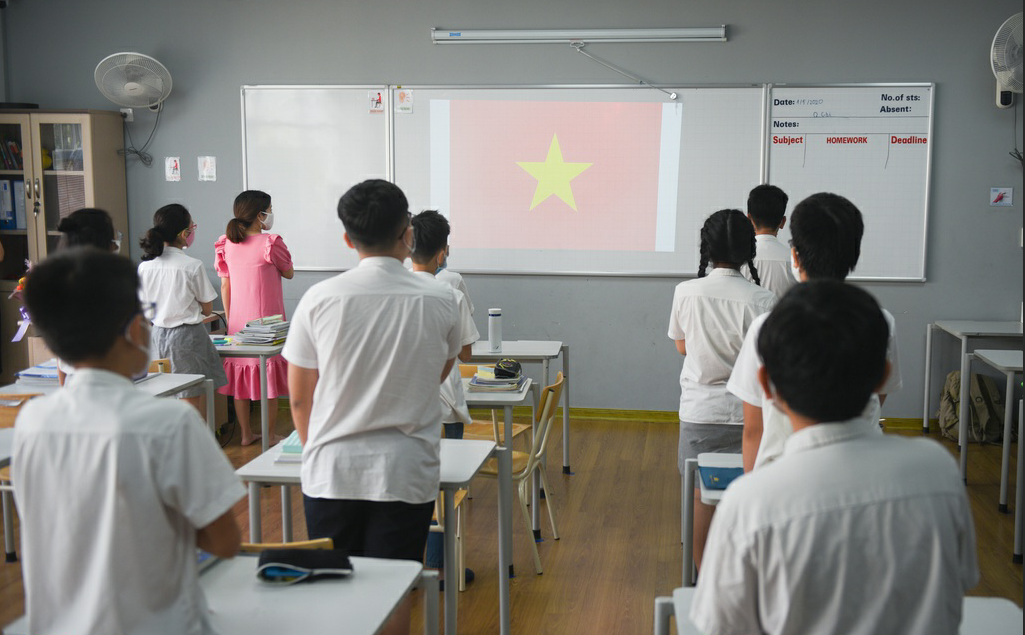 School meeting, which takes place every Monday morning in Vietnamese schools, are held in smaller size to meet social distancing requirements (Photo: Zing News)
School meeting in Le Quy Don School was, since its reopening on May 4, held in classes, instead of gathering the whole school on the schoolyard. Students would stand in class singing the National Emblem, with the National Flag shown on projector.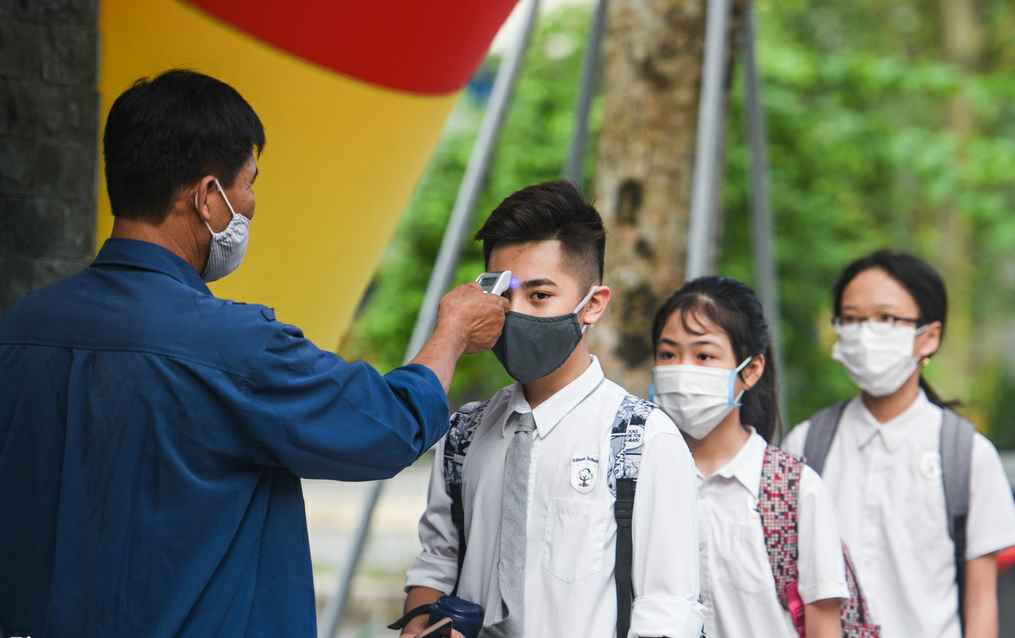 (Photo: Zing News)
All students in Edison Intermediate School have their body temperature checked at the entrance and reminded to thoroughly follow COVID-19 protective measures, including carefully sanitize their hands, wearing face masks.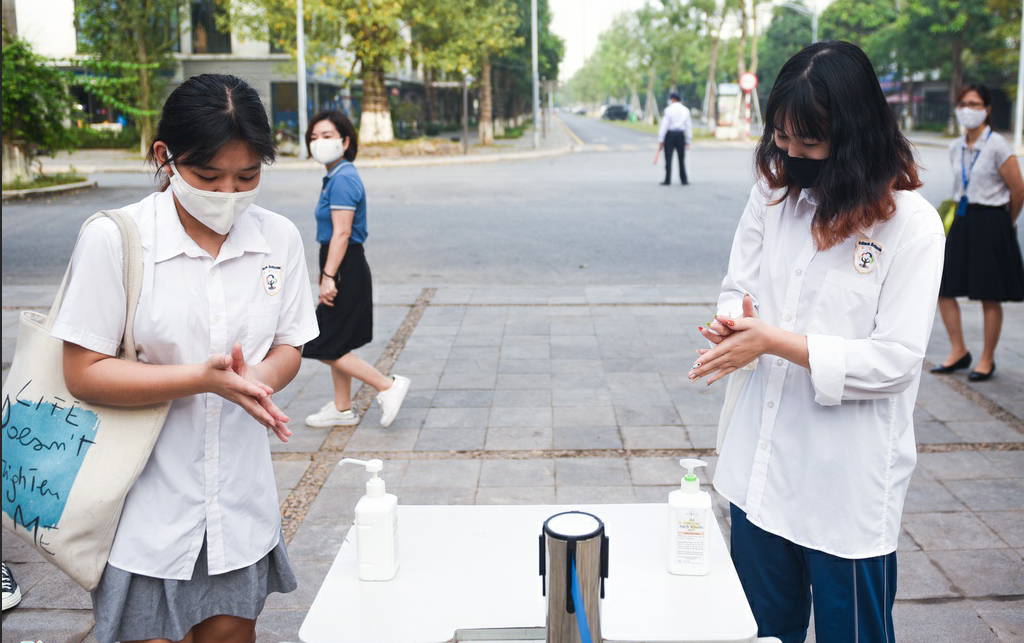 (Photo: Zing News)
Hand sanitizer bottles are scattered around the schools, within the hands' reaches of all students and teachers.
Le Thuong Nhung, an 11 grader in Edison Intermediate School told Zing News she was very happy as she could finally return school after a long break.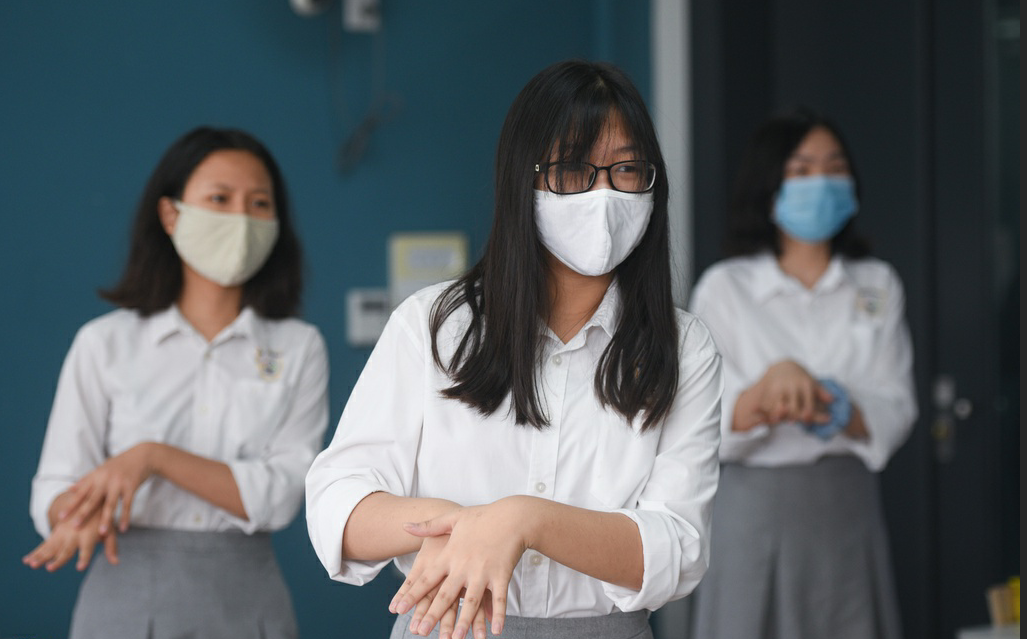 (Photo: Zing News)
Morning classes start with all students dancing to the viral hand-washing choreography over "Vietnam's coronavirus song" music.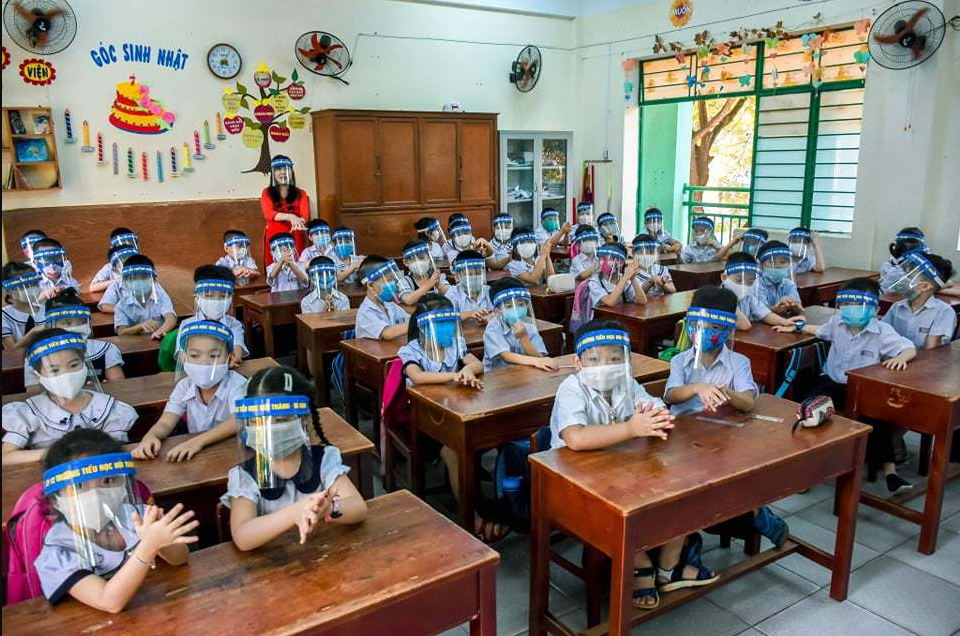 (Photo: Vietnam Net)
In some other educational facilities across the country, students are encouraged to put on face shields in class, along with the mandatory face masks. The initiative has been sparking controversy in Vietnam and foreign countries as well, as numerous adults argue the layer would adversely harm students' health and reduce their intention in class.
All educational institutions in Vietnam were earlier closed at the beginning of February when the first infections of the new coronavirus were reported in the country. All teaching activities were moved online. Last month, the country imposed travel restrictions and closed businesses for three weeks to contain the spread of the virus.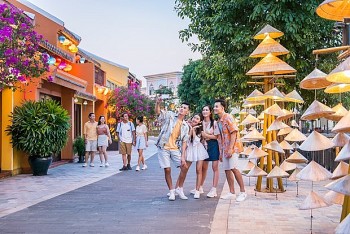 Viet's Home
Currently, many high-end resorts in Sapa and Phu Quoc are already more than 90% full during Tet. Most of the tourism units in the localities that are "hot spots" have reopened.