COVID-19 News Updates (July 11): Latest patient in Vietnam named a Serbian specialist
Serbian specialist becomes latest Covid-19 patient in Vietnam, Vietnam Prime Minister requested a immediately repatriation flight from Equatorial Guinea; risk of rising unemployment due to workers impacted by pandemic. 
Serbian specialist tested positive for Covid-19 in Vietnam
A Serbian expert, who works for Hoa Phat Industrial Manufacturing Group, returned to Vietnam from Oman on July 9 has been diagnosed with the SARS-CoV-2 virus, bringing the total number of coronavirus cases in Vietnam to 370.
Of the total, 350 patients have fully recovered and been discharged from hospital, making up 94.6%. On July 10, three COVID-19 patients were released from hospital, including a six-year-old boy. Currently, 20 patients are receiving treatment at hospitals across the countries, with four of them having tested negative at least once.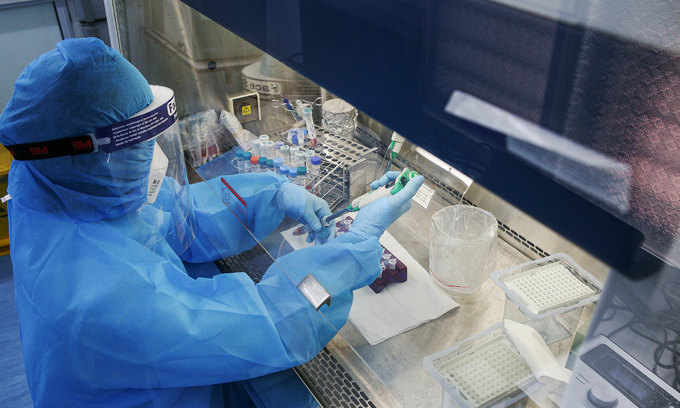 A medic tests samples for the new coronavirus infection at a hospital in central Vietnam. Photo by VnExpress/Nguyen Hai.
According to Vnexpress, "Patient 370" is 29. He landed in Da Nang City in central Vietnam on Thursday and was sent to mandatory quarantine after arrival.
His samples were taken the same day and the result turned out as positive the next day.
Coming to Vietnam to work as an expert for a company producing interior products, he is now receiving treatment at a field hospital inside Dung Quat Industrial Park in Quang Ngai Province which is near Da Nang.
With him added, Vietnam now has 20 active patients in a total of 370 Covid-19 cases it has recorded.
Flights to repatriate overseas Vietnamese
Vietnam Prime Minister (PM) requested a repatriation flight to immediately bring back home 219 Vietnamese laborers working in Equatorial Guinea. As many as 112 of them reportedly tested positive for SARS-CoV-2 and are under treatment in Equatorial Guinea. The patients are working at Sendje Hydropower Plant in Littorial Province under the contracts between Lilama Company, CM Vietnam Company, Tan Dai Loi Investment, Production, Trading and Service Co., Ltd and contractor Duglas Alliance Co., Ltd from the UK.
The Vietnamese Ministry of Labor, Invalids and Social Affairs requested the three employers to work with the project's investor and contractor to suspend work of those infected laborers and take preventive measures. The ministry has proposed a repatriation flight and quarantining the laborers in accordance with regulations. Flight expenses will be covered by employers and the contractor.
During the meeting, PM allowed the establishment of safe zones at border gates to welcome foreigners who come to Vietnam to negotiate and sign contracts. All of them will have quick COVID-19 tests.
At the same time, the Prime Minister also asked for increasing repatriation and commercial flights to bring back Vietnamese citizens and welcome foreign experts to Vietnam. He asked ministries of national defense, foreign affairs, health, and transport to work together to study resuming flights on key air routes to Tokyo (Japan), Seoul (South Korea), Guangzhou, Taiwan (China), Vientiane (Laos), Phnom Penh (Cambodia) as well. According to the Ministry of Health, Vietnam has gone through 87 days without new locally transmitted infections.
31 million workers impacted by pandemic, risk of rising unemployment
COVID-19 pandemic has negatively impacted about 31 million workers in Vietnam, with 900,000 out of work and nearly 18 million people receiving less income than before, a government agency said on Friday (Jul 10).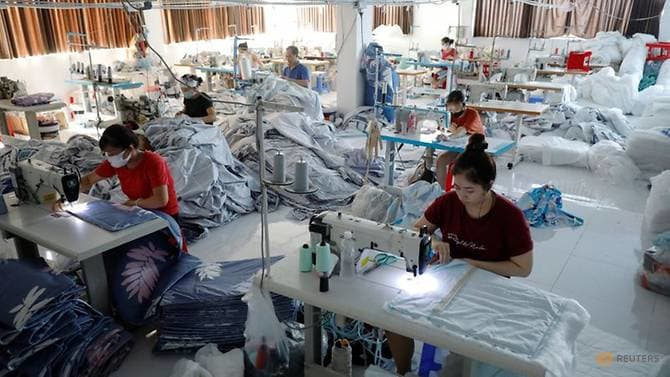 Labourers wear protective masks as they work at a private Ngoc Nu factory which makes blankets, pillows and mattresses for the local market after the government eased nationwide lockdown following the COVID-19 outbreak, in Hanoi, Vietnam Jun 1, 2020. (REUTERS/Kham)
If solutions to drive business activity were not immediately implemented, there could be 5 million more people out of work by the end of the year, the General Statistics Office (GSO) said.
Vietnam has reported just 369 coronavirus cases, with no deaths. It has been 81 days without domestic transmission, owing to successful programs to contain the virus.
Its economy has suffered, however, with second-quarter growth at its slowest pace in at least 30 years due to the impact of the pandemic, putting the government's 2020 economic targets well out of reach.
Vietnam's services sector has been the most heavily impacted, the GSO said, with 72 percent of workers affected. Labour in the industrial and agricultural sectors was the second and third most-affected.