Daily Horoscope June 17: Astrological Prediction for Zodiac Signs with Love, Money, Career and Health
Daily Horoscope for June 17: The Gemini sun and Virgo moon square off tonight to end eclipse season. Now that we've survived the intense aspects of spring, we can reflect on what we've learned and how we've grown.
Daily Planetary Overview
But truth be told, we aren't out of the woods yet. Today could bring an old flame your way. With Mercury retrograde in full swing, old ghosts from the past could reappear out of the blue and want to reconnect. Look out for a love triangle or jealousy coming to an emotional peak brought on by Pluto's connection to the Virgo moon. While you might be tempted to keep your ex in your life, you could have second thoughts today.
Neptune's cosmic presence with the lunar energy can also bring out some serious emotions and unresolved issues, so someone could overstep in a conversation (including you). Be clear about your boundaries, and don't be afraid to make a clean break by midnight if you're not feeling the vibe. It might be time to let them go again. Don't be afraid to end the relationship. It didn't work the first time, so the odds of a reconciliation are slim. You can forge a friendship in place of romance if you want, but if you prefer to move on, it can create space for someone better. When one door closes, another door opens.
Daily Zodiac Horoscope for June 17
Aries
The first sign of the Zodiac, Aries are the trailblazers. Passionate and independent, Aries will never do something just because everyone else is doing it—a Ram needs to be 100 percent committed to the task at hand.
Love Horoscope - You may need to learn how to read between the lines, especially with today's planetary alignment. One relationship may not be quite what it seems, and yet the person you are involved with could be trying to be as kind and accommodating as possible. It could be that they don't want to hurt you, yet they certainly need to get something off their chest!
Money Horoscope - A friendly aspect between the Moon, as it makes its monthly visit to your work sector and the planets in your income sector is something that happens every four weeks. The difference this time is that it comes just as you a getting a better read on your income needs and priorities, with a chance today to align this with an intuitive read on work and job matters.
Career Horoscope - You will get into a power struggle with someone today that may be quite difficult to resolve. Even if you never come face to face with this person, his or her energy has a strong hold on you. Try to relax and remember the big picture.
Health Horoscope - The energy emanating from the planets today presents a mental challenge. Emotions and power are growling at one another; maybe they're even engaged in a real fight! The mental challenge is in stepping back and assess the situation. How much is at stake? Will it eventually blow over? Is it about winning and losing? Most of all, the challenge will be to continue to respect your personal health regimen in the face of this distraction. It is neither fair nor prudent to neglect your body and all the energy contained therein.
Taurus
Smart, ambitious, and trustworthy, Taurus is the anchor of the Zodiac. Amazing friends, colleagues, and partners, Taureans value honesty above all else and are proud that their personal relationships tend to be drama free.
Love Horoscope - The current aspect could be a liberating influence as far as your feelings are concerned. If you have been rigidly maintaining a particular stance or outlook in order to make sure that one relationship doesn't get out of hand, then you could actually be subconsciously making things worse. It may be best to let go and allow your heart to melt. This may be better than you imagine.
Money Horoscope - Until the Sun leaves your income sector early next week he will keep the solar spotlight on your income situation, matters and options but without the usual urgency. Despite the amount of water that has already passed under the bridge, this is still a work in progress. Until Mercury turns direct here next week income matters won't fully get the green light.
Career Horoscope - Teamwork is an important aspect of your work today. Reach out to others for advice and support. The work you are doing is not something that you should have to face alone. Call upon the wisdom of someone who has gone down this road before.
Health Horoscope - Today you will feel that power is there for the taking. Thus, you are unlikely to give so much as a nod to the effects of some of the more subtle planetary aspects, even if they last for long periods of time. However, the current planetary configuration is not to be ignored. It's time to wake up and smell the green tea! If you do not listen to your body and respect its wishes, all the power in the world won't be able to keep you from suffering the consequences.
Gemini
Smart, passionate, and dynamic, Gemini is characterized by the Twins, Castor and Pollux, and is known for having two different sides they can display to the world. Expert communicators, Gemini is the chameleon of the Zodiac, adept at blending into different groups based on the vibe and energy they perceive.
Love Horoscope - Your issues may be getting mixed up with your partner's issues, as you both try to determine what you should do about the state of your relationship. The current astral energy acts like a fog or a mist, and makes it difficult to separate fact from fiction, or the truth from imagination. The discussion may be more fruitful tomorrow when you will have a much clearer head.
Money Horoscope - Three days after the Moon left your income sector while the nose for money this left you with is just as sharp any pressure between income and money matters has dialled back. Instead, growing support is translating into a growing sense of confidence on both sides of the financial fence. This is helping you to feel better about where you have been financially and where things are going on the income front.
Career Horoscope - Feel free to show off your skills today. Whether you are working on your resume, having a virtual interview, or emailing with your current boss, don't forget to highlight your strongest points. Toot your own horn - no one else will do it for you.
Health Horoscope - If you miss sleep or skip meals, you are likely to say things you regret. Keep this in mind today. Bite that tongue, turn those words into thoughts, and let it go. Isolate yourself in a comfortable way. Recognizing when we don't want to be around people is very important. Your own mind has oodles of information to give you if you will listen. Feeling irritable is a sign that "you have mail." A breathing or yoga session at home highly recommended.
Cancer
Emotional, intuitive, and practically psychic; ruled by the moon and characterized by the crab, Cancer has so much going on in its watery depths. Cancers may seem prickly and standoffish at the first meeting, once they make the decision to become friends with someone, that person has a friend for life.
Love Horoscope - The current aspect may make you more open to someone's influence then you would actually like to be. You may have unsuccessfully been trying to fend off their unwanted advances, and have been dismayed when they don't seem to even notice. However, take heart; they will get the message, even if not today. They are fascinated by something mysterious within you and think you can make them happy.
Money Horoscope - Thanks to the Moon's departure from your income sector yesterday, your nose for money is sharp as you navigate your way through Mars' early days here. It has been two years since the warrior planet of the cosmos was last here and the war against glass ceilings, roadblocks and barriers, whether real or imagined has just begun.
Career Horoscope - This is a good time for you to start a new phase in your career. Remember that this doesn't need to be a huge move. Even a small change can be very effective. Make a conscious point to start a new habit or trend with regard to your work.
Health Horoscope - Some advice for your diet: avoid caffeine. It is a very prevalent drug in our society, but it may not be right for you. Begin to open your mind and your palette to alternative substances, the most common being herbal infusions, especially green tea. The stress of caffeine on the eyes (vision) can adversely affect you. Also, include fresh fruits and vegetables that nourish your eyes: cantaloupe, cranberries, and blueberries. These delicious food sources certainly taste better than any medicine!
Leo
Bold, intelligent, warm, and courageous, fire sign Leois a natural leader of the Zodiac, ready to blaze a trail, vanquish injustice, and make a name for themselves along the way. Blessed with high self-esteem, Lions know that they possess enviable traits—and they're proud of them.
Love Horoscope - Your romantic life takes on very mysterious overtones today, especially with the current astral configuration. You may have had a recent conversation with someone whom you deeply admire and would like to get closer to, and perhaps interpreted their remarks as being more positive than they actually are. You may feel let down in one way, but the alternative may be even better than you had anticipated, as well.
Money Horoscope - With no planetary activity on the income front, the Moon's monthly visit to your income sector is a chance to get a read on where the money is but also act as a trigger. A friendly aspect to both planets on the career front today and with Pluto on the job front tomorrow is creating positive conditions across the income, work and career fronts.
Career Horoscope - Presentation is extra important today. Make sure that your projects and assignments are flawless. Display an air of confidence and strength. Even if you don't feel confident, fake it. No one will ever know the difference. Hold your head high and you will go far.
Health Horoscope - You are able to intuitively sense what's needed in a given situation. If you are in the habit of preparing meals for yourself and your family, you are probably naturally gifted at preparing healthy meals. To expand on this gift, you might learn some healthy techniques found in vegetarian or even vegan cookbooks. The perspectives contained in these texts may be new to you, but what you take away will enhance your experience of cooking and eating.
Virgo
Smart, sophisticated, and kind, Virgo gets the job done without complaining. Virgos are amazing friends, always there to lend a hand and also lend advice. Practical Virgos are incredibly adept at big picture thinking, and planning out their life, their vacations, and what they're going to do today isn't a drag it makes them feel in control and secure.
Love Horoscope - The current planetary energy brings with it the chance to fantasize and romanticize to your heart's content. If you have a permanent partner, then you may feel like spending time trying some of your favorite ideas out - just for fun. If you are looking for a relationship in which you can have some fun, then you will need to act subtle and mysterious. Go for it!
Money Horoscope - In the lead up to the Moon's return to your income sector tomorrow this is a point in any month when it is important to have your antennas up but your mind and your options open. Even more so with the Moon returning in time to ensure your nose for money during the Sun's final days in your work sector and as Mercury heads into his final days in retrograde motion there.
Career Horoscope - Take the initiative today. Don't wait for others to give you the green light. Take control of the situation yourself. There is no reason for you to wait any longer just because other people are slacking. Take this opportunity to get ahead.
Health Horoscope - If you run into difficulty today, it will benefit you to take a break and give yourself some quiet, private time to cool down before taking action. There is a strong tendency to act irrationally. Give others the benefit of the doubt. Remember the phrase: "I'll have to think about this and get back to you." These words can help when your emotions are too hot to allow you to think on the spot. Drinking hot beverages will help cool your interior pathways.
Libra
Intelligent, kind, and always willing to put others before themselves, Libras value harmony in all forms. Ruled by Venus, the planet of beauty, Libra adores a life that looks good. As the master of compromise and diplomacy, Libra is adept at seeing all points of view and excels at crafting compromises and effecting mediation between others.
Love Horoscope - Although you may find it difficult to string two sentences together, let alone describe to someone exceedingly attractive just how you are feeling, you may be required to do just that anyway. The current celestial energy implies that a misunderstanding may have occurred that requires some discussion. You will have to do the best you can, as to ignore it would not be wise. Just do the best you can.
Money Horoscope - A friendly aspect between the Moon as it moves through an intuitive and imaginative part of your chart and both planets in your financial sector couldn't come with better timing. While this happens every four weeks and can fuel your financial confidence, instincts and imagination it comes just as you are getting a better understanding of your financial needs and priorities.
Career Horoscope - Be careful of stepping on someone else's toes. In an effort to take control and get the job done right, you may upset a fellow coworker. Perhaps you are on someone else's turf. Double check before overstepping your bounds.
Health Horoscope - If you are staying grounded and have been making headway in the choice of food you eat and your daily exercise practice, today may come and go with no great strain. If, on the other hand, you have been ignoring your body's more subtle messages, you may receive a wakeup call. Attention is required in order to live the healthiest way possible. Address your body's wishes as much as you possibly can. If you don't hear your body's messages, you need to take the time to tune in.
Scorpio
Passionate, independent, and unafraid to blaze their own trail no matter what others think, Scorpios make a statement wherever they go. They love debates, aren't afraid of controversy, and won't back down from a debate.
Love Horoscope - The current aspect at play may encourage you to be more gullible than usual. If you have someone special in your life, then you may tend to put them on a pedestal and worship them as though they are an immortal being. This may be OK for a while, but eventually you will begin to see that they are very human - be realistic!
Money Horoscope - While Mars only returned to your career sector over the weekend and it will be some time before the financial implications become fully apparent, thanks to the Moon you have had a taste of things to come over the last few days. Whether you are consciously aware or not, your subconscious is alert to a sea change across the income, work and career fronts.
Career Horoscope - You have tremendous influence over others today. Use this to your advantage. You have the ability to build a good team of solid workers among your peers. Feel free to delegate tasks. You can accomplish much more than you thought possible.
Health Horoscope - There is a sensitivity to your spirit that is often overlooked! With so much distraction in the world, you must become very aware of your attention so that you can focus it on yourself. Focus is a great aspect of yoga, especially focus on the breath. Breathing exercises are a wonderful and a simple skill to learn. Yet it is not so easy to stick to regular breathing exercises. Greater control over your own attention will increase the quality of your life immeasurably.
Sagittarius
Independent and strong-willed, Sagittarius personalities are all about going off the beaten path. Sagittarius isn't afraid to step away from the pack and is a natural-born leader who goes after what he or she wants, regardless of what other people think.
Love Horoscope - Partners may seem to be more confused than usual, especially under the influence of current planetary energies. They may retract promises that they swore were forever, or perhaps make a deal that they secretly know that they will not be able to keep. Don't take too much notice of what is said or not said, as tomorrow it will all have been forgotten anyway. Be patient instead.
Money Horoscope - While today might be more about having your work and professional hats on today, the same conditions that are creating some positive energy on the job and career fronts now will be having a positive impact on the income front by tomorrow. At this point in the year, any positive professional developments will have a positive spin off financially.
Career Horoscope - Try not to get caught up in the drama that surrounds a certain task today. Do your best to rise above the petty squabbling and ridiculous banter regarding who failed to accomplish a certain project, etc. You have more important things to worry about.
Health Horoscope - Whenever you run into a block in your energy or encounter what appears to be an exterior obstacle, take ten deep breaths and repeat this mantra: "I enjoy discovery." When you think about it in hindsight, the blocks we encounter are often full of potential and discovery. If you can learn to enjoy these moments of being "stuck" for the information they can ultimately give you, you will have a precious skill that will increase your well-being a thousand-fold.
Capricorn
Smart, hardworking, and fully in control of their destiny, a Capricorn will always get what they set their mind to, in both personal and professional life—no excuses. Capricorns may get a reputation as stubborn, but they simply know what they want, and also know how they wish other people would behave.
Love Horoscope - Today's celestial energy may muddle your schedule and cause you to lose your personal organizer or diary. If you are able to go out on a date, then make sure that you do know exactly where you are going and at what time you are supposed to be there. You may need to remind your date as well, in case they have the details wrong.
Money Horoscope - Thanks to the Moon's departure from your financial sector yesterday you have a better read on Mars' early days here. With your financial instincts and imagination fuelled but your subconscious now having a better read on the early days of the warrior planet's first visit in two years, it is important to keep trusting your gut.
Career Horoscope - The team you are working with can't move another step forward until you take the lead on a certain aspect of your project. Feel free to make some bold decisions today based on your own good judgment and leadership abilities. You will be successful.
Health Horoscope - When you have found something in your diet you'd like to improve on, give yourself adequate time to adjust mentally as well as physically. For instance, if dairy is very prevalent in your diet, don't eliminate it all together! This kind of enthusiasm is counterproductive. Try backing off of ice cream and cheese, while still relishing your morning latte. The whole self needs to be able to distinguish what is going on. Instead, gradually convince yourself of why and how you will reduce dairy in your diet.
Aquarius
Independent and enigmatical, Aquarians are unique. There is no one quite like an Aquarius, and because each is so incredibly individual, it can be tough to describe them as a group. Aquarians don't like labels, and may shy away from any adjective—even the good ones you might bestow upon them.
Love Horoscope - There is the potential for a great deal of romance, especially with the current astral energy. Yet there is also the possibility for a great deal of confusion. You may not be totally sure of your standing as far one particular person is concerned, but if you try to make sense of all the impressions that come at you today, you won't be any the wiser.
Money Horoscope - As much as the Moon's monthly visit to your financial sector might not have the planets in your income sector happy, wanting to keep the focus on their side of the financial fence, this is giving money matters some much needed attention. Until Venus and Mars return to your financial sector next month, the Moon's monthly visits are your window into financial developments.
Career Horoscope - You may feel "out of your element" today and this is fine. Don't be afraid to admit to others that certain tasks feel awkward or uncomfortable. Try to get reassigned to something more fitting to your abilities and talents. This is better than trying to fake it.
Health Horoscope - Resistance is something you possess in spades. You are quite resistant to colds, are able to work despite distractions, and you easily resist temptation. When you find resistance in yourself, however, your tendency is to back away and pretend it isn't there. If you find yourself resisting the health practices you identified days ago, the first thing to do is suspend judgment. With an open mind, go back to your list and find other options that suit you better. Resist discouragement!
Pisces
Smart, creative, and deeply intuitive, Pisces can be close to psychic. Pisces feel things deeply and have incredibly strong gut reactions. A Pisces "knows" things from deep within, and can often judge whether a person or situation is good or bad.
Love Horoscope - Today's astral configuration may not be quite what you needed, especially when you thought that you had just gotten everything sorted out concerning one particular relationship. However, you can prevent too much confusion setting in as long as you stick to the truth, and don't waver from what your heart is telling you to do. If you start trying to cover your trail, things will get very muddled.
Money Horoscope - As much as the Moon's first visit to your work sector since Mars' return over the weekend has given you a window into the income potential, the real impact won't be felt until Venus, the planet of money returns later next week. Until then, the Moon's departure yesterday has given you a window into the impact this is already having across the income, work and career fronts.
Career Horoscope - Embrace your tremendous talent as a leader. Do not sit silently in the background, knowing that a task should be done a different way. This is a fantastic time for you to be more vocal and demonstrate your strengths regarding the project at hand.
Health Horoscope - There could be some rejection from within to "doing the right thing." It is important to understand this resistance and to take measures to handle it. For instance, if you feel that eating only rich foods will satisfy you today - try choosing a salad that has rich ingredients. Or, if exercise is not on your program, elect to take a short walk after a meal. As you make these small compromises, you will have given your "evil twin" some feedback, and a heated discussion is likely to ensue!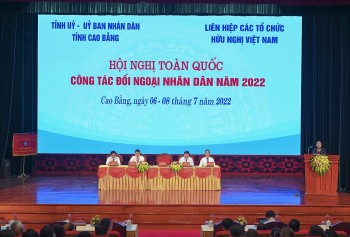 Friendship
During the event, many important issues will be discussed, and constructive suggestions and solutions will be provided to promote more effective people-to-people diplomacy operations.