Deputy CEO Reveals Tan Hiep Phat's 'Survival Vaccine'
Tan Hiep Phat Deputy CEO Phuong Uyen Tran said that spiritual strength and core values were the biggest motivation for a business to survive this unprecedented challenge.
Phuong Uyen Tran, Tan Hiep Phat Deputy CEO. (Photo: Phuong Uyen Tran fanpage, designed by Valerie Mai/ VNT)
Tan Hiep Phat is fortunate to have the 'three in place' strategy
Tan Hiep Phat Deputy CEO Phuong Uyen Tran said in the 'Changing business culture in a time of upheaval' webinar last Friday: 'Tan Hiep Phat is fortunate to have the 'three in place' strategy. I use the word fortunate because while many companies have to shut down, we can still run our production lines. That means the society still needs our products, which motivates us.'
'Three in place' means that Tan Hiep Phat's staff have to stay, sleep and work in the factories. Tan Hiep Phat's factories in epidemic center Binh Duong and Hau Giang provide accommodations for about 1000 employees. No one leaves or enters the factories in the last few months, but materials and products still go in and out. Any tiny negligence at any stage can turn the 'three in place' factories into epicenters, said the deputy CEO.
When asked about the difficulties, Uyen Phuong Tran said: 'Imagine you have to deliver a 50kg bag of sugar from the warehouse to the mixing room while maintaining 5K, or ensure four delicious and nutritious meals a day for thousands of people while the food supply is interrupted. We have hundreds of things and thousands of processes that must be changed to adapt.'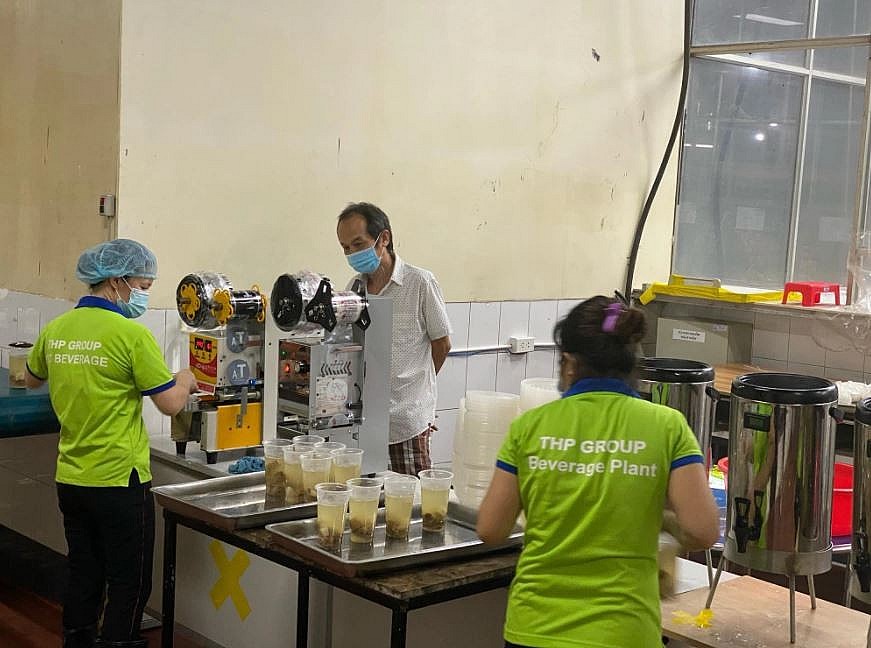 Tan Hiep Phat's kitchen. (Photo: Vietnambiz)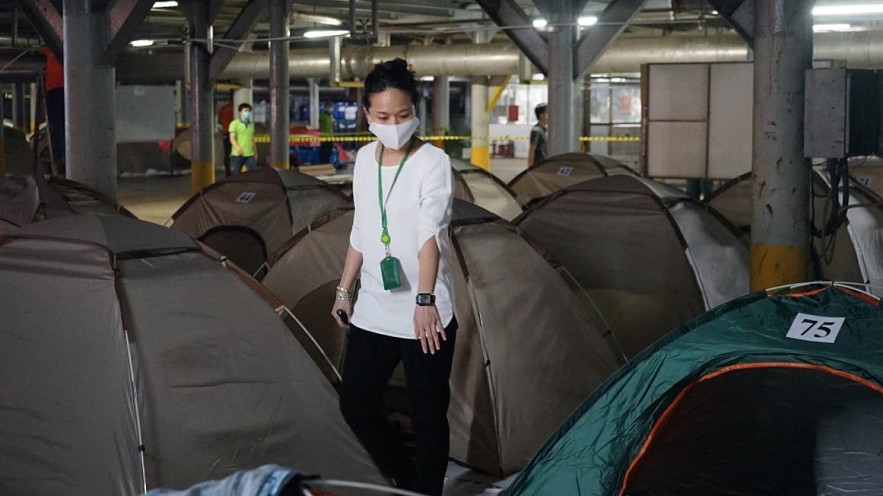 A Tan Hiep Phat leader checks employees' shelters. (Photo: Vietnambiz)
Despite difficulties, Uyen Phuong keeps her positive attitude. Phuong finds herself 'fortunate' because in the past few years, the company has held many training courses on leadership development for personnel at all levels. The pandemic is an opportunity for them to use the skills they learned.
'Dealing with difficulties is like martial arts. The harder you practice, the higher belt you get,' Phuong said, adding that Tan Hiep Phat's core values have become real actions.
'Applying both 5K and 3T (in place) means that we have a series of new problems that require continuous improvement and creativity. Many of my colleagues thanked the 3T for showing them nothing was impossible,' said the female leader.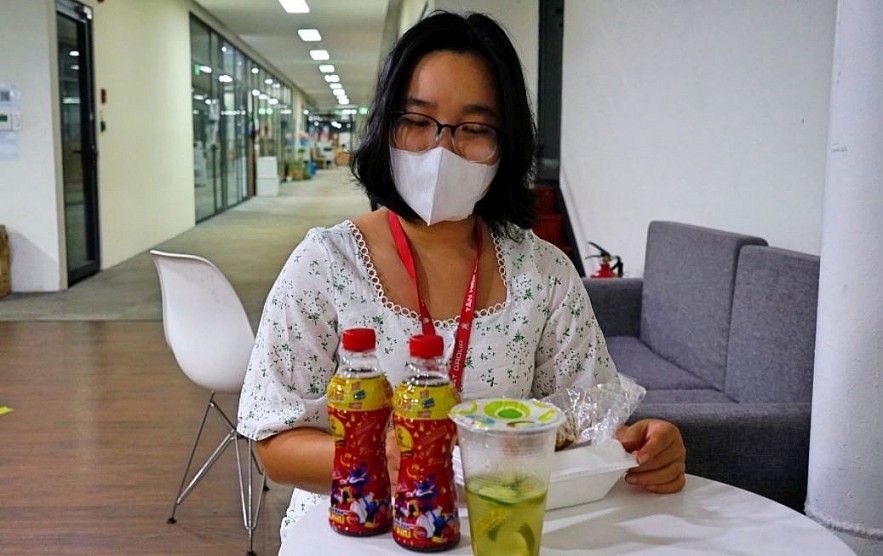 A Tan Hiep Phat's meal. (Photo: Vietnambiz)
Motivate employees by leaders' presence
The successful business leader said in an interview last week that the increasing costs and difficulty in transporting goods lead to big losses when a business trying to maintain production at this period. Closing is a better solution, many companies have gone that way, but Tan Hiep Phat chooses to stay on.
Many of Tan Hiep Phat employees are vegetarians, so the company built a menu for them. During meals or shifts, the workers, employees have to sit far away from each other and can't talk. To boost their positiveness, the company plays upbeat music and broadcasts good news.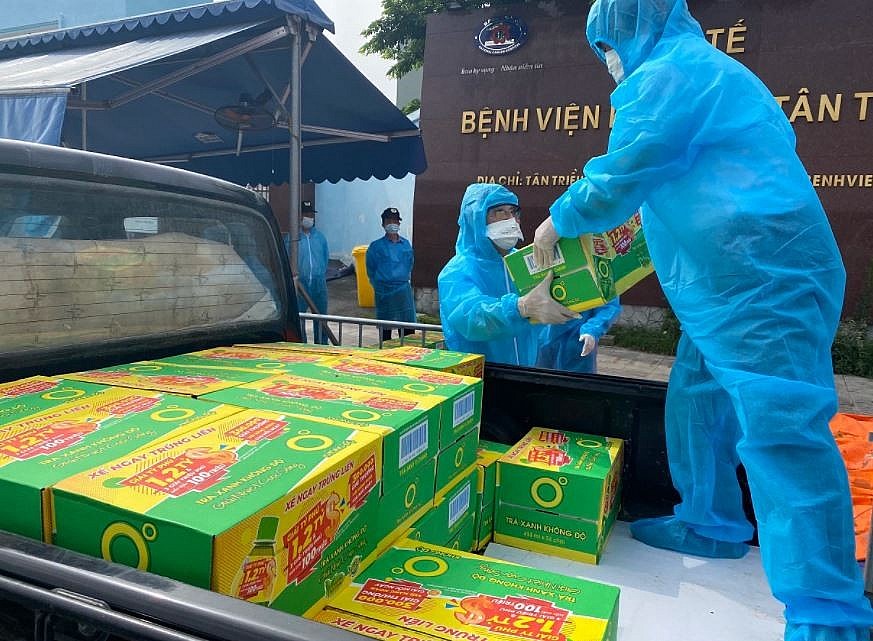 Tan Hiep Phat sends gifts to Hospital K. (Photo: Vietnambiz)
Tan Hiep Phat is carrying on a 'wartime' attitude in work, attempting to serve the employees' everyday needs, ensure good communication and smooth production lines. The company's top leaders also live on the 'battlefield' with their employees, able to solve any arising problems.
'During the pandemic, we often talk about physical safety. But don't forget to take care of mental and emotional health, especially when everything around can easily turn negative,' said Uyen Phuong.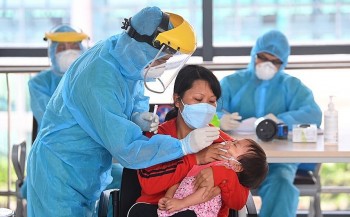 National
Nearly 72 million vaccine doses have been administered nationwide, with 20.7 million people getting their second shot.