Elements highlighting THP's culture and to bring social benefits
"At THP, we do not mind if staff members take our training and leave, because that benefits society, too.", said Tan Hiep Phat Group Deputy CEO Phuong Uyen Tran.
Fostering things that highlight THP's culture
as well as social benefits
In fact, my father likes training so much that it is what he wants, to do when he retires: teach business management based on lessons learned from his own successes and failures. It is something he has always valued, right from the start. In the beginning, there were only three university-educated people at THP: himself, his wife, and Uncle Tư.
Training was something the company needed. One of the greatest perks THP offers employees is the opportunity to carry on learning. The Vietnamese educational system does not produce employees who are equipped for the workplace. It is a common problem across the world, and it means coaching or on-the-job training is very important. This is particularly the case in Vietnam where very few companies give their staff management or leadership training.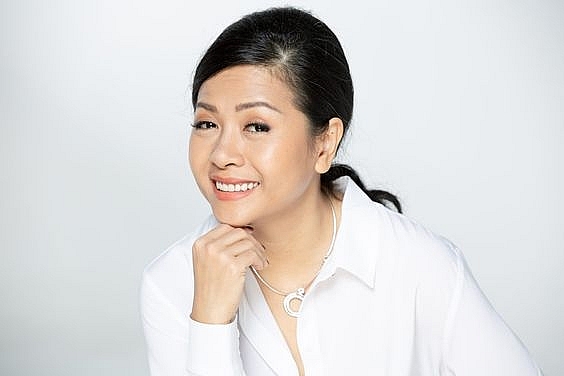 Phuong Uyen Tran. Photo: Pinterest.com
At THP, we do not mind if staff members take our training and leave, because that benefits society, too. My father loves nothing more than when former employees get in touch with him, or give him flowers on Teachers Day, which is celebrated on November 20 in Vietnam. It also helps to highlight THP's culture to other companies.
As a family, we believe in developing our capabilities so we can live life to the fullest. We believe in giving service to others. Many of our training programs are geared around this concept. In 2018, we trained managers to believe in our fourth core value: nothing is impossible.
Being self-aware and find value in more than money
Organizations that are now multinational companies were founded by individuals who put everything they believed into their product, service, and brand. At some point, those personal passions become more than just an individual belief; they were baked into the core values of the business. The most successful companies are clear about their purpose, what they want to accomplish, and how they want to accomplish it. Think about why you created this business and hold fast to that throughout your journey.
Regardless of how big or small you are, you must work to understand and focus on in the communities in which you operate. We all want to be successful, and there certainly is a financial component to success. Making smart decisions that increase wealth and profitability is a fundamental piece of any business.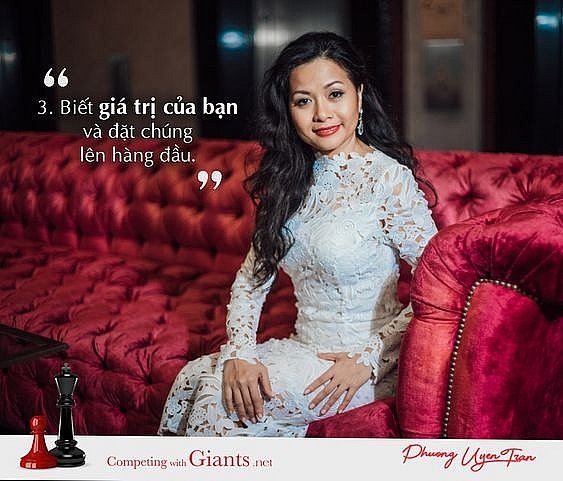 Phuong Uyen Tran. Photo: Pinterest.com
However, being driven solely by money will not produce fulfilling results and may negatively influence decisions regarding your business. Instead, seek to make your passion a reality and see how that can positively impact the markets your serve. Find passion, purpose, and fulfillment in providing a product or service that successfully aligns your vision with your consumer. When you are driven by the Why of your business (something that is beyond monetary goals), you will be focused, motivated, and inspired to continue when financial challenges present themselves.
In the past few years, especially in 2018, Tan Hiep Phat and Phuong Uyen Tran are among Vietnamese names in the field of business that appear the most on international media because of their stories inspiring co-startups as well as millions of consumers around the world.
That Forbes first published the book "Competing with Giants" by a Vietnamese businesswoman has help promote the name of "rich man" Tan Hiep Phat.
Afterward, in the minds of many consumers, each water bottle is not only a drink but a crystallization of the desire to overcome difficulties and the spirit of entrepreneurship, an organic trend and Vietnam of miraculous stories.
And also from this book uncovered the aspirations of Tan Hiep Phat, as Mr. Hiroshi Otsuka, President and CEO of Musashi Seimitsu said: "An unmissable insight into how and why Vietnamese businesses are quietly growing into global players."
About author Phuong Uyen Tran
Working as a powerful businesswoman, Forbes published author, Phuong Uyen Tran is a model of success in Vietnam. Phuong Uyen Tran is also a special contributor for Vietnam Times. Her writing, including "Competing with Giants" book, and her latest articles are to advise and inspire young people to start-up, overcome challenges and reach out to the world. It is the story of a little girl taking the great responsibilities for a corporation and devoting herself to society.
Zero Degree Green Tea's immediate success

The immediate success of Zero Degree Green Tea helped Tan Hiep Phat exceeded its twelve-month sales target within two months, following by many competitors followed ...