Expat travel across Vietnam in the company of Teddy bear
Tobias Bremner, 28, is always accompanied by a small stuffed panda – his closest travel mate – in every step he takes across the country.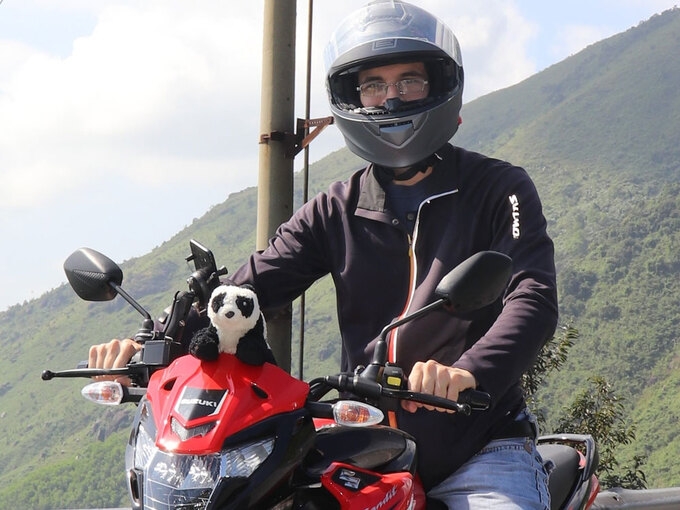 Tobias Bremner and Hunter - the stuffed panda on his motorbike (Photo courtesy of Tobias Bremner/ via VNE)
The Canadian expat decided to settle down in Vietnam in late 2019, just months after his first arrival in the country and fell madly in love with its landscapes and people. Bremner workes as an English teacher and spends time traveling on motorbike whenever he's free. The special thing is, he always brings a stuffed panda along on his journeys. The man with a big passion for traveling is the owner of a blog called "The adventure of the Stuffed Panda", which garners large attention from netizens.
The original idea belongs to Bremner's Zimbabwean friend who keeps carrying a stuffed cotton lion throughout his journeys to 180 countries.
"I was so inspired by his story and decided to create my own story. I named the panda – my dearest travel mate – Hunter", Bremner was quoted by VNE.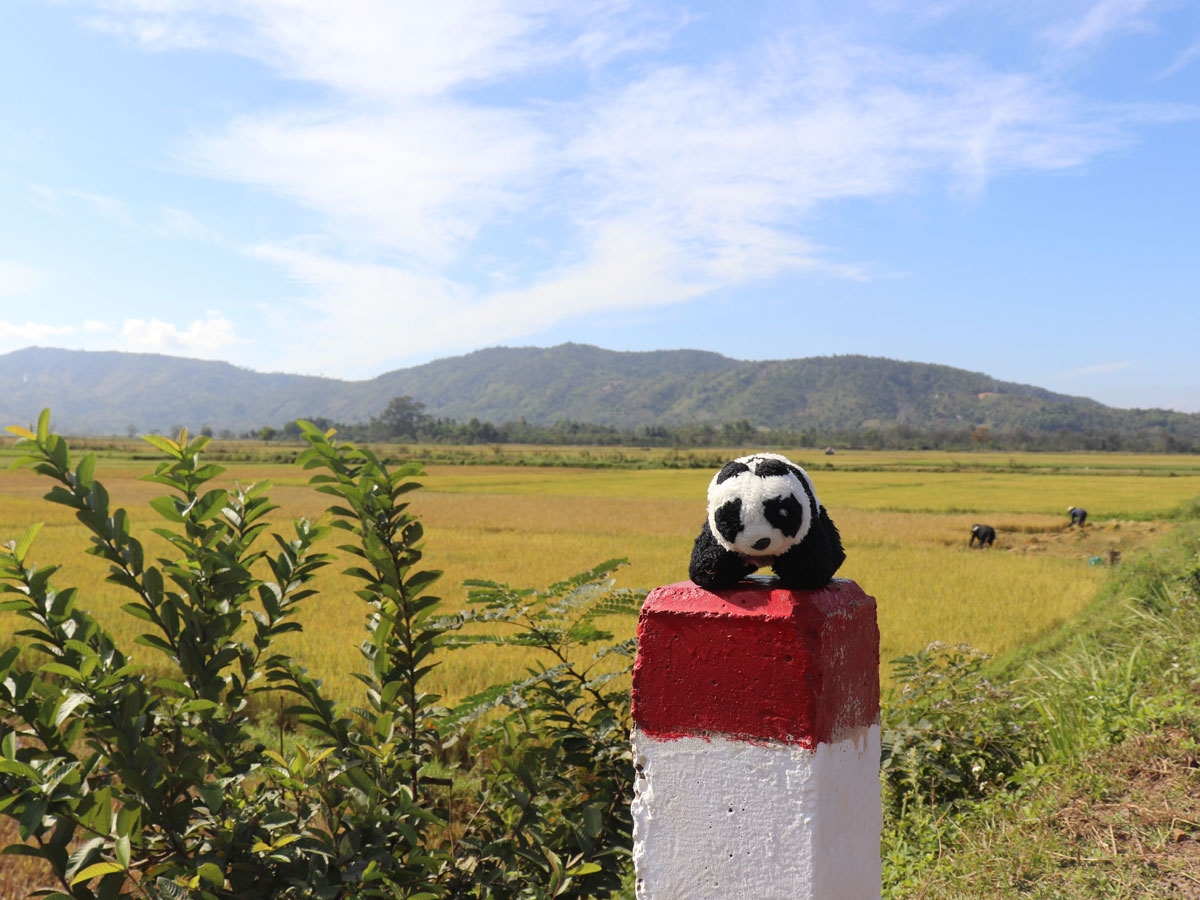 (Photo courtesy of Tobias Bremner/ via VNE)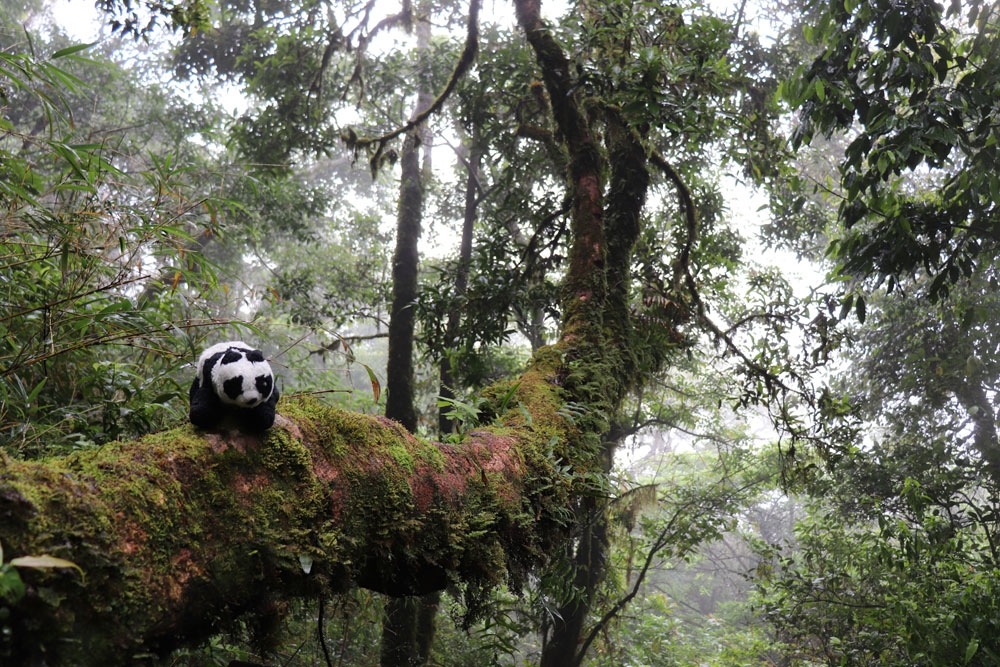 (Photo courtesy of Tobias Bremner/ via VNE)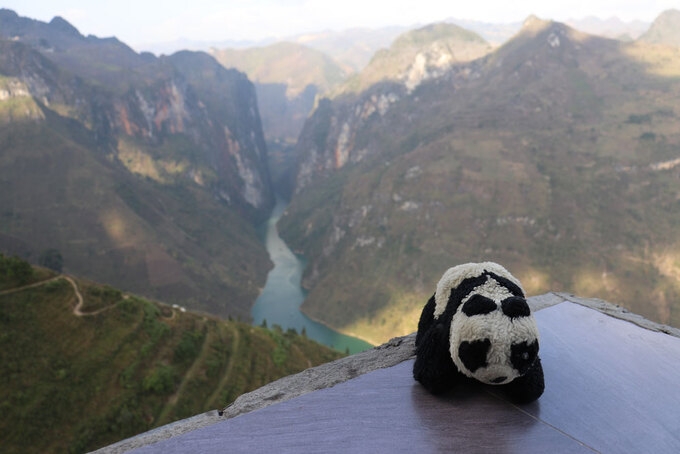 (Photo courtesy of Tobias Bremner/ via VNE)
Finding himself not so much into taking selfies, Bremner chooses the stuffed panda as the main "traveler" in almost all of his check-in photos. The Canadian expat and his panda have been to an assorted of places, including Vung Tau, HCMC, Mui Ne, Da Lat, Dak Lak, Hoi An, Da Nang, Hue, Phong Nha, Khe Sanh, Ninh Binh, Mai Chau, Mu Cang Chai, Ta Xua, Sa. Pa and Ha Giang.
Among those places, Ha Giang struck him the most as "a natural picture painted by a talented artist".
"Before, I've never thought there would be such a breath-taking place like Ha Giang", he exclaimed.
Along with Mother Nature's endowed beauty, Bremner was also impressed by locals' hospitality and enthusiastic support.
"I received a lot of help from local people who didn't even know who I was. I felt like home with the warm support of Vietnamese", he recalled.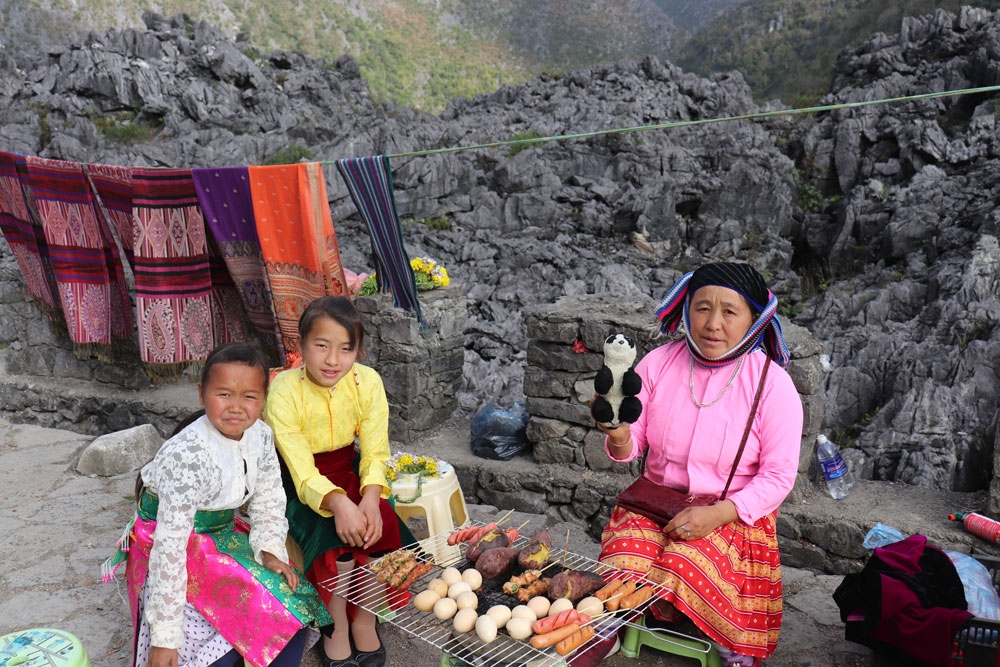 Locals checking in with Hunter (Photo courtesy of Tobias Bremner/ via VNE)
"I met Bremner once in Ha Giang. After talking, I found his backpacking journey in Vietnam and his blog about pandas very interesting", one Vietnamese visitor said. Bremner's interesting journey also caught the attentions of numbers of local people.
Asked about the stuffed panda, Bremner said Hunter was an irreplaceable companion.
"I thought if I was robbed, I would be willing to give them all the money and belongings but please keep the teddy bear. But this never happened," said Bremner, smiling.
The travel lover hopes he could continue his dream of exploring new destinations with Hunter as soon as the COVID-19 pandemic ends. For him, traveling with Hunter has been one of his best decisions so far.
National
Vietnam News Today (Jan. 20): Vietnam confirms 15,936 new local Covid cases; First Omicron infections in community reported in HCM City; Vietnam to facilitate procedures for foreign entrants; Hanoi capital cancels fireworks display on lunar New Year's Eve.