Expats join hands to fight Covdi-19 in Vietnam
Foreigners are donating money and essential items like food and masks to people who have lost livelihoods to the Covid-19 pandemic, showing their solidarity with their adopted country.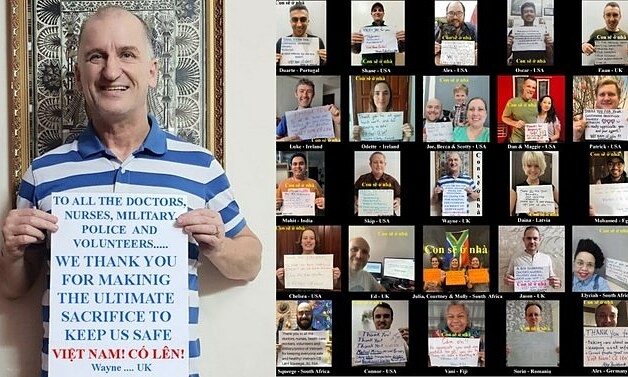 Wayne Worrell (L) and his friends send positive messages to Covid-19 frontline workers in Vietnam. Photo courtesy of Wayne Worrell.
On Saturday night Michael Wilson and his girlfriend in Saigon's District 2 prepared food and traveled to many places in town to hand them to disadvantaged people who have lost their livelihoods due to the two-week social distancing campaign and the pandemic, VNE reported.
"Everyone is hit by the pandemic, so I just contribute what I can," Wilson, 34, an English teacher from the U.K., says.
He distributed 50 sandwiches and masks to lottery sellers and motorbike taxi drivers. Last year too, during the nationwide social distancing campaign, he had joined his friends in donating masks and sanitizers to people in need.
"We are in this together."
Wilson is among many foreigners who have done their bit to help less fortunate people in their new home survive the Covid-19 pandemic, which has affected their livelihoods.
Free online classes and masks
Ben Betterby, an American stand-up comedian who lives in Ho Chi Minh City, has spent the last few weeks following the government's orders on social distancing, but rather than spend his time alone, he's spending it with his Vietnamese friends and fans who join him on the Internet for free English lessons.
"There are no conditions for joining. My students just need to say 'hi' and be willing to learn. This is a great opportunity for Vietnamese pupils and students to become confident and comfortable with e-learning," Betterby said.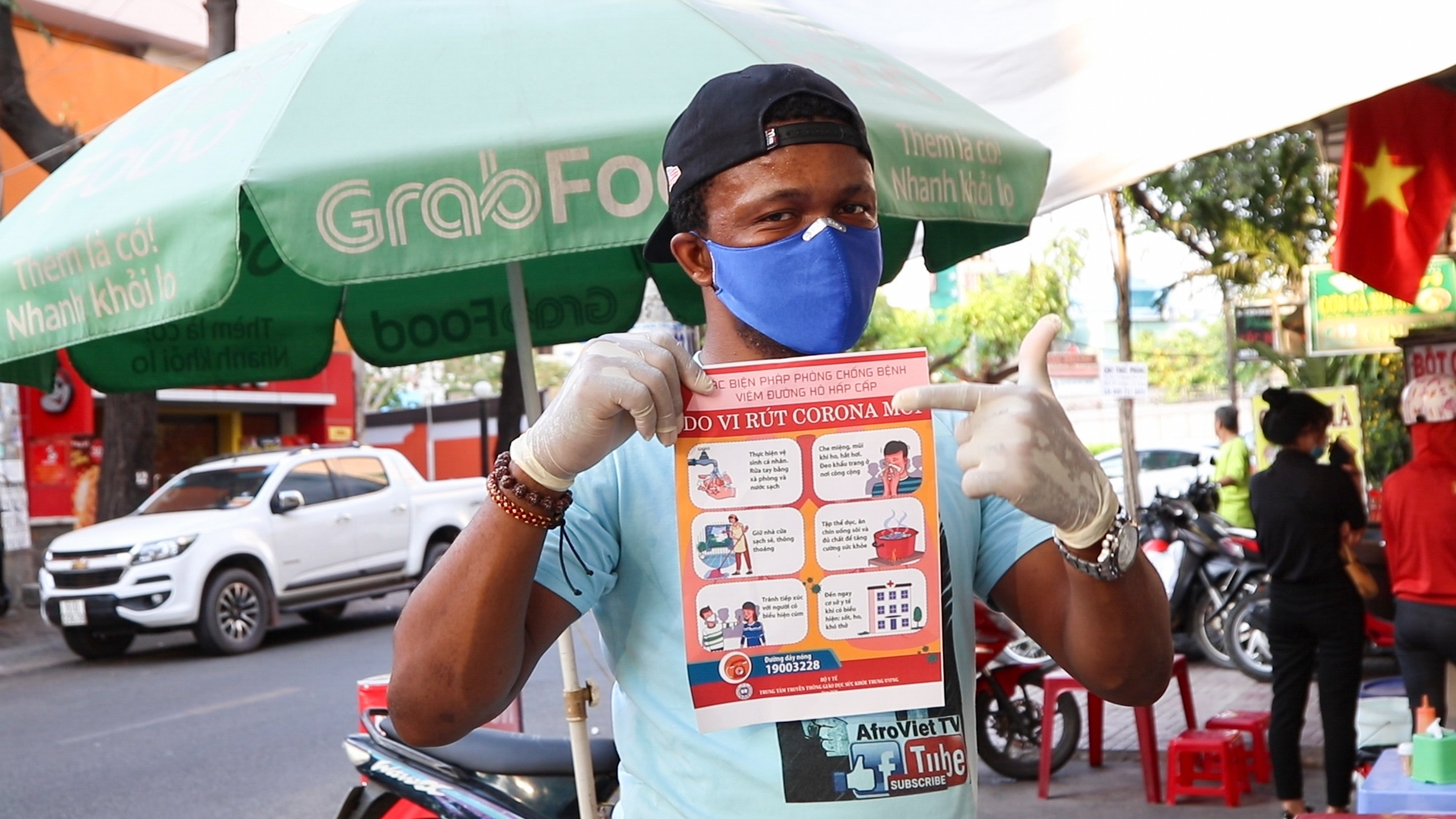 Nnadozie Uzor Nadis, a Nigerian YouTuber based in Ho Chi Minh City, points at a COVID-19 poster in this supplied photo. Photo: Tuoi Tre
Before the government requested that all residents refrain from leaving their houses, Nigerian YouTuber Nnadozie Uzor Nadis could be found on the streets of Ho Chi Minh City offering free facemasks to unprotected passersby.
"I told my friends to let me know if they knew anyone who needed facemasks. I didn't care about the price," Nadis told Tuoi Tre.
"Helping others and making them feel safe is just the right thing to do."
Nadis was able to scrounge up nearly 500 masks to give away and enlisted a group of Vietnamese volunteers to help pass them out.
While many of the people they approached were too shy to take a mask, the group continued until all their facemasks had been donated.
Shyness should not get in the way of public health, Nadis said.
Nadis has been living in Vietnam for ten years and considers it his second home.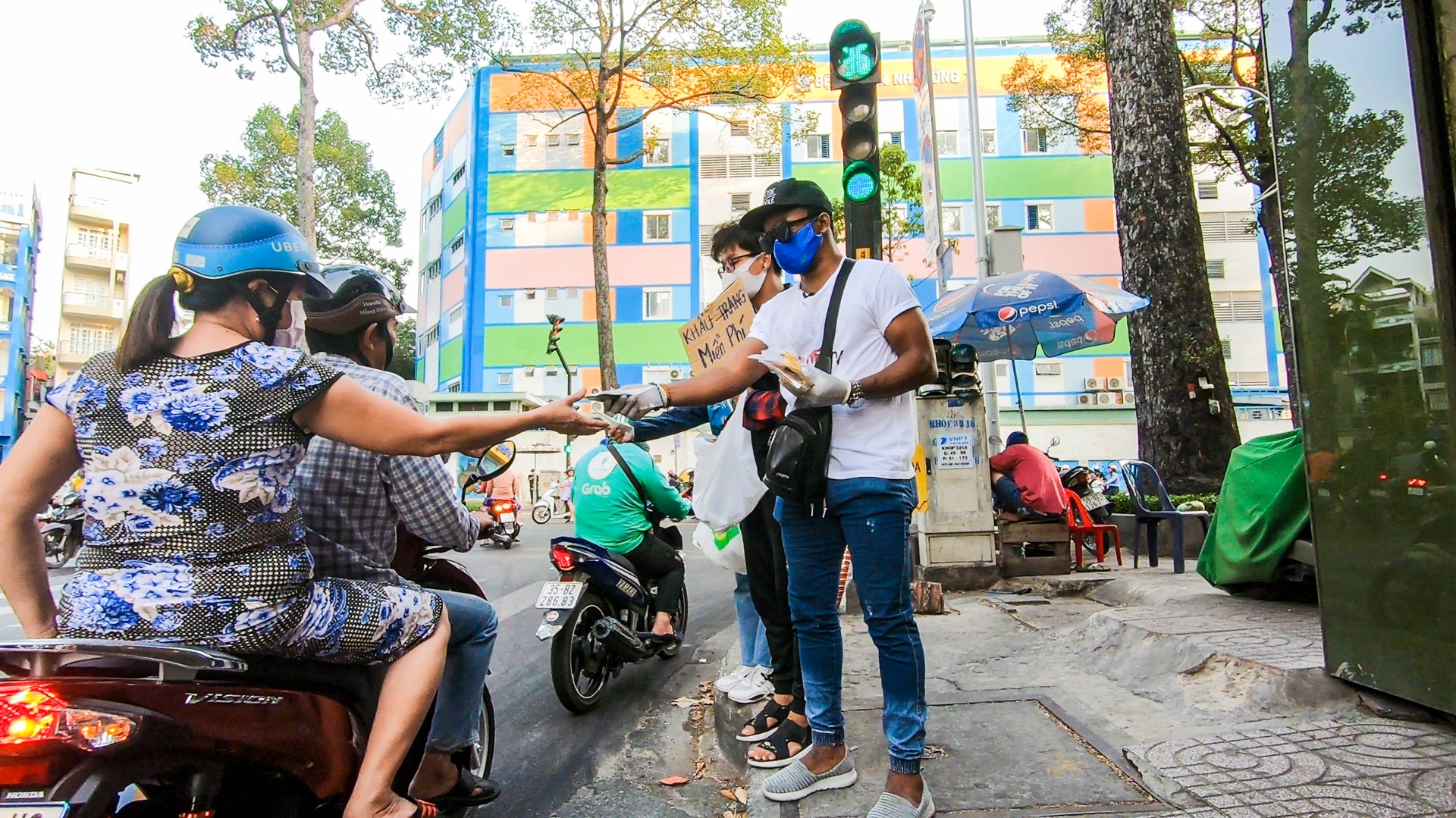 Nnadozie Uzor Nadis, a Nigerian YouTuber based in Ho Chi Minh City, delivers free face masks to locals on the streets of Ho Chi Minh City in this supplied photo.
To protect that home, Nadis uses his YouTube channel to inform his following on the importance of washing hands, wearing masks in public, and donating to the government's COVID-19 prevention efforts.
In Hanoi, Daniel James, 41, also an English teacher, bought instant noodles, water and masks and distributed them to some poor people after the fourth wave of Covid began.
He solicited donations from expat friends, bought things from a supermarket and drove around to himself distribute them.
"The city is my second home, so I want to express my gratitude and join in this Covid battle," he says.
Wayne Worrell, 55, a British teacher living in Hanoi for more than a decade, donated face masks to people to raise public awareness of wearing masks during the previous outbreak.
When blood banks were running out of supply since people were scared to donate amid the pandemic, he urged expats to pitch in.
He tells VnExpress: "I have lived in Vietnam for 10 years. I want to support this country. We must unite as one and show where our hearts lie."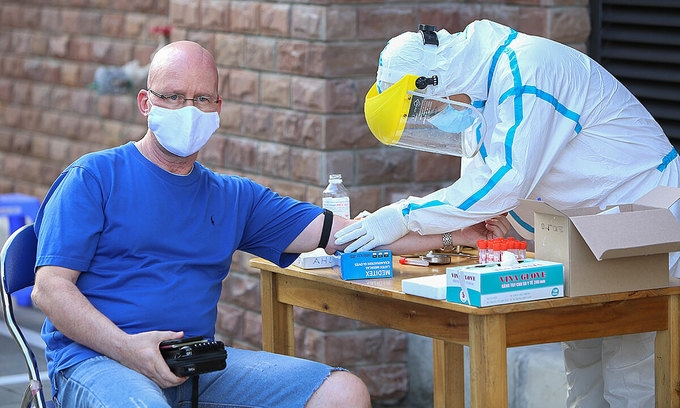 A foreign man has his blood sample taken for the new coronavirus tests in Da Nang, August 2020. Photo: VNE
Some expats are offering free online English lessons and activities.
Alex Azbel, an American computer programmer, was stranded in Hanoi due to the pandemic before starting to tutor an acquaintance's children in English and math last year.
Since February, since children could not return to school, he has been running free English classes every week for students and their parents online.
Unable to travel because the pandemic, many other expats have donated money.
Indian Munish Gupta in Saigon, for instance, head of operations at an international firm, sent money to a group of friends for distribution in the northern provinces of Bac Giang and Bac Ninh, the current Covid hotspots.
Last year too he had sent money to Da Nang when the central city was in the grip of an outbreak.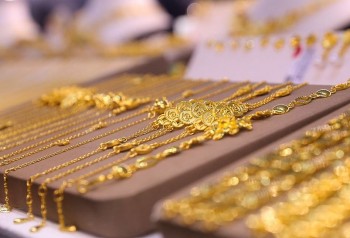 Economy
Vietnam Business & Weather Briefing (May 17): Reference exchange rate kept unchanged, gold price remained, Vietnamese e-commerce likely to reach US$39 billion by 2025.